15 Best Feel-Good Anime You Have To Watch
This post may contain affiliate links. If you buy something we may get a small commission at no extra cost to you. (Learn more).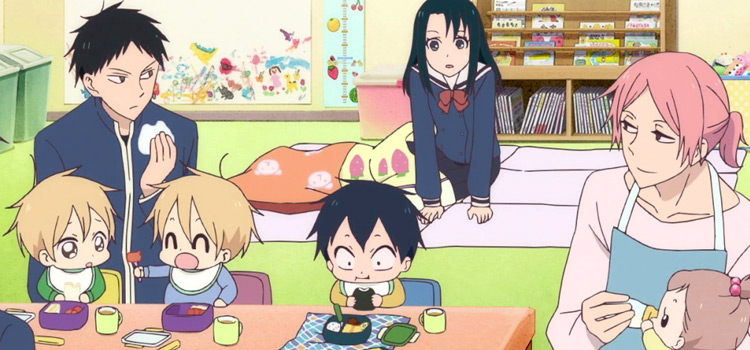 Binge-watching most anime can feel a lot like a roller coaster.
When you go for the classics like Naruto, Inuyasha, or Code Geass, you'll go from feeling ecstatic to getting mildly terrified to being horribly depressed in a snap.
While going on a roller coaster is one heck of an experience, what comes after is a different story. Sure you'd feel strangely triumphant after watching these multi-genre animes, but you probably also feel a bit disoriented.
Sometimes we just don't have the energy to go through all that.
So if you're looking for a stress-free anime, one that feels light-hearted and relaxed, well you're in for a treat!
I've compiled a list of a whole bunch of anime guaranteed to make you feel good. Let's get into it!
15.

Hataraku Mao-sama (The Devil is a Part Timer)
For an anime that revolves around the life of Satan, you'd think this would be one scary series.
But no, The Devil is a Part Timer actually tells the hilarious story of how Satan was forced by a hero Emilia to escape hell through a gate.
And that gate transports them to modern day Tokyo.
Now instead of doing evil, Satan has to deal with mundane life problems.
Including the struggles of paying monthly rent while working at a fast food joint called MgRonald's. Funny, right?
14.

Sket Dance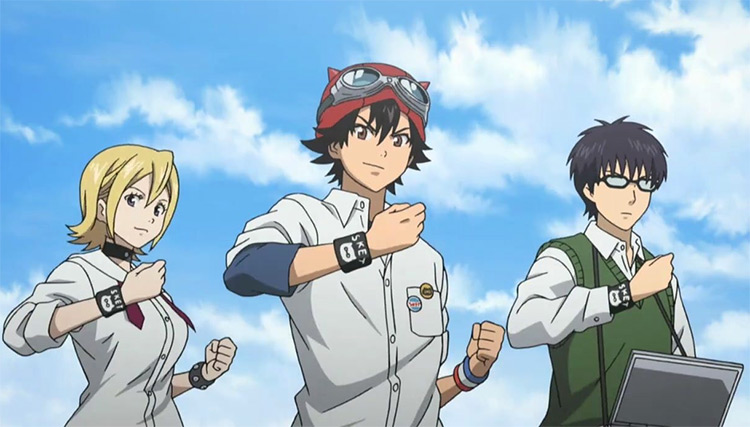 Whether you're an anime fan or a manga geek, Sket Dance is guaranteed to make you laugh with its one-of-a-kind humor.
Trust me, this anime feels like a huge tub of ice cream waiting for you after a long, draining day.
It's about the journey of high school students Bossun, Switch, and Hieko with their Sket Dance club which aims to help other people in need.
The back stories may be a bit dramatic.
But it always ends with feel-good scenes that warm the heart to no end.
13.

Shokugeki no Souma (Food Wars)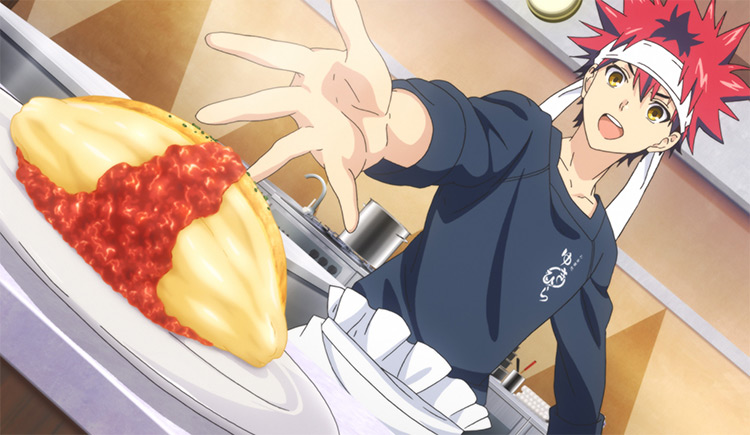 But if you want an anime that will make you feel as nice as your favorite comfort food, then why not try an anime solely about making great food!
That's what Shokugeki no Soma is all about.
This is the feel-good anime to watch when you feel you're too sad to eat anything. Or when you're insanely hungry, both work.
With every dish Soma and his friends whip up at the Totsuki Academy and the ridiculous reactions elicited by the meals, you're sure to end up with a big smile on your face– and a pretty hungry stomach.
Fair warning though: if you watch while hungry this may induce binge eating while you're binge watching!
12.

Barakamon
Barakamon is about a calligrapher named Handa who decides to embark on a journey of finding his self-worth.
Handa finds himself settling on a rural island village far from the hustle and bustle of his Tokyo life.
There he encounters people who would make him go through life-changing experiences.
Okay dang, I just realized there's no funny way to explain such a serious premise. You really just have to watch the thing and be impressed with how hilarious it turns out to be, despite the somber logline.
11.

Yamato Nadeshiko Shichi Henge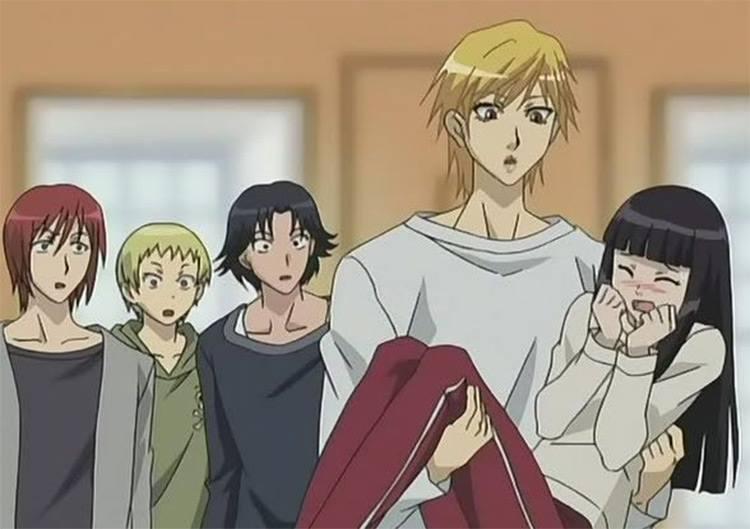 Speaking of Prince charming, here's another feel-good anime for young female audiences.
Yamato Nadeshiko Shichi Henge or The Wallflower is perfect for hopeless romantics who just want a good, hearty laugh.
For a reverse harem, it has none of those blushing slow-mo scenes and other lame clichés (Looking at you, Infinite Stratos!)
In fact, the main character is a goth girl who has practically given up on happiness and love.
If that isn't the best premise for a unique comedy, I don't know what is!
10.

Nodame Cantabile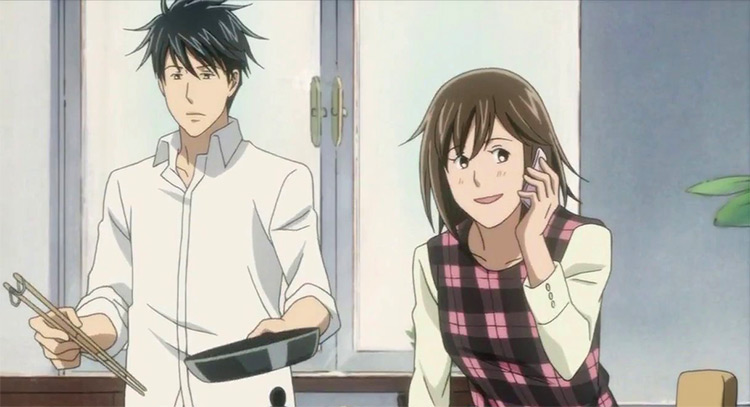 Music is another surefire way to uplift our spirits, even on a bad day.
That's why Nodame Cantabile is so good with its use of classical music.
It will take less than 10 minutes to love Nodame Cantabile with Nodame and Chiaki's opposing personalities that are united by their love for music. Give it a try!
9.

Spice and Wolf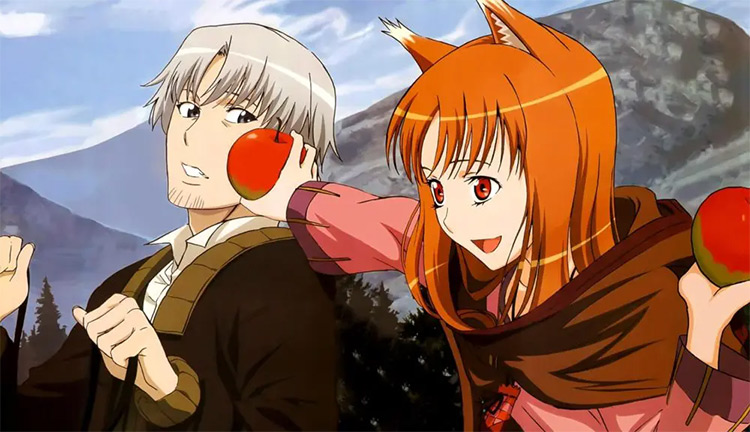 You'll come for the wolf girl – who looks more like a fox, no judgment.
But I swear you'll stay for the intriguing and hilarious storyline and A-grade dialogue.
You might think an anime set in the middle ages could only feature heavy drama.
But let this masterful piece of anime art surprise you.
8.

School Babysitters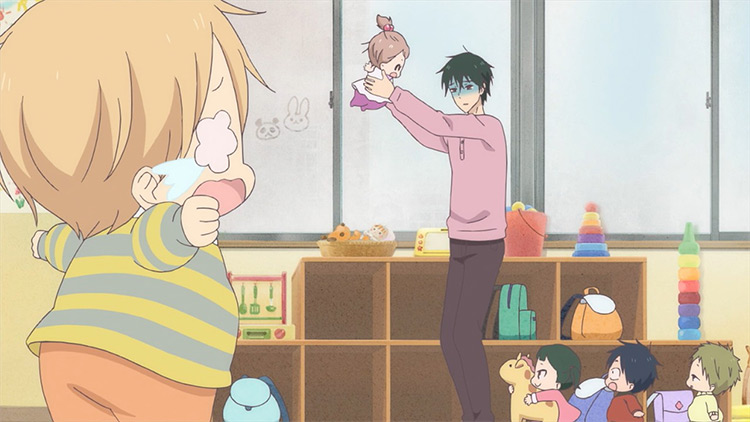 If your idea of fun is almost dying because of extreme cuteness, this anime is for you.
The premise is simple: after a series of unfortunate events, Ryuiichi became the school's babysitter.
So not only is he responsible for the wellbeing of his own little brother, but that of dozens of other toddlers who all have different personalities.
If your heart is already heaving with anticipation for all the cuteness you'll see here, trust me– it will not disappoint.
This is one anime that will make you go uwuuuuuuu from episode 1 to the very end!
7.

Flying Witch
Watching the adventures and misfortunes of Makoto, a 15-year-old part-time high school student and part-time witch, is enough to make anyone feel good.
Her super adorable black cat just adds to the overall warm fuzzy feel of this slice-of-life witchy anime.
And it's so relaxing you'll start feeling like you've gone into retirement in a lazy, rural province in Japan.
It's the anime equivalent of ditching school or work to go to a spa, and then lying flat in bed all day. That'd feel pretty good I bet!
6.

Ah My Goddess
Like Makoto, Keiichi Morisato is just your typical student. Albeit already in college.
By some stroke of fate(or luck) she manages to contact a goddess, who agrees to date him. Hooray!
It's so cheesy that you might hate it at first. But stick around and you'll just find yourself smiling from ear to ear watching these outdated lovers fall in love.
It will make you smile, laugh out loud, chuckle, and roll on the floor laughing with its clever storytelling. A must-try.
5.

Yuri!!! On Ice
Yuri!!! On Ice is certainly a lot of things.
But one thing I hope we can all agree on is how amazing this show is able to capture the beauty of figure skating.
After all, the show does revolve around this lovely winter sport.
And let's not get started on the rollercoaster relationship between the show's main characters, insecure but lovely Katsuki Yuri and the charismatic and brilliant Victor Nikiforov (and his amazing body).
It may have its twist and turns, but overall, Yuri will make you feel good in more ways than one. *wink wink*
4.

K-On!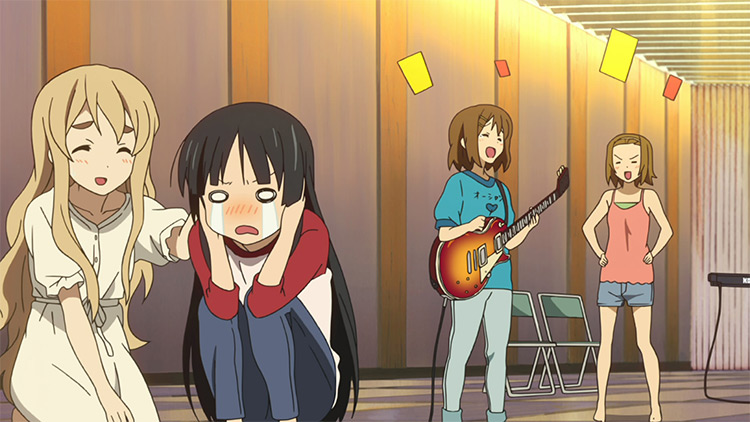 If you like to see cute anime girls being cute, well K-On is perfect for you.
It's about 5 school girls who formed a band called Hokago Tea Time or After School Tea Time. Which says a lot about them since most of the time they just drink tea or eat cakes!
They practice only when they feel like it… or after accomplishing their other priorities like taking care of a turtle, getting a part-time job, or having a pillow fight.
If none of that sounds like fun to you, then you might have a twisted sense of comedy.
Might I recommend Aldnoah.Zero or Hell Girl?
3.

Haikyuu!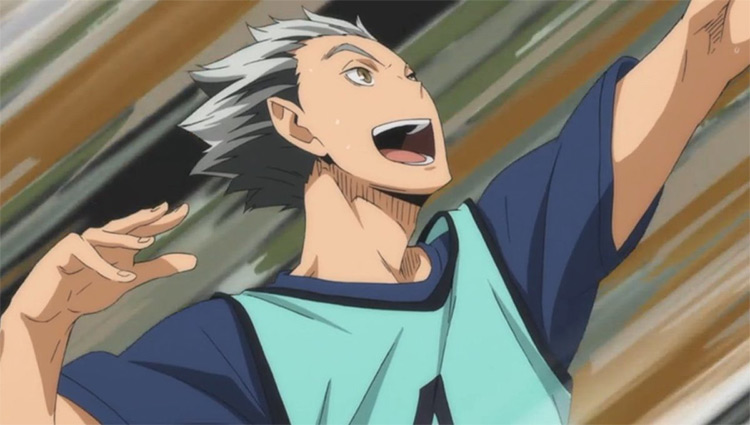 Haikyuu! is a top pick for those who are just so tired of romance.
There is absolutely no love story in this anime– it's just a bunch of silly knuckleheads on a quest to be the country's strongest volleyball squad.
It will give you an enormous dose of positivity. So much that you'd start wondering if you need a prescription to handle all of it.
When you feel like the whole world's going against you, watch this anime and let Hinata, Kageyama, Nishinoya, and the rest lift your spirits as high as they can push that volleyball.
And you can also count on Sugawara, the anime character equivalent of a warm cinnamon bun, to relieve all your worries too.
2.

Yakitate Ja-pan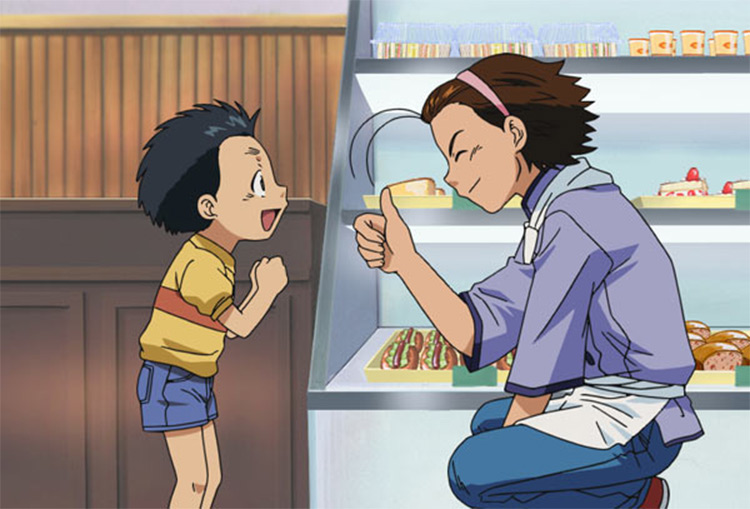 The strange story of Kazuma Azuma and his quest to be the best baker in Japan is a strong contender for top honors in this list, if not for its incredibly painful and introspective back stories.
Still, those tear jerking moments only amplify the crazy fun packed into 69 episodes of this anime.
And the funny thing is, this anime is really just about…bread.
Even the bad guys in this are not really bad guys. They just want to same thing Kazuma does.
Good thing they don't have solar hands that are as warm as… bread.
Anyway, by the end of this anime you'll surely feel very warm inside. As warm as… you guessed it.
1.

Ouran High School Host Club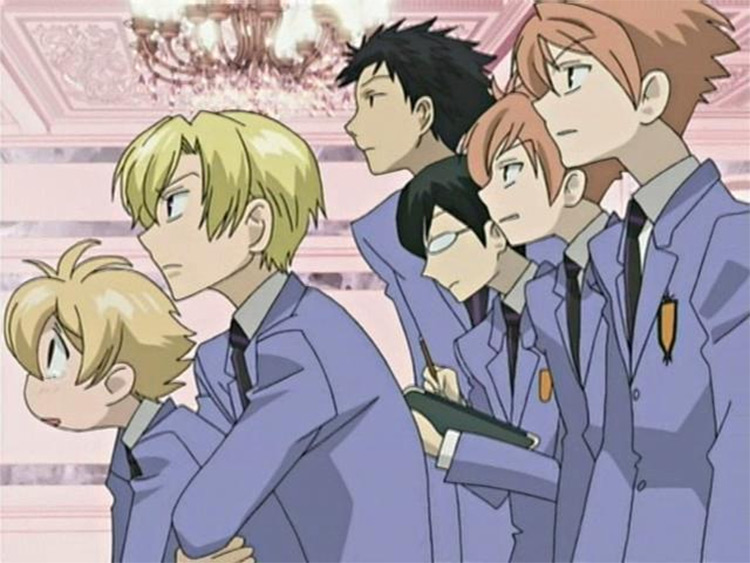 We've finally hit the best feel-good anime ever created, especially for all you anime-crazy girls!
How would you feel if you were treated like a princess by 6 handsome and absurdly rich high school boys?
Golly, I can almost hear your shrieking through the screen!
Well that's the paradise set at the Ouran High School Host Club.
The Club, led by the egotistic, gorgeous, yet surprisingly soft Tamaki only has one rule: to make their female clients feel their absolute very best.
They even have a variety of hosts to choose from!
You have the "cool" type, "loli shota" type, the "prince charming", and of course the "natural type."
Pick your poison, if you must. But make sure to relax and have fun!
Browse:
Japanese Culture
Lists
Anime