FFX: Larbeight's Location & Blitzball Contract Details
This post may contain affiliate links. If you buy something we may get a small commission at no extra cost to you. (Learn more).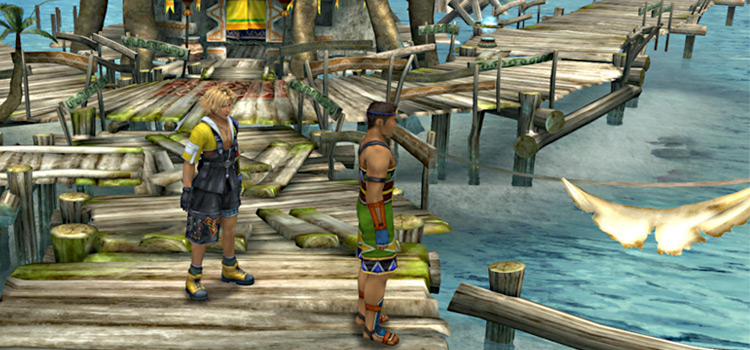 Larbeight is a dude who plays as a forward on the Kilika Beasts.
He can be found on the east side of Kilika, and he costs 70 gil per game to sign. But you'll have to wait until his contract with the Beasts ends before he can join your team.
Lore-wise, Larbeight's primary job is playing blitzball.
And he's part of the Kilika Beasts at the start of the game. So you'll have to watch and wait for your chance to snag him for the Aurochs.
His stats start off pretty low, to the point some may call him bad.
However he only gets better and better over time – ultimately becoming one of the best forwards in the game.
At high level he has the second-best Shoot (SH) stat in the game.
Combine that with his powerful Attack and strong Endurance, and you get a player who can push his way through any opposing team to score some points.
Yes, it takes a while for him to get there. But once he does, you'll be super glad you have him.
Is Larbeight Worth It?
Yeah, but only if you're going for a max-level team.
Otherwise pass him up for someone else.
Larbeight takes a long time (about 50 levels) to get good.
Once he's up there, he's amazing. But the crawl to that point is a slow one.
If you're looking to build an all-star team of unstoppables then Larbreight is a good choice.
But for the casual "only in it for Wakka's reels and Celestial Weapons" crowd, you're better off finding another player to fill the ranks.
Browse:
FFX
Final Fantasy
Video Games