Where To Get Lv. 2 Key Spheres in FFX
This post may contain affiliate links. If you buy something we may get a small commission at no extra cost to you. (Learn more).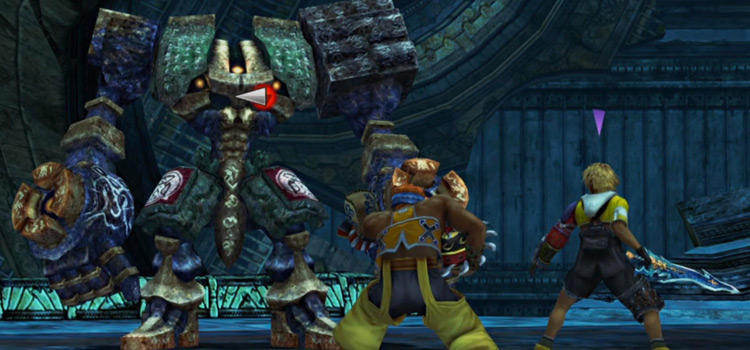 The best way to farm Lv. 2 Key Spheres is by defeating Defender Z enemies in the Zanarkand Ruins. They have the Sphere as a common drop (87% chance).
Defender Z is encountered fairly often, and only requires you defeat him to get a sphere.
Other ways to get Lv. 2 Key Spheres include finding them in various chests around Spira, as well as bribing Behemoths on Mt. Gagazet with 460,000 gil for x30 of the spheres.
Lv. 2 Key Sphere Uses
I think Lv. 2 Key Spheres are the most versatile of the Key Sphere family in FFX.
They are, of course, primarily used to open level 2 locks on the Sphere Grid. And that's important for not only for furthering character growth, but also opening the grid for everybody to traverse.
There are a total of twelve level 2 locks on the Sphere Grid. And once they're unlocked they don't come back.
But unlike the Lv. 1, Lv. 3, and Lv. 4 Key Spheres, the Lv. 2 variety can also be used for both weapon and Aeon customizing.
Applying a Lv. 2 Key Sphere to a weapon customizes it with Piercing, allowing that character to effectively attack armored enemies.
Giving x2 Lv. 2 Key Spheres to an Aeon teaches it Armor Break, an ability that removes all of an enemy's defenses.
Furthermore, as is the case with most items in FFX, Lv. 2 Key Spheres can also be used in a variety of Rikku's mixes.
Here's some of the more interesting mixes to consider:
Super Mighty G (Star Curtain + Lv. 2 Key Sphere): Casts Shell, Protect, Haste, and Regen on the party.
Final Phoenix (Phoenix Down + Lv. 2 Key Sphere): Revives all defeated party members in battle with full HP.
Hyper Vitality (Stamina Tonic + Lv. 2 Key Sphere): Doubles the party's max HP and applies Cheer.
Are These Worth Farming?
Yes, at least for the twelve needed to open all the corresponding locks on the Sphere Grid.
Odds are good that by the time you get to Zanarkand Ruins for the first time you'll still have a few locks left anyways.
And your mileage with Piercing weapons may vary – but having an Aeon or two with Armor Break is always helpful.
Browse:
FFX
Final Fantasy
Video Games