How To Get Vilucha in FFX (Location + Blitzball Info)
This post may contain affiliate links. If you buy something we may get a small commission at no extra cost to you. (Learn more).
Vilucha is a resident of Besaid Village and can be found in the house farthest to the southeast when you're inside the village.
She can be recruited at any time onto the Besaid Aurochs.
And as a free agent, she is always available. Her cost is 320 gil per game.
Who is Vilucha?
While outwardly she gives the impression of being a humble country girl, Vilucha is actually a pretty impressive blitzball player.
I guess being around the Aurochs must have left an impression on her (though funny enough, she's much better than any of the initial members).
Vilucha has really good Shoot (SH) and Endurance (EN). Her other stats aren't terrible either, especially her Pass (PA).
All this together makes Vilucha a pretty great Forward.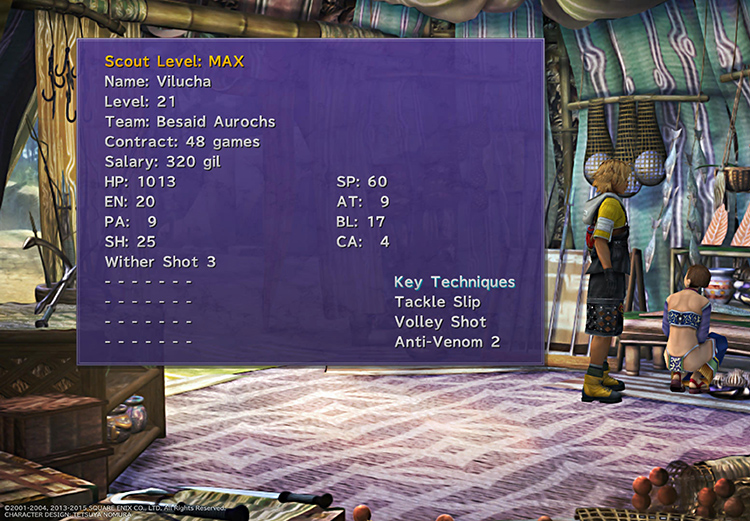 Her Catch (CA) is probably her biggest weakness – it doesn't even break twenty even at level 99.
But that's a minor gripe when compared to the rest of her numbers.
Moving the ball to where it needs to be is Vilucha's primary purpose, and she's darn good at it.
Lots of Endurance means she can tank through the opposition, and her powerful Shoot can put the ball right in the goal.
She's light on abilities, but that doesn't matter too much.
Pair her with somebody like Tidus or Larbeight and you've got a winning formula.
Is Vilucha Worth It?
Yes.
She's pricey, actually one of the more expensive players, but she's worth the cost.
I think she might be too pricey for brand-new blitzers, but anybody in the late game should be able to shoulder her salary.
She's certainly one of the better blitzers around that you can recruit, and she'll help you achieve whatever your blitzball goals may be.
Plus she's actually in Besaid. So she's a great choice to rep her home team.
Browse:
FFX
Final Fantasy
Video Games