How To Get The Wind-up Tonberry Minion (FFXIV Guide)
This post may contain affiliate links. If you buy something we may get a small commission at no extra cost to you. (Learn more).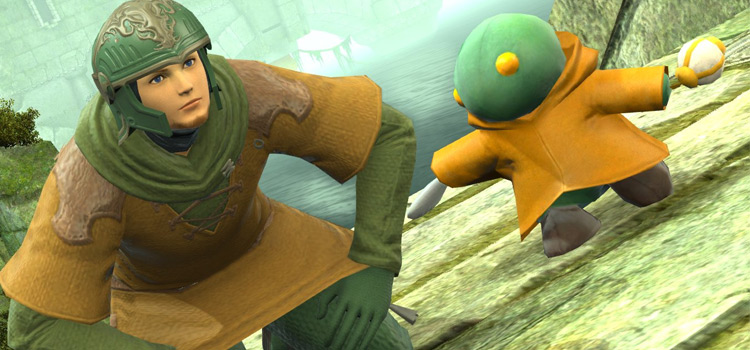 The Wind-up Tonberry Minion can be obtained a few different ways. Those are:
Boarskin Treasure Maps
The Aquapolis
Material Container 3.0
Bronze-trimmed Sacks
Let's break down all the methods of acquisition, starting with the simplest.
Boarskin Treasure Maps
Boarskin Treasure Maps are gathered from any Level 45 or 50 Node. They can also be fished up, but Miner and Botanist will have an easier time finding them.
These Maps were added way back in Patch 2.1 of A Realm Reborn. They're super easy to solo, since you can functionally one-shot the enemies.
The only thing you'll need before going on the hunt for your Tonberry Minion is the "Decipher" Action. This is learned from a Level 36 Quest called "Treasures and Tribulations".
If you find yourself missing the ability to decipher your newly found Map, simply seek out H'loonh (Eastern La Noscea – Wineport, X:21 Y:21). She'll hand out your Quest, which is short, and you'll be on your way to digging up treasure all over Eorzea.
It should be noted that you can only gather one Map per 18 hours of real time.
The good news is that you can buy them off the Market Board. Or make your friends gather them for you.
The Aquapolis
The second method listed once again involves Maps. This time, though, you'll be searching for the Timeworn Dragonskin variety. These are also obtained by gathering, specifically from Level 55 and 60 Nodes in Heavensward Zones.
Once you've found your Treasure and defeated the enemies that spawn , you'll open your coffer. There's a roughly 50% chance a Portal will spawn, whisking you away to The Aquapolis.
The trick here is that this Duty syncs you to Level 60.
So even if you mop the floor with the monsters outside, you'll have a tough time solo.
Your best bet is to grab a couple pals and venture into the Aquapolis. It'll expedite things considerably. Plus you'll get more shots at that Wind-up Tonberry you're after.
The caveat with the Aquapolis, however, is that it offers a ton of other rewards. Which is both good and bad, since you're after a specific Minion.
The full list of Aquapolis drops is rather expansive, as it continually had rewards added throughout Heavensward. There are seven chambers in all, each offering different tiers of rewards.
The further you venture in, the greater the rewards!
| Chamber | Gil | Poetic Tomestones |
| --- | --- | --- |
| 1 | 3,000 | 2 |
| 2 | 4,000 | 4 |
| 3 | 5,000 | 6 |
| 4 | 7,500 | 8 |
| 5 | 10,000 | 10 |
| 6 | 20,000 | 20 |
| 7 | 100,000 | 30 |
Glamour
Falconer's Set
Expeditioner's Set
Thavnairian Set
Materials & Materia
New World Macrame

Used in crafting New World Armlets, New World Moccasins, New World Headdress, New World Jacket and New World Hose

Pellitory

Used in crafting Survival Hat, Survival Boots, Survival Shirt and Survival Halfslops

Wool Top

Used in crafting Fur-lined Saurian Boots, Cashmere Hood, Cashmere Poncho, Cashmere Slops and Combed Wool Rug furnishing

Flannel

Used for crafting Pteroskin Shoes, Flannel Knit Cap, Flannel Suspenders and Cropped Flannel Slops

Tier III, IV & V Disciple of War Materia
Tier III, IV & V Disciple of Magic Materia
Tier III, IV & V Disciple of the Land Materia
Tier III, IV & V Disciple of the Hand Materia
Furnishings & Orchestrion Rolls
Autumnal Ginkgo Tree (pictured above)
Autumnal Maple Tree
Ginkgo Leaf Pile
Maple Leaf Pile
On Windy Meadows
Twilight over Thanalan
Unspoken
Whisper of the Land
Calamity Unbound
Breaking Boundaries
Minions
Baby Opo-opo
Bluebird
Dwarf Rabbit
Gaelikitten
Lesser Panda
Minute Mindflayer
Mummy's Little Mummy
Nutkin
Owlet
Paissa Brat
Page 63
Tight-beaked Parrot
Tiny Bulb
Ugly Duckling
Unicolt
Wind-up Tonberry
Material Container 3.0
Your third option for obtaining a Wind-up Tonberry is also quite RNG-dependent. The Material Coffer 3.0 can be purchased from your Grand Company for 20,000 Seals.
Seals are of course obtained by doing just about anything, from Dungeons to Hunts. That makes this a great way to spend your extra Seals!
The Coffer itself can contain any Minion or Mount from the Heavensward Expansion. That means the Wind-up Tonberry is included! The unfortunate thing is that so is every other Minion from 3.0.
Still, it's a way to get one should you want to avoid doing older Maps.
Bronze-Trimmed Sacks
Your final option for getting that elusive Minion is The Palace of the Dead.
It's a swell way to grind up your sub Level 60 Jobs, and it also offers a ton of rewards.
Namely, the Accursed Hoard and Bronze-trimmed Sacks.
Using a Pomander of Intuition on any Floor from 1 to 50 has the chance to reveal the Accursed Hoard. Upon discovering the treasure, you'll be rewarded with a Bronze-trimmed Sack upon completing the Dungeon.
Take your Sack to the Bishop next to the entrance, and he'll divulge the contents. While there's a huge list of possible rewards, it can contain any of the following Minions:
Baby Opo-opo
Bluebird
Gaelikitten
Lesser Panda
Minute Mindflayer
Mummy's Little Mummy
Nutkin
Owlet
Page 63
Paissa Brat
Tiny Bulb
Ugly Duckling
Unicolt
Wind-up Tonberry
So there you have it! Many ways to obtain that murderous little muppet.
Best of luck with whichever method you choose.
Browse:
FFXIV
Final Fantasy
Video Games