What is The Crystal Tower in Final Fantasy XIV?
This post may contain affiliate links. If you buy something we may get a small commission at no extra cost to you. (Learn more).
The Crystal Tower is Final Fantasy XIV's first Alliance Raid, an activity designed for 24 players at once. With the release of patch 5.3 in 2020, completing the Crystal Tower series became mandatory to progress in the game's main scenario questline.
If you've only recently started adventuring through Eorzea, you might hit a bit of a roadblock in the post-ARR quests. It can be a bit of a slog, and if you've made a few friends in-game already, they'll probably be telling you about how great Heavensward is.
So you'll be powering through a lot of patch content, talking to Minfilia a bunch of times, and waiting for the day you can finally step through those gates to Ishgard.
You'll be right at the end of those quests when the game suddenly tells you that you have to progress further in the Crystal Tower series before continuing the main story.
Now, this is not a short diversion by any means.
The Crystal Tower is an Alliance Raid, which means it takes a staggering team of 24 to complete. It has three wings you'll tackle, one after the other, with quite a bit of story content thrown into the mix too.
Back in the day, this was XIV's end-game.
Nowadays, it's not so daunting. It's part of the Alliance Raid Roulette, and a ton of high-level players will be doing it alongside you.
And it's more than likely that you'll be run through all three wings by people who know the encounters well enough to get them all done the first time.
Why Is The Crystal Tower So Important?
So, in the wake of all the political intrigue and scion drama, suddenly running off to explore an incredibly dangerous relic of a bygone age seems like a bit of a weird diversion.
Crystal Tower is the only Alliance Raid in the game that's necessary to progress in the Main Scenario.
And at that precise time in the MSQ, it doesn't seem to have much relevance.
The Crystal Tower has only fairly recently been made mandatory.
It was changed in patch 5.3, which was a huge update that streamlined a lot of the Realm Reborn questing process, removing some and simplifying others while updating rewards across the board.
So if they were looking to make the beginning of the game more straightforward, why change this bit?
Basically, Crystal Tower's storyline is essential to the plot of XIV's expansion Shadowbringers.
It's part of a storyline that has run through the entire game thus far.
And even if you've been paying attention to all of the dialogue, parts of Shadowbringers wouldn't deliver the same impact without understanding the Crystal Tower events beforehand.
If you're not all that concerned about the storyline, don't worry – as long as you know where to go and how to start the raid, your biggest concern will be the lengthy Duty Roulette wait time (for DPS players, at least).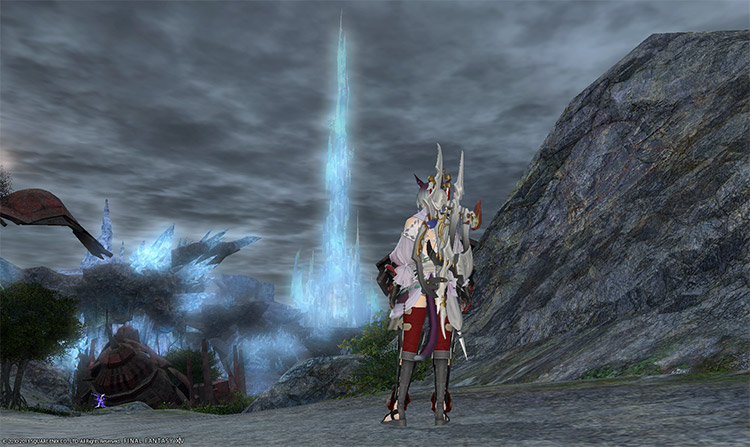 So How Do I Get There?
The game doesn't exactly signpost the Crystal Tower's location at any point after telling you to go and get it done.
But it's easy enough once you know where you're going.
Head to Mor Dhona and look for a quest giver called The Outlandish Man, who should hand you the quest "Legacy of Allag".
He's standing near the Aetheryte, conveniently enough.
The Outlandish Man will direct you to Rammbroes a small distance away, and the story will begin to unfold.
Unfortunately you won't just be able to jump straight in – there's a bit of business to attend to first involving elemental crystals. But this is easily taken care of.
Crystal Tower's story leads into some pretty major stuff in Shadowbringers, while delving into a bit of Eorzea's ancient history.
And it's worth paying attention even if you're keen on getting to Ishgard – it'll pay off down the line.
Browse:
FFXIV
Final Fantasy
Video Games