The Best FGO YouTubers & Streamers Worth Watching
This post may contain affiliate links. If you buy something we may get a small commission at no extra cost to you. (Learn more).
When you're not playing FGO, it can be fun to watch content about the game.
Whether that's live streams or detailed YouTube vids, that'd be up to you.
But needless to say, after suffering despair at the hands of the gacha, it's nice to see someone else suffer alongside you.
And whether you enjoy salty summoning sessions, guides, or news updates, these are some of the best Fate/Grand Order content creators you should definitely subscribe to.
5.

ZTL
YouTube: https://www.youtube.com/c/ZTLec/videos
ZTL is a YouTuber that we don't hear many people talk about when it comes to FGO content.
However, ZTL is arguably the most dedicated FGO content creator on the platform – as he dedicates himself to releasing DAILY FGO guides and opinion pieces.
These videos range in length from 10 minutes on the shorter side, to upwards of 30 minutes long!
If you're in the need of a daily fix of FGO content, ZTL deserves your subscription.
4.

TouhouSniper98
Twitch: https://www.twitch.tv/touhousniper98
YouTube: https://www.youtube.com/user/TouhouSniper98/videos
Asian Psycho a.k.a TouhouSniper98 is your friendly neighborhood whale on a mission to NP5 and max skill every Servant in the entire game.
Touhou's streams usually consist of farming or summoning, and usually come with your necessary salt intake for the day.
And Touhou's videos are also great to watch if you're more into the pre-recorded stuff.
We recommend checking out his "Guide to every Servant" videos (like this one) in which Touhou spends an hour or two giving nutshell guides to every Servant of a particular rarity in the game.
That's dedication!
3.

Finotaisen
Twitch: https://www.twitch.tv/finotaisen
YouTube: https://www.youtube.com/user/L34Gaming/videos
Fino as a YouTuber and Fino as a twitch streamer are two very different beings.
Fino's Youtube guides usually lie around the five-minute mark, as he quickly goes over all the necessary information about a certain Servant or event.
On Twitch, however, wars rage between slow gang and skip gang, because with certain donations Fino will either skip the current roll or allow it to play out naturally.
Usually going for NP5 for each new Servant, the total number of rate-up pulls will determine the winner for each gang.
On top of all this we're given a steady stream of cursed catalysts pulled from Fino's darkest folders to help with the summoning session.
2.

Kita Sean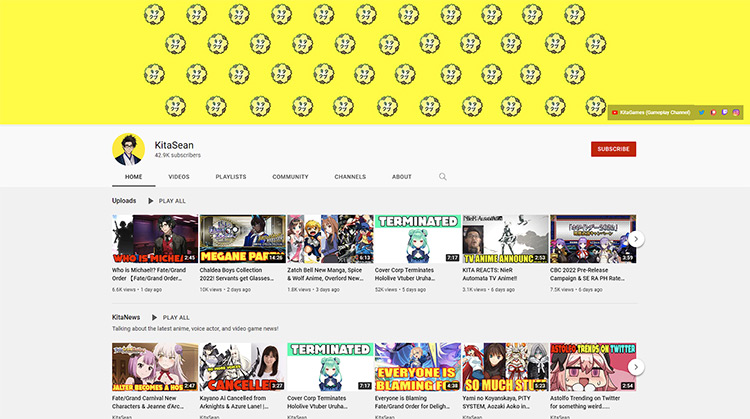 Twitch: https://www.twitch.tv/kitasean
YouTube: https://www.youtube.com/c/KitakubuTV/videos
The man who birthed the famous Kita Sean Ritual had to make our list.
For those unaware, the Kita Sean Ritual involves doing five singles and then a subsequent multi-roll in order to "guarantee" an SSR Servant.
Kita Sean is probably the most well-known FGO content creator out there.
And his dedication to the game is admirable.
Being fluent in Japanese, Kita Sean often translates Japanese live streams for his viewers as well.
Visit his YT if you're in dire need of a boost to your gacha roll luck!
1.

Myst
Twitch: https://www.twitch.tv/myst
YouTube: https://www.youtube.com/user/JoonaBanana/videos
Myst is your all-around FGO content creator.
He not only provides guides, but also personalized tier lists, randomized challenge runs, and lots of salty streams.
Myst wears his crown proudly as the King of E luck – and his unluckiest streams, although painful, do make for an entertaining watch.
Arguably his most popular series of videos are the hour-long "Salt Movies" where Myst uploads an entire vod of failed rolls.
Several memes permeate through Myst's channel, including his horrific luck with golden Caster spooks, as well as his losing "S E V E N" coin flips in a row.
Myst is also not averse to playing other games on his channel too – and in the past has actually played titles like Pokémon and a variety of horror games.
But if you're into FGO then definitely check out Myst for an entertaining, funny, and salty stream!
Browse:
Fate/Grand Order
Lists
Video Games