Top 20 Best Food & Cooking Video Games Ever Made
This post may contain affiliate links. If you buy something we may get a small commission at no extra cost to you. (Learn more).
Games about cooking dishes, working in a kitchen, or managing a restaurant have been around for ages.
But only recently have they gained mainstream popularity thanks to a few amazing titles that have put the genre on the map.
And now it seems more games are being made each year to capture every aspect of the culinary arts.
Some of these will entertain you, others will drive you crazy. But there's fun to be had with each of them. Plus you may even learn a thing or two about cooking meals in the process.
From the small challenge of cooking yourself a meal to the titanic endeavor that is managing a pizza empire, here are some of our favorite food & cooking video games ever made.
20.

Food Fight
If we want to know where we are going, it's important to understand where we are coming from.
The arcade game Food Fight was released in the early '80s by Atari Inc. as one of the very first video games to center almost entirely around food.
Your objective? To obtain (and eat) an ice cream cone before it melted.
It may sound simple enough.
But four evil chefs complicated matters by throwing perfectly good food at you – which you could also throw back, evening out the scales.
It isn't the most sophisticated game around, but it was incredible back in the day. And it paved the way for titles to come.
19.

Personal Trainer: Cooking
The Big N always tried to push the NDS beyond what people expected of a portable gaming console.
Enter their Personal Trainer line of games, aimed at helping people learn important skills like… you guessed it, cooking.
Rather than a game per se, Personal Trainer: Cooking is more like an augmented cooking book with several functions to aid you in preparing an edible meal.
It includes audio narration for each recipe, visual aids like pictures and video clips, and plenty more cool stuff.
The Big N always tried to push the NDS beyond what people expected of a portable gaming console.
Enter their Personal Trainer line of games, aimed at helping people learn important skills like… you guessed it, cooking.
Rather than a game per se, Personal Trainer: Cooking is more like an augmented cooking book with several functions to aid you in preparing an edible meal.
It includes audio narration for each recipe, visual aids like pictures and video clips, and plenty more cool stuff.
18.

What's Cooking? With Jamie Oliver
With the most awkward picture of Jamie Oliver on the cover and a concept very similar to the previous entry, What's Cooking? With Jamie Oliver offers players the opportunity of being coached personally by the eponymous celebrity chef as they attempt to cook one of his recipes.
The main difference between this game and Personal Trainer: Cooking is that these recipes are narrated by Jamie Oliver.
But it also features some extra functions like a Shopping List mode to help you pick up the right ingredients at the supermarket and an in-game timer for some time-sensitive preparations.
17.

Pac-Man (Series)
Going back to actual games we find Pac-Man, which is supposed to be a "Maze" game, but could be more properly understood as "strategic eating action".
The entire concept of the game is leading the hungry yellow ball around the map eating every little pixelated foodstuff as fast as possible while avoiding four ghosts.
Which you can also turn into food temporarily after popping some dubious white pills.
This arcade classic from the early '80s isn't the most gourmet entry in our list.
But eating is just the last part of the cooking process, and this game deserves credit for laying the groundwork upon which future titles would be built.
16.

Fat Princess (Series)
Speaking of games about eating, consider Titan Studios' Fat Princess.
This is a PS3 exclusive centered around a young monarch with a very serious nutritional problem.
You control a bunch of soldiers in a battle that plays like capture-the-flag, except the flag is the opposing team's princess.
However, that's easier said than done after they've fed the regent over 20 pieces of cake to make her virtually impossible to move.
It's a very fun little game with a lot more depth than you'd think.
And other than the original PS3 release, it's also available on the PSP as Fat Princess: Fistful of Cake and the PS4 as Fat Princess Adventures.
15.

Food Network: Cook or Be Cooked
Whenever a company decides to stamp a big media name like "Food Network" on their game, it's usually the only selling point the product has.
Imagine my surprise after trying Red Fly Studio's Food Network: Cook or Be Cooked on the Wii and finding out it was actually fun!
It's a competent cooking simulator where you must prepare an entire multi-course meal by completing several steps of the cooking process, often having to pay attention to several different cooking times and complete difficult maneuvers with your motion controllers.
The commentary from Food Network's Mory Thomas and Susie Fogelson only adds to the experience.
14.

Cake Mania (Series)
I haven't been a big fan of flash games ever since I turned 14.
But the Cake Mania series from Sandlot Games is one of those hidden gems that can keep even the most jaded individuals entertained for a while.
The game follows protagonist Jill Evans as she retraces her grandparents' steps and becomes a baker to revive the family business.
To do so you must take orders from customers and complete them as fast as possible, earning money to upgrade your bakery with better equipment and the like.
Considering it started as an unassuming game developed on the PopCap Games Framework, it's amazing how far it has come as a franchise.
13.

The Sims 4
Maxis is well known for The Sims dating back over two decades.
And while The Sims 4 may not be specifically about food, it's a game about, well, anything and everything in a person's life – and that includes cooking.
While preparing good food was an important skill for any self-respecting Sim from the get-go, the expansions like Get to Work and the Dine Out Game Pack introduced the possibility to build your own restaurant.
How quaint!
Cooking good food, strategically buying ingredients at the lowest possible cost, and sincerely hoping nobody gets food poisoning are only some of the many things your new life as a chef has to offer.
12.

Don't Starve Together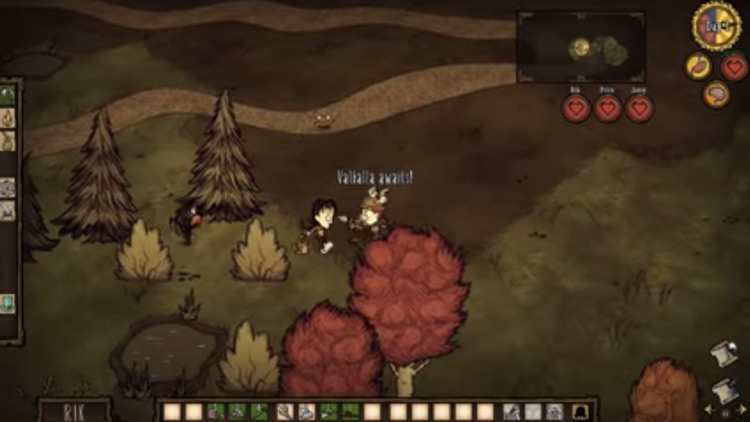 While Klei Entertainment's super-successful franchise may look like a dark and edgy survival experience, the truth is visible right there on the title – Don't Starve is a game about food.
Sure, there are monsters and evil machinations in the background.
But don't let that distract you from your main objective – finding food, cooking it, and successfully not starving.
Of course, you also need light sources and other kinds of protection to not become a monster's dinner, but that's only a part of your journey to stave off anemia.
I recommend Don't Starve Together over the original release because eating is always better with friends.
11.

Diner Dash
In Gamelab's Diner Dash, you play as Flo, a stock market company employee who's had it with her job and decides to buy a run-down restaurant to restore it to its former glory.
She's living the dream!
However, managing a restaurant can be a daunting task.
Seating customers, taking their orders, hurrying the kitchen along so you can take the food to them when ready – you must pay attention to a thousand things at once, just like a real waiter.
But it's all worth it as you slowly fix up the diner, acquire other establishments, and watch Flo go from an unhappy employee to a true restaurant mogul.
10.

Campfire Cooking
Anyone who's ever gone camping knows that cooking over an open flame is entirely different from cooking at home over your electric stove.
And in Layton Hawkes' Campfire Cooking, it may even feel like a puzzle.
In this game you'll be moving your marshmallows and pots around over a square grid so they get exactly the amount of fire they need.
It's a simple concept, but thanks to very complex board design, every level brings with it a new challenge.
9.

Fruit Ninja
Back when smartphones were still in their infancy, Halfbrick's amazing fruit-slicing game was a sort of Eureka moment when everyone suddenly understood that the future of casual gaming was in the palm of their hands.
Fruit Ninja was an absolute success thanks to its beautiful visuals and the incredibly addictive gameplay.
It consists of stylishly cutting down flying fruit, unlocking new patterns for the slicing effect, and beating your friends' high-scores.
The game has aged wonderfully, and despite being an iPhone exclusive back in the day, you can even play it on Oculus Quest and PSVR now.
8.

Pizza Tycoon
While some games focus on the managing aspects of running a restaurant and others on the detailed art of making a delicious meal, Pizza Tycoon does it all at once.
And then some.
Not only do you have to make sure every pizza coming out of your oven has exactly the right amount of cheese, olives, and salami, but you need to make sure your pizzeria remains competitive.
You have to do this by selling it at the right price with business savvy. And if need be, employing the mafia to teach other restaurant owners who's boss.
If you can get over the Italian-American stereotypes this is an amazing game any pizza lover should try at least once.
7.

Order Up!
Not to be confused with the online food delivery company, SuperVillain Studios' Order Up! is a cooking simulator that focuses on recreating the pressure of a real restaurant kitchen.
It follows a chef who's just learning how to manage their own diner as they prepare for the Fortified Chef Competition, their chance at attaining celebrity chef status.
It was originally released on the Wii, but there are also enhanced ports on the PS3, 3DS, and even mobile platforms.
6.

Cook, Serve, Delicious! (Series)
But if you really want to feel the pressure of managing a kitchen by yourself, Vertigo Gaming's Cook, Serve, Delicious! is the title for you.
You may feel safe at first as you admire the charming hand-drawn graphics and enjoy the relaxing restaurant atmosphere.
But once you have six separate dishes with different cooking times going at the same time that you must remember to serve with the correct wine pairing, you'll begin to see what this game is really about.
While the original is already an amazing game, I'd suggest going for the latest release, Cook, Serve, Delicious 3!?, available on Steam.
5.

I Am Bread
Bossa Studios' I Am Bread is the most unique food game you'll ever run into.
And possibly one of the single weirdest games in existence as a whole.
Put simply, you're a sentient slice of bread fighting your way through the world around you in a quest to become toast.
And hopefully cover yourself with jam and other deliciousness in the process.
You read all of that correctly.
More often than not, however, you'll end up falling on the floor and becoming inedible. It's a lot of fun trust me.
4.

Battle Chef Brigade
There are many games where you take the role of a chef, but not many of them have you going out to hunt monsters and gather magical ingredients for your creations!
Trinket Studios' Battle Chef Brigade will have you doing just that, which coupled with the fact that cooking is done through a match-3 mini-game makes this the best food-related game for people who don't find pretending to have a terrible job in the food industry "fun".
With engaging gameplay, a few RPG elements and very detailed hand-drawn graphics, I'd feel confident recommending anyone this amazing game.
3.

Cooking Mama (Series)
You can't write an article about cooking games without mentioning the one that made the genre a thing – Cooking Mama.
Cooking Mama: Cook Off on the Wii was the first cooking game I ever played.
And while it isn't exactly the most detailed simulator out there, being exposed to so many different dishes from all over the world inspired me to take up cooking as a hobby and step outside of my cultural boundaries.
Definitely check out this series because you will not be disappointed.
There was a newer title out recently but it got pulled. Keep an eye on this series though because it's always releasing new titles.
2.

Cooking Simulator
If you're looking for something more precise, Polish developer Big Cheese Studio has just the thing for you.
Cooking Simulator is one of those hyper-realistic simulation games that became so popular after 2015.
It features a realistic physics engine that mimics everything from chopping an onion to cooking a steak medium-rare with surprising accuracy.
It was a bit buggy and imperfect at first.
But after some patches, it has become an amazing game with over 80 recipes to try and learn.
1.

Overcooked 1 & 2
Above all things, I believe video games are supposed to be fun.
And Ghost Town Games' Overcooked series is one of the most entertaining games you can play with friends.
Few games capture the absolute chaos that is working in a real-life kitchen quite like Overcooked, but I don't think any other game manages to make it as enjoyable.
There are ingredients flying around, complex orders waiting to be fulfilled at all times, and you even have to wash the dishes. And all of that is actually enjoyable!
Not only that, but you'll be cooking on the street, aboard parallel moving trucks, on an iceberg or even in space. Each with their own set of difficulties.
If you have the time and a few friends willing to give it a go, you'd be a fool not to try.
Browse:
Lists
Nintendo
PlayStation
Video Games