30 Best Maps To Try In Farming Simulator 19 (All Free)
This post may contain affiliate links. If you buy something we may get a small commission at no extra cost to you. (Learn more).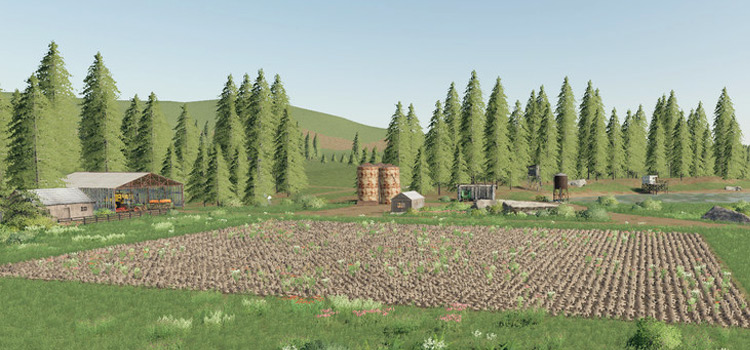 Farming Simulator has dominated the market for realistic farming from the comfort of your home.
As with most building simulators, there's tons of fun to be had through additional content. Yes, I'm talkin' mods!
From new items to work with, new people to populate your towns/cities with, and mew maps to build on.
We've already covered a huge list of the best FS19 mods worth trying, so here we're going to explore some of the best custom maps you can get for FS19.
30.

Yogiland
For the very first entry on any of these lists, we're starting big with a 4x map called Yogiland.
Yogiland is a multifruit and factories map with 21 fields ranging from 15-534 acres. All spaces are perfectly rectangular as well, which makes harvesting a breeze here.
You'll also find 11 additional fruit types in Yogiland including rye, spelt, millet, hops, tobacco, and onions.
The map includes 27 factories where you'll find production for mashed potatoes, carrot juice, and flour among many other grocery store favorites.
29.

Dondiego
Dondiego is another 4x map, and is actually a port of a very popular custom map from back in FS15.
The map includes a lot more fields than Yogiland at 61, ranging from medium to large sized fields.
You'll also find tons of storage here, as you have the capacity to hold 2.5M liters. Plus additional storage for liquid fertilizer and plant protection products.
There is a BGA as well, along with 12 outlets to sell your products to.
28.

Sandy Bay 19
Sandy Bay features 46 maps ranging from small to large in size, as well as two new fruit types: alfalfa and rye.
What's special about this map set is the amount of effort that went into making it feel realistic and lived-in.
The map features completely custom textures for grounds, grass, wheat, and more. That definitely took a lot of extra work!
Plus there are tons of animated objects that make you feel like there's a lot going on around you as well, including planes and boats that drive by from time to time.
27.

The Valley: The Old Farm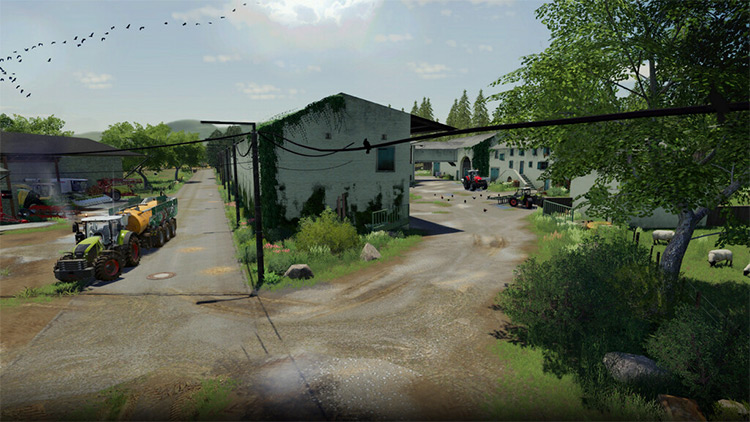 Black Sheep Modding is back with a vengeance.
They've made some of the best mods for both FS17 and 19, which include a variety of vehicles, equipment, placeables, and maps.
Well this map features a realistic European hillside farmland for you to build on, with over 90 fields for you to purchase.
The Old Farm has a pretty unique layout as well, as the map isn't just covered in rectangular fields. There will be lots of forests to drive through in the middle areas, but I encourage you to enjoy the views too. As everything looks great in The Valley.
26.

Dreisternhof
If you're looking for a more isolated farming experience, Dreisternhof is worth a try.
The map is much smaller than most other maps, only containing 25 smallto-medium sized fields.
Yet Dreisternhof looks just as good as any other maps, as textures have been replaced with custom ones here too.
The map also features 6 meadows and lots of forestry, so if you like your farms littered with beautiful natural landscapes, this is a good option for that.
25.

Rustic Acres
Rustic Acres by Cazz64. An unforgettable map to try.
The latest release is now Seasons ready, so you'll be able to enjoy that if you like playing with Seasons installed.
The map contains 47 fields, all being square and rectangular shaped for easy harvesting.
Right off the bat you start off with 11 chickens, 10 sheep, 5 pigs, 5 cows, and 1 horse. Wowza.
Do note that the modder recommends you download the Animal Extension Mod built specifically for this map, plus a couple other suggested mods. All are mentioned in the description!
24.

Purbeck Valley Farm
Here we have another European farm map based on Dorset, UK.
It's actually pretty easy to tell that Purbeck is found in Dorset, since the map even features a view of the famous Corfe Castle in the distance.
This contains 81 small to large fields scattered across a total of 4 farms.
A beautiful map graphics-wise, since the modder included some lighting adjustments along with custom ground textures to make everything look that much better.
23.

Farms Of Madison County
This time we're taking a look at a realistic take of American farmlands in Madison County, Illinois.
Modder MDFARMING actually grew up farming with his father in the area. So this is likely the most realistic depiction of Madison County you're going to get in FS19.
The map is 4x in size and contains 119 fields, 23 of which you already own at the beginning of a game.
There's much to do with 119 fields, so you're probably going to be spending most of your time saving up to purchase those.
With all those fields, MDFARMING left a blank area towards the bottom right part of the map. And that space would be great for landscaping, or whatever placeables you might want to add.
22.

Countyline
Countyline is another ported FS17 map, which is now available to play on in FS19.
This is a 4x map with 33 fields, 2 of which you already own, 11 different multifruit, and 27 outlets to sell your products to.
The additional fruit types you'll find in Countyline include tobacco, hops, carrots, alfalfa, and poppy, among others.
You might be wondering why the map is so big, but only contains 33 fields… well that's because the map is basically covered in huge fields for you to maximize, making it a great mod for productivity.
21.

Minibrunn
Another option if you like smaller maps: Minibrunn by TopAce888.
This map is relatively small at 65 acres, but includes 18 fields. Not too overwhelming, right?
The fields range from 0.5-2.5 acres, so you'll most likely want to maximize your smaller equipment to harvest here. Roads tend to be pretty narrow in Minibrunn as well, so getting around in your larger vehicles might prove to be a challenge.
There are also 8 different selling points, and a few cosmetic upgrades like realistic mud. You can see this in the ground since it turns muddy when it rains!
Overall, this is a great map for those who like smaller-scale farming. Great for beginning players too.
20.

Ricci's Hollow
Ricci's Hollow is another 4x map which features 40 different fields and 16 multifruit for you to play around with.
The additional fruit includes clover, rye, hemp, carrot, onion, and coffee, among some others.
Aside from those added features, the map also includes 43 built-in factories. With those you'll be able to produce anything from lumber and steel, to meat and beverages.
What makes this even more interesting is that not all of the factories are listed, as the creator really wants you to go around and explore for yourself.
See what exciting secrets you find in Riccis Hollow.
19.

Almosta Rustic Taylors Hawkes Bay
One more map from Cazz64, this time much bigger than the previous.
Almosta Rustic is specifically unique because to create a much larger map, Cazz64 actually combined 4 of his smaller maps into one.
That means the Rustic Acres map mentioned earlier is actually included here as a portion of this map.
It has a whopping 242 fields to choose from, where you start off owning only 3.
The layout is fairly simple, as the 4 maps are put together side-by-side, each connected by different roadways allowing to travel between them.
A nice added touch is that the store can be found close to the center, making it easy to buy whatever materials you're going to need.
18.

Nowa Bruzda
Up next is another European map, this time allowing us to explore some of the farmlands around Poland.
It offers us 44 fields and 5 villages, along with 14 different selling points including dairy and eggs.
Nowa Bruzda feels very much lived-in as well, since it features animated traffic (which you can toggle on or off).
Another unique feature is that this focuses on fields rather than forestry. So if you prefer open spaces then this is the place to be.
17.

Nebraska Lands USA
Going back to the large rectangular fields, this time taking a look at farmlands around the state of Nebraska.
This is a large 4x map which contains 44 fields to keep you busy. You don't start off with any fields either. So you're going to have to get busy right away to purchase your first field!
The map has one additional fruit type (alfalfa) along with 14 different selling points for your products.
Field sizes in this map are relatively large, with the smallest coming in at 3.07 ac while the largest at 143.95 ac.
16.

Pleasant Valley
This is another large map at 4x, and contains 63 fields, 2 of which you already own at the beginning of your game.
The map also comes with 16 different multifruit to choose from, as well as 12 selling points for your products.
One unique feature of Pleasant Valley is that mining is enabled here.
So you'll be able to mine for 7 unique products like stone, coal, salt, and gravel, among some others.
The map is beautifully laid out as well, with a river dividing the map into two areas. As an added bonus, the map even has working river boats!
15.

Upper Mississippi River Valley
If you like the idea of your farm being close to water, give the Upper Mississippi River Valley map a try.
It's similar to Pleasant Valley, except this time you have a much wider river spanning across the entire left half of the map, again separating it into two areas.
The map features some unique field shapes as well. So if you prefer that over the traditional rectangular fields, well be sure to try it out!
Another unique feature is the complete freedom over your starting equipment, as you're only given a bunch of sheds to start with.
Other than that, you have $100,000 at the beginning of a game. And it's up to you what equipment you'd like to purchase with it.
14.

Ninghan Farms
This time we're taking a look at a map located in the land down under: the Central WheatBelt of Western Australia.
Right off the bat you'll notice this is a great-looking map featuring custom environments, colors, and color grading to make everything look a bit more realistic. The sun was even moved to make it appear in the correct position, which is pretty neat.
Other than that, there's much to do around Ningham Farms. You're give 36 fields, each with contract jobs to complete, along with additional transport missions for bale and seed pallets.
13.

Iberians South Lands
Here's a grand old classic originally ported from FS13 to FS15, then to FS17. And now we're continuing that cycle all the way to FS19.
Iberians South Lands takes us to an imaginary farm out in Spain with over 89 fields for you to purchase as you go along.
The map also contains 4 forests for all your forestry needs, as well as 20 different selling points to take your products to.
You'll also be able to care for animals as it supports cows, sheep, and horses.
12.

Nevada ZA
It seems like we've been jumping across countries for the past few entries… so why not head back to America and check out Nevada ZA by Farmer BoB?
The map is inspired by the actual farmland he grew up on, and includes some original ideas that aren't found in other maps.
Nevada ZA contains only 22 fields to keep things manageable, along with 11 selling points and 4 forests scattered around the map.
It also features a nice mix of rectangular and odd-shaped areas, just to leave more creativity over to you.
11.

Clover Creek
Now here we have a spacious map that's perfect for breaking out the larger equipment you might have lying around.
Clover Creek is a 4x map, but only contains 51 fields to maximize the space.
You start off owning 4 of the smaller fields on the map, but will be able to work your way through the other 47 as you progress through your playthrough.
The pack comes with additional mods that give you more storage options as well.
All you'll have to do is install everything that comes with the download, then get to farming!
10.

Charmwell
Charmwell is a gorgeous map based in the UK, although this one isn't based on any real-world land in particular.
The fictional map features a total of 86 small to large fields, transport and field missions to keep you busy, as well as 2 selling points, a BGA, and a built-in sawmill.
What's particularly special about this map is just how good it looks. The modder uses mostly custom textures for everything like soil, grass, and even buildings based on real-world English designs.
The map comes with Seasons support as well, so this should work perfectly if you prefer playing with that installed.
9.

Meadow Grove
Meadow Grove by Nathan6930 is another lovely option for a UK-based map, and is definitely worth checking out if you dig a simpler farming lifestyle.
It's also a map converted over from FS17, so this has been around the block and is one of the more popular maps out there.
The newer FS19 version sees a few upgrades as well, including full Seasons support, custom lighting shaders, and even a new water shader to make everything look just a bit better.
The farm comes with built-in animals too, but you're free to place your own anywhere you'd like.
8.

Mercury Farms
If you're looking for more of a customizable experience, maybe give Mercury Farms a shot.
The map allows you the freedom to completely make the farm yours.
I mean, you'll be able to renovate buildings, place new ones, and even remove hedges, posts, and fences to make everything appear exactly as you want.
The map contains 60 fields, of which you could choose to combine if you'd like.
7.

Westby Wisconsin Map
I think "simple" is the best word for this custom map.
It's based on actual farmland found in Westby, Wisconsin, and is basically as simple as it gets.
There are 3 farms on the map, a store, and just 1 sell point. Though the map is pretty simple, the field shapes might prove to be quite challenging to harvest. Which should keep you busy for a while!
If you're up for a small-scale but challenging farming experience, go with Westby Wisconsin.
6.

Old Family Farm
Old Family Farm, huh? With a name like that I can already imagine.
The map only contains 14 fields, and you start off already owning 5 of them. There are no additional fruit types on the map to keep things simple, but there are 7 different selling points for you to use.
One special feature of this map is that it contains some custom sound effects which should make for a pretty unique FS19 experience.
5.

Canadian Farm Map
Going back to some bigger map options, the Canadian Farm Map is a great choice for those who love rectangular fields sprawled across flat landscape.
The map only contains 19 fields, where you start off with only 1 of them.
There are also 10 extra fruit types and 28 selling points to be found around the map.
The map also features functioning trains for log and grain delivery, which is always a nice touch for any custom map.
4.

Hawke's Bay NZ
If you liked Almosta Rustic Taylors Hawkes Bay by Cazz64, you're definitely going to enjoy this one.
Hawke's Bay is actually a New Zealand-based map that was included as one of the 4 combined maps for Almosta Rustic Taylors Hawkes Bay… which should explain why it's familiar if you checked that one out.
But this one contains 53 fields and 15 sell points for your products. Pretty big.
New Zealand lovers, rejoice!
3.

Dalton Valley Farm
Taking the number 3 spot on the list is another one from ALiEN JiM – the Dalton Valley Farm map.
It's set in the Sussex area of the UK, but what's especially unique about this is the freedom it allows for how you start your farm.
The map allows you to choose among the different yards where you prefer to start, so it's completely up to you.
Dalton Valley also contains additional fruit types including rye, triticale, and spelt, along with custom missions to keep you busy and to keep you earning more money.
2.

Cybuchowo
This next one is probably one of the craziest maps you'll find when it comes to scale.
Cybuchowo has several forests, so it's large. But what really caught my attention here was the fact that there are 206 fields to use.
The fields are mostly rectangular, but it can be overwhelming just looking at the map overview.
If you like keeping busy, this might be the perfect map to try. See how far you can push it.
Another interesting feature of this map is that it adds two new animals: goats and ducks.
1.

No Man's Land
No Man's Land is easily the most interesting map for FS19.
To quote the modder's description:
"Between the borders of France and Spain lies a vast emptiness known as No Man's Land where the land has lain untouched by the hands of man for years."
That's exactly what makes this map special. No Man's Land is basically an abandoned plot of land which you're going to have to build from the ground-up.
Trees and hedges will have to be chopped down to make way for paved roads and walkways before you can even get started. That's how crazy this is.
No Man's Land makes FS19 feel like a completely new game, as you'll be starting completely from scratch to build a farm from your bare hands.
Pros and newbies alike should have fun here, but it will surely be a challenge!
Browse:
Farming Simulator 19
Lists
Video Games