Best Caterpillar Mods For Farming Simulator 19 (All Free)
This post may contain affiliate links. If you buy something we may get a small commission at no extra cost to you. (Learn more).
Caterpillar has been making equipment for over 100 years.
They've made everything from a tracked tractor to mobile phones. And when someone says "bulldozer", the image in their head in probably of a Caterpillar machine.
This brand has been around us in the real world for years, and now they can be there for your farmer too!
In this collection we've gathered quite a modest list of our favorite Caterpillar mods for FS19. They're all free to snag, and just a click away.
9.

Caterpillar 311F
Let's start our list off with a nice mid-sized Caterpillar excavator.
This is a tracked machine, and while that may be nice, what really makes this machine unique is that way the bucket is mounted.
The bucket is mounted in reverse so that it scoops like an old shovel-type excavator. Which is great for dipping out of bulk piles and loading it into a trailer.
This excavator is, of course, Caterpillar yellow with black accents.
8.

Caterpillar M315F (Excavator)
Whoever said you can't have a caterpillar without tracks? They obviously didn't know about the Caterpillar M315F.
This excavator is a wheeled exactor, and it's designed for highway use, unlike the road destroying tracked counter parts.
This also means it's much faster than the tracked models, and it also leaves less markings on the ground.
And fir this specific model, it includes outriggers for more stability while digging, plus a front blade for pushing bulk into piles, and it comes with a small trailer hitch for moving trailers in a pinch.
If you're looking for a fast excavator that will might required to move around a lot, this is it.
7.

Caterpillar 773G (Dump Truck)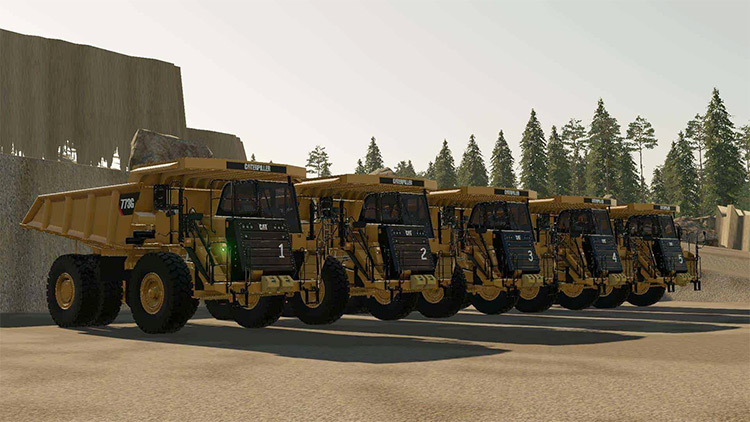 This mod is a fairly large Caterpillar off road dump truck.
It's made for moving bulk material on-site over rough terrain.
It can hold up to 65,000 liters of bulk in game, too. And it has a 775 horsepower motor, which is more than enough to haul even the biggest loads.
Since it's designed for off road use, it isn't as fast as the highway trucks included in the game.
But it does haul quite a bit more, and it's much easier to back into a dock that the 40 ft trailer they give you to use.
6.

Caterpillar 385C (Excavator)
This is a large tracked excavator carrying the Caterpillar brand.
It may seem like a normal excavator at a glance, and that's because it is!
No frills or thrills here. It's just your basic run of the mill excavator.
But just because it's lacking in features doesn't mean it lacks functionality.
It's a great excavator for loading and moving bulk material.
Even the large wheel loaders cannot load a truck as quickly as a good excavator operator.
5.

Caterpillar 836K
It's a dozer. It's a wheel loader. No, it's the Caterpillar 836K!
As a cross between a standard wheel loader and a bulldozer, the Caterpillar 836K has it all.
It's actually a wheel loader that has been equipped with a dozer-style blade and steel compacting wheels.
This is perfect for silage silos because it allows you to push the piles into the bin, spread them out, and compact them all with one machine.
And since the steel wheels have such a high compaction rate, you'll have your grass fermenting faster than ever before.
4.

Caterpillar CT660 v2.0
Are you worried that all of your Caterpillar equipment will only be used off road? That you may never get a chance to show everyone off the farm how much better your equipment is?
Fear no more, for we have the perfect mod for you.
The Caterpillar CT660 is designed for over-the-road hauling.
This beast of a truck will pull everything from your overloaded grain trailers, to the heavy equipment low loader trailers.
No lack of power, no lack of cost, and no lack of the famous Cat signs all over your truck.
3.

Caterpillar CB44B (Roller)
The little roller that could.
This small Caterpillar vibratory roller is made for compaction.
Activate the vibrating drum and simply roll back and forth over something to flatten it like never before.
And this is actually a dual purpose machine.
Not only will it compact the silage silos (which in itself is useful enough to get this machine), but it will also re-compact places where you've plowed up the ground to make fields.
After rolling it down, the field will turn back into whatever it was before you took a plow to it.
This includes roads that may have been disturbed during the process.
2.

Peterbilt 389 Caterpillar Heavy Haul
Here's another highway truck mod for those of you who like to show your Caterpillar equipment off of the farm.
The Peterbilt 389 is a Caterpillar powered heavy haul low boy truck.
This means it has been set up specifically for pulling oversized and overweight equipment.
That's right!
Finally a Caterpillar truck that can actually pull the Caterpillar equipment around.
Now your truck and tractor can fully match, too.
Since it's made to pull such heavy equipment, the truck has been equipped with a tag axle to help carry the extra weight, and to help you get it stopped once you arrive.
As you would expect, they have decked this truck out with every chrome piece you could imagine, including dual chrome straight pipes – which gives this truck a very nice engine sound.
1.

NMC D-11 Bulldozer
Here's the only mod on this list that made it into the official Farming Simulator mod hub.
This Caterpillar D-11 bulldozer is one of the largest in the world.
It has a unique detachable blade, which can be replaced with a mulcher or a rake. This'll be the last dozer you'll ever need on the farm, and there aren't too many things in the game that it actually can't push down.
One very nice feature of this dozer is the landscaping script.
This allows you to reshape the ground with ease using this machine.
And this feature alone makes the mod worth a shot. Plus since it's on the mod hub, it's supported fully on console versions of the game as well.
Browse:
Farming Simulator 19
Lists
Video Games