FS19 Chicken Mods: Coops, Feed, Egg Storage & More
This post may contain affiliate links. If you buy something we may get a small commission at no extra cost to you. (Learn more).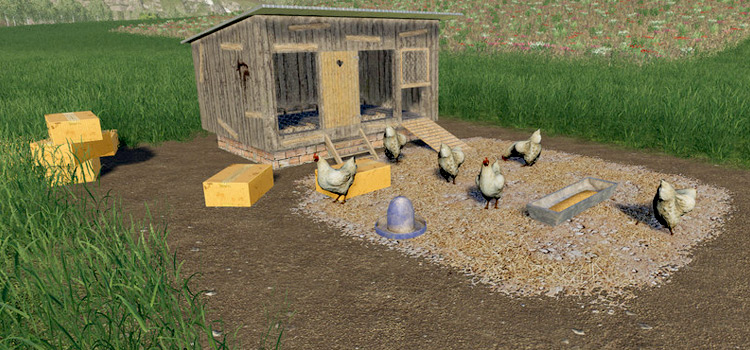 Chickens may not be the most profitable animal in Farming Simulator 19, but they are the cheapest and easiest to care for.
That being said, mods can make them even easier to care for!
And we have a list here of a few chicken-related conveniences that you may not know you needed.
Among this collection of mods you'll find custom chicken coops, egg storage, additions to husbandry, and even a new way to sell your eggs. Plus these mods are all free, and have console support alongside PC support as well.
10.

Hen House
Here we have a small brick henhouse.
It's an open style coop, meaning that the chickens are free to range around the coop as they please.
And it's built out of concrete blocks, and the fill points are located around the coop itself too.
It is small, but it's complete with a window and a door for easy access.
Inside you'll see climbing racks for the chickens, and also feeders indoors.
For capacity, this coop can hold up to 35 chickens at once, and is a fairly cheap building for getting started on your fowl adventure.
9.

Barn With Chicken Coop
This mod is officially a chicken coop.
But it is so much more than that.
Yes, it's a complete chicken coop at a glance. But this includes all feed areas, a large area for the chickens, and best of all, a shed to store your equipment in.
The coop area is nestled neatly into a corner of the barn, while the large main doors allow you to store equipment indoors with your chickens.
No more thieves stealing parts off your tractor with that vicious security in place.
All jokes aside, this coop is worth a try if you can fit it onto your farm. It can hold up to 100 chickens, and makes a great storage area as well.
8.

Goldcrest Valley Chicken Pen
Here's another large coop to add to this list: the Goldcrest Valley chicken pen.
This coop has a large capacity of 200 chickens.
And that may seem a bit much for just a simple caravan buggy, but with the large fenced-in area it doesn't seem so overcrowded.
The coop consists of an old gypsy style caravan cart. Unique, right?
It has been remodeled into a chicken coop on the inside, but remains a cart on the outside. The wooden fence is tastefully done and is fully detailed – even up close.
7.

Open Hen House
So here we have an extra large open coop.
Since there is no "enclosed area", the amount of chickens you can store here can be greatly increased.
More specifically, this coop can hold up to 400 chickens in total.
The coop area consists of two of the caravans used in the previous mod, a large pole barn with open sides, and feeders placed around on the ground. Plus a large manure pit for storing manure.
Chickens do not usually produce manure, though, so that makes this mod more than just a really big chicken coop.
6.

Sosnovka Chicken Pen
Still need more options for chicken pens? Well this custom chicken coop is not as large as the last on this list, but it still qualifies as rather large.
The capacity in total allows for 260 animals.
Quite impressive for the not-so-large area that this mod takes up.
There's also a round top coop that's not closed on the ends. Plus you'll get a rustic fence around the area that's made to give it a sloppy or weathered look.
This can really add to your farm's aesthetic if that style suites you.
5.

Animal Transporter
Okay, so let's take a break from all the awesome places for your special birds to live, and let's talk about how you're getting them there.
This mod is a special transporter that will allow you to move your chickens with any tractor.
It hooks up to the three point hitch tractor connections.
And it's worth noting that this allows you to carry 2 sheep, or 1 cow, but also a full dozen chickens as well.
It sure beats paying to transport them, or having to buy a rather large trailer that you'll probably only use once.
4.

Egg Storage
Here's another mod useful for poultry farmers, and it's not a coop either.
It's a place for you to store all of those hard earned eggs.
Unlike real life, eggs in Farming Simulator 19 do not go bad over time.
This means you can store those eggs as long as you like until a better price comes along to make it worth your while. And trust me, that doesn't happen too often without some other mods.
This warehouse can store up to 24,000 eggs total.
3.

Placeable Sell Points
The name says it all here folks.
This mod is made up of placeable selling points for your eggs, milk, and other farm products.
This can save you tons of time running back and forth, not to mention finding a way to transport all that stuff.
Place the sell point directly next to your coop, and you can move the eggs by hand into the sell point.
This mod truly makes selling easier than ever before.
2.

Large UK Chicken Shed
We saved the best coop for last (or close to last) and it's worth the wait.
This extra-large coop has a capacity of 500 animals total. Talk about spacious.
With this installed you'll get a long barn with places for the chickens to feed and sleep, a large fenced in area with a functioning gate that allows equipment inside, and feed bins with enough storage to keep your chickens eating for a long time.
This is more of an industrial sized chicken coop, and more of what you would expect to find in a genuine commercial setting.
So if you're going for realism, this is a mod worth trying.
1.

Self-marketing
I've placed this at the end of the list here because quite frankly, it changes the game in a very big way.
So it's hard to say if this is the best "chicken" mod, but it definitely affects chickens (and plenty more than just chickens).
The Self-marketing mod allows you to build little fruit stands and stores to sell your goods directly to the general public.
This is much more profitable than simply selling to bakers and such.
With this installed you get a much better value for your time invested into chickens, since you can make a good profit on the eggs this way, all with less effort.
Browse:
Farming Simulator 19
Lists
Video Games