Best Crane Mods For Farming Simulator 19 (All Free)
This post may contain affiliate links. If you buy something we may get a small commission at no extra cost to you. (Learn more).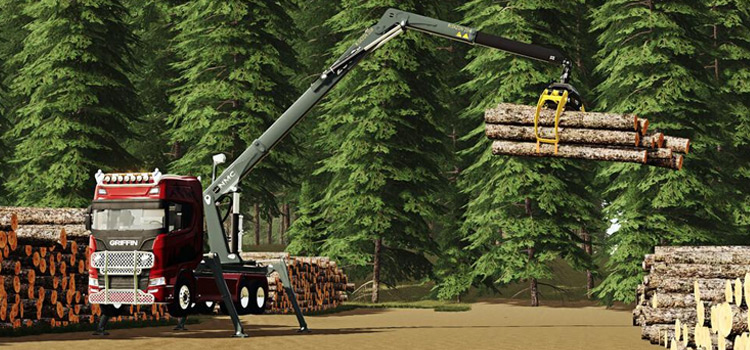 When the devs for Farming Simulator 19 added cranes into the game, which are an essential part of logging, they had no idea the crazy things people would do with them.
And now we've taken it a step further with mods.
Below is a list of some great crane mods that we think will really add to your game.
Some may be just to add you favorite brand of crane, or maybe just to get one that will lift anything. But I think we can all agree that adding these machines will improve your FS19 experience.
10.

Komatsu 895 Loadflex V 1.0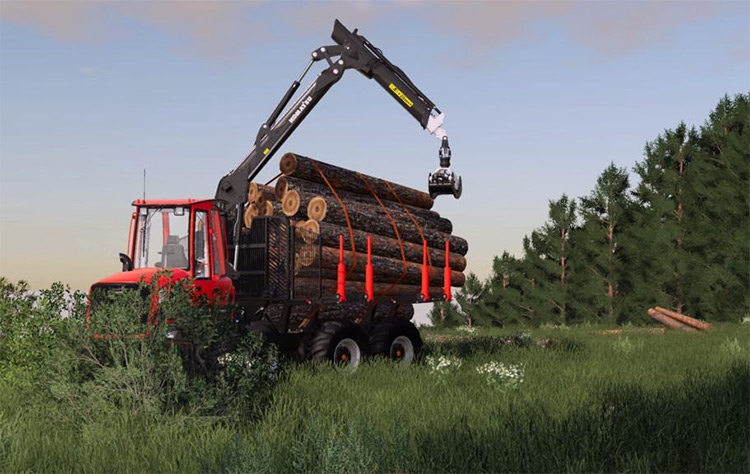 The Komatsu 895 load flex is the biggest crane you can get from Komatsu.
And while this machine may look similar to the one already in-game, the mod has some very unique features.
One of the features includes the load flex option. This is a foldable bunk that allows you to carry three times as many logs as before.
It also features full working comfort ride. This means the cab stays level over bumpy and uneven terrain. This machine also features a blade and a grill guard, too.
9.

Palfinger Forest Shield
Now this three point hitch tractor attachment is a great crane worth trying out.
It's a powerful little add-on that you can hook onto any tractor.
This means that its lifting power is only limited to the size of your tractor.
Hook this bad boy up to a one thousand horse power tractor and watch it lift things you never thought possible.
8.

Kirmag Tree Waste Rake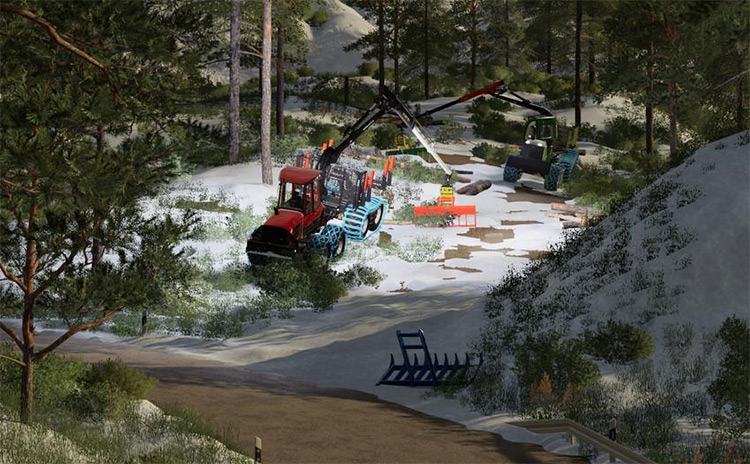 While this mod isn't quite a crane, it is definitely a crane attachment.
The added functionality almost requires that it appear on this list.
Specifically, it's a rake attachment that you can use with any crane, including the ones already in the game.
Grab this attachment with your choice of crane and suddenly it has the functionality of a loader.
You can easily move the logs and even the smaller pieces into piles. Then after everything is piled up how you want it, you turn the rake loose and load all of it up into the proper trailers.
This really saves you tons of time.
7.

Komatsu 895 Clambunk
Here's another variation of the Komatsu 895.
This version is equipped with a clam bunk. For those of you who don't know, a clam bunk is an added bunk to the machine that clamps down on the logs so you won't drop them while transporting.
The clam bunk feature is new to the game, and that makes this mod worth trying.
But it's actually an extremely useful feature because it saves you from having to get a trailer with straps, or having to cut the logs to fit well enough to not come out of the bunks.
6.

Kesla 104 v1.0
This crane is a trailer attachment.
You can load logs and pull them out with the tractor you already have. Or try some other tractor mods.
Either way, this isn't a huge trailer. But it makes a great start.
Especially if logging isn't going to be your main source of income in the game.
An additional feature this trailer offers is the support stabilizers can be moved independently from each other. This makes loading easier on uneven terrain by allowing you to level your loader up.
It's hard to grab a log when one side is much lower than the other.
5.

Logset 10F GT v1.1
This highly customizable crane is a lot of fun with a lot of variety.
This crane comes in black and purple, which will make it really look unique on your farm.
It has selectable wheel designs if you want the wheeled model, too. It also comes with optional tracks, which also have different options for tread pattern and width.
But other than being highly customizable, this machine is pretty close to the original vanilla cranes in-game when it comes to power and size.
Which makes it perfect for those wanting variety, specifically for players who don't want to feel like they're cheating.
4.

Jenz Hem 821 Chiper Truck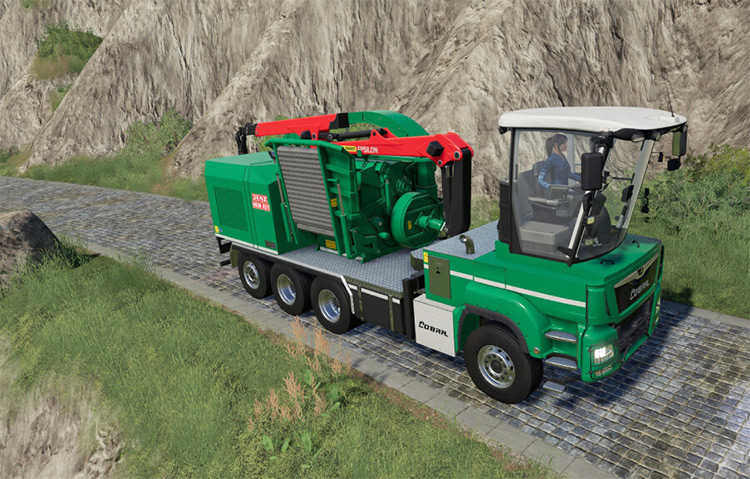 This all-in-one truck is for making wood chips.
It's made for chipping up the smaller less profitable trees.
The mod includes its own chipper and belt system for pulling the limbs into it, too. The crane part itself isn't huge, so park close.
But it's strong enough to turn the truck over, so be sure and use the independent support arms.
3.

URAL 4320-60 Loader Trucks
Now this truck is a popular offroad truck, and has the power to show it.
This mod comes in two styles: one with a flat bed, and the other with a platform.
This truck won't carry extremely long logs without the flatbed and some straps. But it is a six wheel drive monster of a truck loading crane.
2.

Liebherr HS875HD v1.0
Now this thing is a real life full blown crane.
Unlike the other cranes on this list, this Liebherr crane mod will pick up anything to can attach the hook to. It's a fully tracked winch-style crane.
I would say this is an older style, though, because it is an older machine.
But sadly, they haven't made anything better yet. So it's just an older machine and not much else.
Just to give you an idea on the size of this thing, you can pick up your tractors and load them onto trailers for transport.
1.

S64 Skycrane v1.0
Yep, this is a helicopter with a crane attachment.
Not great for logging, honestly. But it is awesome for moving tractors and equipment from field to field.
Since the devs didn't include anything that flies, it's also great just for getting around and getting to know the maps.
This is also a very strong crane mod. It can move very large tractors with ease, and without the hassle of loading it onto a trailer.
The sky is no longer the limit with this mod installed.
Browse:
Farming Simulator 19
Lists
Video Games