Best Decoration Mods For Farming Simulator 19 (All Free)
This post may contain affiliate links. If you buy something we may get a small commission at no extra cost to you. (Learn more).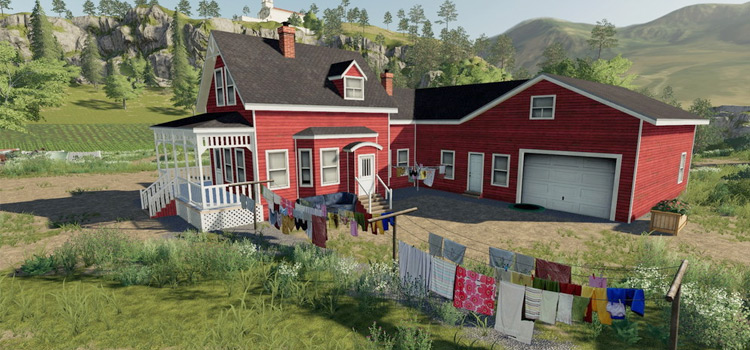 Not every aspect of your farm has to be functional.
Often times the best part of the farm is the decorations that make it unique.
Modders have taken this to a whole new level and provided us with many decorative mods to help you make your farm feel like one of a kind.
Note that most of these mods serve no functional purpose. They're just things to place around the farm for a fun aesthetic.
But these decorations are some of our favorites, and good news: they're all compatible with the PC and console versions of FS19.
10.

Tractor Mailbox
Many of you who never lived in rural areas may not even recognize this iconic piece of farm equipment.
This mod allows you place a mail box that's for all purposes a tractor.
This can help your mailman (or mailwoman) to know which box belongs to the farm – or it may just be a way to make your neighbors jealous of that fancy tractor you have.
Luckily the bills are paid automatically in Farming Simulator 19. This means you have no real reason to place a mailbox…
But it is still a great decoration.
This could also ensure that you never miss your driveway again.
9.

Pack Of Traces
Do you park your tractor in the same place every day?
Or maybe drive the same path to get to where you're going? Well your tire tracks disappear, and the spot you left the tractor in looks the same as the place next to it.
Then you're left wondering if you moved it or not.
This modpack lets you place tire tracks as well as dead spots on the ground.
So basically, this simulates the damage done by parking or driving thru an area repeatedly. It's a nice decorative choice that adds a bit of realism into the game.
But fair warning: they're not able to be planted over.
8.

Polish Well
Here's one of the few mods on this list that actually serves a purpose.
This is an old polish style well, and not only does it look great on the farm, it also allows you to draw water for free.
Simply remove the cover in the correct location and fill your truck or trailer full of nice fresh water.
This can be placed anywhere, and adds a rustic look to your farm too – rather than having the plastic water tanks sitting all over the place.
7.

Cow Statue
Do you own the biggest dairy farm in the west & want everyone to know it?
Then this is the mod for you!
This pack offers a couple of cow statues that can be placed anywhere you like. They're great for marking your territory as the world's best cattle rustler.
There are 2 versions of this cow statue: one that has a stand, and one that does not.
The statue with the stand is a bit more expensive but well worth it.
6.

NEXT Weather Station
A little known fact is that farmers monitor the soil and weather very closely.
Farming Simulator 19 does allow you to do these things on its own – which is a great addition to the game.
But they don't really explain how your farmer gets this information. That's where this mod comes in.
This is a NEXT weather monitoring station you can drop onto your farmland.
And this allows you to monitor not only weather conditions, but also soil conditions as well.
Place one of these on your farm, and when someone asks how you know it's going to rain tomorrow, you'll actually have a real answer.
5.

Bug Zapper
Tired of those pesky mosquitos?
Flies getting to the fruits of your labor?
Well no more!
This bug zapper can be hung from any building or tree, and it keeps all the bugs away from your farmer.
No, there aren't bugs in Farming Simulator 19, but that isn't stopping you from putting this into the game and having some fun.
And it may seem like a silly decoration, but it does add to the look and feel of the buildings. It looks like someone might actually live on the land!
4.

Border Stone Set
Looking for a custom driveway leading up to your fancy farm house that you decided looks best in the middle of a field?
Look no further.
These border stones will help you line it out, and keep you from driving in the grass.
They're placeable in sections as small as 0.1 meters, and have several angles to help you line them up with each other.
3.

Custom Tires
One thing about owning a lot of equipment is that you go through tons of tires.
Not only are they bad for the environment, but they're hard to get rid of.
Many just end up staying on the farm way past their lifetime of usage.
This mod helps keep things real and you place these tires anywhere you want.
They're light and able to be moved by hand, too. Plus these tires also make a great silo cover for those of you worried about the blanket blowing off of your silage piles.
2.

Old Scarecrow
No corn field is ever truly complete without at least one scarecrow.
This mod allows you to place a custom scarecrow anywhere you like, even if there aren't any crows to worry about.
But you'll still know your hay-filled scarecrow is doing a great job keeping those non-existent virtual crows away!
Plus it's been given an aged look with this mod, so nobody will know you just built it for decoration. It seems to have been in use for many years & should blend in perfectly.
1.

Placeable US Speed Limit Signs
One of the biggest disappointments when adding the American DLC maps was that everything was still in metric units.
But with modding, anything is possible.
This allows you to place your own speed limit signs with the American unit of miles per hour.
Unfortunately the rest of the game stays in metric, but that's okay. At least you can choose your own speed limits!
That's right, when placing your own signs there are enough options to keep everyone happy.
There are limit options for 5, 10, 15, 20, 25, 30, 35, 40, 45, 50, 55, 60, 65, 70, 75, and 80 mile per hour signs, each costing just $100 in-game dollars.
Browse:
Farming Simulator 19
Lists
Video Games