Best Forklift Mods For Farming Simulator 19 (All Free)
This post may contain affiliate links. If you buy something we may get a small commission at no extra cost to you. (Learn more).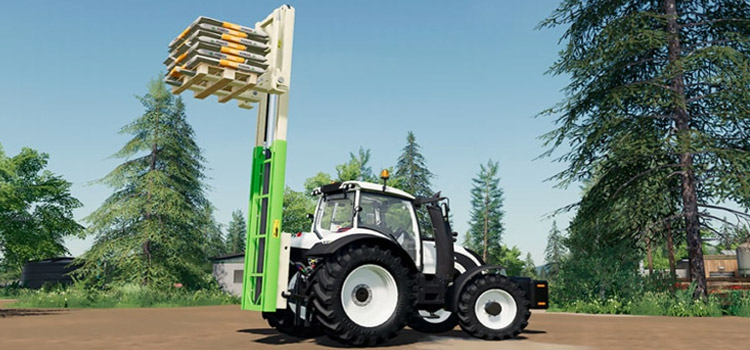 Fork lifts are an important part of the game for any kind of farm.
There are always so many pallets to move, not to mention other use cases too, like using forklifts for flipping over turned vehicles, loading logs, or just simply moving things around the farm.
And if the base game isn't cutting it for you, we've collected some of the best custom mods that FS19 players could ask for.
You're just one click away from an amazing forklift that you never knew you wanted.
8.

LINDE E14-335
Let's start this list with a smaller sized forklift.
This custom forklift is easily capable of lifting two thousand kilograms of weight. So that means it'll lift essentially any pallet in-game, along with most bales.
And this fork lift comes with multiple color options, as well as a few wheels to choose from.
So for anyone looking for a simple choice, take a peek at this mod. It's a great forklift for those who are just starting and don't want to sacrifice a tractor to load with, or for those who just want a machine to leave at the shop to load pallets with.
7.

Clark S-series 25D
The Clark S-Series 25D is also considered a small fork lift.
Yet what makes this one special is that it's electric powered.
If you own any DLC, you know there are already electric tractors that have been added to the game. And you can expect this forklift to perform in the same way.
And this one does not require refueling, but instead recharging at the electric charging station. So that also means this forklift operates very quietly and efficiently – especially compared to the other diesel models available.
I should also note that this is a fully customizable forklift mod. It comes with several different wheel options, selectable colors, and optional warning beacons and lights.
6.

Vermeer S450 TX
It's worth noting that this machine isn't exactly a forklift (it would actually be classified as a mini skid steer loader).
But it fits this list perfectly, as you can put a set of pallet forks on the loader. So it'll operate just the same.
This little machine will lift anything a small fork lift could, but it can also get around in places the others won't.
And this machine is a versatile machine, able to take many attachments and lift fairly close to its own weight.
It is not customizable, but makes up for that by being the only lift mod on tracks.
Check it out if you don't need a huge lift, or if you just need a lift in a small area.
5.

Manitou MC18 Container Edition
Bigger is better, right?
Well this is the biggest forklift on our list yet.
This Manitou custom forklift is designed to be large enough to lift cargo containers, so yeah. That means it comes with a higher lifting capacity and a higher lift rating.
But it's worth mentioning that the Manituo MC18 is not a very powerful machine, with only 33 horsepower. That said, it'll lift any pallet or container in the game.
4.

Toyota 2T5 Triplex 4M70
Here we have another larger forklift option, if you're in the market for one this big.
Yet despite the size, this Toyota 2T5 Triplex is still considered mid-range in size and lift capacity.
And this a fast forklift that's able to lift and load any bale or pallet in the game, except the large cotton bales.
And that does include the round and square cotton bales too, as they're a bit too large for this machine.
Also no customizing this machine, so what you see is what you get.
But that doesn't mean it isn't worth adding into your game. Especially because it's designed with great attention to detail.
If you've seen one of these in person, you can tell the mod creator wanted this machine to resemble the real thing as closely as possible. And realism can really add value to your FS19 sessions.
3.

Clark C80D Forklift
Here we've finally stepped up to the large class of forklift mods.
No mid-range on this one.
Coming in at a whopping 181 horse power, this machine will lift anything. Which is cleverly advertised, since the main thumbnail for this mod is a screenshot of it holding up the pick-up truck you start the game with
And for more features, this forklift is customizable with selectable colors, and optional dual wheels in the front to help with stability when lifting higher loads.
It's certainly worth adding into the game for lifting and loading, and even moreso when you consider the capability to pick up other equipment.
2.

Three-Point Forklift v1.1
So here's a mod that's actually a fork lift attachment.
As the name states, it attaches to a 3 point hitch on a tractor.
This allows you to turn any tractor of your choosing into a fork lift.
Not only does this allow you to choose what size of tractor you want to use, but it also allows you to carry another attachment on the opposite end of the tractor.
The lift has a height rating of 4 meters, making it tall enough to load even the tallest flat deck trailers.
And it also has optional paint choices too, so you can paint it to match the tractor you decide to pull it with.
1.

BM-VOLVO LM 620/640
Some of you may recognize that this is an older style fork lift.
It's basically a tractor turned backwards with a loader on it.
But that's what forklifts started out as, and for a good reason.
This custom loader will lift a lot more than a tractor with a front end loader. So it's really worth considering adding onto your farm.
This forklift is also fully customizable with options for wheels, selectable wheel brands, optional fenders, optional brush guards, and with addable beacons and a big warning triangle.
It's just an awesome mod with a ton of potential.
Browse:
Farming Simulator 19
Lists
Video Games