Best Front Loader Mods & Attachments For Farming Simulator 19
This post may contain affiliate links. If you buy something we may get a small commission at no extra cost to you. (Learn more).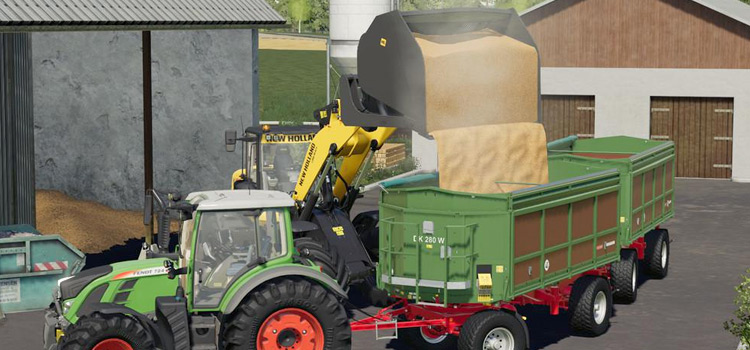 The front loader hasn't always been around to help us. In fact, tractors where around for a long time before they decided it would be a good idea to put a loader on one.
This changed the game for the tractor, and for farming.
And the devs for Farming Simulator made sure to include them in the game (plus several attachments for them).
But we'll always want more, so if you want some custom front loader features then you're in the right place. These great mods are here to add some new front loader equipment to your FS19 gameplay.
8.

John Deere 643R V 1.3
This John Deere front loader attachment is a bit bigger than the ones that come in the game. But this just looks fantastic, and has that classic John Deere branding.
But even more interesting, it actually has a customizable color scheme.
The mod also has an increased lifting capacity, too. Just note that for more lifting power, you need to have the attachment that holds more.
So while this loader may not look truly unique, it's more unique than you'd believe.
Hook up a large set of forks onto it, and a big weight on the rear of your tractor, to really bring out this front loader's true potential.
7.

Hauer Frontloaders Pack
Tractors come in all shapes and sizes.
And so should your loaders.
Luckily with this pack of front loader mods, now they do!
This mod pack includes five different sizes of loaders. Each size is a little bigger than the last, with lots of potential.
The varying sizes can make it easy to find the perfect loader to fit your tractor, without looking like the loader was a total afterthought.
And this pack comes with new buckets as well. They have ranging capacities, so you never have to lift too much for the tractor to handle and keep all four wheels on the ground.
6.

Lizard Feeding Shovel
Let's face it: feeding livestock is time consuming.
But even after you have the animals fed, they're still extremely messy and spill feed all over the trough.
This front loader attachment aims to speed this up and help with clean up.
Specifically, this front loader bucket scoops like a normal bucket, but it has an output option for the side. This makes it easy to zip along and off load the feed directly into the trough.
No more dumping it onto the ground, and no more slowly cleaning the feeding area.
5.

MX Manubal V7000 Bale Fork
Hay bales are probably one of the more fun additions to Farming Simulator.
But surely your tractor could move it faster, right? And maybe we could have a way to keep from dropping bales during transport?
Enter bale forks, as they can help with both problems!
This extra-large hay fork mod can carry up to four square bales and three round bales. Quite the improvement over the standard one bale at a time.
No longer will you have to drag around that autoload trailer!
This handy fork also has a transport feature that prevents the bales from falling or moving while you drive around. This means you can now carry your bales just with the tractor, instead of strapping them down to a trailer, or maybe it'll just keep you from having to make so many trips.
All good things, though.
4.

Reschke High Dump Bucket
Not all front loaders are created equal.
And the same can be said for trailers as well.
A few of the semi-trailers, and a lot of the modded trailers, are too high for the normal equipment to dump into them. Often times you can get over the trailer and dump, then when it's full, the pile inside of the trailer just ends up too big. It basically stops you from dumping.
This mod is basically a clam shell bucket.
So this means it opens in the rear, that way you don't have to turn the bucket over to empty it.
As long as you can get the loader arms over the trailer, it'll open up and dump the crops out into the trailer easy as pie.
3.

Fliegl Large Capacity Shovels
Anyone who's dealt with any amount of bulk crop knows that the front loader buckets included in game aren't really big enough.
Not only is this a problem while handling large amounts of bulk crops, but it also doesn't look right dropping a teaspoon's worth out of the bulk crop piles.
Well this modded set of buckets are high capacity buckets. They not only make handling material faster, but they also make the game look a bit more smooth by actually taking enough out with each scoop.
This way your FS19 buckets will feel like a real tractor bucket got a real scoop.
These buckets are also designed to look like they're made of aluminum, so they're real shiny when clean. Added capacity up 2150 liters.
2.

Lizard Adapter 5R
The Lizard Adapter 5R front loader attachment for tractors adds the three point hitch hook up to the front of your tractor.
This may seem silly, as some tractors already have a front PTO with a three point hitch hook up.
But this mod lets you mow those hard-to-reach areas that you couldn't get to otherwise. Very handy.
1.

Liebherr 622 Litronic Pack
At the top of our list we have this Liebherr loader pack, full of older style front loader equipment.
It comes with several attachments, and is large enough to handle any job. And even better, this custom loader has several optional features.
These features include an optional warning triangle for slow moving vehicles, an optional forestry package, and seven choices of colors for the machine and the tracks.
The pack also includes multiple attachments that you get in the download.
These attachments consist of a silage fork, a bucket, a log and brush fork, a mulcher, and rear rippers that function as a plow.
This is an all in one package with every attachment you could ever need for this machine.
The mulcher fully functions as a wood chipper too, and has no trouble mulching the biggest trees.
Plus the bucket capacity is higher than most here, and the silage fork comes with optional log straps, which makes it great for forestry as well.
Definitely check out this pack for a fantastic custom front loader alternative to the base game.
Browse:
Farming Simulator 19
Lists
Video Games