Best Garage Storage Mods For Farming Simulator 19 (All Free)
This post may contain affiliate links. If you buy something we may get a small commission at no extra cost to you. (Learn more).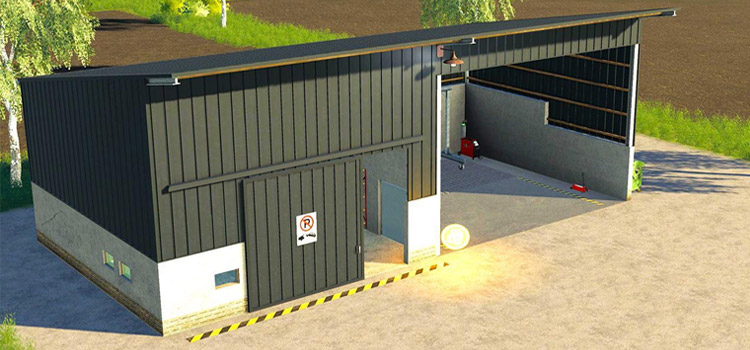 Tractors, tractors, and maybe even a few trucks! You've finally made it as a farmer, and can afford any tractor available in Farming Simulator 19 (or even some modded ones).
But what will you do with them once they're on your farm?
It's time to find a place to store those tractors.
This list will help you find some fantastic garage mods to get those tractors out of sight, and out of the rain as well!
Plus these garages are not only for tractors. This list also includes garages for storing logs and bales are listed below.
And each mod on this list is supported on PC & console as well.
10.

Old Building
Let's get started here with a simple shed.
This old building is an open style shed with three bays for parking. It's a smaller building, but will store most tractors in the game.
The open style is nice because it allows you to see what you have stored in the building at a glance.
Granted this is an older styled building as well, but I think it adds to the older farm look, if that's what you're looking for. And it also looks great with the house included in the base maps.
And this mod is seasons ready, but unfortunately doesn't have any lighting.
9.

Garage For Machines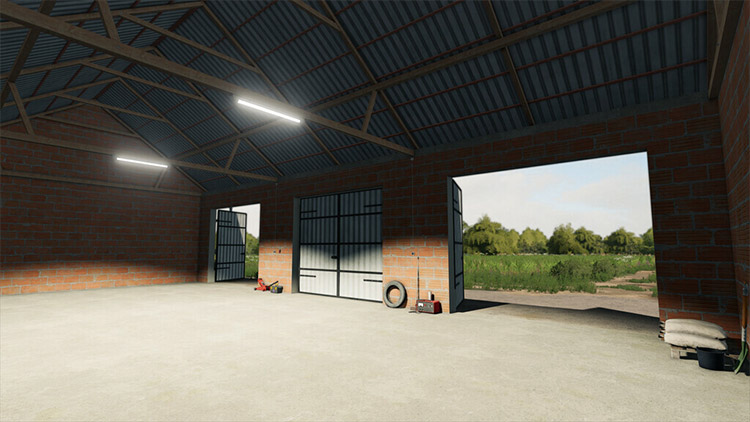 Here we have a more modern brick garage.
This custom build has working doors for all three bays, which work well for hiding your machinery from view.
And this is a medium sized garage with decent room for storage. While it won't fit harvesters inside, it does fit every other machine in the game with ease.
Not to mention this one has a very clean look to it, and is complete with lighting and support for seasons as well.
It's fairly cheap to pick up in-game, so even if it doesn't fit everything you're looking for, it's certainly worth a try.
8.

Alpine Shed
Here's a custom shed mod with an open-style wood design and a rusted metal roof.
One unique feature of this shed is the gutter system, which will keep your crops dry if you decide to store bulk inside of the shed.
It does not have doors, but it does have four large bays that are big enough to store the smaller harvesters in.
And this shed is very well built, plus it has full lighting and seasons support.
Note that it's a bit more expensive than others, but it looks really great. The wood style shed offers a fantastic design and would be a gorgeous addition to your farm.
7.

Modern Red Barn
The garage in this mod is an American style metal barn building.
It's made from red and white metal, and is actually quite large.
Plus it has working doors on two of the three bays. One set of swinging doors, and one large sliding door that opens to the side of the shed.
This is a very modern looking barn, and for our American readers, you'll recognize this style of building immediately.
And just like the other mods we've mentioned, this one has full lighting and seasons support.
It's a bit tall and can stick out like a sore thumb on the farm, but that's the American way, right?
6.

Small Shelter
You might be wondering what you could do with a smaller shed with no doors or sides.
Well this means it's great for small machines, a few bales, or storing attachments.
It's not large enough for large tractors or harvesters, but it's still a cute little shed.
The rear wall is a short brick wall, with a metal roof and posts holding the front up in a lean top style building.
So this little building makes a great place for storing a few bales and a tractor next to your livestock pen.
5.

Maintenance Building
Here's a custom building mod that works as a multipurpose building.
It's great for storage, and for keeping equipment, but it also functions as a maintenance building.
This allows you to customize your vehicles without paying an additional cost at the dealership.
That being said, it has three bays with an additional bay in a lean to shed off the end.
It's a brick building with a steel metal roof on top. The brick has an aged look to it, as does the metal, which gives this shed a vintage and lived-in feeling.
Not to mention that this shed also has solar panels on the roof, just to help offset the upkeep costs.
4.

Small Shelter
Here we have another small shed that doesn't have doors. It's the smallest shed on this list, and can only really be used for small tractors, bale storage, or implement storage.
It's a brown wooden building around the outside, and a metal roof on top. It's enclosed on three sides and hides things from view unless you're directly looking into it.
This building does not have lighting, but does have support for the seasons mod.
So this little shed is really a great attachment storage option, as it hides them well without anything in the way to keep you from reattaching to them.
3.

Large Hall
As one of the largest sheds you'll find in the modhub, this will store any machine or truck in the game.
It's a very large metal building with three bays on each of the longer sides, and one on each end for longer equipment.
This shed is large enough that it almost looks like a chicken house, that's just how long it is.
So if you need some serious storage room, definitely try out this mod and see what you think.
2.

Hall Pack
This pack includes three very large sheds all in one go.
You'll find one that's long with an L shaped shed off of the side.
The second is a larger garage with no doors or sides at all.
And the last one is a large hall with many garage bays.
By far the best mod out there for a large farm with lots of equipment to store.
1.

EasyShed Set
Well here we are with our top pick, and if you've made it this far, you might like the variety you'll get here.
This mod pack includes a whopping 26 different garages.
This means that there's a shed for every occasion and every type of farm.
Each shed is complete with lighting, has full seasons support, and most have working animations too.
The only sheds that don't have animations, basically don't need them.
So definitely give this garage mod pack a try – because you're bound to find something you like.
Browse:
Farming Simulator 19
Lists
Video Games