FS19: Best House Mods To Call Home
This post may contain affiliate links. If you buy something we may get a small commission at no extra cost to you. (Learn more).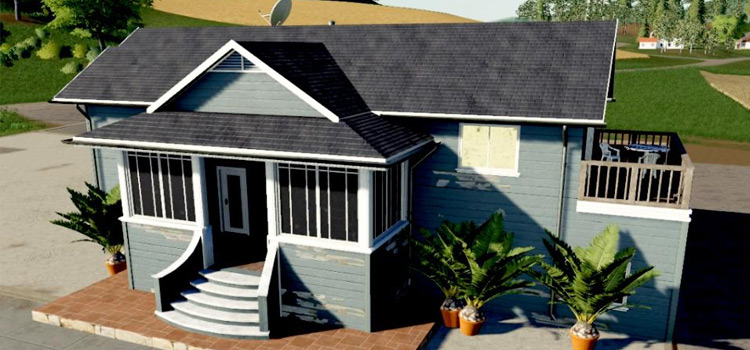 Having a house on your farm is honestly not the most important step of farming in FS19.
But it adds to the realism, allows you to sleep at night to skip time faster, and can be a great place to rest and save the game.
In this list we'll give share some of the better custom fan-made house mods out there.
Whether it's for you, your neighbor, or your dog, we've got a house in here. And the best part is, they're only a click away.
10.

Old Farmhouse Pack
We'll start this list with an older style farm house mod.
This isn't a huge house, so it won't take a lot of room up on your farm.
This red brick home has tons of decorative features, including a covered porch and window planters full of vines.
It's a cute little starter home, or for the single farmer it might be just perfect.
9.

Basic Farmhouse
This is a more modern Mexican style farm house.
It's a bit larger, but still doesn't take up much more room than a regular house would.
With white walls and the clay tile roof traditionally used, this house makes a great addition to any farmland.
With a cost of only $45k, it's a good looking replacement for the included base game houses.
8.

White House (PREFAB) v1.0
As the title states, this is a prefab house.
This means that while you can't actually use it yourself, it's a perfect house for your neighbor.
This is a fairly plain brick house that has been painted white, and looks great.
In FS19 the game is worlds are fairly empty, which I understand why: to give you more room to farm.
But after you've chosen your farm and built it how you want, it's nice to add some life to the world around you. A little decoration goes a long way.
And this mod does have a fence around it too, to clearly mark property lines.
7.

Modern Decorative House
Let's get a bit more modern here.
This little house is just full of features.
It also has many options in the store to make it a bit more your own. Decorating is actually well worth it here.
This mod is seasons-ready with a Christmas version included, too. Windows light up at night to add a bit more of a more lively touch. More realism never hurt.
6.

Old Styled Farmhouse with Barn v2.0
So this is a larger house mod, and comes with a matching barn too.
The house itself has a parking area big enough for a tractor, unlike the sheds that are included with the standard house. Those are barely tall enough for the pick-ups.
And this house comes in a nice red brick color, with stained bricks decorating the center all the way around the exterior.
It also has some very nice red shutters. A brilliant color scheme.
Lights all work at night too, including the barn that comes with the house.
5.

Single Family House
This two-story single family home aims to add a bit of life to your game.
This house isn't anything special building-wise. But it comes with tons of décor that makes it look like it's actually lived in by a family.
This is a 90's-style polish home with white brick on the lower level, and red brick on the upper floor.
Sadly it does not include a parking area, but this is fairly standard for this style of home.
4.

Big Blue Farm House
Let's be honest here: this house just barely qualifies as a mod.
Because this is the house from the ravenport map. It's an American style home, and while you might be able to buy it in ravenport, it's a great house that looks fantastic on other maps too.
It would have been nice if the devs had let us build any house on any map. But lucky for all of us, modders are here to fix anything you can think of.
This is a two story house that comes in brilliant shade of blue. It has a nice deck on the upper floor, and plenty of décor to make it look lived in.
All of the lights work at night which also adds to the realism.
Since this was actually made by the devs and just ported for other maps, it's a fully functioning house mod, with the quality you would expect from the vanilla game.
3.

Lone Oak Farmhouse
Everyone loves something green, right? So you might as well add this house to your list of things to try.
This fully decorated two story house comes with an added on garage for parking.
This is originally for the lone oak map, but eh, here we are.
Fully functioning animations and the lights all come on at night here as well.
And the sleep activation button has been moved to the bedroom with this mod, and the price has been reduced too.
2.

Wooden Dog House
Everyone needs a good companion. And your farmer isn't any different.
This mod isn't a house for you, but for your farmer's best friend.
Sadly we only got one option for the dog house, and honestly it's a bit lacking.
But you can always check other mods to add more features and different breeds of dogs, all to drop into this dog house.
This one specifically comes in a nice looking shade of brown, with an old tin roof (with rust added for charm).
Choose your dog and give him a new place to lie around and wait for the farm work to finish.
1.

Hollywood House
This final home on our list is probably the fanciest.
A Hollywood style design comes complete with working night lights, working animations, and a big fenced-in yard with a working gate.
This home is mostly windows with brick in occasional places for support.
It also has an outdoor dining area on both floors, lighted pathways outdoors, and lights around the fencing too.
Planters are placed for decorations here and there.
Overall, this is a super nice home for the well-established farmer. Or for those of you that want a taste of the finer things in life.
Browse:
Farming Simulator 19
Lists
Video Games