FS19: Best Logging & Forestry Mods (All Free)
This post may contain affiliate links. If you buy something we may get a small commission at no extra cost to you. (Learn more).
Honestly, logging is the most manual labor intensive part of Farming Simulator. There is no automation.
There's no automatic pick up for the logs, let alone getting them into piles you can actually load onto a trailer with the equipment provided.
Well, modders to the rescue!
We're going to give you our top list of some awesome logging mods for Farming Simulator 19. With so many machines they forgot to include, such as skidders and feller bunchers, and upgrades to the stuff they did include… well this list will make your logging experience far more enjoyable (and profitable).
10.

WCM Forest Mulcher v1.0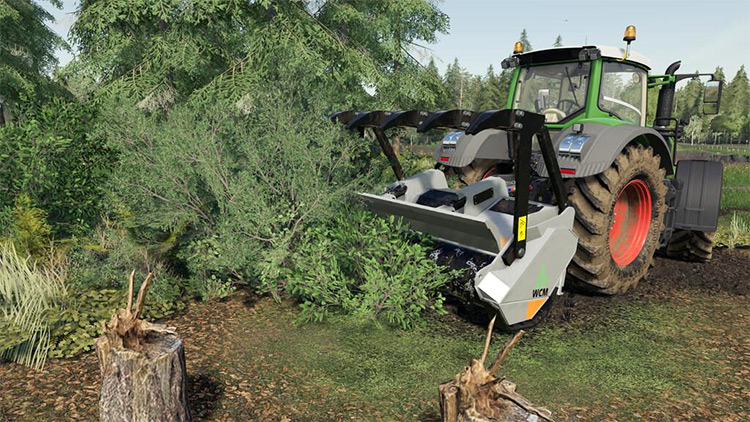 Let's face it:
Everyone was disappointed they didn't add excavators to Farming Simulator in this release. Well here we have a solution: an excavator forestry mulcher.
You can use this machine to cut trees, grind stumps, or simply grind logs into wood chips which can be loaded up and sold.
This is such a great way to get rid of those stumps without a cumbersome machine to try and get around that whole mess.
9.

Artic Jeep & Pole Logging Trailers
With only a few choices in vanilla trailers, this mods adds some great variety to your operation.
These are large pole logging trailers, specifically. There is no pole length logging equipment in the game.
That means that they're made to carry the longest of logs.
The poles that stick up off of the sides, also known as the bunks, swivel between the trailer and the truck. No longer do you have to drag your logs along the ground the sell them at full length.
8.

MAN TGX Crusher v1.0
The little truck is an all-in-one wood chip system.
Simply hook a pup trailer to the back and head to the woods.
Once you arrive just cut your selected trees, turn the mulcher on, and load the trees into the truck.
No more loading into the chipper by hand, or even worse a tractor.
Once you're loaded just head for the sawmill and get your money.
7.

Valtra Forest & Skidding Crane
This quite simply is a forestry tractor.
Fully equipped with a brush guard package, front loader, and a rear skidder!
You read that right: a rear mount skidder attachment.
You can finally drag your logs out of the woods the old fashioned way. This tractor makes a great addition to the game, even if it didn't add such a great feature that the devs seemed to neglect.
6.

LIZARD Trex600 v1.1
All the mighty trees feared the TRex 600.
This monster of a mulcher machine will cut any tree that dare stand before it.
And this is great for clearing trees out of places you want to use as a field, or maybe just space to drive through.
It also can be used to produce wood chips which can be sold for a profit.
Plus it works with any kind of tree, not just the harvestable trees like the cutters included in the game.
5.

John Deere 948L-II
Finally a fully-fledged skidder!
The John Deere 948L is a 300 horsepower machine with options for wheels, tires, color and capacity.
This machine comes in John Deere green or John Deere black. Paintable wheels and boom as well.
Back right up to a pile of logs and quickly drag them out of the woods all together. This makes it easy to just sit your loader up and bring trucks in to load.
And this is much easier than trying to get the loader and the huge trailers around in the mess that is logging.
4.

Greenbase 40 Eco
Now this little tractor attachment doesn't look like much. But what it does is huge.
This adds a winch and chain system to the game.
Cut and pile your logs, then chain them all together and pull them out of the woods.
I'm sure this was extremely hard to code, and the devs of this mod did a fantastic job.
Also it has the ability to winch the logs against the heel of the attachment, to put weight on the tractor. This gives you greater traction, allowing you to pull more than you would usually get out of the same tractor.
3.

John Deere 959M Feller Buncher v2.0
This list wouldn't be complete without a feller buncher, and oh boy does this John Deere 959M deliver.
This machine not only cuts the trees, it will hold onto the log so you can place it where you want it.
The "buncher" means that this machine can hold more than one tree at a time, as well.
Cut several trees at once, then pile them all together for easy loading later.
Or load them directly onto a trailer to save the trouble of re-handling them later.
2.

2020 FDR Logging Mods Pack
This mod pack does actually include equipment, but we're just going to talk about it as a pack of logging maps.
The equipment is pretty good, though and should be gone through as well.
The base maps, including the DLC, do not have very big logging areas.
They expect you to plant a few trees in a field and replant often.
Well these maps remove all the need for that. The maps included here where designed specifically with logging in mind, so they have more trees than anyone should ever want to cut.
This gives a much more authentic logging experience, not to mention it's far more enjoyable not having to wait for the trees to grow.
1.

Fliegl Timber Runner Trailers Pack v1.2
This is by far the most useful mod on this list: auto loading trailers.
Simply turn the function on, and drive by the logs. That's it.
No loading, no dropping logs, no messing with stacking them nice and neat.
Get as many as you want, then auto unload on the other end.
And this trailer does the job of every machine except stump grinding and cutting.
This saves you tons of money and tons of time. Not to mention the aggravation of having to handle every single log multiple times.
Absolute must-have mod for logging, unless you're into beating your head against a wall.
Browse:
Farming Simulator 19
Lists
Video Games