Best Pasture Mods For Farming Simulator 19 (All Free)
This post may contain affiliate links. If you buy something we may get a small commission at no extra cost to you. (Learn more).
Do you want to be the best cattle rancher in the west?
Is going outside too much work?
Then let's play some Farming Simulator 19 – with mods, of course.
So while you're on the way back to the farm, let's take a look at some of these great pasture mods to add into your farming world.
Here we have everything from free range cows to smaller sheds for just a few animals. These mods are all free, and are supported on the PC and console versions of FS19 as well.
5.

Cowshed 80s
This mod is a smaller cowshed, with a minimal pasture area.
It's just a metal barn with a fenced in area for feeding. But it looks great.
The cows are limited in space, but that makes it perfect for smaller farms where you don't have tons of room to spare anyways.
This 1980s-style Cowshed can hold up to 30 animals total, and has enough storage for several days.
Granted it isn't the biggest or the best, but it will fit right in on your farm all the same.
4.

Buildings With Cowshed
Sometimes a cowshed needs to be more than just for cows.
This mod does just that and combines a rather large storage shed with a smaller cow shed inside of it.
Now you can store you hay and feed indoors alongside a tractor or two. That'll certainly help you move things around with ease.
This barn can only hold 10 animals, but given the size of the area for the animals, this makes sense.
3.

Cow Barn
So this mod offers an older style barn, built out of concrete blocks with a rustic metal roof.
For capacity, it holds up to 20 cows in total, and it has an outdoor area for manure build up.
This is a pretty basic barn with a pasture space that doesn't take up much room.
And this building matches the theme of several of the in-game maps (or even some custom maps too).
This means it'll look right at home sitting on your farm, no matter where that may be.
2.

Modern Cowstable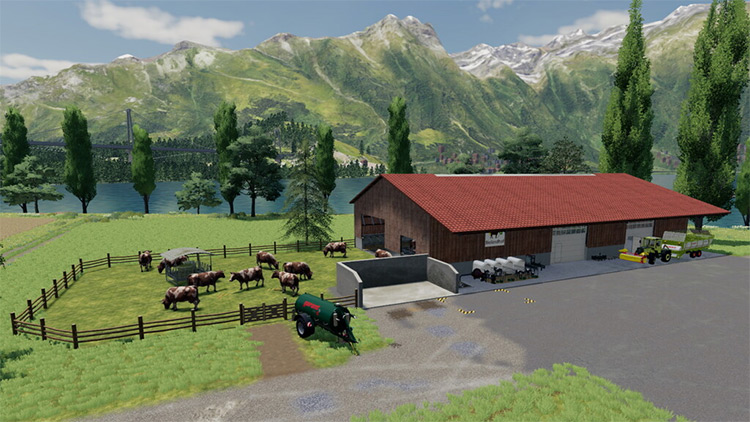 This Modern Cowshed has it all.
Automatic milking machines, manure system, Seasons support, the list goes on and on.
If you're looking for something you might see in our modern day cow industry, this is it.
The building is fully lit, has working gates on the fencing, and best of all: it has a separate storage area on the side.
This storage area is built into two parts that are separated by a net (which is fully animated).
All the functions work, too, which is impressive considering how many options this mod offers.
1.

Brazilian Open Cow Pasture
I'd have to say this mod is probably the best on the list.
It allows your cows to roam free as nature intended, with a fantastic open pasture area.
This has its ups and downs, though.
Since the cows are free to roam, there's no need for straw. Which is a great thing, except that also means no manure builds up.
If you don't use manure as fertilizer, then you could say this pasture is great on all accounts. But check it out for yourself and see what you think.
Browse:
Farming Simulator 19
Lists
Video Games