FS19: Best Plow Mods To Download (All Free)
This post may contain affiliate links. If you buy something we may get a small commission at no extra cost to you. (Learn more).
The plow was the most important agricultural advancement of our species' early agrarian history, allowing farmers to break up soil and residue with unprecedented speed.
We've come a long way since then.
And what used to be a bunch of tied-up sticks pulled by cattle are now high-tech works of art on the back of powerful tractors.
There's a lot of vanilla plows available for FS19, but why stick to the basics when you've got mods? And if you're looking for some cool plow mods to try out, then you're in the right place.
10.

Terrus Plows Pack
Some people are just interested in getting the work done when choosing their machinery. And this Terrus Plows Pack is one of the most efficient ways to do just that.
The straight edges and minimal design of these plows show the manufacturer's commitment to functionality rather than flair.
This practical pack includes four Terrus plows: they're the Terrus TS with a working width of 4m, the TS10 working at 6.6m, the TS16 with 8.6m, and the massive Terrus DSR, which covers a whopping 10m.
9.

John Deere Protill 40 Plow Function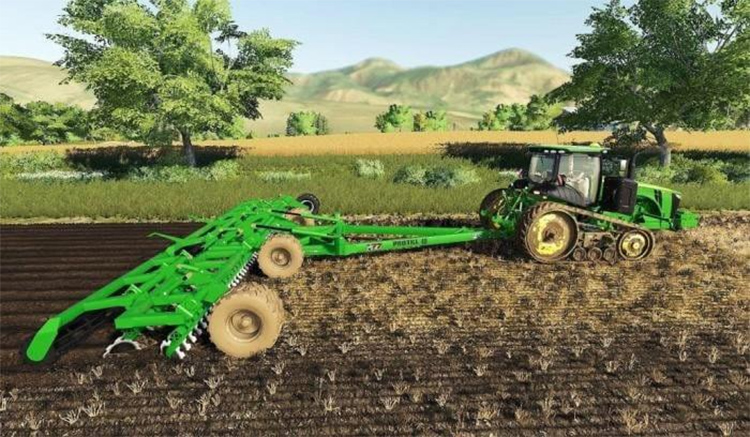 Another fantastic practical choice with a bit more color is the John Deere Protill 40 with plow functionality.
It has a massive working width of 12m, which functions perfectly at up to 20km/h. This will let you make short work of almost any field, no matter their size.
This machinery can work as a tiller or a plow depending on the settings, making it very versatile and saving you the time of switching equipment.
You'll need a tractor with at least 150hp to make this work. It doesn't have to be John Deere, but I recommend it for consistency.
8.

John Deere Chisel Plow
If you're into the John Deere aesthetic but prefer the kind of old-school machinery you could find in a small family-run farm, then this chisel plow is a perfect choice.
It has a working width of 8m and a max plowing speed of 15km/h, which should be enough to handle most regular-sized fields in a timely fashion. Unless you're running a million-dollar farming operation, this should be able to get the job done.
Pair it with a classic John Deere 40 Series tractor for the most authentic American farming experience.
7.

Rovic Leers DLB19 Pack
The Rovic Leers DLB19 is a favorite of South African farmers due to its robust design and low maintenance costs. That, along with its efficiency breaking up tough soil, makes it the right choice for working in harsh conditions.
This pack includes the DLB19 five-shank, seven-shank, nine-shank, 11-shank, and 13-shank versions ranging from 2m to 5.2m working width. All of them work fine at 155km/h.
6.

Thirty Meters Plow
Some FS19 players crave immersion and realism. But for others, this game is a playground where they can make their wildest farming dreams come true.
One way to make your farm both surreal and super-efficient is employing this 30m Plow, a massive super-tool that'll help you till the largest fields in just a couple of minutes with its great length and incredible top speed of 50km/h.
Despite being inherently unrealistic, the mod still features some pretty nice animations and dynamic collision interactions. It can be a bit wonky sometimes due to its absurd size, but it remains very useful.
And if 30m isn't enough, you could always go for the 50m one.
5.

Handcrafted Plow
Lots of people like Farming Simulator for the role-playing possibilities it offers.
Suppose your farmer likes DIY projects and has some background in machinery. In that case, they may come up with something like the Handcrafted Plow – a great-looking agricultural tool in a gorgeous aquamarine color that supports dirt buildup and usage wear.
The mod includes a two-shank and three-shank version of the tool, with each shank covering approximately 1m of ground.
4.

Kuhn Vari-Master
The Kuhn name is well-known in agricultural machinery. And the Vari-Master is one of the French company's most accomplished products.
Over 250 years of experience were poured into designing and manufacturing this state-of-the-art plow with a reinforced beam and sheath-mounted skimmers that can be adjusted in three directions.
It features the most exquisite model I've seen in an FS19 mod. It has a level of detail and flair that doesn't compare to your average plow.
It has a working width of 4.5m and customizable wheels – including the tires and rim color.
3.

Case IH Ecolo-Tiger 870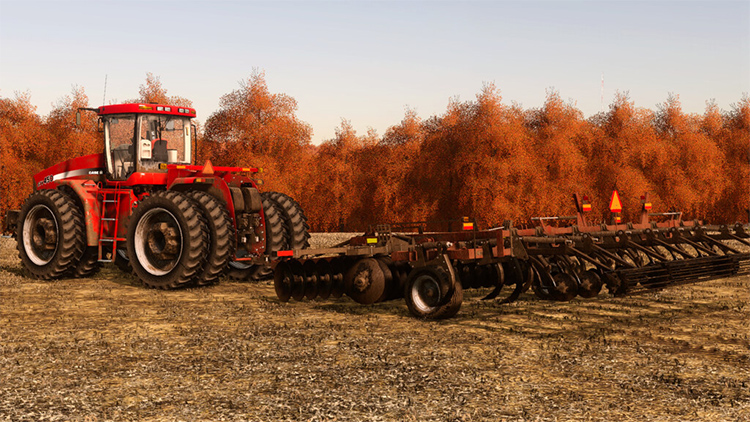 The first step in achieving higher yields and better-quality crops is improving your soil.
And this aggressive disk ripper is one of the best for the job.
It'll provide the most beneficial mixture of soil and residue while also leveling the earth for a more regular seedbed thanks to its nine ripper shanks, closing discs, and rolling baskets.
The mod has a working width of 5.5m and several attachment options depending on your needs. Plus the color is also customizable, though it looks best in the default black and red combinations.
Just keep in mind this powerful plow needs a fittingly powerful tractor to work – requiring anywhere from 360hp to 500hp depending on field conditions.
2.

Väderstad Seed Hawk Pack
The fewer tools you need to complete the job, the better – so this plow and cultivator combo from Scandinavia's most successful manufacturer is a no-brainer.
This Seed Hawk utilizes a precision air drill for higher seed-planting accuracy, making for uniform crop emergence and ultimately better yields.
This pack includes the Väderstad Farm Boss Plow and Cultivator, the Väderstad Seed Hawk XL Toolbar, and the Väderstad Seed Hawk 980 Air Cart – all with interchangeable wheels.
1.

John Deere 915 V-Ripper Series
If you're looking for quality, durability, and style, you can't go wrong with John Deere.
This fantastic pack includes seven-shank, nine-shank, and 11-shank versions of the JD V-Ripper series, with a working width range of 4.2m to 6.6m.
And the V shape helps this plow break up compaction more effectively in the root zone, ensuring a more thorough and regular seedbed. Its low-input tillage system also conserves soil moisture and reduces erosion.
You'll need some heavy horsepower to get it working, but you won't find a better tool for the job.
Browse:
Farming Simulator 19
Lists
Video Games