Best Straw Blower Mods For Farming Simulator 19 (All Free)
This post may contain affiliate links. If you buy something we may get a small commission at no extra cost to you. (Learn more).
If you plan on raising animals in Farm Simulator 19, you'll need a way to feed them and provide straw as bedding material.
One fun and easy method is to use straw blowers.
The base game has a few options, but there are some great mods that can diversify those choices.
And straw blowers can come in all shapes and sizes, from small ones that you can attach to telehandlers, to larger ones that need to be pulled and powered by a tractor. And a little bit of everything inbetween too.
8.

Kuhn Primor 3570
As a pretty basic straw blower, the Primor 3570 can only handle one bale at a time.
But it features a rear door that can be opened with the push of a button to make loading bales easier.
Unfortunately, you cannot rotate the pipe. So the straw only blows out the right side. If you're using this you'll wanna plan ahead for that.
And there are no customization options here either.
But since it only requires a 70hp tractor to operate, and it has an affordable price of $19,000, this mod is a great option for small to medium sized farms.
7.

Kuhn PRIMOR 2060S
This Pimor is another simple straw blower that's worth some attention.
The 2060S is very similar to the 3570, although it is a little more expensive at $22,100.
One noticeable difference here is that the 2060S does not have any wheels like the 3570 does, meaning you may wish to attach a counterweight to the front of your tractors while using it.
Another nice change from the 3570, which makes the increase in price worth it, is that the discharge pipe on this model can be manually rotated to the other side of the blower, allowing you to control which side you want the straw to discharge on.
6.

Emily Sigma
Here's one that's a bit difference since it's designed to attach to a telehandler.
Like many other straw blowers, this one can easily mulch both round and square bales. So you're good no matter what.
It also features a rotatable discharge pipe and a manually foldable door that acts as a ramp to make loading bales easier.
Plus the Emily Sigma has two foldable bars that lock the bales in place, making sure they won't fall out of the blower during transport. Could we make this any easier?
With an average price of just $22,000, this blower makes a nice addition for farms of basically any size.
5.

Robert Hydropail 2 GT EVO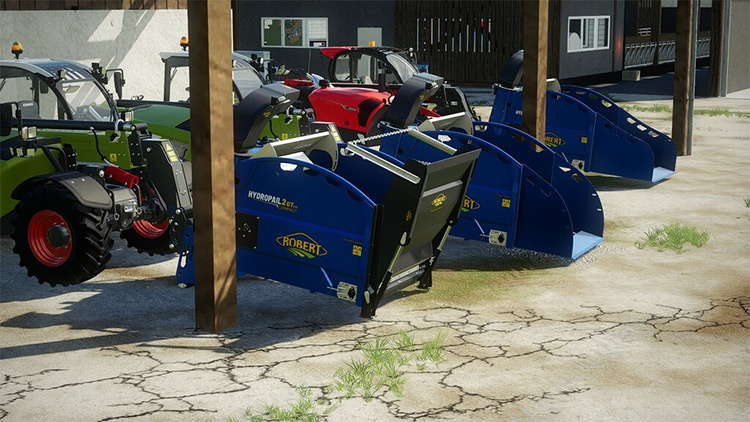 Here's another straw blower designed to attach to telehandlers. So this mod is comparable to the previous one on our list, just a different design and style (and price).
At only $14,900, this mod is cheaper than the Emily Sigma, and it has a separate autoloading version that you can purchase – as well as the regular manually loaded version.
Both versions have two different sized extensions you can select from, but the manual version also has a third option:
A manually folding door, much like on the Emily Sigma, which has a chain that can be attached to hold the bales in place. Lots of choices here.
4.

Lizard SIROCCO
While technically a TMR mixer, the Lizard SIROCCO can easily be used to mulch straw bales as well.
Not only can you manually load bales into the blower, but you can also open the rear door, and back it into a loose pile of straw or other material to load it.
With a price of only $5,100, this is by far the cheapest mod on our list, making it great for newer farmers on a budget.
It even has a capacity of 8,000 liters, which is the equivalent of two regular sized bales.
If you need something cheap that definitely works, be sure to check out this mod.
3.

Robert Evolumix 2-30P
The Evolumix is a large mulcher that has a capacity of up to 30,000 liters. It can be used to mix TMR, or simply to blow straw or other material.
When bales are placed inside the machine, the augers automatically start mulching the bales into loose straw to be spread. And this kind of functionality can really save you time.
You can choose to unload either from the pipe, or the small door on the left side.
And with optional discharge doors you can add during purchase, you can also choose to discharge from the rear or the right side as well.
At $70,000 this is the most expensive mod on our list. But it is well worth the price for the multi-functionality it comes with.
2.

Robert P2200
As the largest straw blower on our list, the Robert P2200 can hold up to nine square bales with the extensions you can equip during purchase.
End yet it still only requires 90hp to operate.
It also has a folding door on the rear, which makes it quite easy to load the bales with a telehandler.
But with a price tag of $51,100, it would have been nice to see an autoloading function from this mod.
Still, it's a great tool for blowing large volumes of straw wherever you need it.
1.

Straw Blower Gyrax BIG CONFORT
Having a capacity of eight square bales, this Gyrax makes blowing large volumes of straw a very simple task.
While it's not the largest straw blower mod you can get for all of FS19, I do think the folding sides make loading hay bales much easier than a typical straw blower.
And luckily, for such a large machine, it still only requires a 100hp tractor to operate – plus you'll only be shelling out $35,000 for one.
Browse:
Farming Simulator 19
Lists
Video Games