Best Subsoiler Mods For Farming Simulator 19 (All Free)
This post may contain affiliate links. If you buy something we may get a small commission at no extra cost to you. (Learn more).
Subsoilers are a great way to get that field back into shape.
After you've completed the field, you can begin planting or fertilizing as you see fit. But you aren't going to get more than one crop without using a subsoiler (minus sugarcane since it doesn't require replanting).
So since this machine is just about required, let's go over a few subsoiler mods that will not only help you get back to planting faster, but also look great while doing it.
9.

Kerner Corona 500
This subsoiler is 5 meters wide in total, and it requires at least a 210 hp tractor to pull it.
It's designed in green and yellow, so it easily matches the John Deere equipment in the game (or even the modded John Deere stuff).
This is a standard disk type subsoiler with a clod busting wheel on the back. It also has several rows of rippers in the front to bust up even the hardest ground.
This leaves the field looking neat and clean.
8.

Field Creator Pack
This pack of subsoilers includes all of the subsoilers you'd get included in the base game.
So why would you need a pack of subsoilers you already have?
Well, this modder has made several changes to them that make these vanilla subsoilers worth downloading all over again.
For starters, their base working speed has been changed to a more realistic speed. This makes them much faster.
And there's an added option to change colors, so you can now paint these subsoilders any color you want.
Finally, all of them now have the option to create fields.
If you've ever used a plough for that task, you know how great this feature really is.
7.

Bednar Terraland Pack
Here's another awesome pack of subsoilers worth checking out.
The Bednar Terraland pack includes a subsoiler, a fertilizer, and a fertilizer tank for the front of the tractor. They're all a light yellow color, and match the Fastrac tractors.
The neat thing about this pack is that it all hooks together to complete everything except planting in one pass only.
This saves you tons of time and fuel with your tractor, since this mod requires a fairly large one to pull.
6.

Lizard815
While this may not be the largest subsoiler you've seen, it's an extremely tough one.
This is also an older style chisel plow, if you can tell by the design.
And this subsoiler has a working width of 6.5 meters and comes in your choice of color. Also, this subsoiler is able to create fields, and needs a fairly good sized tractor to do it.
The recommended horsepower is 210. This may seem like a lot, but most subsoilers of this size require at least twice that.
5.

Bandeirante Raster H9
If you're looking for the top of the line in subsoilers, this is it.
This Bandeirante disk type subsoiler has a main row of disks for cutting into the soil, a secondary row of rippers for plowing deep into the soil, and finally a row of compactors to smooth everything back out when you're done.
It has a working width of five and a half meters, and requires at least a 350 horsepower tractor to pull and work with.
4.

Agromatax SM-3
Here we have a much simpler subsoiler design (for mods, at least).
This one has a main row of long rippers that are preceded by a clod buster. It has a working width of 3 meters, and requires at least a 140 horsepower tractor to pull it.
Unlike most other subsoilers, this one hooks up to the three point hitch directly.
This means you can raise it up off of the ground and carry it. And you do not have to pull it around like a trailer.
This translates to a quicker turn around and less time in the field.
3.

Agrisem Agromulch 6M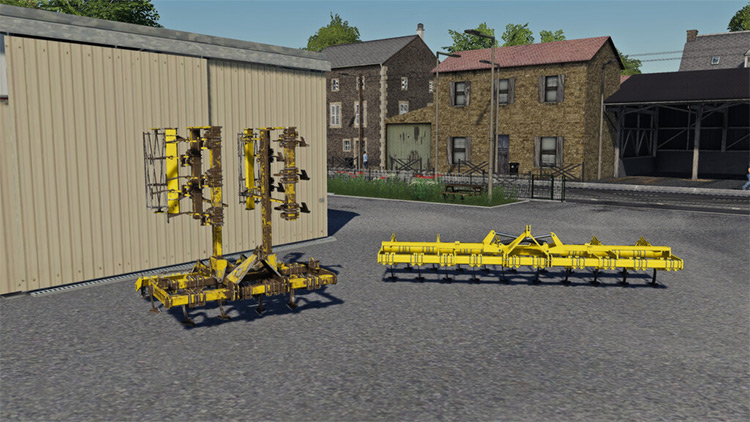 This ripper-style subsoiler has everything you need in a subsoiler.
It's setup with a main row of rippers, and has a following set of clod busters. And it has a working width of 6 meters (pretty decent), although it requires at least 240 horsepower in your tractor to pull it while working.
The nice thing about this subsoiler is the fact that it folds up when you aren't using it.
This makes it way easier to store because it takes up less space in your equipment storage shed.
Plus since it can fold up quickly, it's easier to get in and out of fields – especially ones with gates or fencing.
2.

Sicma Bronty 3000
This little blue subsoiler may not look like much at a glance. But it has a few unique features that qualify it for this list.
And while not everyone will be impressed by all of these features, I can say this mod will at least match your new Holland tractors.
The unique thing about this subsoiler is that the roller is optional.
When you choose not to use it, the dirt looks plowed.
But when you do use it, the dirt is left in a much smoother state. It's also pretty neat that the texture changes based on if the roller is attached or not.
Most mod developers do not think this far into their mods. But kudos here for detailed realism.
1.

Kotte Garant Chisel Plow
The last mod on our list is a very basic ripper.
It's small, requires a basic tractor, and has a different working pattern than most subsoilers – which can be great depending on what you need.
This specific subsoiler has 2 rippers that are spaced out 1 row wide.
That means it'll plow in between rows, or just skip one each time. This is useful for giving your fields an open look, or just for a special way of getting the job done.
Browse:
Farming Simulator 19
Lists
Video Games