Best Swather Mods For Farming Simulator 19 (All Free)
This post may contain affiliate links. If you buy something we may get a small commission at no extra cost to you. (Learn more).
Let's start off by agreeing that baling hay is one of the least rewarding processes in Farming Simulator 19.
First you have to mow the grass, dry it with a tedder, windrow it up with a swather, and then finally bale it into bales.
Well this list of mods addresses the ever-lacking category of windrowers.
From traditional style rakes to the newer belt type systems, modders are here to save you from making endless trips up and down the field with a baler.
10.

Agromet Z211/2
This little swather is actually an antique.
And that doesn't keep it from being a whole deal better than the ones included in the game.
The animations all work properly, so it's like actually watching one of these things work.
Specifically, this attachment has a working width of 4.5 meters, and a max speed of 20. It may be small, but it's fast, easy to get around, and cheap enough to help in the beginning of your hay investment.
9.

Krone Swadro 2000 V 1.1
The Krone Swadro 2000 is a pretty good sized rake.
It's actually wide enough to get the job done effectively.
With 6 working heads, it has a working width of 19 meters and a max working speed of 18 kilometers per hour.
This model has optional strobe light and selectable wheels and tires, too. Also much bigger than the in-game windrowers.
8.

Agromatax Windrow King v1.1
The Agromatax Windrow King is a newer style belt system windrower.
It has a 3 meter working width, but what makes this swather special is the fact it out puts the grass to one side or the other.
If you switch it from left to right as you rake the field, it will push the grass all to one side.
This makes for super easy recovery.
Just be careful with larger fields, or with multiple cuttings, as the pile can get quite large.
7.

Lely Hibiscus 1515 CD Profi v1.0
This is definitely a larger swather.
The Lely Hibiscus 1515 CD comes with fully working animations and descriptions. It has a max working width of 14.8 meter.
This is a standard style swather, so don't expect anything too special here.
But this swather is much faster than the ones in the base game. This means less time paying the helper to rake grass for you, and more money in your in game pockets.
The max working speed is 28 kilometers an hour here. And keep in mind the standard is somewhere around 14 kilometers an hour.
6.

Poettinger Top 422 v1.1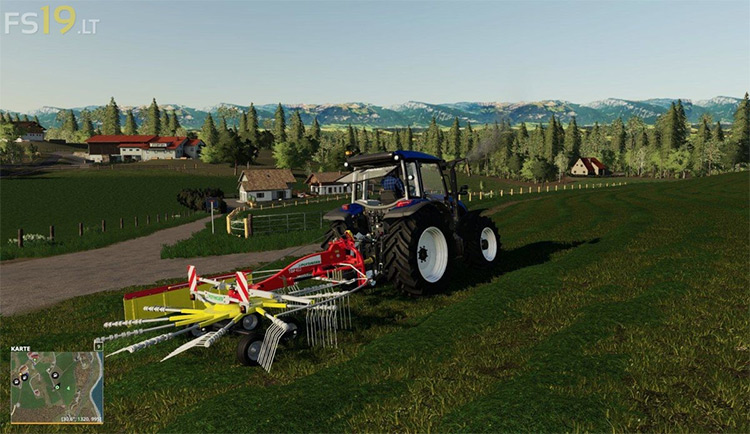 Why would you only want a single row swather?
To go with the tiny tedder, of course!
Attach this rake to the rear of the tractor and the tedder to the front for a one tractor show.
Saves you from having to both switch attachments and make two passes, or from having to keep another tractor around to do the same job.
Needless to say this is extremely useful for baling hay.
Simply make one pass and come back with the baler. Your grass will be dried and raked into nice little swaths that'll be easy to collect with any baler.
5.

Kverneland Taarup TA 753c
The Kverneland Taarup TA 753c is a medium sized swather mod.
It has a working width of 7 meters, and a working speed of 18 kilometers an hour. Not bad.
While it may be a rather plain rake system, it is fully customizable. From the paint job to the wheels and the tires, you can make this rake truly your own.
And this is an often over looked feature, especially when it comes to attachments. Lucky for us, the modders out there believe in a little customization.
4.

Nadal R90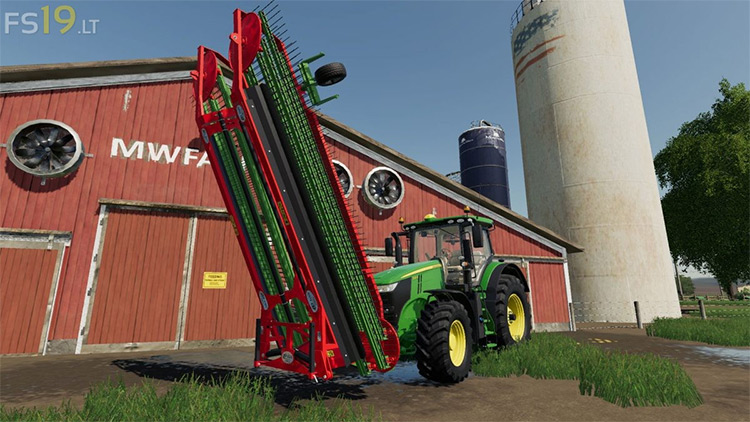 Now this extra wide swather is a beast.
The Nadal R90 is probably about the biggest that most people need.
If you get one much bigger, it gets too wide to get around in smaller fields.
That makes this the best traditional-style swather system for most farms, with the mega farmers being the exception.
You can still do small fields with this rake, but just not in so many passes.
It has a working width of 17.4 meters and a max working speed of 18 kilometers an hour.
3.

Fella Grassland Implements Pack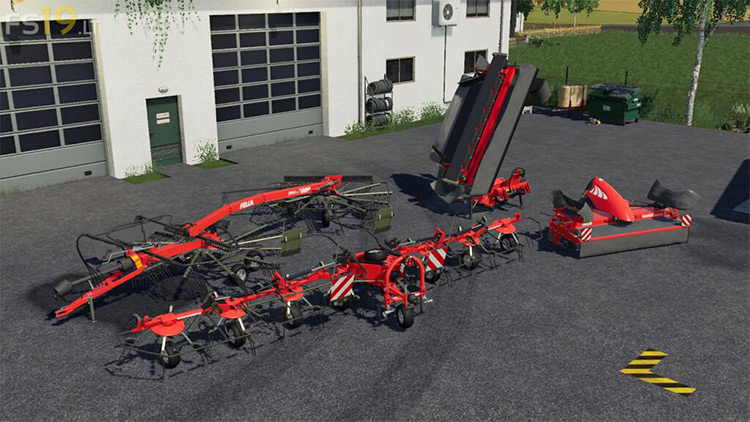 Now this is a pack of swathing equipment. And a damn good one.
This pack contains two mowers, a tedder, and a swather.
Since this article is about swather systems, I won't go into the other attachments too much. What I will say is they are worth using.
But the included swather is the Fella Juras 1502 Windrower.
It has a working width of 6.3 meters, and a working speed of 23 kilometers an hour.
And this pack includes everything you need to produce hay in game, except for a baler. But it's nice to have all matching attachments all the way across the board.
2.

Schinckel V Rake v2.0
The Schinckel is another large swather for this list.
It has a wide working width of 12 meters and a max working speed of 20 kilometers per hour.
And this rake folds up nicely, which makes for easy transport.
Just unfold it at the edge of where you want to start and go. And being the size that it is, be prepared for slow baling, as this attachment leaves quite a large swath.
1.

Kuhn Merge Maxx 902 v1.0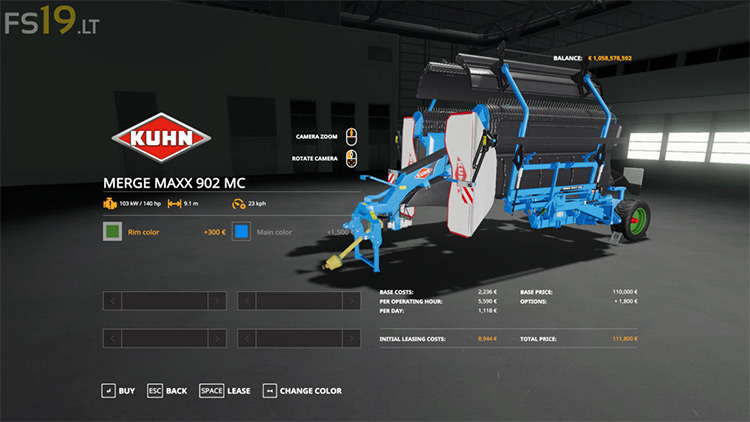 The best it gets is the Kuhn Merge Maxx 902.
This advanced belt rake system will have you stuffing the baler in no time.
These types of rakes are the best because you can direct which way you want the grass to go. Make your swaths as big as you want, or at least as big as you can drive a tractor over.
This makes it very easy to produce bulk piles.
Cut the grass multiple times for better results.
Fair warning: you have to actually use grass, as there is no way to sell it directly without some sort of processing or picking it up.
Browse:
Farming Simulator 19
Lists
Video Games