Best Farming Simulator 19 Truck Mods (All Free)
This post may contain affiliate links. If you buy something we may get a small commission at no extra cost to you. (Learn more).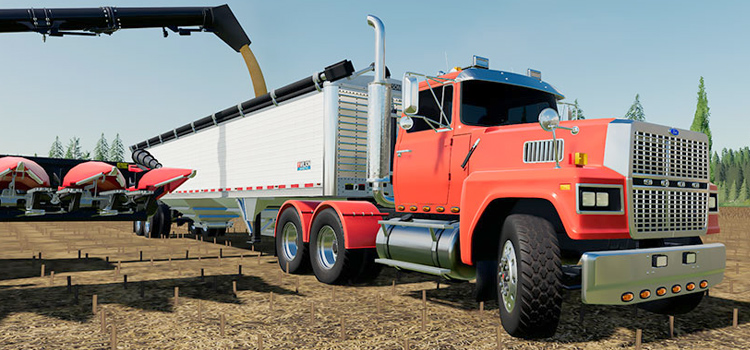 Getting the job done is only the first part of the equation in FS19. You'll soon be asking yourself how to do the same tasks better.
Well that's where equipment comes in.
As you progress through the game, you'll gain access to more equipment options, and mixing and matching certain vehicles to specific tasks will be key to becoming more efficient in your farm.
While the base game already offers quite a wide variety when it comes to farming equipment, modding expands your options much further – offering completely custom vehicles for you to pick and choose from.
And if you're in the market for some custom trucks, here are some of the best FS19 modded varieties worth snagging.
10.

2003 Dodge 3500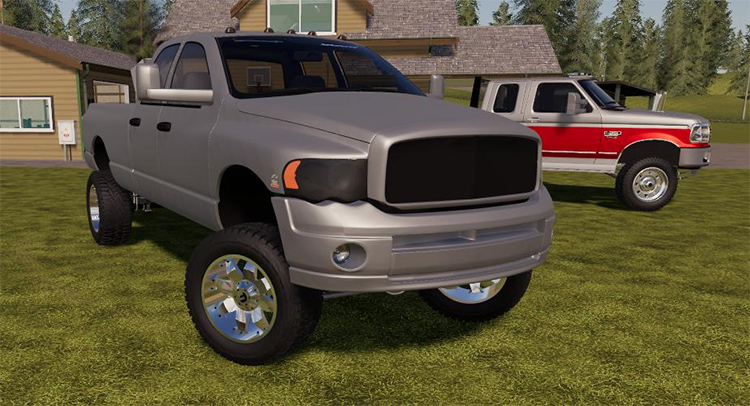 If you're looking to do some light hauling around the farm, you might want to consider getting yourself a new pickup truck.
Pickups are great all-rounders for transporting some of the smaller products you might have, and work great for just getting around as well.
If you like tinkering with your vehicles, then FA2005's 2003 Dodge Ram 3500 might be a place to start.
The truck feels solid and works as expected. But where it really shines is its customization options.
The pickup comes with 50 different custom styles, allowing you to mix and match parts to make it look however you want.
9.

NMC Scarok Pack v2.0 FS19
Another wildly popular option when it comes to pickup trucks would be NMC's offerings.
The North Modding Company has made a name for themselves in the Farming Simulator world. And their Scarok has become the go-to truck for many fans of the game.
What's even better is that the NMC Scarok have been improved even further, and are now being offered in three variants.
You'll be able to choose between 1500, 2500, and 3500 editions, each with standard trailer hitch and gooseneck attachment capabilities.
8.

Unimog U 5023
The popular Unimog is another great ride for getting around in FS19, and useful for getting some of the simpler tasks done.
The truck runs on 231 HP with a max speed of 80 km/h, making it great for speeding around the map regardless of the terrain.
The Unimog has trailer hitch capabilities as well and can pull tanks of up to 400L.
7.

Ural 4320-60 UST-5453
While pickups might be great for some light transport work, they're probably not ideal if you're going to be doing some heavy logging.
In that case, you may want to get more specialized equipment. And this URAL 4320-60 UST-5453 is just what the trucker ordered.
This truck mod was built specifically for transporting logs, as it already includes a built-in container to load in.
The truck runs on 240 HP and includes customization options for wheels, bumpers, and paint jobs.
6.

MAN TGX Forest Semitrailer Pack
In line with increasing efficiency when it comes to your farm tasks, you're going to need some extra power if you want to save yourself some trips transporting those logs.
Taking it up a notch in the power and capacity departments, the MAN TGX Forest Semitrailer Pack is your next best option.
The trucks include deep customize options and even allows you to attach its very own crane to be able to lift and load logs more easily.
5.

Same-Lamborghini-Huerlimann Pack
Who says you can't farm in style?
The Same-Lamborghini-Huerlimann Pack 150-190HP lets you add some flare to your farm with access to some of the best SDF Group trucks out there.
Not only are these trucks stylish, but a lot of effort went into making them as realistic as possible too.
All trucks include custom animations, follow dimensions and weights of their real-world counterparts, and have tons of customization options for you to choose from.
4.

Roadrunner+
Now that we have the smaller trucks out of the way, let's get into some of the bigger toys you can get for your farm.
The Lizard Roadrunner+ is a great option for those bigger/longer hauls. Especially since this was recently updated to give you an even more powerful engine in the form of the hybrid 1800 HP option.
Other updates include improved brakes to accommodate the higher power and speeds, headlights and high-beam upgrades for better vision during night hauls, beacon lights, and working connection hoses.
3.

Hulk++
While the Roadrunner+ has a max speed of 74 miles/hr, The Hulk++ comes close at 68 miles/hr… except running on only 680 HP as its highest configuration.
Speaking of configurations, this Hulk++ mod offers tons of options to boot. So you'll be able to maximize it for pretty much any task you can think of.
The configurations include short, long, flatbed, two hooklift options, fasterlift, and sleeper along with other standard customization options like wheel sizes and setups.
2.

VStRuk PT 600
This VStRuk PT-600 mod is another powerful custom truck, based on the popular Peterbilt 587.
While it may not be quite up to par with the previous two trucks in terms of performance, the mod more than makes up for that just by looking as good as it does.
The level of detail here is amazing as the quality of the textures just look stupendous in both the exterior and interior.
Give this a try and you'll understand the meaning of "realism mods".
1.

Ford LTL 9000
Taking the top spot on this list is a monster of a truck, in the form of the Ford LTL 9000.
Color customization options alone will have you spending hours in the store, as you can choose to have different colored rims, front fenders, flatbeds, cabs, tarps, and even chrome parts.
The truck comes with multiple configuration options as well, including short, long, flatbed, hooklift, and even a dump bed.
Need a truck for basically anything in FS19?
Can't go wrong starting here.
Browse:
Farming Simulator 19
Lists
Video Games