Best Wood Chipper Mods For Farming Simulator 19 (All Free)
This post may contain affiliate links. If you buy something we may get a small commission at no extra cost to you. (Learn more).
Forestry was a big addition to the Farming Simulator world, and it has come a long way to what we have now in Farming Simulator 19.
The logs are the most profitable part of forestry. But what about the trees that won't go through the cutter?
Or those pesky trees all around your farm?
That's where wood chippers come in.
They easily dispose of any tree or branch in the game, and turn it into a nice pile of wood chips.
We've gathered a list of the best wood chipper mods to help you get your farm looking clean, or to just help get rid of those trees that can't be logged.
10.

Stationary Wood Chipper
This mod contains a stationary wood chipper by itself.
This means you can place it where you want it, and bring the logs in for processing.
A great choice if you want to avoid the mess of moving the chipper all over the place. It'll also allow you to leave the machine for loading the chipper in one location.
Sure beats buying a lowboy trailer big enough to carry a machine like that.
9.

Seppi Maxisoil 350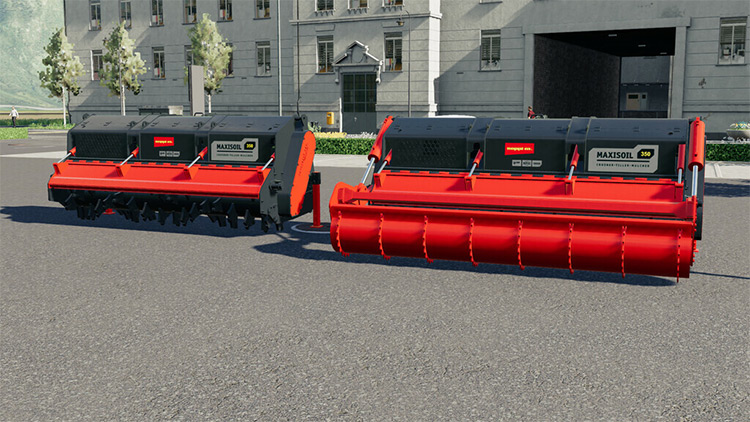 Here's a wood chipper that's made to be attached to a 3 point hitch on a tractor.
And this mod not only chips wood, but it also doubles as a tiller.
This may not be realistic, though, as putting your mulcher in the dirt is a sure way to end its life prematurely.
Thankfully this isn't real life, so in FS19 we'll be good to go either way.
This mod is great if you have a lot to cut down that you don't want to mess around with and spend time picking up.
Simply back your tractor over the mess and you'll be left with a nice, easy to move pile.
8.

WCM UMM/S/HP
Here we have another 3-point hitch style wood chipper.
This mod doubles as a plow when the rear teeth are lowered, otherwise it's just your standard chipper.
And this chipper will mulch up to a 36 cm tree. This means it'll cut just about any tree in the game.
Plus it'll also mulch up stumps.
The chipper is an all-in-one clearing machine – simply hook it to your tractor and you'll have a new field in no time!
7.

Crawler Loader LIEBHERR 622 Pack
This fantastic mod pack includes much more than just a wood chipper.
It comes with a full-sized track loader complete with a wood chipper, a bucket, and 2 sets of forks.
For the wood chipper itself, you'll get a large chipper that's more than capable of taking out even the largest of trees.
The best part about this pack is when you're all done mulching for the day, you can use the same machine to load the wood chips with.
This saves you money and time spent moving equipment around from each forest.
6.

WCM UMM/EX
This wood chipper is made to go on the boom of an excavator.
It's built for large excavators, ranging from 25 tons to 36 tons.
This also means it'll cut and mulch any tree in the game.
After all, excavators are one of the most important tools on a farm. And this just makes getting those hard to reach trees even easier.
5.

NMC Mulcher
I'll just say it: this wood chipper is a beast.
It goes with a D-11 bulldozer, which is actually a very large dozer. It's definitely one of the most powerful options here. And when paired with one of the most powerful mulchers, it can clear an entire forest by itself.
The attachment is of course black, and does not work without the matching D-11 bulldozer mod.
To grab that additional mod just click the link above and check the detail description – there's a direct download link in the description on the mod page.
4.

LIZARD Trex600
This is an all-in-one wood chipper, meaning that it drives itself under its own power.
It is on tracks, so it'll get around just about any place, even in between trees if you choose to save a few.
The Trex600 has a very large motor as well, which allows you to power through even the biggest trees out there.
All that said, this mod does has one downside though:
You cannot detach the mulcher and use other attachments. So it is strictly a wood chipper.
3.

Jenz BA 725 D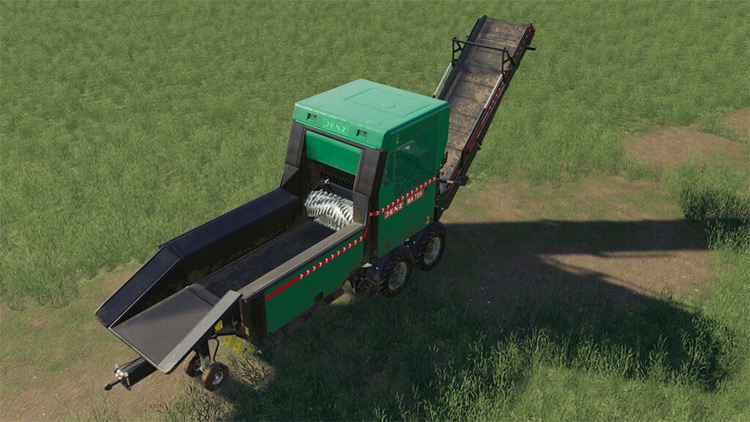 The Jenz BA 725 is probably what you had in mind from the start of this article when we said "wood chipper".
It doesn't get much closer than this, other than the fact that what we have here is a bit larger than the wood chippers in the vanilla game already.
This is a trailer style wood chipper to boot. It can be pulled behind any vehicle, and is powered with a PTO.
It's complete with all working animations, including an improved drum texture as well.
If you're looking for an improvement over the in-game wood chippers, this is a mod worth trying.
2.

Noremat Valormax A72-150 RS
Here's another trailer style wood chipper for those of you who are still looking for a better version of the basic in-game options.
That said, you'll probably like to see this one's sized a bit bigger.
It also has a longer belt for pulling the logs into itself.
One other nice thing about this machine is that the paint matches all of the yellow tractors, including the elusive JCB tractors. If you're a fan then you know exactly how hard it is to match.
1.

Forestry Disc Mulcher
This last mod on our list goes out to an often ignored machine.
The Forestry Disc Mulcher is made for the skid steer loaders and the compact track loader as well.
These small machines don't get much attention because quite frankly, not many attachments were included in the base game.
Lucky for us, mods are here to pick up the slack.
And with this wood chipper you can now cut and clear trees with your skid steer.
It'll cut up to a 36-inch tree, but requires nearly 40 gallons per min flow. Standard flow models will work, but not as well.
Browse:
Farming Simulator 19
Lists
Video Games