50 Best Must-Have FS22 Mods: The Ultimate List
This post may contain affiliate links. If you buy something we may get a small commission at no extra cost to you. (Learn more).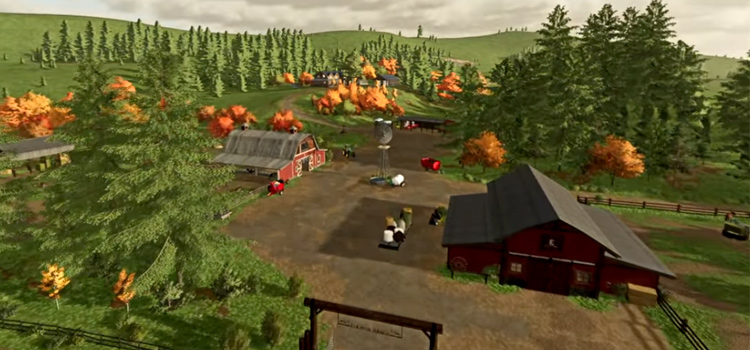 There are thousands of mods for FS22, but not all of them are created equal. There are some mods that players just cant live without.
These essential mods are so useful that they've become an integral part of the series for most players, which is why they reappear with each new iteration of the Farming Simulator franchise.
Fed up of driving for miles to sell your logs? Well, there's a mod for that.
Need a worker to follow you? There's a mod for that. Wish you could seed in a straight line? Yes, there's a mod for that!
And here's our collection of must-have mods that no self-respecting farmer can do without.
50.

Government Subsidy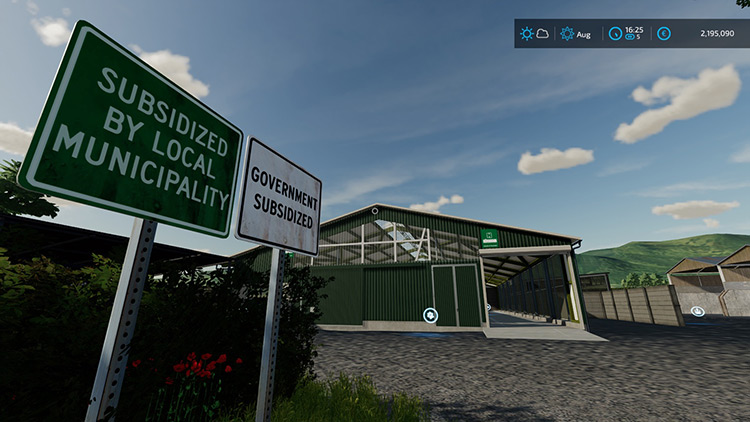 Platform: PC/MAC, PS4, PS5, XB1, XBS
Location: Construction > Production > Generators
Price: $100
No one is going to notice these unassuming little signs placed on your farm. But, you'll definitely notice the difference they make to your bank balance! You'll be a millionaire in minutes.
Government subsidies for farmers do exist in real life, but these are next level. You'll be able to build the farm of your dreams.
Tip: If you want to keep some sense of realism, only use the "Subsidized by Local Municipality" sign – they pay less than the government.
49.

Lamborghini Huracan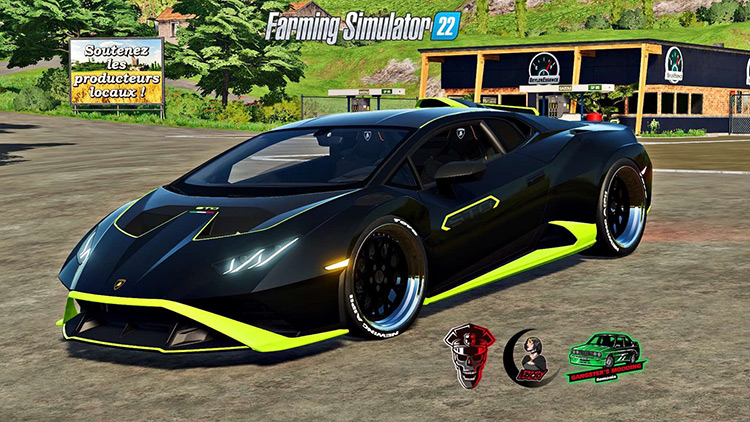 Platform: PC/MAC
Engine: 640bhp
Top Speed: 310kph
Price: $340,000
This is a sure-fire way to make the other farmers jealous. And you've got to spend that government subsidy somehow! So why not do it in style?
Note: Only available for PC users. Not that we console peasants would be able to afford one anyway!
Along with colour and wheel options, this also includes a tow bar. Your cattle will never be late to market again.
48.

American Garden Hose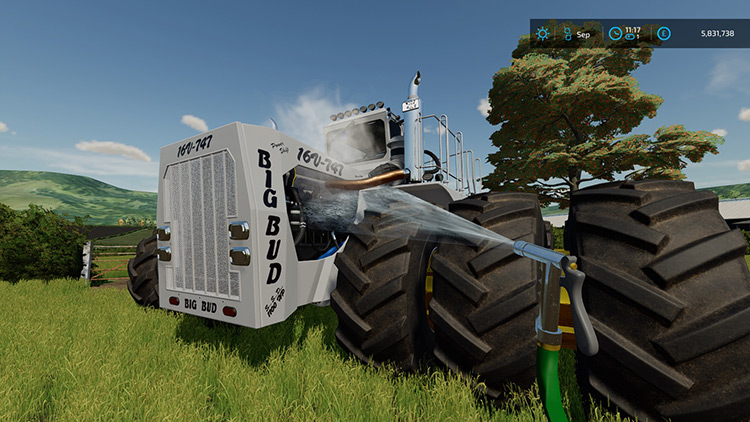 Platform: PC/MAC, PS4, PS5, XB1, XBS
Location: Tools > Miscellaneous
Price: $55
So, you got your Lamborghini muddy towing that trailer, and now you're miles away from your jet wash? No problem.
Just pull out your garden hose.
Note: You carry this around like a chainsaw, so it's always to hand. It's totally unrealistic, but that supercar isn't going to clean itself.
47.

Water Pack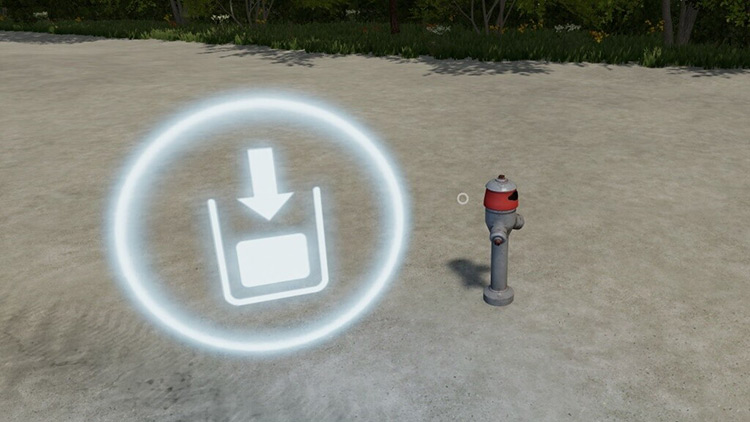 Platform: PC/MAC, PS4, PS5, XB1, XBS.
Price: $500 each, and the water is free.
Upkeep: $5 per day.
Location: Construction > Buildings > Containers
While we're on the topic of water, this super-handy water pack will make life so much easier! It includes a well, a hand pump, and a fire hydrant.
They're easy to place, and provide cheap water in abundance.
46.

Lumberjack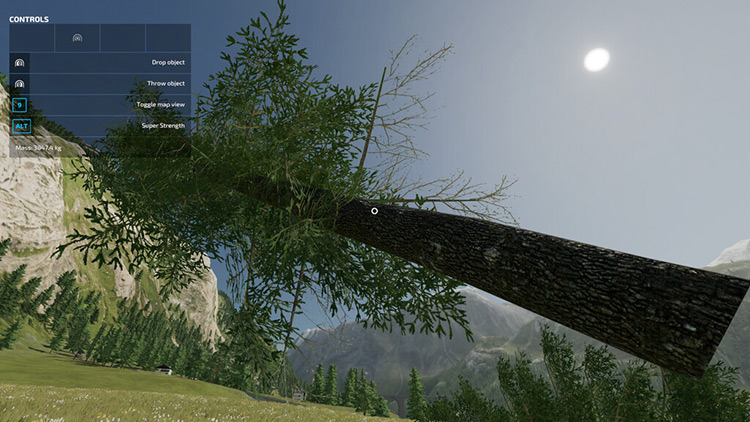 Platform: PC/MAC
If you've ever wanted to carry trees around like Arnold Schwarzenegger does at the beginning of Commando, then this is the mod for you.
The super-strength option means that you can lift whole trees, as if they were mere twigs.
It also doubles the cutting speed and triples the range of your chainsaw. You can also grind stumps!
The "super-strength" mode, also allows you to delete trees completely. And, it works anywhere on the map – including on land you can't buy.
45.

Long Reach Chainsaw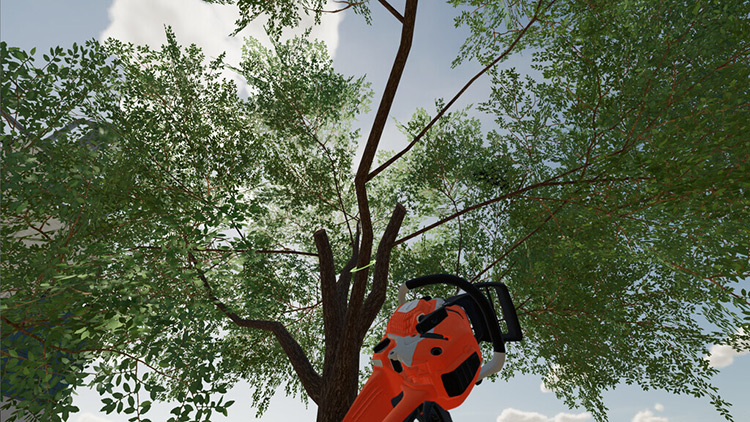 Platform: PC/MAC, PS4, PS5, XB1, XBS
Price: $1,000
Location: Forestry Equipment
You might call this "Lumberjack light", for console users. There's no super-strength, or increased cutting speed, but the four chainsaws available have a massively extended reach.
Note: this is very useful if you want to prune trees around your farm without felling them.
44.

Tree-B-Gone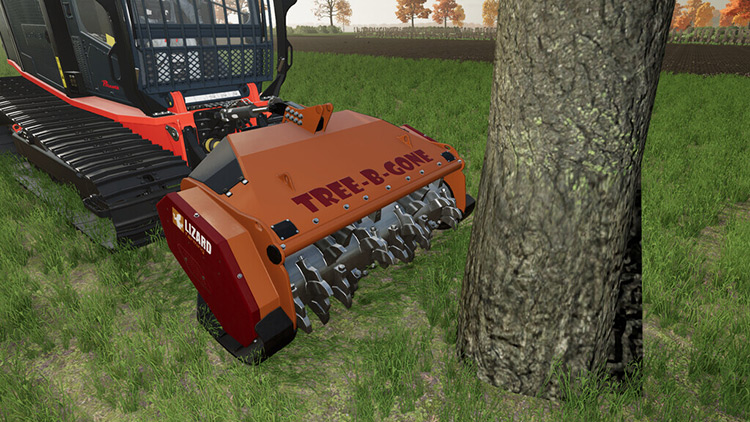 Platform: PC/MAC, PS4, PS5, XB1, XBS.
Engine Requirements: 200hp
Price: $42,000
Another piece of kit that's more likely to be useful to console users.
This mod actually deletes trees – stump included!
PC users can do this with a flick of the wrist with the Lumberjack mod, but they might also enjoy the relative realism that this provides.
43.

Lightswords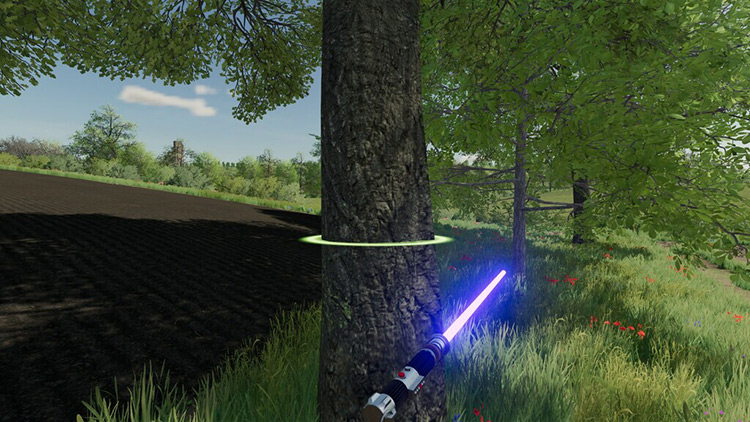 Platform: PC/MAC, PS4, PS5, XB1, XBS.
Price: $700
If you've ever wanted to cut down a tree with a lightsaber, now's your chance.
Available in blue, green, and red. Sorry, Master Windu, no purple.
May the forest be with you.
42.

Mobile Utilities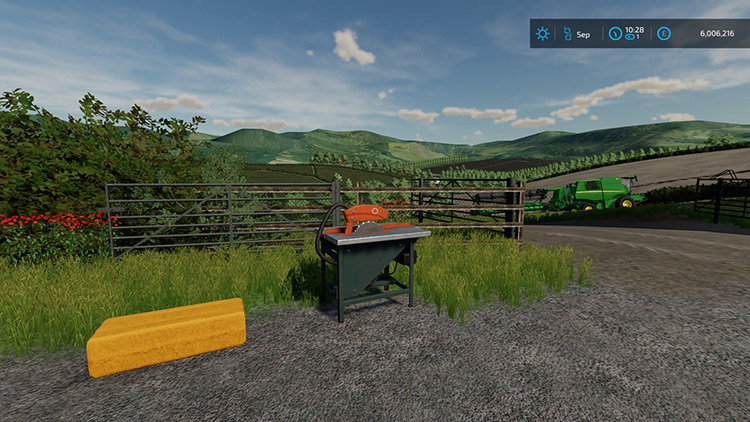 Platform: PC/MAC, PS4, PS5, XB1, XBS.
Price: €500 each
Ever wished you could sell your bales, or refill your fertiliser in the field? Or have someone buy your wood direct from the forest? Well now you can!
Instead of loading and driving trees, or bales, halfway across the map to sell them, place your mobile sell-point next to them, and, with the click of a button, they disappear. And you get paid!
All three can be moved by hand, and transported in vehicles.
41.

Toolbox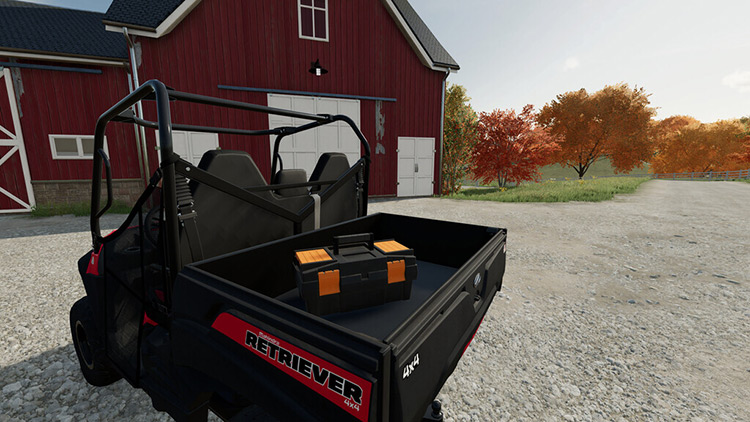 Platform: PC/MAC, PS4, PS5, XB1, XBS
Does your header need repairing?
Is your tractor's paint past its best?
Why waste valuable harvesting time driving to a workshop, when this toolbox can do everything a workshop does.
Tip: Make sure the toolbox is close enough to, and that the latches are facing, what you want to repair.
40.

Teleport Device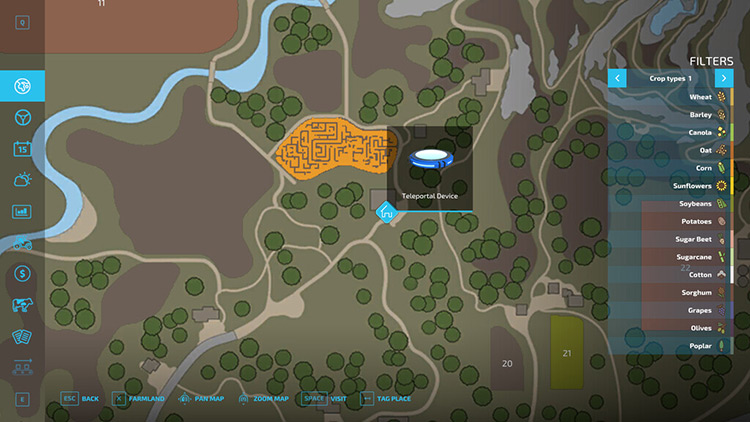 Platform: PC/MAC, PS4, PS5, XB1, XBS.
Price: $1,400
Upkeep: $1
Need to get to a remote location, but there's no spawn-point nearby?
Just ask "Scotty" to beam you up.
Okay, maybe not. But, when you place one of these on land that you own, you can then visit it instantly through the map screen. Sound effects optional.
Tip: Mobile sell points work in much the same way.
39.

Super Person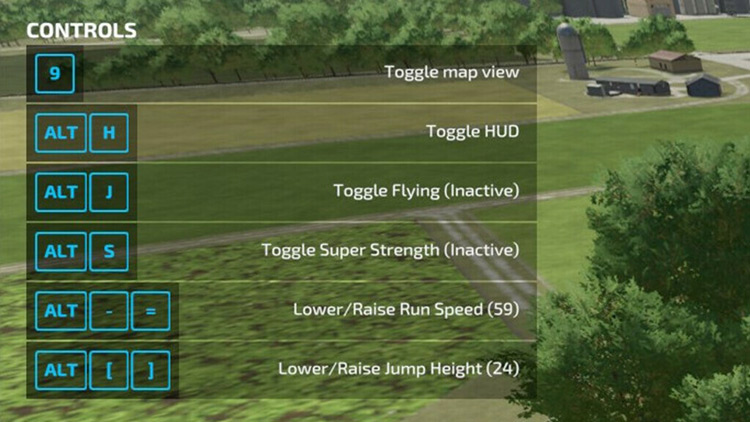 Platform: PC/MAC
Jump from field to field with ease using this mod.
Or lift trapped machinery with one hand. Speed up time. And run faster than any farmer ever.
Oh, and fly.
I mean, why wouldn't you?
38.

Liftable Pallets and Big Bags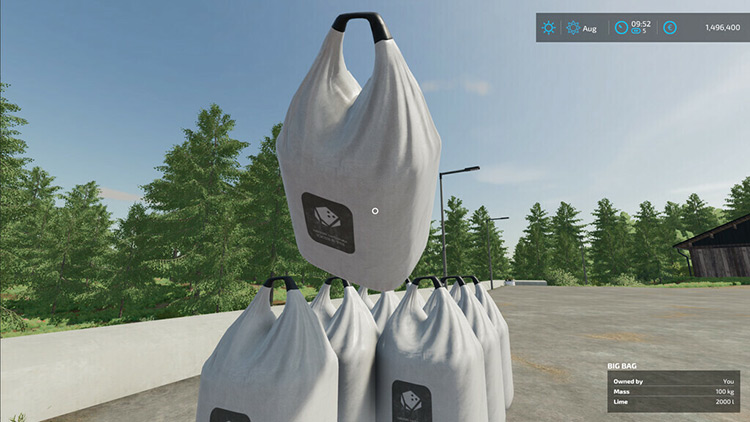 Platform: PC/MAC, PS4, PS5, XB1, XBS
This makes all pallets and big bags weigh 100kg, which can then be lifted by hand.
Console users might not be able to live out their superhero farming fantasies to the extent that PC users can, but at least we have this incredibly useful mod.
37.

Increase Light Range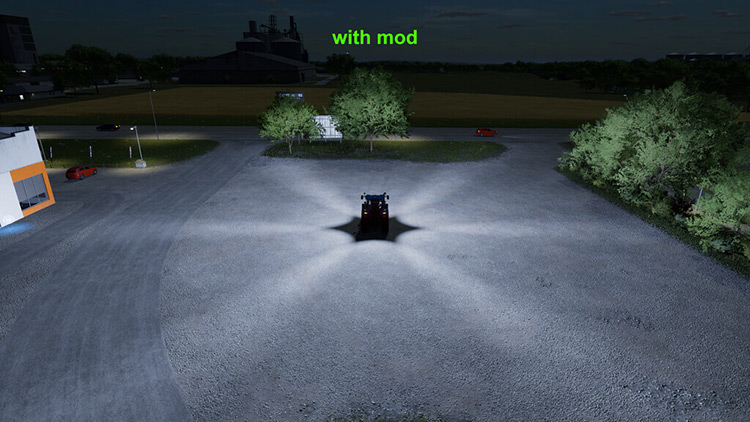 Platform: PC/MAC
Increase the light range of your vehicles so you can work more effectively at night.
Simple yet very valuable.
36.

Lizard Personal Lighting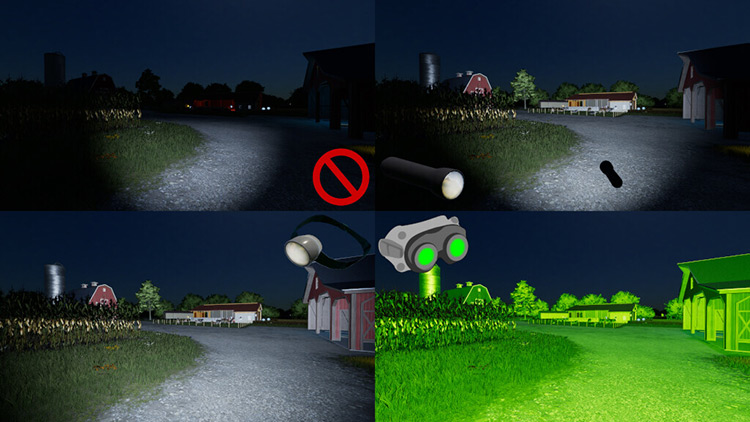 Platform: PC/MAC, PS4, PS5, XB1, XBS
Price: Flashlight – $50; Headlamp – $75; Night Vision – $200.
Get three cheap yet invaluable pieces of portable equipment in this mod.
You'll reach for them time and again, especially the headlamp.
35.

Pro Shot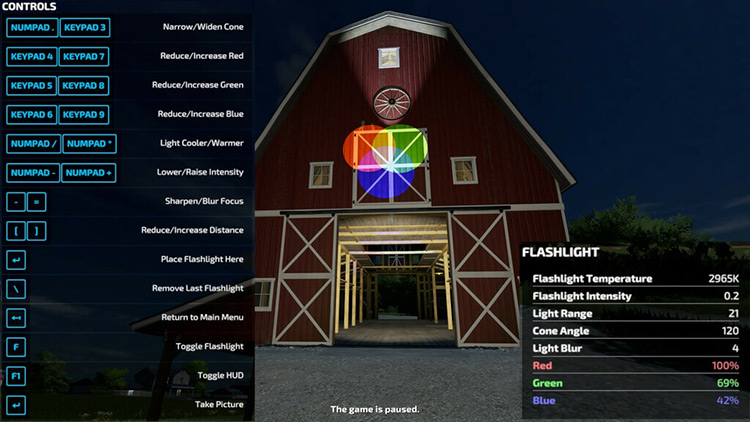 Platform: PC/MAC
The must-have mod for taking perfect screenshots of your prized farming possessions!
It enables you to control and manipulate time, colour, the weather, and the sun.
34.

Fast Forward 6K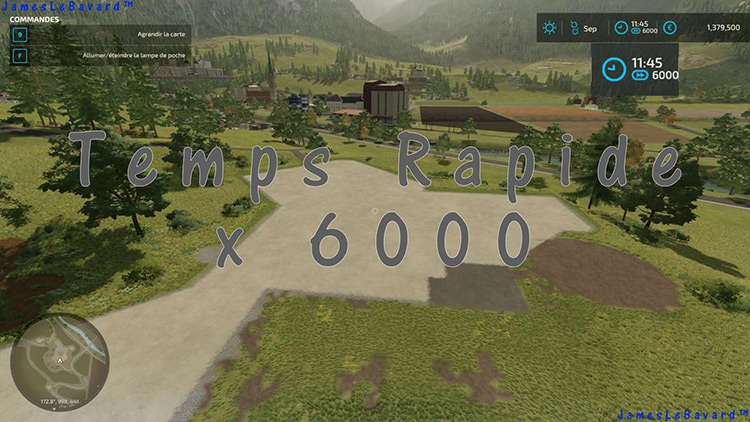 Platform: PC/MAC
Getting bored of waiting for your crops to grow?
You could always make time pass six-thousand times faster!
Note: It only works in the Farming Simulator universe. Sadly, it won't make Christmas come any sooner!
33.

Composite Machine Sheds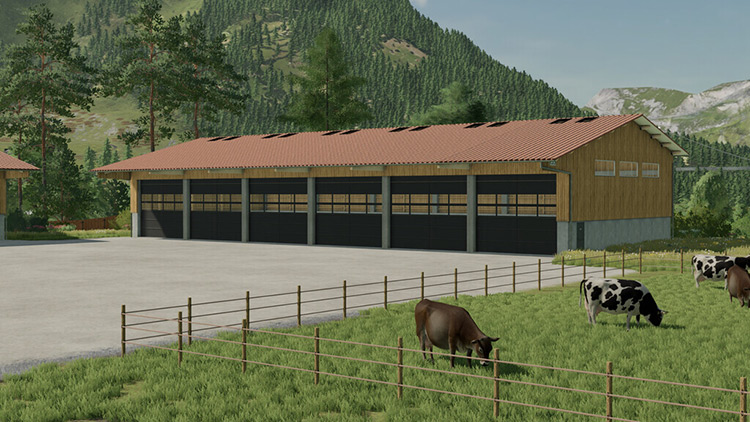 Platform: PC/MAC, PS4, PS5, XB1, XBS.
Size: 24 – 48m
Price: $99,500 – $159,500
If you're looking for somewhere to park all of your precious machinery, look no further. This selection of four different machine sheds will satisfy all of your storage needs.
Choose between 3, 4, 5, or 6 doors with this mod.
Perfect for machinery and Lamborghinis.
32.

Reisch Pack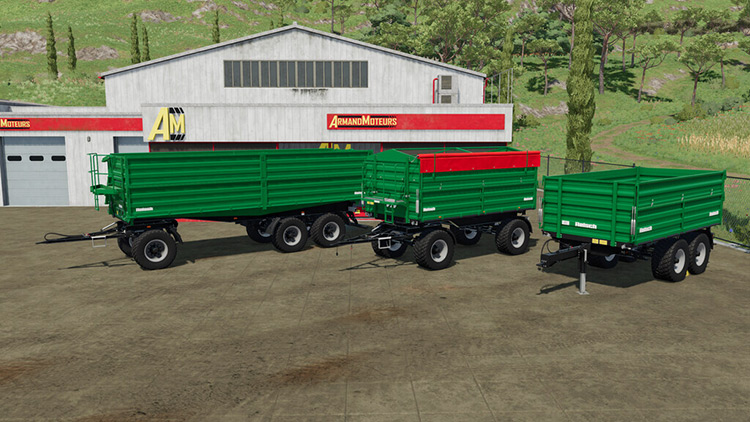 Platform: PC/MAC, PS4, PS5, XB1, XBS.
Models: RT160, RT180, RD240.
Capacity: 16,000-23,000L, 19,200L, 26,800L
Price: $18,500, $26,500, $39,500
Here we have one of the most downloaded mods for the game, and rightly so.
These three trailers will transport anything you need to move around your farm. Be it bales, grain, fruit, or animals. You name it, they'll move it. And, they'll look good doing it as well.
You can put the sides down for loading pallets easily, and they have a side-tipper function for unloading.
31.

Rolland Pack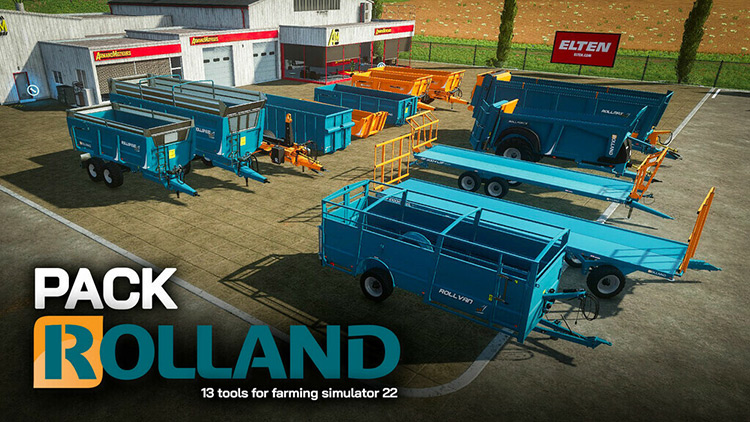 Platform: PC/MAC, PS4, PS5, XB1, XBS
Models: LSP9004, LSEL10006
Price: $16,650, $21,600
More trailers, you say? Yes! And for good reason: Autoload.
It's what makes this the the third-most downloaded mod on the ModHub.
Tired of wasting your time loading bales onto trailers? Just drive up next to a whole pile of them, and have them magically load themselves!
There are 13 items in the pack, but it's the two flatbed trailers you want.
Note: Be sure to select the Autoload option when you're buying the trailers, or they won't.
30.

TLX X52 Tipper
Platform: PC/MAC, PS4, PS5, XB1, XBS
Price: $81,500-$112,500
Capacity: 83,000L, 108,500L, 250,000L
This tipper from Lizard is a pure monster.
It's loaded with options and is very versatile. For instance, you can remove the tailgate for a forestry setup, if you use tension belts.
But where this really shines is in its unrealistic capacity option, which can be pushed to a whopping 250,000L. It's more expensive, but it's bigger than Hermione Granger's handbag!
29.

Lizard TLX Phoenix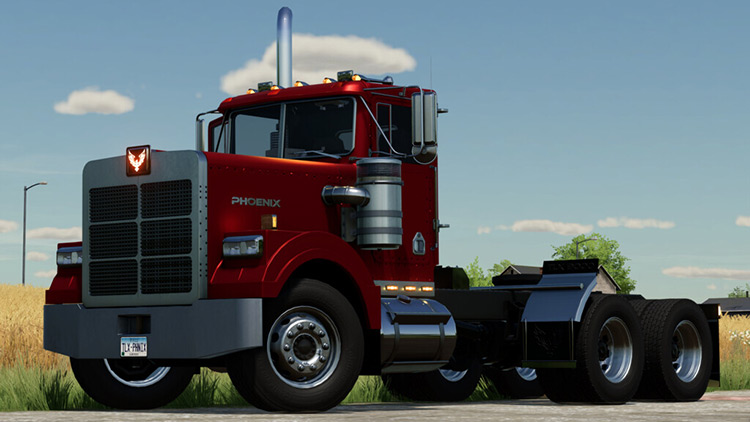 Platform: PC/MAC, PS4, PS5, XB1, XBS
Base Price: $82,119
Power: 485hp-1100hp
You're going to need something to haul that tipper when it gets full. And if you're going to buy a truck, you want this FS19 fan-favourite ported over to FS22.
This is a truly impressive mod, which has had a serious amount of work put into it. It might look like just another truck when you first open it up, but the customisation options are ridiculously good. And, you can crank this behemoth all the way up to 1100hp.
28.

Big Bud 747 16V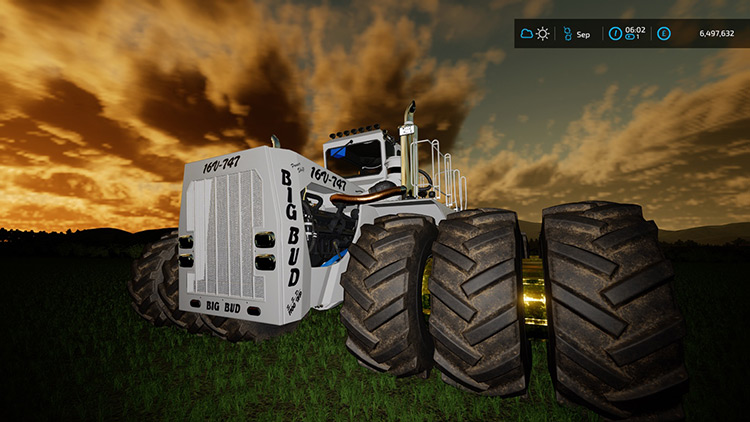 Platform: PC/MAC, PS4, PS5, XB1, XBS.
Power: 1100hp
Price: $405,000
They sure don't make them like the used to! Unless, of course, you're playing Farming Simulator.
Billed as "the World's Largest Tractor" by it's makers, Big Bud certainly lives up to its name! No other tractor even comes close in terms of size, and power. It's a shame they ever stopped making them in real life.
Big Bud has more customisable options than you can shake a stick at.
And it can pull anything.
27.

Lizard SM 72/82 Plow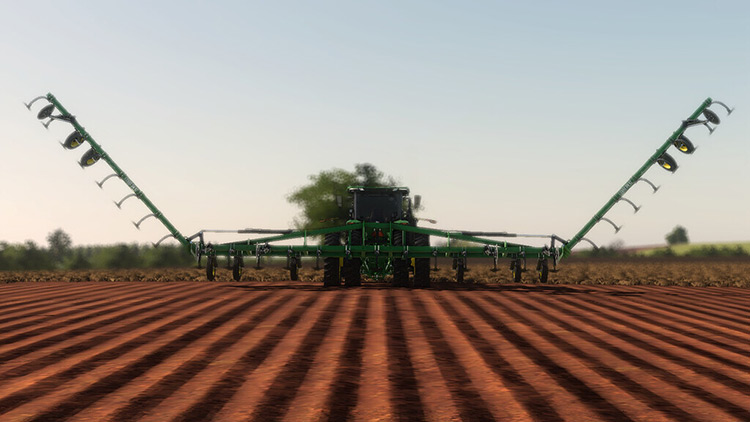 Platform: PC/MAC, PS4, PS5, XB1, XBS.
Models: SM72, SM82
Width: 22m, 26m.
Requirements: 330hp, 370hp
Price: $73,000, $87,000
Working Speed: 15kph
This mod offers us the best plow in the game.
I thought the Lizard 9MT was unbeatable, and then they surpass themselves by creating a 26m plow. I love it! And, I'm not alone.
It's a 26m plow, with a working speed of 15kph, that only needs 370hp to pull it! Epic.
26.

Third Person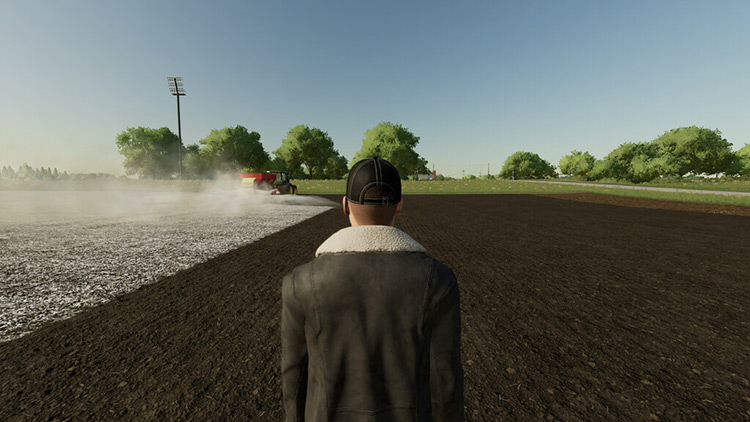 Platform: PC/MAC
Make third person view your default camera setting, with the ability to zoom in and out. Handy!
You can switch back to first person view at any time.
Great for when you want to see what wellies your character is wearing.
25.

HUD Toggle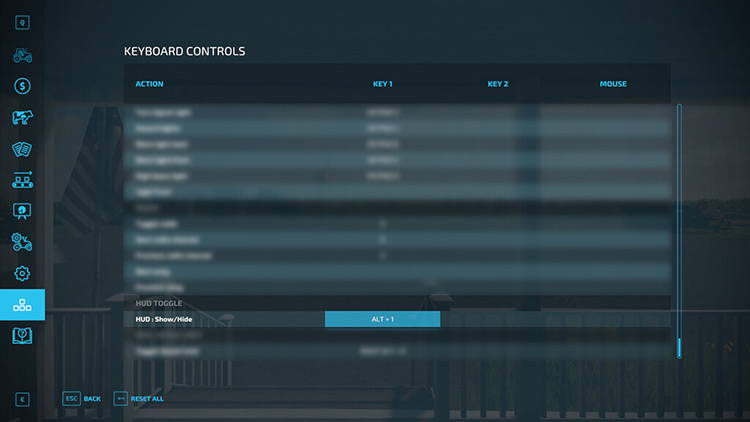 Platform: PC/MAC
This is another handy mod which allows you to hide the HUD with the click of a button.
Great for when you want to enjoy the scenery, or take screenshots.
24.

Info Display Extension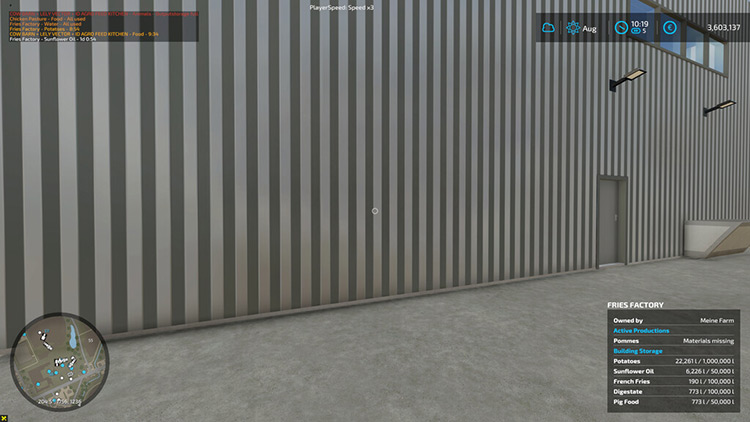 You might install this mod when you want more information, not less.
It works for all warehouses and shows you the current available capacity.
23.

Precision Farming DLC (Free)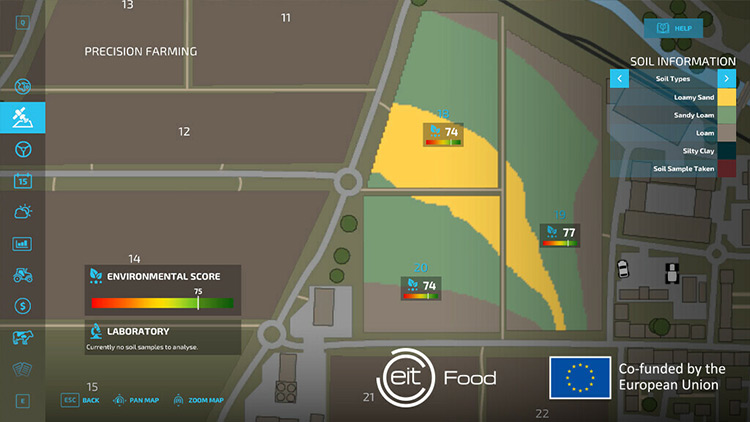 Platform: PC/MAC, PS4, PS5, XB1, XBS
If you prefer a more realistic game, then the next few mods are for you.
The Precision Farming mod introduces new mechanics to your gameplay.
Including: four different soil types, the ability to monitor soil composition, and an environmental score for your farm.
Partly funded by the EU, this DLC was designed to "highlight sustainable technology in agriculture", and to combat the negative associations of farming being damaging to the environment.
22.

Manual Attach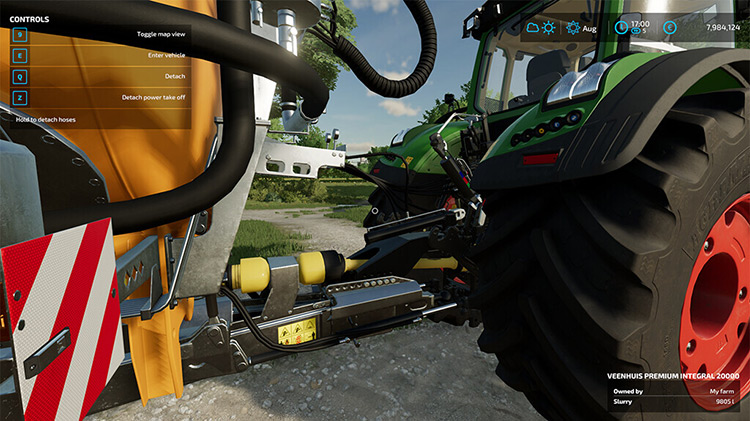 Platform: PC/MAC
This mod forces you to manually attach, and detach, all trailers and tools from your vehicles. Just like a real farmer!
There are certain exceptions for some vehicles, but this mod is definitely going to make you work for your pay.
It's time consuming, and reduces playability. But if realism is your thing, you should enjoy it.
21.

Whistle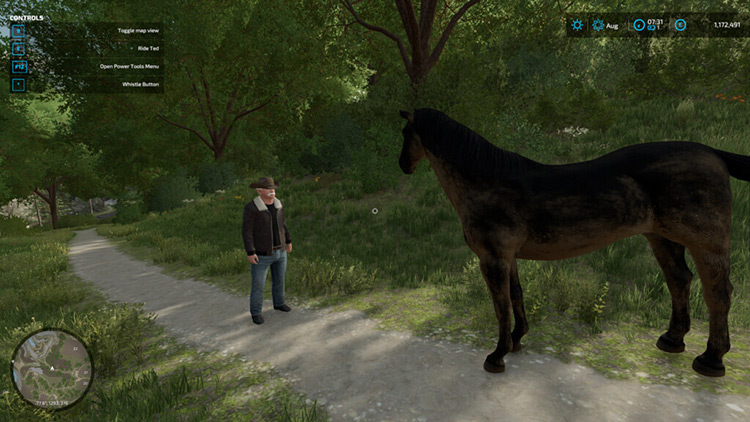 Platform: PC/MAC
What self-respecting farmer can't whistle?
Granted, this has no practical in-game applications.
It's just another mod to add that extra bit of realism to your gameplay.
20.

Christmas Market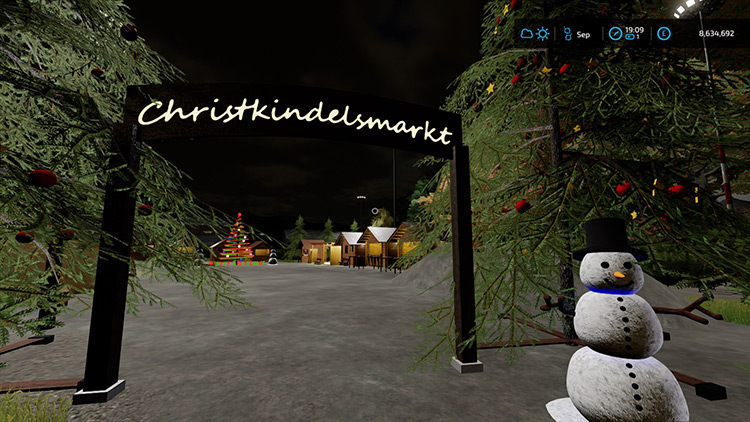 Platform: PC/MAC, PS4, PS5, XB1, XBS.
Price: Large Booth – €15,500, Regular Booths – €5,000
This here is a really fun mod, which loads your construction tab with a merry host of placeable items. This allows you to create a seasonal Christmas market with festive stalls that create passive income.
Sadly, no one ever turns up to your market. And a lot is left up to the imagination.
But it only adds to your farm, especially when built close to a town.
19.

Real Dirt Color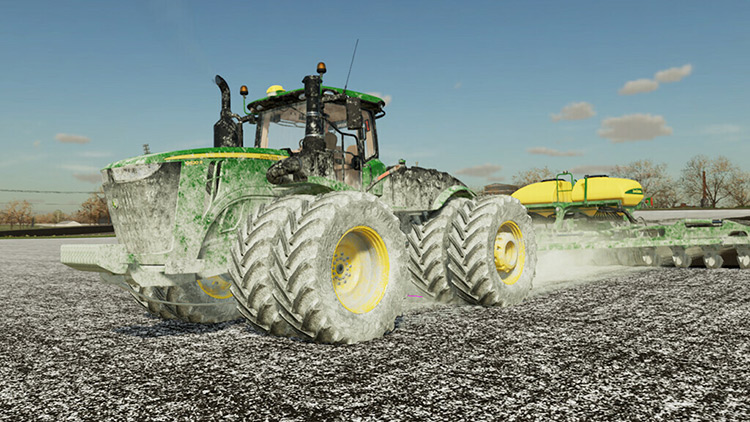 Platform: PC/MAC
Here we have an excellent realism mod, which changes all of your equipment's dirt colour to whatever it is you are driving through.
Liming a field? You're turning white.
Cutting grass? You're going green.
Spreading manure? You get the picture.
Enjoy washing it off!
18.

Greenlands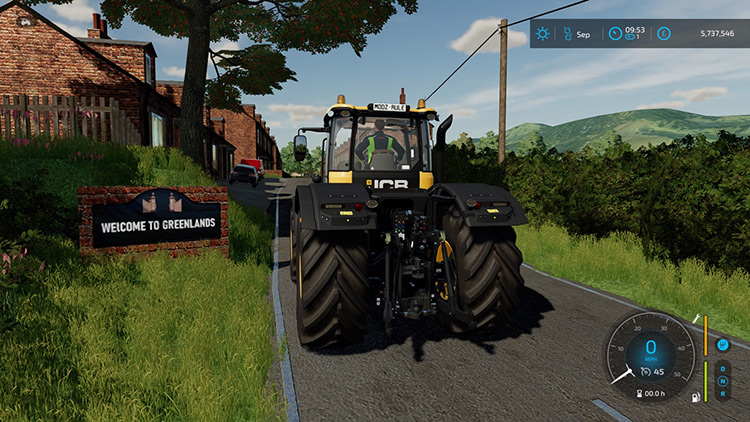 Platform: PC/MAC, PS4, PS5, XB1, XBS
Yep, this one's a fantastic map carried over from FS19 that everyone should try.
Inspired by farms in the U.K., Greenlands has 100 fields, all of which have contracts available.
There is a quaint little village with shops, and a church, which serves as a nice backdrop for the aforementioned Christmas Market.
It also has several farms, a biogas plant, a saw mill, and numerous forestry areas.
17.

No Man's Land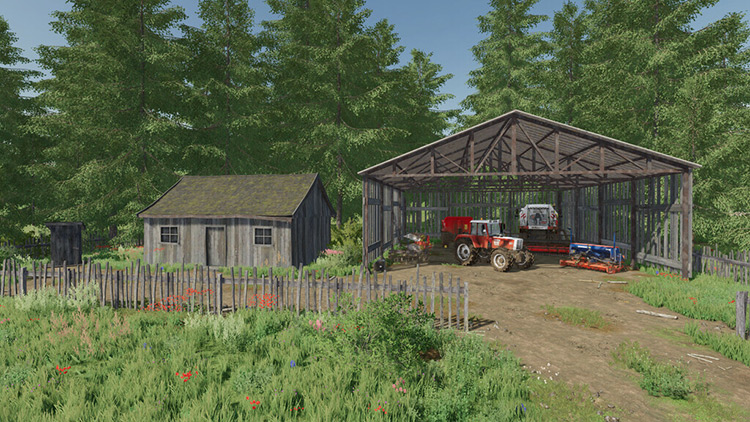 Platform: PC/MAC, PS4, PS5, XB1, XBS
This here is the second and last map on this list – there are just too many to include!
And should we really class these as "mods"? Who knows, but this list wouldn't be complete without No Man's Land.
Billed as a vast, untamed wilderness, this map is a firm favourite with fans looking for a challenge. With no neighbors, and no infrastructure, you really are left all on your own to build a farm from the ground up.
16.

Lizard WM XL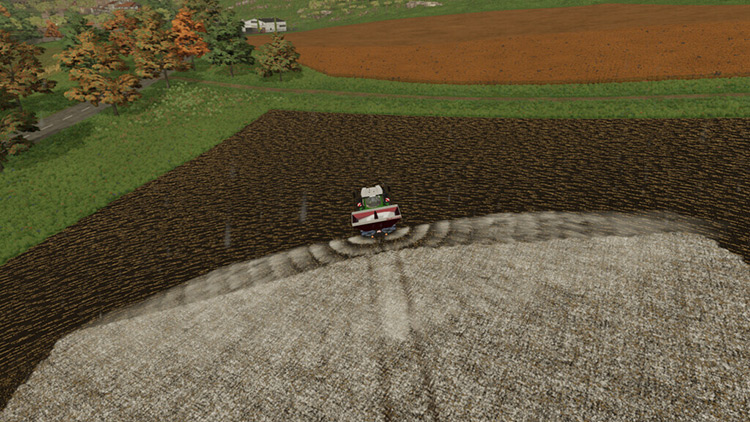 Platform: PC/MAC, PS4, PS5, XB1, XBS.
Price: €18,000
Capacity: 4,000L
Working Width: 42m
Max Working Speed: 25kph
I'd say this is arguably the best spreader in the game.
Spreads lime, and fertilizer, far and wide. It might not have the larger capacity of other mods, but it makes up for it in efficiency, speed, and working width.
15.

Brush Cutter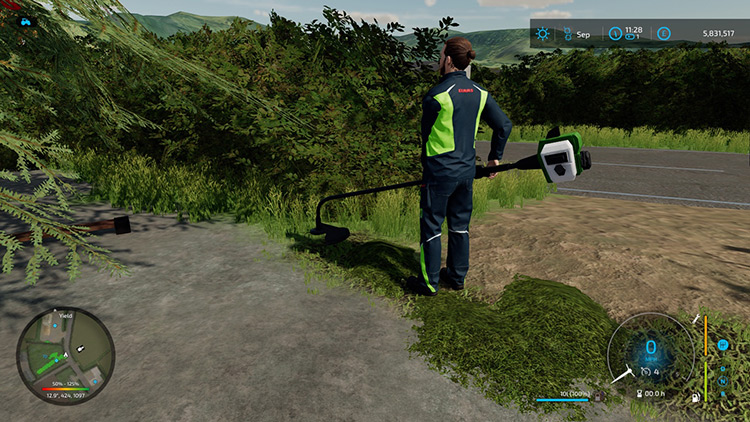 Platform: PC/MAC, PS4, PS5, XB1, XBS
Working Width: 0.5m
Price: $200
If you're a neat freak like me, then you will love this bit of kit.
It's perfect for tidying up those hard to reach patches of grass around the farm.
It does take a bit of getting used to at first, because you expect to just be able to walk around with it switched on. But, the game classes it as a vehicle, so you need to "accelerate" to walk forward.
Now, what to do with all that grass?
14.

Rake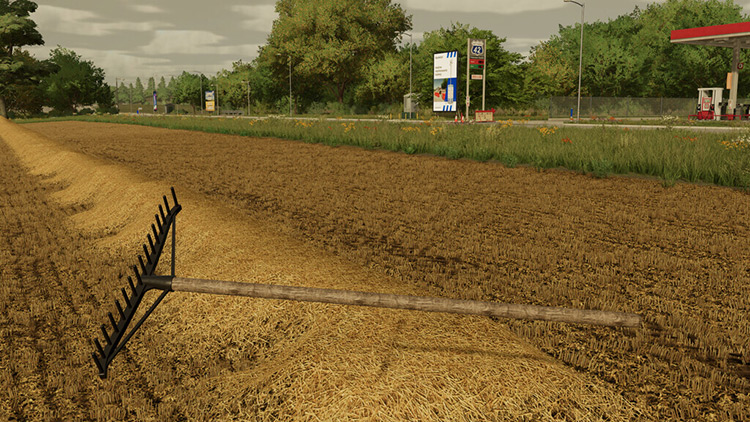 Platform: PC/MAC, PS4, PS5, XB1, XBS.
Price: $140
Are those random piles of grass, or straw, scattered around your farm driving you mad? Especially, those in hard to reach places close to decorative items. Get yourself a good old-fashioned rake, and make it disappear.
Squeezes into all those hard to reach spots, leaving your farm picture perfect.
It takes a bit of getting used to, and it has a habit of flying out of your hands. But it's not like you're going to rake an entire field with it. Are you?
13.

Disable Vehicle Camera Collision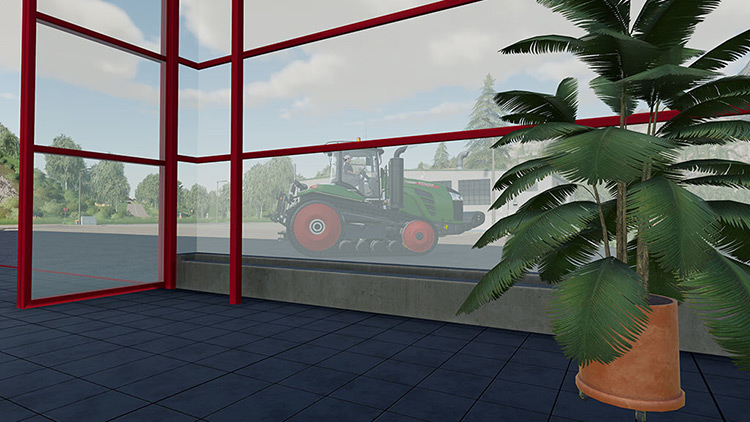 Platform: PC/MAC
This is a really useful mod which FS players mention time and again as being one of their favorites.
It gives you more control over the camera when you are in vehicles, and prevents the camera from restricting your view. It's also handy for setting up screenshots.
You might not notice much of a difference, and even forget that you downloaded it. Until you turn it off that is.
12.

Park Vehicle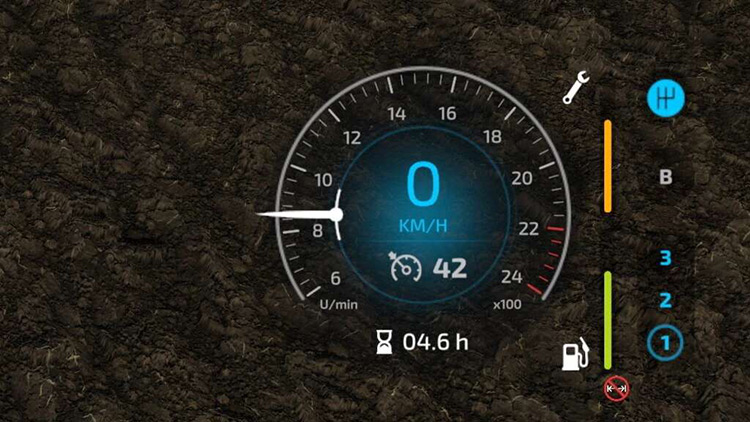 Platform: PC/MAC
Do you ever find yourself constantly cycling through vehicles that you barely use in order to find ones that you do?
Well now there's something you can do about it.
No, you don't have to sell your beloved vintage tractor! Just park it. Put it in a garage, or position it in pride of place for all your neighbours to see.
You'll know when a vehicle is parked, because a red stop sign will appear below your fuel gauge.
It will save you countless wasted hours of playing musical tractors.
11.

Game saver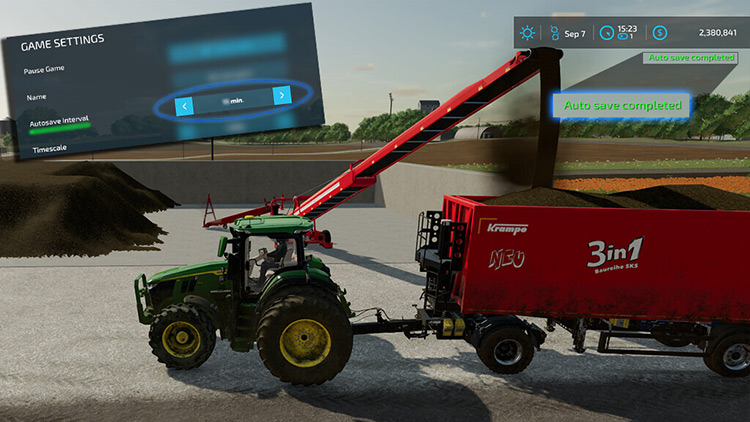 Platform: PC/MAC
Here's a mod that automatically saves your game at a set interval, without having to open up the menu to trigger it.
So simple… you'd wonder why this wasn't designed into FS22 in the first place.
This is one mod that console users definitely wish was a built-in part of their gaming experience. Then we might not have to wait so long to close the pause menu!
10.

Sleep Anywhere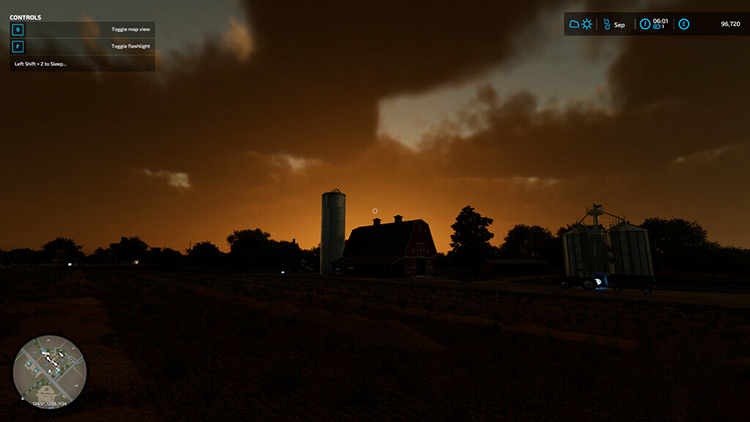 Platform: PC/MAC
Stood in the middle of a field at the end of a hard day's work? Too tired to drive home? Just go to sleep on your feet!
Yes, this mod lets you sleep anywhere.
If you don't like working in the dark, even with all the extra illumination mods out there, this is a great way to advance time. You could just speed up time, but a farmer has to sleep sometime!
9.

Courseplay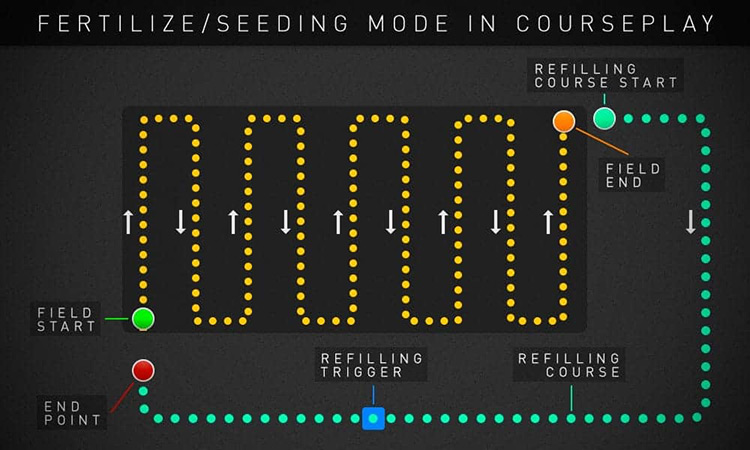 Platform: PC/MAC
As your farm expands, you'll need to rely on others to do more work so that you can focus on managing your farming empire.
Being yet another massive fan favorite, Courseplay is an especially useful mod which allows all kinds of work to be carried out via automation.
Not a straight forward mod to learn, but there are plenty of guides on how to make best use of it out there.
8.

Adjust Working Speed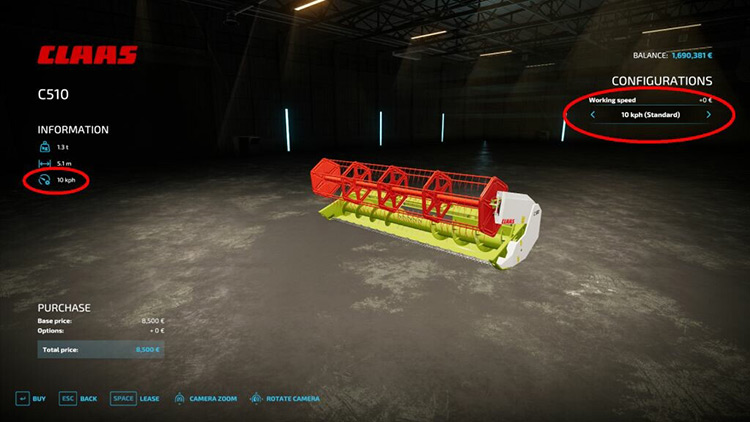 Platform: PC/MAC
Another super-handy mod, and it's not just for making things go faster!
It can come in handy if your working tractor doesn't have quite enough power for a piece of equipment – lowering the working speed of a tool requires less horsepower from your tractor.
Mainly though, this mod is about making things go 10kph faster than they're supposed to. Does a Lamborghini really need to go faster?
Of course it does.
7.

Additional Field Info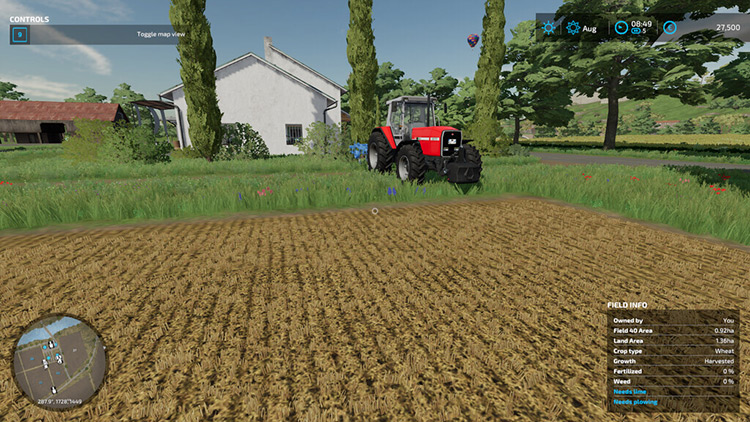 Platform: PC/MAC
They say a little knowledge is a dangerous thing.
Well with this mod installed, you're going to be one dangerous farmer.
It displays additional information while walking through fields, which means you don't have to go scrolling through the menus. Your HUD now displays information such as whether a field needs plowing, its potential yield, and its current weed level density.
6.

Realistic Cab View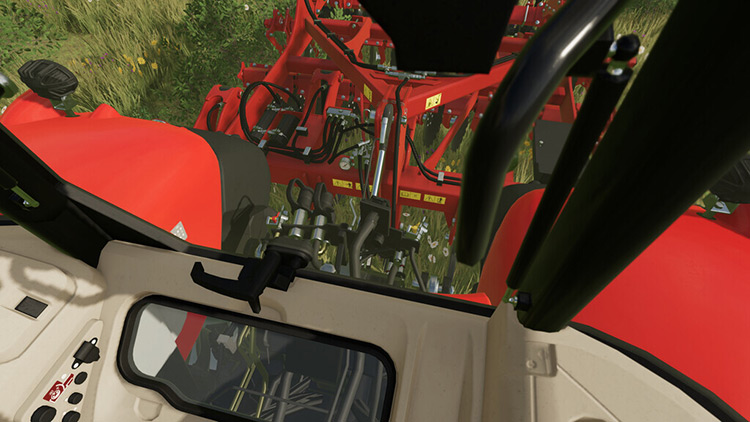 Platform: PC/MAC
This adds a much greater level of realism to your first person camera while inside vehicles.
It's perfect for gamers with realistic driving set-ups, as you can now lean around the cab to get a better view when reversing, or attaching trailers.
5.

Fuel Level Warning Sound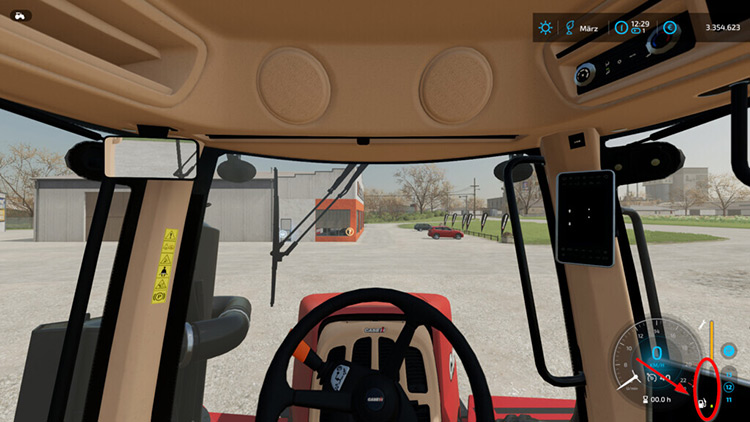 Platform: PC/MAC
With this mod, your vehicles will now emit an annoying, and useful, beep when your fuel level drops below 20%.
That is, of course, if you don't mind running out of diesel in the middle of the harvest.
4.

Place Anywhere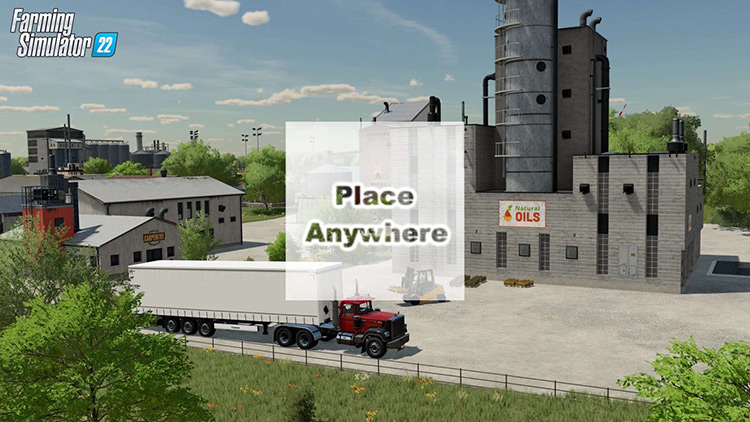 Platform: PC/MAC
This mod allows you to place any object anywhere, even if they overlap. So what if your barn wall is inside your house, it is your barn after all!
Great for when space is limited, and you want your buildings close together. Or if you really don't have time to move that tree.
3.

Autodrive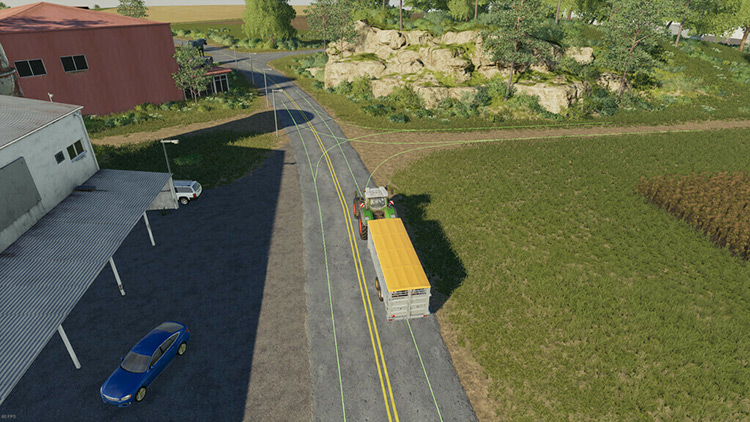 Platform: PC/MAC
Are you getting fed up of workers not being able to follow simple driving instructions?
Are you tired of having to do everything yourself?
You need Autodrive, my friend.
Now you can set predetermined routes for machines to follow, which will make your life so much easier.
2.

Guidance Steering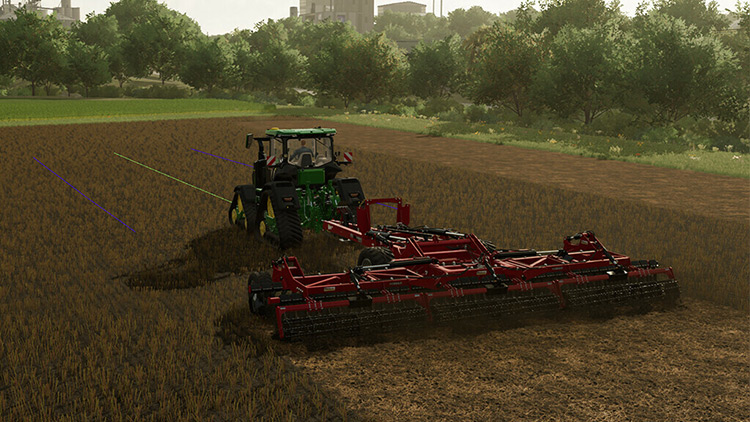 Platform: PC/MAC
If you love nice neat crops, but are terrible at driving in a straight line, then this is the mod to install.
It's GPS guidance for your machinery that will help you get the job done in the most efficient and timely manner.
It's not the easiest mod to learn, but it's definitely worth the effort.
1.

Follow Me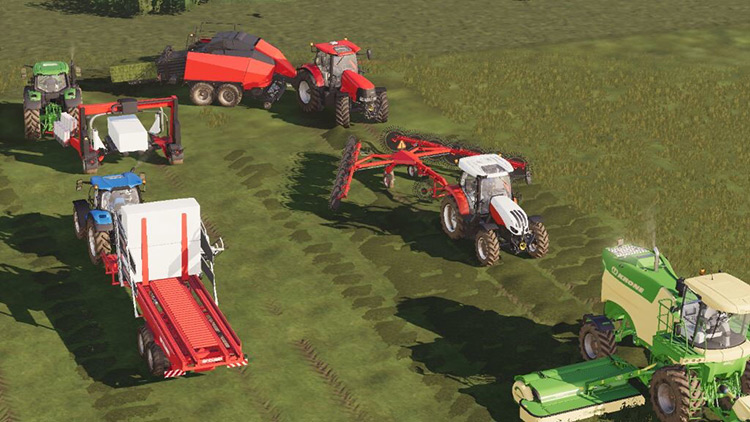 Platform: PC/MAC
This is the Farming Simulator mod that's always on everyone's top mod lists.
Need help on the farm getting a big harvest in? If you're a console user, you're going to have to request help on multiplayer.
But if you're a PC gamer, you can just order workers to follow you.
You can set parameters such as speed and distance in order to get the job done.
Teamwork makes the dream work!
Browse:
Farming Simulator 22
Lists
Video Games