Top 20 Best Forestry Mods for Farming Simulator 22
This post may contain affiliate links. If you buy something we may get a small commission at no extra cost to you. (Learn more).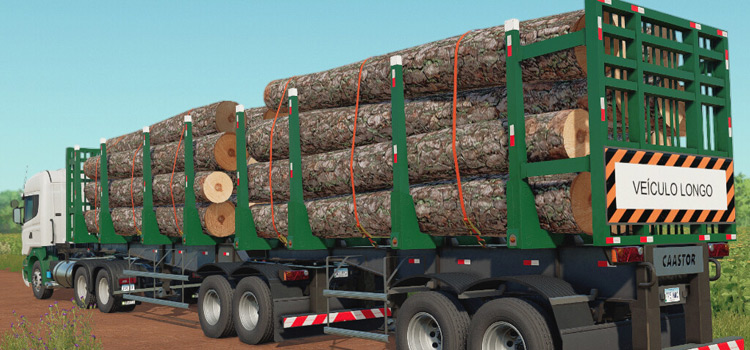 Newcomers to the Farming Simulator franchise are often surprised that it includes a forestry aspect.
Surely farming is about cows, crops, and chickens?
Maybe so.
But the fact that Farming Simulator has such a developed forestry component to it is a testament to what a great game it is, and shows how it has grown over the years.
There are individual trucking, mining, and forestry games out there. But Farming Simulator combines all of these activities into one neat package.
And where the base-game is lacking, the modding community have filled the gaps with a whole host of mods.
20.

Lizard Bi-Train Forestry Caastor
Price: €17,550
Platform: PC/MAC, PS4, PS5, XB1, and XBS
If you're felling trees, you're going to need a way to transport them away from the forest for processing.
This trailer from Lizard is certainly no joke; it can carry a serious amount of timber. Just make sure you have a truck that's big enough to haul it.
19.

Lizard Road Scraper
Price: $2,400
Width: 5m
Platform: PC/MAC, PS4, PS5, XB1, XBS
This inexpensive tool is basically a broom for tree branches.
You know all the small branches left behind when you're felling trees? Well, this five metre road scraper from Lizard cleans them all up. Just connect your forwarders grapple to it, and sweep away.
It also comes with a plow/cultivator version, which allows you to create fields.
18.

John Deere 437D Delimber
Price: €325,000
Max Reach: 10m
Power: 280 hp
Platform: PC/MAC
If you've got trees that need tidying up, and cutting to size, then run them through the John Deere 437D Delimber.
The grapple arm can be used to drag felled trees through the delimber, and the chainsaw will cut the trees to length. Then, use the arm to load them where they need to go.
Great if you like a more realistic logging experience. It's great fun once you get it set up and get used to it.
17.

Forestry Sign Pack
Price: $20 each
Platform: PC/MAC, PS4, PS5, XB1, XBS
If you're going to be felling lots of trees, you might want to think about letting people know.
This mod includes plenty of signs to do just that, including a road closed sign, which is great for when you're working along the highway.
It's a really inexpensive way to add that air of authenticity to your logging operations. And, the road closed sign is useful in so many other applications. It'll stop cars, and tractors, dead in their tracks.
16.

Tree Sapling Pack
Price: $250 – $3,500
Platform: PC/MAC, PS4, PS5, XB1, XBS
If you want to plant a few trees, but don't want to waste money on a full pallet of them, the tree sapling pack is the answer you're looking for.
This mod provides trees in pallets of 6, 40, 60, or 120. It even includes handy decals on each pallet, in case you can't tell your oak saplings from your beech.
As with most things you buy: buying in bulk is cheaper.
15.

Damcon PL10
Price: €7,500
Capacity: 1 pallet
Engine Requirements: 60 hp
Working Speed: 10 km/h
Platform: PC/MAC, PS4, PS5, XB1, XBS
Forestry isn't all about cutting trees down, you know! Trees need to be viewed like any other crop – if you want another harvest, you're going to need to plant more.
And, the Damcon PL-10 is just the mod for the job. It will plant trees at a steady 10 km/h, and can carry one pallet at a time.
Before long, you won't be able to see the wood for the trees.
14.

Lizard TimbeRRR Jaw Wheel Loader Log Fork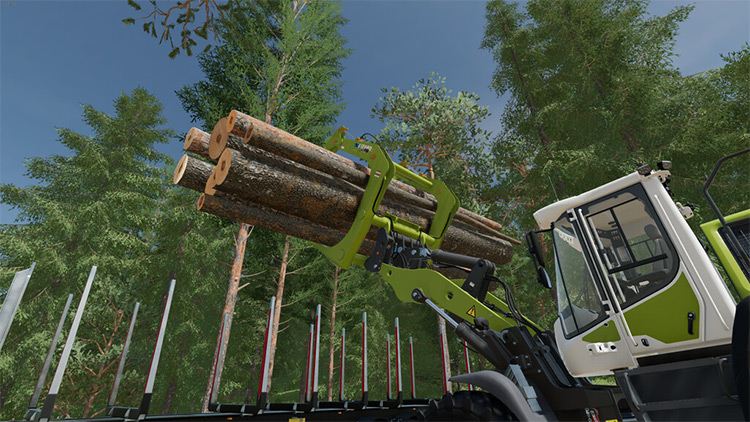 Price: $5,500
Platform: PC/MAC, PS4, PS5, XB1, XBS
If you waste time picking up one log at a time, you're never going to get that timber loaded!
As you can see, the Lizard TimbeRRR Jaw log fork will scoop up several lengths of logs at a time, and will make short work of loading your trailer.
13.

Lizard Timber Carrier
Price: $1,000
Platform: PC/MAC, PS4, PS5, XB1, XBS
If you need to move even more logs at the same time, then the Lizard Timber Carrier is the tool for the job.
Great if you need to move stacks of timber around your yard.
And super quickly and easy for loading onto flatbed trailers for site-to-site transport.
12.

Lizard RD 1600E
Price: $3,150
Platform: PC/MAC, PS4, PS5, XB1, XBS
Another great tool for grabbing, lifting, piling, and loading logs.
Its size means that it can lift several logs at once, and its profile plate and double hydraulic system gives it greater stability when holding wood.
This thing definitely won't drop the ball.
11.

Jenz Cobra Hybrid
Price: $660,000
Power: 1,322 hp
Platform: PC/MAC, PS4, PS5, XB1, XBS
It's a wood chipper on wheels, with a loading arm attached.
The CLAAS driver's cab rotates, which gives you a great view of what you're working on.
And, boy does this thing like work! Its 1,322 hp engine means it's fit for continuous use, and will chip wood all day long.
10.

Ponsse Bison Active Frame Shuttle
Price: $225,000
Engine: 285 hp
Platform: PC/MAC, PS4, PS5, XB1, XBS
This forwarder from Ponsse is marketed as an "innovative forwarder". That's because it has a CVT transmission that allows it to reach 20 km/h without changing gear.
That means it's perfect for getting around the forest floor, including isolated locations, in order to load felled timber onto its rear trailer.
It won't cut trees down, but it will pick them up. You've got a chainsaw, haven't you?
9.

Ponsse ScorpionKing
Price: €385,000
Power: 286 hp – 385 hp
Platform: PC/MAC, PS4, PS5, XB1, XBS
If you prefer to let your machinery do the talking, there's nothing better than the ScorpionKing.
You can use the ScorpionKing to fell, delimb, and then cut your trees to size, before using it to load or pile the logs wherever you like.
It has more configuration options than you can shake a tree at, and will cut lengths of wood up to 25m in 0.5m intervals.
It really is the king of the forest.
8.

Lightswords
Price: $700 each
Platform: PC/MAC, PS4, PS5, XB1, XBS
Chainsaws? So uncivilized!
A lightsaber is the true weapon of a lumberjack. It's not as clumsy or random as a chainsaw. An elegant tool, for a more civilized age.
Whether you choose green, blue, or… red, you'll slice through trees in no time. Totally unrealistic, but so much fun.
May the forest be with you!
7.

Tajfun EGV 80 AHK
Price: €4,500
Engine Requirements: 70 hp
Pulling Power: 8 tons
Platform: PC/MAC, PS4, PS5, XB1, XBS
If you've got wood sitting in hard to reach places, you need the Tajfun EGV 80 AHK. You've gone to all that trouble of cutting those trees down – you can't just leave them there to rot!
So, park your tractor as close as you can, walk over and connect your chains, and winch that timber to safety.
You can connect as many chains as you like, but it will be limited by its 8 tons of pulling power.
It doesn't just work on trees either – you can winch most objects, and even equipment. Great if your tractor needs dragging out of a ditch. Again!
6.

Fliegl Timber Runner Autoload Wood
Price: $39,000 – $55,000
Size: 12m – 20m
Platform: PC/MAC
If, like so many other people, you struggle to load logs onto your trailer, why not give this trailer with an autoload function a try?
Simply pull alongside your nice pile of felled timber, let your trailer know which side you want to load from, and with the click of a button it will magically load itself.
Then, drive it to your nearest store, and do the same again, in reverse. Except, this time watch it load your bank balance!
Like so many of the best mods, the Fliegl Timber Runner is for PC/MAC users only.
5.

Mobile Utilities
Price: $500 each
Maintenance: $0
Platform: PC/MAC, PS4, PS5, XB1, XBS
If an autoload mod still sounds like too much hard work, then maybe Mobile Utilities will be more your thing.
It includes one mobile buying station, and two mobile selling points, which can be carried anywhere. Yes, carried – by hand.
So, if you love cutting down trees, but don't like what comes after, then throw a wood selling point into the back of your truck, and take the shop with you.
You'll find it in the construction tab. Place one next to a piece, or a pile, of felled timber, and click sell. It's as easy as that.
4.

Long Reach Chainsaw
Price: $1,000 each.
Platform: PC/MAC, PS4, PS5, XB1, XBS
Ever wanted to just tidy up some of the large trees on your farm, without having to cut them down? Or, maybe you prefer to remove the crown from a tree before it's felled?
Well, the long reach chainsaw is the perfect mod for the job.
It includes a selection of chainsaws that have a far greater reach than those in the base game. Think of them as having really long blades, without the really long blades!
If you're running a forestry operation on a console, it will make life so much easier.
3.

Tree-B-Gone
Price: $42,000
Engine Requirement: 200 hp
Platform: PC/MAC, PS4, PS5, XB1, XBS
Is there a tree in your way? Would you like to move it, including the stump, without having to cut, load, and haul the wood away?
Meet Tree-B-Gone.
Drive it up to the annoying tree in question and make it disappear! It will be like it was never even there.
It's an invaluable piece of kit, especially when you are doing a spot of landscaping around the farm, or would like to clear land to make way for a new building.
2.

Devour Trees
Price: $25,000 – $125,000
Capacity: 0 – 50,000 liter
Platform: PC/MAC, PS4, PS5, XB1, XBS
If you want to get rid of trees quickly, but don't like the idea of wasting a huge amount of money, then this is the mod for you.
It makes trees disappear almost as quickly as the Tree-B-Gone, but, should you choose, it also lets you convert those pesky trees into wood chips.
This unreal option makes it a lot more expensive, but it's a sound investment.
Money doesn't grow on trees you know!
1.

Lumberjack
Platform: PC/MAC
This mod will turn you into a one-man logging machine!
With it, your chainsaw will cut trees down at twice the speed, and from three times the distance.
You can also grind stumps into oblivion in three seconds flat, along with any pesky leftover branches.
In fact, with the super strength option activated, not only can you pick up trees from four times the usual distance, but you can delete trees entirely. You can even cut down trees on land that doesn't belong to you.
With a chainsaw in your hand, and a wood selling point by your side, that forest doesn't stand a chance!
Browse:
Farming Simulator 22
Lists
Video Games