Top 10 Best Large Tractor Mods for FS22 (All Free)
This post may contain affiliate links. If you buy something we may get a small commission at no extra cost to you. (Learn more).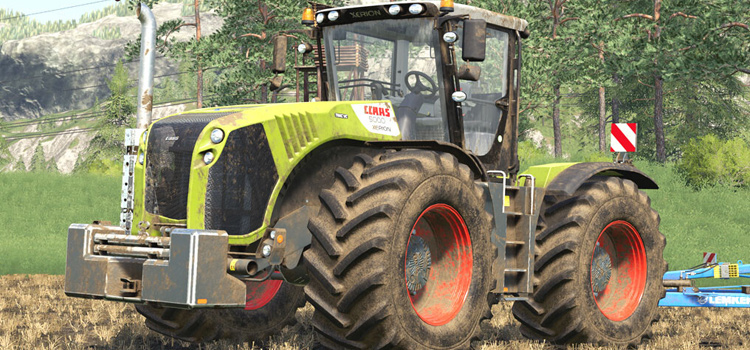 Farmers love a good tractor. I'm sure they could give you a million different reasons why.
But someone once said that the best thing about a tractor is that you can't hear your phone ringing when you're driving it.
Considering that the cab of a tractor is where farmers spend most of their waking life, they must not spend much time on the phone! And, choosing one from the thousands of models out there must be a big decision.
Farming Simulator 22 is certainly no different, especially with the crazy number of mods out there.
Note: All these mods are available on the Modhub.
10.

New Holland 70 Series
Base Price: €92,000
Power: 170-240hp
Top Speed: 40 km/h
Fuel Capacity: 416l
Transmission: Powershift
It might not be the most powerful tractor on this list, but its low base price certainly makes it very appealing.
And you can't really go wrong with a New Holland: they're reliable, and they look great.
This one has some nice configuration options, including some slick-looking chrome wheels.
9.

Case Autonomous
Base Price: €299,000
Power: 450hp
Top Speed: 37mph
Transmission: Variable (CVT)
Yes, it's a tractor!
No, it's not autonomous. It is in the real world, but, in the game, it still requires a worker. So if you were hoping to save on labour costs, this will disappoint.
But, just look at it! Cool? Weird? Futuristic? Who knows!
Some might dismiss it as a novelty item. But, it packs enough horsepower to get the job done. It's also one of the fastest tractors you can buy, and it handles very nicely.
If this is ever becomes a fully-autonomous mod, it will be the most useful tractor in the game.
8.

Case Magnum AFS Connect Series
Base Price: €312,000
Horse Power: 374-435hp
Top Speed: 31mph
Fuel Capacity: 647l
Transmission: Powershift
Just to reassure you that Case do make regular tractors, I've included this solid all-rounder.
It's moderately priced, and has mid-range specs to match – it's pretty quick, and fairly powerful. But, it also boasts a huge choice of wheel combinations, monitors, and attachments.
If you're the kind of farmer who likes to really make a tractor your own, then this could be the one for you.
7.

John Deere 9020 & 9030 Series
Base Price: €109,999
Horse Power: 280-500hp
Top Speed: 24mph
Fuel Capacity: 1022l
Transmission: Powershift
The 9X20 from John Deere gives you a lot of bang for your buck.
For a mere €58,000 on top of its already tiny base price, you can bag yourself a 500hp pulling-machine. It's an ideal first tractor when you're starting out a new game.
It has an optional RockBox, and a range of lights, wheels, and attachments. It also has an Aussie version, a license plate option, and even includes some vintage configuration options.
6.

Fendt 1100 Vario MT
Base Price: €385,000
Horse Power: 511-673hp
Top Speed: 24mph
Fuel Capacity: 1320l
Transmission: Variable (CVT)
This is where things start getting interesting.
I'm talking about big machinery, for serious work.
The Fendt 1100 might not have many configuration options, but you can crank this tractor up to 673hp.
It also holds 1320l of diesel, and trundles along at a steady 24mph. I also really like the more practical steps with the handrail, which must make life easier for the older farmers out there.
5.

JCB Fastrac 8330
Base Price: €289,000
Horse Power: 348hp
Top Speed: 45mph
Fuel Capacity: 600l
Transmission: Variable (CVT)
I know what you're thinking:
I said that things were getting interesting, and this only has half the horsepower of the last mod!
And you'd be right. Except for the fact that this tractor bounces along at lightning speed.
It states a top speed of 43mph, but I've found it's actually 45mph!
I also know that the Fastrac is available in the normal game, but it has no configuration options worth mentioning. This modded version has loads of them, including colour options other than yellow!
4.

John Deere 9RX Series
Base Price: €478,500
Horse Power: 484-691hp
Top Speed: 24mph
Fuel Capacity: 1490l
Transmission: Powershift
This thing looks like a mashup between a tractor and Johnny-5, from the movie Short Circuit.
And at almost 700hp, and with a fuel capacity of 1490l, the 9RX certainly is alive!
If it's mainly power you're looking for, it's somewhat pricey compared to other high-powered tractors out there.
But it boasts some interesting options, such as a steel rope, adjustable numbers, and a CB radio.
3.

Versatile DeltaTrack 2022
Base Price: €352,000
Horse Power: 583-665hp
Top Speed: 24mph
Fuel Capacity: 1298l
Transmission: Powershift
Another large tractor with double tracks, which are great for precision turning.
It's a little less powerful than a maxed-out John Deere 9RX, but not by much. And considering it works out €160,000 cheaper than the John Deere, it's the smarter choice.
It has a ridiculous amount of customisable cab options, including carpets, footrests, and screens.
If you like your screens, you'll love this mod.
It also has an Autosteer System, which is purely aesthetic. How? It's another screen!
I did warn you.
2.

John Deere 9RT
Base Price: €370,500
Horse Power: 517-700hp
Top Speed: 24mph
Fuel Capacity: 1324l
Transmission: Powershift
This is a personal favorite of mine, and probably the tractor I use the most.
That's because I know that it will handle anything I throw at it, and it drives in a perfect straight line. There's a reason it has the highest user rating of 4.9 on the Farming Simulator website.
With the 9570 RT Chiptuning, this John Deere puts out a whopping 700hp. You can tint the windows, and play around with a whole host of different track setups.
Money well spent.
1.

Big Bud 747 16V
Base Price: €406,500
Horse Power: 1100hp
Top Speed: 27mph
Fuel Capacity: 3785l
Transmission: Manual + Powershift
In a battle of large tractor mods, there was only ever going to be one winner: Big Bud!
The 16V version has the same horsepower as the regular version – it's just faster. But there isn't anything "regular" about any version of this Titan of a tractor!
It has a gigantic fuel capacity of 3785l, which it definitely needs in order to power its amazing 1100hp engine.
If that doesn't impress you, its customization options will. There's just so many!
From tinted windows to windscreen wipers, it's all here. The color options are eye-watering, and the choice of additional lights is just absurd.
And speaking of absurd, are triple wheels really necessary?
Big Bud certainly thinks so!
Browse:
Farming Simulator 22
Lists
Video Games