Genshin: Is Pure Elemental Mastery Raiden Good?
This post may contain affiliate links. If you buy something we may get a small commission at no extra cost to you. (Learn more).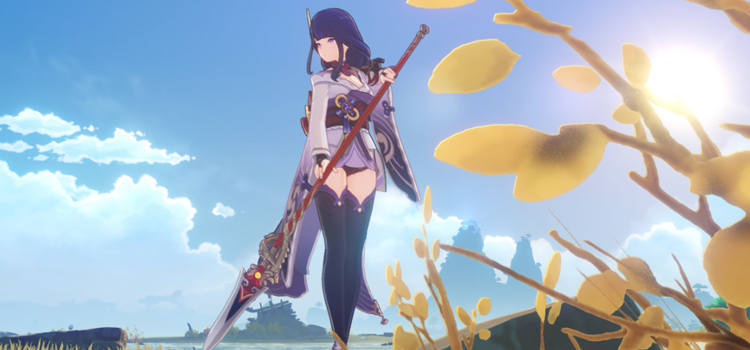 Thanks to the introduction of Dendro, Elemental Mastery (EM) Raiden is now really good! The reason for this is a bit complicated, so let's go about it step by step:
A common issue found in teams that rely on transformative reactions is determining who triggers the reaction. This is because transformative reactions scale only from Elemental Mastery and character level, so it's definitely useful to know which character you should level and build with EM – and not typical DPS stats like ATK, CRIT, and damage bonus.
The Hyperbloom Raiden team has a very clear idea of who triggers most of the transformative or Hyperbloom reactions — which is Raiden.
Her skill's large AOE consistently triggers Hyperbloom, so it scales off her level and EM. Knowing this lets you appropriately level and build her with full EM artifacts and weapons.
Her DPS teammates use their normal DPS builds since they're not the ones triggering Hyperbloom – they don't need to build EM.
And the damage dealt by this team composition is genuinely really good – it's basically already a top meta team.
How To Build Hyperbloom Raiden
This team has a lot of variations, so you can make do with characters you already have.
As a rule of thumb, it must have:
Raiden
1 Dendro applicator
And 1 Hydro unit
Raiden's build for this team is 4pc. Gilded Dreams and Dragon's Bane.
The Dendro unit uses 4pc. Deepwood Memories, while the Hydro unit uses their normal DPS build.
Can Kuki Shinobu Replace Raiden in Hyperbloom Raiden?
Yes, she definitely can. Doing so would exchange Raiden's strong energy generation for Kuki's healing.
This is simply because Kuki's skill has a very similar uptime and AOE to Raiden's, so she can also consistently trigger Hyperbloom reactions.
Plus much more of her kit is used here compared to Raiden.
Hyperbloom Raiden doesn't use Raiden's burst since she's not built with CRIT, so her burst will deal very minimal damage – aka a waste of field time.
In contrast, Kuki is a character that's meant to always be off-field, so her full potential is used in Hyperbloom teams.
Browse:
Genshin Impact
Video Games