28+ Grinch DIYs And Craft Ideas Packed With Holiday Fun
This post may contain affiliate links. If you buy something we may get a small commission at no extra cost to you. (Learn more).
Everyone loves the Grinch, right?
The odious Christmas beast turned lovable rogue has won us all over in the many film adaptations, and now it's time to celebrate this big green creature with some Grinch-related crafts!
So grab that Christmas cocoa and pop a squat cause there's a lot to unpack here.
1. Tabletop Grinch Tree
First up we're going to try and create the Grinch's style into a Christmas tree.
That weird long, bristly, troll doll looking style he rocks? Well it can be yours with this adorable tabletop xmas tree.
Find that empty plant pot and use some floral wire to create the desired effect for this curly craft. Top off with an ornament of choice and you've got yourself your very own Grinch tree.
2. Paper Plate Grinch Craft
For those of us who prefer the simple things in life and can't afford to buy a tree, how about this fun paper plate portrayal of the Grinch?
Easy to make and yet such a great way to pay homage to your favorite movie character.
It's also great for kids of all ages so this is a craft perfect for toddlers, preschoolers and above.
3. Dollar Store Decor
This suitably creepy little Grinch doll is perfect to remind the kids that Christmas can go one way or the other.
Head to your nearest dollar store for some glitter, glue and other fun stuff to create these guys at home.
4. TP Roll Grinch
We've all looked at a toilet paper roll before and imagined all the things we could make with it.
But I bet you've never really tried much before… well now's your chance! A great one for kids (and kids at heart) so get some paint and get cracking.
5. Grinch Christmas Balls
These unique Christmas ornaments are what make your tree the envy of the neighborhood this Christmas.
This is the stuff that Whoville residents would adore.
Stuff plastic ornaments with your favorite candy and you won't be able to resist taking selfies with your tree.
6. Green Grinch Slime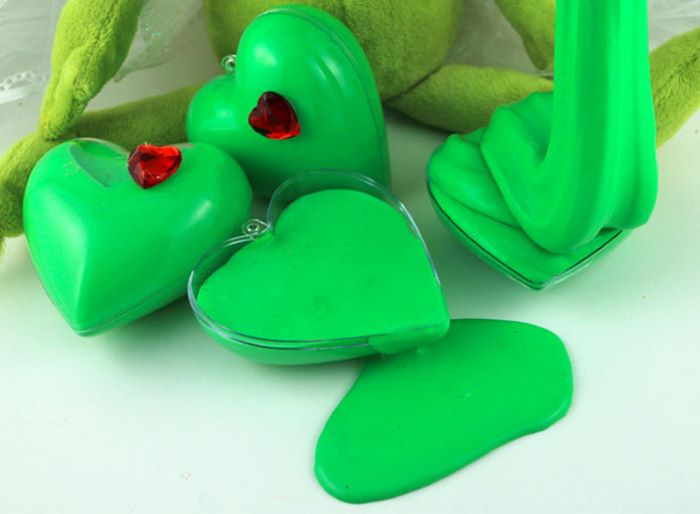 I don't know if you've heard, but slime is all the rage right now for crafts. So you'd be foolish not to get stuck in and indulge yourself with these green Grinch slime(just hot water, glue and detergent).
Of course, if you have a young child around they will be asking you to make slime all the time after this one. So proceed with caution.
7. Hand Print Ornament
If you really want to leave your mark on the Christmas tree there's only one way to do it: with these Grinch hand print ornaments!
You'll be high fiving the tree when nobody else is looking, and maybe even when they are looking. All you need is some clay and paint, easy.
8. Grinchy Dust
Few things are more satisfying than letting sand fall through your fingers when you're on that once a year beach holiday.
So bring that holiday feeling home with this satisfying green Grinch dus and sprinkle it around for good cheer.
9. Grow the Grinch's Heart
The Grinch's story from hateful to happy is one that's so touching, that the transformation deserves to be recreated visually with this 'grow the Grinch's heart' experiment.
You just get a plastic bottle and balloon at the ready and go to town. This one is going to be fun.
10. Popsicle Stick Crafts
Like the TP roll project, there is so much lost potential with popsicle sticks.
So let's put them to use with this striking Grinch portrait – green paint and some imagination are necessary, though this one should be fairly easy to pull off.
11. DIY Grinch Pillow
If you have more time and what to create something truly special for your place then it's time to borrow granny's sewing machine and see how much you actually know about sewing.
If you're up to the challenge make some Grinch-related drinks and party snacks because you'll be using this pillow for movie night.
12. Grinch Party Favors
After you host the Christmas party of the year you'll want to give your guests something to remember it by. So make these fun little Grinch party favors and get ready to see everyone's faces.
A candy cane, holiday ribbon, and spare green feather duster will suffice to ensure everybody leaves your party full of festive spirit and cheer.
13. Green Shower Bombs
Shower bombs are the bomb no doubt. So naturally Grinch shower bombs are a must-make project.
Made with a small red heart in the middle, these shower bombs will not only be cool to watch, they'll radiate love in the tub – that's OK right?
Oils and baking soda are the core ingredients for these balls of happiness that'll leave you smelling great and feeling the true meaning of Christmas.
14. DIY Grinch Sweater
Christmas isn't complete without an ugly sweater.
Well, unless you go against the trend and make this awesome Grinch sweater, surely becoming the envy of the office party.
Lots of felt and glue are required for you to rock this sweater like the green man himself. But if you have the time this project is totally worth it.
15. Grinch Xmas Shoes
If there's a young child in the family or you just want to decorate the tree with something cute, have a go at these Grinch shoes.
Fitting for any child that's a handful to deal with and a good way to let the babysitter know what they'll be in for.
16. Grinch Wine Glass
Tired of drinking from the same old boring wine glass?
Well I have the perfect solution for you in this craft. Bring life to your evening tipple with these stylish Grinch wine glasses(easy to DIY or cheap to pick up handmade).
For bonus points, fill them with a slightly green looking wine to really get into the spirit.
17. Grinch Stocking
For the little monster in the family, or the hairy dad, make this Grinch stocking to start Christmas on the right foot.
This one's not too complex but will take a bit of time if you want it to come out the same as in the photos.
18. Whoville Christmas Stockings
Now if you have an eye for cute things and want your stocking to reflect that, look no further than these polka dot stockings with pom-poms and ribbons.
Cindy Lou Who would be so proud.
A slightly more innocent Whoville style for those who are more nice than naughty.
19. Grinch Wall Hanger
You'll need somewhere cool to hang up your awesome new stockings, so get the tools and pine wood out to put up this custom Grinch wall hanger, sure to impress.
Granted this would probably only come out at Christmas time but it would be a welcoming addition to your holiday decorating.
20. Grinchy Hot Chocolate
If you're a fan of all things green and love hot festive drinks around the holiday season, well then make these Grinchy hot chocolate cups for movie night.
Maybe you can make a batch for your friends too if they're so lucky.
21. Green Popcorn Snack
It goes without saying that you're going to need a snack to go with your Grinch hot chocolate.
And I can think of nothing better than this tasty green popcorn full of candy, marshmallows and other delicious treats.
Now I know this might look gross but seriously you just gotta try it. I know your kids or weird nephews will love it.
22. Grinch Holiday Cake
If you're after something more rich and decadent, have a go at this green Grinch holiday cake to share with friends. That's what the Grinch would want.
Cake mix, green food coloring, and red sprinkles are the main ingredients needed for this Christmas treat.
And it bakes pretty easily so it should feel like a stress-free project around the holidays.
23. Crochet Scarf Pattern
Here's a fun pattern for the sewing & crochet enthusiasts among us.
This crochet scarf pattern will not only keep you warm and cozy on winter nights, but will surely earn you the status of most festive in the neighborhood.
24. Pin the Heart on the Grinch
The Grinch has a hard time finding his heart in the film, but with this game it's up to you to help him find it!
Simply blow up a printout of the Grinch, color as desired (ideally green to stay faithful to the movies), then go to town at this game. A blast for the whole family.
25. Resting Grinch Face Can Cooler
We've covered the wine-lovers so now onto the beer drinkers with this resting Grinch face can cooler.
A great play on words for those Christmas humbugs in the house.
26. Welcome To Whoville! Sign
Some people like to put up a sign outside for Santa. Others prefer to let people know the Grinch is in town.
This cool 'Welcome to Whoville' sign will have all your friends in adoration over such a cute decoration. And it shouldn't take much time to put together.
27. Grinch Tree Topper
While having an Angel on top of the Christmas tree gives off a more spiritual vibe, an angel can't quite match the intensity of this Grinch Christmas tree topper.
This one will make your tree incredibly unique and hopefully it'll keep the Grinch away from your house on Christmas night.
28. Custom Painted Grinch Sphero
What's the fun in having a ball without a crazy, fun design like this one?
This custom Grinch Sphero ball will not only be fun to play with, it'll strike fear into the hearts of your enemies.
Grab your robotic Sphero ball and get creative with acrylic paint – be warned, you'll have to really let out your wild creative side for this project.
29. The Grinch Stole My Lights
Go big or go home right?
Well with this next craft you can do both. The Grinch is sneaking off with your Christmas lights this year and you couldn't be happier about it!
To add this into your front lawn you'll need some plywood, glue, and your toolbox. But if you can get it done your house is sure to win this year's best decorated competition.
30. Whoville Lawn Characters
If you want even more of a Grinch theme in your garden you can make(or pick up a copy of) these innocent-looking Whoville residents to charm passers-by.
Simple painted cut-outs, make as many or as few as you want to give your house a Whoville vibe. The handmade style is easy enough but there's also no harm in picking up copies from Etsy too.
Either way I know these little guys would go well with the 'Welcome to Whoville' sign!
Browse:
DIY
Dr Seuss
Lists
Cartoons