30 Best Songs From GTA San Andreas
This post may contain affiliate links. If you buy something we may get a small commission at no extra cost to you. (Learn more).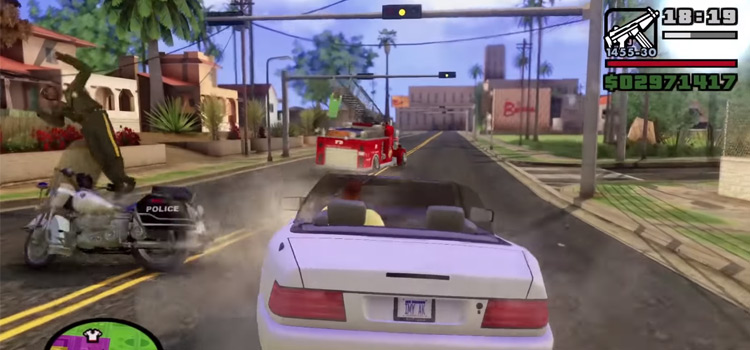 Have you ever been cruising around in a stolen car in San Andreas and thought 'these radio stations are awesome'?
Well you're not alone.
Some absolute tunes play throughout the entire game. The question is: which are the best?
Fortunately I've taken care of that question for you by putting together a list of what I think is the 30 best songs in GTA: San Andreas.
You may well disagree and have your own favorite tunes, which I get. We like what we like.
Granted this is an extensive list which includes the song names and artists in addition to where in the game the song was played, and/or which radio station you can find the particular track on. So hopefully at least some of these match with your favorites too!
30.

Roy Ayers – Running Away

This first entry comes from a song you can only find in Bounce FM.

Back in the early 00s disco wasn't what it was when it came out in the previous decades. However in 2004 the guys over at Rockstar released San Andreas with Bounce FM without a care in the world.

Bounce FM was every disco lover's dream and Running Away from Roy Ayers was a prime example of what disco was all about.
29.

MFSB – Love is in the Message

This entry on Bounce FM was a track that you had to give a chance to get started.

Unless you let it get going it would likely be a track that you'd skip over quite easily and go to rob another unsuspecting car.
28.

Dr Dre – Nuthin But A G Thing

You are in Los Santos speeding along Idlewood. The sun has begun to set, and you have just stolen a BMX.

The radio is pumping (radio Santos exclusively) loudly and the wind whistles past your ears.

Radio Los Santos puts out some pretty awesome beats. It's one of the best stations in San Andreas (in our opinion), and you will feel like an absolute G as you blast Nuthin But A G Thang through your speakers.

This song needs no introduction.
27.

Guy Called Gerald – Voodoo Ray

It must be said that video game developers seem to think of techno or house and put together a mix of background music for games that don't usually distract you from what you're doing.

The guys over at Rockstar, however, smashed the music out of the park.

SFUR pumped some amazing tunes making it tricky to pick one best track from, I'll Be Your Friend, Promised Land and Move Your Body all featured alongside A Guy Called Gerald.
26.

L7 – Pretend We're Dead

Here we have Pretend We're Dead from L7 featured on the Radio X playlist.

This one was ideal for playing in a fast set of wheels cruising the highway of Los Santos. Probably not the most memorable but definitely a great track.
25.

Stone Temple Pilots – Plush

At #25 is a track from Stone Temple Riots called Plush. You know it when you hear it.

It plays on the Radio X station of rock.

Not a track you'd play while going at speed, but potentially a more fitting tune to play going around some backstreets.
24.

Guns n' Roses – Welcome to the Jungle

You've just picked up a high-value vehicle and Welcome to the Jungle starts playing on San Andreas rock station Radio X.

The police are on your tail but at this point, you don't care!

Jam to the riffs of Slash and remember the glory days.
23.

Juice Newton – Queen of Hearts

This song from Juice Newton featured on Bounce FM, but with the country type feel to it I thought it would have better suited K-Rose Radio – that's just my opinion though.

This one was a perfect track when you had stolen a pickup truck and needed a quick getaway.
22.

Joe Cocker – Woman to Woman

Next up we have an entry from Joe Cocker which made its debut on the rock station K-DST.

A notable song, fun for a brief moment, although maybe not something that would stick with you long-term.
21.

Foghat – Slow Ride

Slow Ride was featured in San Andreas on the rock radio station K-DST Radio.

It's a song you should absolutely recognize.

Drums and electric guitars are what make this song great, and it almost makes me feel like I've just mowed an NPC down and have gotten away with something I shouldn't have when I hear this.
20.

Lynyrd Skynyrd – Free Bird

The lovely station K-DST gives us this song, boasting an electric guitar from the start of the song and gradually introducing an acoustic in its place.

Lynyrd Skynyrd brought this song to life, although it did feel like it was never going to end having a running time of a whopping eight minutes.

But it gets a whole new life on the streets of San Andreas.
19.

Heart – Barracuda

K-DST radio station is where Barracuda is at.

Heart released the song in 1977 to the world of rock and it will resonate with anyone who appreciates great rock music.

Some of the bass tones used in this track would leave you wanting to crank up your game volume for sure. They definitely get you excited to dance a bit.
18.

The Desert Rose Band – One Step Forward

Stealing our 18th spot is One Step Forward from The Desert Rose Band, originally released into the country music world in 1987.

Being a country entry, you'd see this one play on K-Rose radio in GTA San Andreas and was one of the tunes that'd lift your spirit.

This was great if you'd just failed a mission that took you ages to complete. We all need a pick-me-up you know?
17.

Statler Brothers – New York City

The Statler Brothers released this epic country music track in 1970 which was a smash hit in the American Country Music genre.

Radio K-Rose is where this song pops up in San Andreas, usually when you're driving in the countryside where the tumbleweed starts to settle.

Although I can't imagine this playing in New York City as the title suggests!
16.

Willie Nelson – Crazy

In 1962 we saw Crazy released, and Willie Nelson perfecting a masterpiece in the country music genre.

As we know, country songs only appear on K-Rose radio in San Andreas.

Fun fact: this song also came out on a CD and was hugely popular in Indonesia. Willie Nelson had a great voice and the piano work only made this song better… time to rob a bank anyone?
15.

Grand Funk Railroad – Some Kind of Wonderful

Next is a massive entry from Grand Funk Railroad which will often play on the K-DST radio station.

The guitar strings playing in this track are awesome.

And whether I was making a good choice or a bad one. this made me want to up my crime game even more.
14.

Toto – Hold the Line

Toto was an American rock group that vocalized this classic rock entry from 1978.

The track was made exclusive to K-DST Radio, and it became memorable due to its chant piano playing at the start of the song before the electric guitar kicked in to pack a real punch.

The main singer for this song was great and it often makes me want to hit that accelerator when it got going.
13.

Eddie Rabbitt – I Love a Rainy Night

Here's an old classic for you folks that love the oldies.

You can only find this song on K-Rose radio but it could fit in anywhere.

There's no match for the way Rabbitt pulls out the magic in this song, like pulling a rabbit out of a hat(excuse the pun).

Anyone who enjoys country music will love this song. And as we know, the San Andreas country music station has a pretty legendary lineup of tracks so it's great to have this in the mix.
12.

Rod Stewart – Young Turks

If you're an 80s rock fanatic you'll have loved this track after it released in 1981.

This song featured on the K-DST radio station and was about the free life in America back in the 80s.

The song offered some real energy which was perfect when you were cruising along the highway, or when you've just picked up one of your friends to start a mission.
11.

Kool and the Gang – Hollywood Swinging

Despite all of his crimes, it has to be said that CJ had some pretty awesome dance moves.

If you recall the mission where you had to dance for a girl while on the beach called Life's a beach, then this song will hit you right away.

Hollywood Swinging played the entire time you were dancing from Kool and the Gang.

Bounce FM features this track as it offered real recognition to some great memories. One of the more nostalgic moments in our list(at least for me).
10.

America – A Horse With No Name

It was a pretty average day in San Andreas for several cop cars and a choppers following in your tire tracks.

And this song made the heat feel even more hyped.

Speeding through Las Venturas with adrenaline pumping and an increased heart rate with police on your tail, that's right when A Horse with No Name seemed to chime in. Right on cue.
9.

Hank Williams – Hey Good Lookin'

It didn't matter which car you jumped into when you were in the countryside. Country music on the K-Rose radio station would always have a hit(and it'd always be playing if you jacked a car out in bumblebutt nowhere).

San Andreas country music gave you the feels, and Hey Good Lookin by Hank Williams was one of the more feel-y songs on that station.
8.

Dr Dre ft. Snoop Dogg – Deep Cover

This was one of the trickier tunes to pick as Dr Dre and Snoop Dogg have several other songs that make appearances within Radio Los Santos.

But I added it regardless because it's such a great song.

Driving in the hood of Los Santos is exactly where Deep Cover puts you.

With the Hip hop station also offering beats from Cypress Hill, N.W.A and 2Pac for your listening pleasure… this is probably the definitive station for this game.
7.

Ronnie Hudson – West Coast Poplock

West Coast Poplock from Ronnie Hudson plays on the funk and R&B radio station Bounce FM.

It is one of those tunes that would quite likely have you singing along to, especially if it has been a while since you had heard it last.
6.

Tom Petty – Runnin' Down On A Dream

If you were looking for the best classic rock tunes the only place you can find them is on K-DST.

The DJ was the memorable Tommy the Nightmare Smith, and Axl Rose from Guns n' Roses was the frontman for some reason.

Strangely enough, Welcome to the Jungle by Guns n' Roses wasn't on this station but appeared on the Radio X station… meaning he didn't get to announce his song on K-DST. What's going on with their radio personalities?

Anyway Tom Petty and the Heartbreakers did play on the station with the iconic Runnin Down a Dream. Great song. Oh the memories!
5.

Johnny Harris – Oddysey

If you can recall the lowrider then you'll certainly remember when the lowrider dance.

The uber difficult mission was made harder as cars weren't supposed to dance!

Johnny Harris was on hand blasting the tune every time you and your car got your groove on, whether it was frustrating or a good thing remains to be seen.

Either way, this one is worth a listen if you ever boot up your game again.
4.

Living Colour – Cult Of Personality

Next is a track that played every time you would enter a stadium for a race.

And no matter which city stadium this idyllic tune would give the race the Cult of Personality.

This is for sure one of the best songs in general. I could listen to this day or night, it's such a fantastic track regardless of your mood.
3.

Depeche Mode – Personal Jesus

Every GTA player had their preferred radio station.

And that's because there is something for everyone in these games.

Narrowing stations down to just one channel would be a tricky thing to do… you'd have alternative rock and heavy metal from radio X, K-Jah West blasting out reggae tunes, K-Rose covered all of the country music.

Personal Jesus, ranked #3 in this list, came straight from Radio X… and it's a goodie.
2.

Ice Cube – It Was A Good Day

While you were cruising the streets of Los Santos there was nothing better than the Hip Hop tunes that blasted over Radio Santos.

The times Big Smoke and Ryder needed to slap the groove back into a car you'd just stolen made it a good day… from the moment the speakers started pounding out this magic from Ice Cube.
1.

GTA San Andreas Theme Song

Hitting a clear home run is an entry which simply had to make its way to our number one spot.

The Grand Theft Auto: San Andreas official theme song by Ben Morfitt just deserves to be in first place here.

You couldn't start the game without the familiar graffiti appearing, followed by this theme song kicking things off. It basically feels like the OG song from the older GTA games.

If you don't remember this one just click play and listen for about 10 seconds. You'll recognize it.
Browse:
Grand Theft Auto
Grand Theft Auto: San Andreas
Lists
Video Games