GTA III Car Mods: Ranking The 25 Best Custom Rides
This post may contain affiliate links. If you buy something we may get a small commission at no extra cost to you. (Learn more).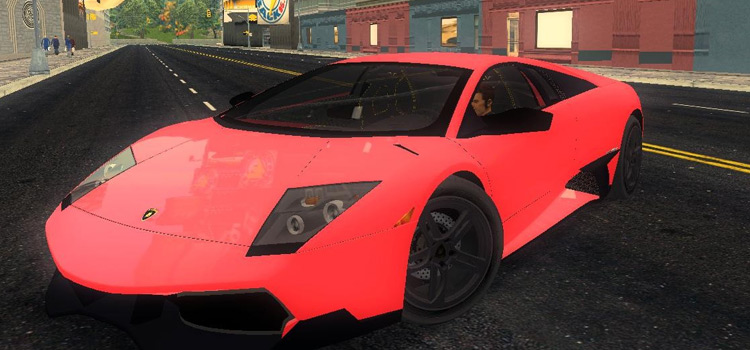 Over two decades have passed since the original GTA3 first hit shelves, pushing the Grand Theft Auto franchise into three-dimensional graphics – a first for the series.
DMA Design developed the game along with Rockstar Games. Their objective was to create the most immersive 3D open-world city the world had ever seen – Liberty City. I'd say they succeeded.
And for anyone revisiting this game many years later, I've put together a comprehensive list of the best custom cars you can install.
Why you'd need a Bugatti Veyron in GTA3 is beyond me. But I'm committed to bringing you the very best cars that the GTA modding community has to offer.
25.

Austin Mini
Back when Grand Theft Auto III came out, we didn't have the hi-poly car models of games like Assetto Corsa or Need For Speed.
People had to make their models from the ground-up!
One of the funniest mods to come out of that era is the BMC Austin Mini car, developed by modder Azz. It may not be a supercar, and it's far from HD, but it has personality.
It comes in several pre-designed colors, including one with the Union Jack flag on the roof to honor its origins as a British economy car.
24.

Santana 2000
Another custom car that wears its origins proudly is the Volkswagen Santana 2000 by Brazilian creator Claude.
Volkswagen may be a German company, but this Santana 2000 car is based on the Volkswagen Passat's Brazilian version.
It also comes in a "Policía Militar" version, bearing the symbols of the Brazilian police to drive the point home.
Of course, the car can also be seen in a regular version, and one painted like a classic NY taxi.
23.

HD Hotknife
The Hotknife was initially found within the GTA: San Andreas game files, revealing it to be a planned vehicle that never made it out of the beta.
Of course, modders quickly put it in working order and released it as a mod for San Andreas, which was eventually ported to GTA3 by modding team RockstarWizards.
This flaming car is ideal for those of you who are into old-school vehicles and hot rods.
22.

Rolls Royce Phantom 2003
The 2003 edition of the classic Rolls Royce Phantom was the seventh iteration of the famous Phantom luxury line, and the first Rolls Royce produced after BMW acquired the brand.
This luxurious saloon-sized vehicle is brought to us by modder RusLev, so Claude can cruise through Liberty City like a genuine gangster.
It doesn't have the same massive polygon counts as newer models.
Bu still, the care and attention to detail put in by RusLev brings the car to life wonderfully. despite limited resources.
21.

2F2F Nissan Skyline R-34
Initially introduced in 1999, the Nissan Skyline R-34 has the tight suspension and precise handling needed by an extreme street racer like Brian O'Conner in 2F2F.
This model is based on the one seen in said film, featuring easily-recognizable blue tire mark decals over a beautiful silver color.
If you want a car that screams "the early 2000s", this is it.
20.

FNF3 Nissan 350 Veilside
Another fantastic car featured in the Fast and Furious franchise is the Nissan 350Z, also known as the Nissan Fairlady Z33.
Its rounded lines are reminiscent of a Porsche rather than a Nissan, and they look incredible in the jet black hue seen in the film.
The insect decals on the sides give it irreverent energy as well.
It's one of the best-looking cars you can get without sacrificing performance, as the mod was created for San Andreas before being ported to GTA III by SharanT2.
19.

AMG H2 Hummer Tuning
One of the most popular cars to mod into your GTA3 back in the day was the H2 Hummer, which enjoyed a peak in popularity during the early 2000s as the quintessential luxurious SUV.
Modder JVT added their own "tuned" parts, like the exposed air intake on the top of the hood, and the extended front bumper that almost touches the ground.
This is one of those cars that pushes the envelope of what makes sense in GTA3, without requiring a heavily modded game with improved graphics.
18.

Hummer H2 Limousine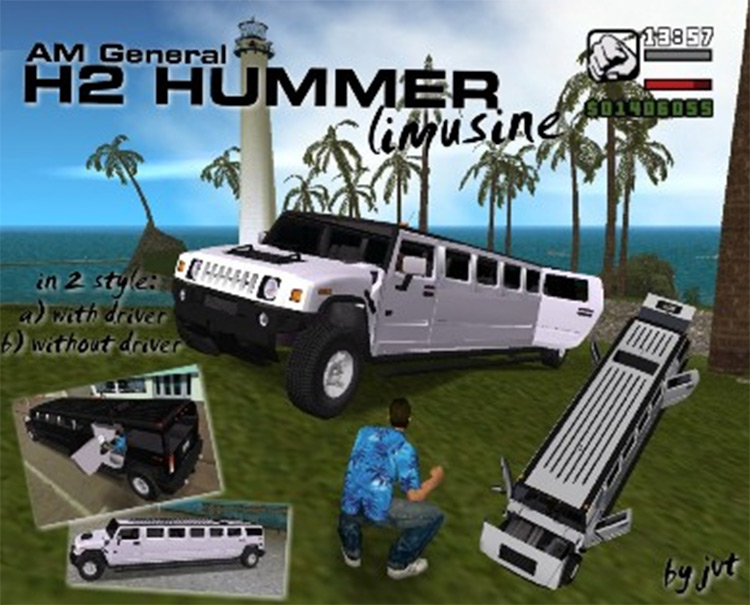 If you're not much about tuning your vehicles, perhaps this limousine version of the H2 Hummer from JVT might pique your interest.
This massive H2 is three times as long as the regular model, allowing you to party comfortably in the exquisitely-modeled inside of the vehicle.
Of course, it comes with a driver to take care of moving while you down Mojitos in the back seat.
If you'd rather drive it yourself, you can also spawn a version without the driver.
You'll enjoy the massive destruction and chaos that naturally comes from driving this into traffic.
17.

BMW M3 E46 GTR
OK enough of classic cars with low-poly models. If you're here, you've probably already modded the hell out of GTA3 (to some degree).
I'll assume your computer can handle a couple curved lines.
BMW's M3 series is one of their longest-running car families.
This heavily-tuned version of the E46 model is one of the most bad-ass BMW vehicles I've ever seen.
That may have something to do with me loving Need for Speed: Most Wanted (2012), as the model was ported straight from that game by modder MohsineF.
Even if it wasn't explicitly made for GTA3, a lot of care was put into its satisfying handling.
16.

Marussia B2 2010
One more awesome car brought to us from NFS: Most Wanted's roster by creator MohsineF is the 2010 Marussia B2.
The Marussia B-Series was the Russian answer to Western European supercars from houses like Pagani and Lamborghini.
It features an avant-garde design more reminiscent of a Hot Wheels vehicle than a real car – and maybe that's the point.
After all, supercars are supposed to look the part.
For this bold and aerodynamic design to make any sense in GTA3, you may want some mods that update the game's visuals.
15.

Lamborghini Gallardo – XiON Patrol
Lamborghini cop cars have been popping up all over the world's most expensive cities, spurred by a desire to show-off, and a need to compete with criminals making their getaways in supercars – much like you'd do in GTA.
If you want the police to have any chance against your newly modded-in cars, then this Gallardo Patrol Car by creator XiON should be more than enough.
It should make your chases with the police a much more exciting affair.
And you'll probably get some cool screenshots out of them too.
14.

Dodge Challenger SRT-8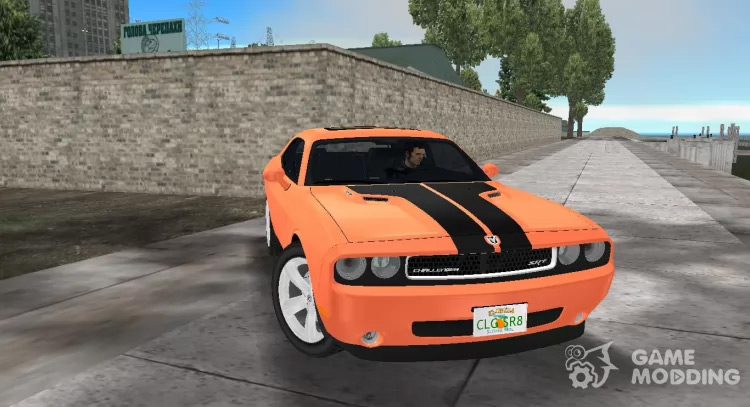 The 2008 version of the Dodge Challenger is one of the most appealing versions of Dodge's classic pony car.
It's also a total beast on the road.
This model was ported from Forza Motorsport 3. And it features the attention-to-detail you'd expect from such a detailed racing simulation.
Mod creator Vovan24 mentions the detailed 3D engine as one of the car's best features, although the Orange County license plate is what I like the most.
This mod is programmed to replace the vanilla Diablos vehicle, so you'll probably see a couple of these driving around the city pretty often.
13.

1967 Ferrari 312
A Formula 1 vehicle in GTA3? Of course!
It's a bit over-the-top, but classic F1 cars work strangely well in Rockstar's simulated urban landscapes.
The Ferrari 312 was the Italian house's primary racing car from 1966 to 1969.
Regrettably, most of its lifespan was spent crashing and burning in circuits all over Europe.
You won't have to worry about accidents in GTA3 – at least not any more than with another car, so it's probably the best way to enjoy the Ferrari 312.
12.

Chevrolet Camaro SS 2010
The fifth generation of the classic Chevrolet Camaro began production in 2010 as an affordable stylized car for those who care about looks and performance, but couldn't exactly go for a supercar yet.
There used to be many of these around my city when I was younger, and it was a bit of a teenage dream to own one eventually.
I'm not quite there yet. But at least I get to enjoy this incredibly detailed model of the car in GTA3 – and I don't even have to change the colors.
It's a bit Halloweeny, but you can't beat the candy-like orange with black stripes on a Camaro.
11.

Batmobile
Real cars with hefty price-tags are fine and dandy.
But why don't we take a look at something a bit more creative?
This fully-functional Batmobile will put all other supercars to shame with its bold design and bat-like details.
The unusual body featuring a very visible jet engine made its first appearance in Tim Burton's 1989 Batman film and then came back for Batman Returns in 1992.
Considering Burton's involvement, the creative mix of a jet and a funerary hearse becomes less surprising. What a crossover!
10.

XBOX Vehicles
Back when GTA3 first made it to the Xbox, frustrated PC players clamored for Rockstar to release the upgraded car models in the console version onto PC.
That never happened.
But you can get all those Xbox vehicles in the PC version. You're just going to have to work a little harder for them.
And by "work a little harder", I mean installing this totally free mod.
It's one of the best ways to upgrade your game without getting too deep into modding.
Plus the pack includes a working Dodo Biplane, making it possible to fly over Liberty City.
9.

Liberty City Stories Cars
Another similar option to upgrade the look of all your cars would be the Liberty City Stories car pack.
Much like our previous entry, this mod will replace every car in the vanilla game with an enhanced version taken straight from the Liberty City Stories prequel game.
It even adds a couple of new ones to boot!
Whichever you end up choosing, it'll give your game a noticeable face-lift without losing its lo-fi/low-poly aesthetic.
8.

Lamborghini Veneno LP750-4
If your PC can handle it, it's easy to fall prey to the Lamborghini Veneno's seductive lines – even if you'll have to completely overhaul your game for it to look coherent.
This model was taken from NFS: Rivals, which explains the incredible level of detail.
Even the interior is excellently sculpted!
Modder MohsineF also did a great job creating realistic handling when porting it to GTA3.
It feels insane to drive such a powerful modern vehicle through the low-poly streets of Liberty City. But that has to be part of the charm of modding a 20-year-old game.
7.

Bugatti Veyron Grand Sport Vitesse
I'm a sucker for Bugatti's many supercars. And the Veyron Grand Sport Vitesse is the roadster of my dreams.
"Vitesse" means "speed" in French, and that's exactly what this machine offers.
This mod by creator Nan-Wang ports the Bugatti Veyron Grand Sport Vitesse from popular racing simulation game CSR2.
It comes with a fully-detailed interior, and as many polygons as the GTA3 engine can handle.
The classic black and red color palette is what you think of when the Bugatti Veyron GSV comes to mind.
Still, its elegant lines will look beautiful in any color.
6.

HD Vehicles Tri-Pack III
Whenever I'm fishing for mods, I always aim to find a massive overhaul or hefty mod-pack that'll significantly improve my game in as little time as possible.
If you don't want to spend days choosing the best cars for your modded GTA3, the HD Vehicles Tri-Pack III by creator OnePiece is the way to go.
It introduces remarkably improved HD versions of every car in GTA3, and also a couple from sequel games that weren't in the third installment, such as the Cuban Hermes and the Z-Type.
The mod pack also includes HD Wheels, HD Weapons, and an HD Claude model that'll look great piloting these cars.
5.

Bugatti Veyron 16.4 Carbon Custom
The Bugatti Veyron 16.4 has been one of the most talked-about and hyped supercars of the last ten years.
BBC car-oriented TV series Top Gear went so far as to name it the Car of the Decade, and it's easy to see why.
This incredible mid-engine sports car was ported into GTA3 by creator Neflection.
The model comes from NFS Pro Street, making this mod about the only good thing to come out of that bland game.
While the fantastic carbon texture on the top half of the car would look great alongside any color, the default royal blue makes it look like an exhibition piece.
4.

Lamborghini Murcielago LP670-4 SV TT Black Revel
It's sharp, it's minimal, it's incredibly fast – yes, it's the Lamborghini Murcielago.
The Murcielago is one of Lamborghini's most tasteful and elegant mid-engine supercars.
It keeps the same striking beauty in GTA3 thanks to a hyper-detailed model with over 100,000 polygons courtesy of Forza Motorsport 3.
Creator Neflection also made sure all of the car's parts can be damaged realistically, including the windows and the fully-functional lights.
3.

Bugatti Chiron
The Bugatti Veyron may be the most notorious supercar of the 2000s.
But time moves forward, and so do vehicle designs.
Modding group Missile Viper Performance brings the evolution of the Veyron – the Bugatti Chiron – to the low-poly streets of Liberty City.
It features a beautiful color palette and incredibly detailed, damageable parts. You can even open the car's tail to marvel at the fully-3D engine.
No matter how much you mod GTA3I, this car will always look out of place. But it looks out of place in real life, too.
A genuinely incredible supercar.
2.

Ferrari LaFerrari F70
The LaFerrari F70 was designed as Ferrari's first hybrid car.
It uses both fossil fuels and super-powerful rechargeable batteries to reach breakneck speeds while consuming nearly half the average amount of fuel.
The addition of the "La" article before the Ferrari name alludes to this being the definitive supercar from the Italian house.
It literally translates to "The Ferrari".
This model was ported from Forza Horizon 2 by MohsineF, who made sure every single part could be damaged realistically.
The interior is also HQ, and the doors even open upwards like they do in real life.
Details people, details.
1.

Lamborghini Centenario LP770-4 V1
Looking at all these fantastic GTA3 custom cars floating around on the Internet, it's hard to deny that my top spot is entirely subjective.
Still, I just can't resist the incredible Lamborghini Centenario.
This roadster was based on the Lamborghini Aventador and revealed at the 2016 Geneva Motor Show to honor Ferruccio Lamborghini's 100th birthday.
Like some other entries, the car features a fully-modeled engine and interiors, as well as damageable parts.
However, what sets it apart from the others is MVP's decision to make its handling simulated like you'd see in Assetto Corsa. Giving the most authentic driving experience possible for an older GTA game.
Browse:
Grand Theft Auto
Grand Theft Auto 3
Lists
Video Games