The Best Custom Bus Mods for GTA5
This post may contain affiliate links. If you buy something we may get a small commission at no extra cost to you. (Learn more).
Fancy bikes, luxurious sports cars, and badass trucks are massively popular among GTA 5 players.
That said, you need to do more than fill the streets with your favorite supercars to renew the city's visual identity.
Busses are the unsung heroes of any major city, allowing people to easily and safely make their way around the metropolis. With the help of mods, we can help them do so in style.
Show the driver your fake Student ID and find a seat as we start our ride looking at custom busses for GTA5.
10.

Los Santos Transport Updated
First, we're renovating the entire fleet of busses and tram shuttles to make life a little easier – and more aesthetically pleasing – for our citizens.
Los Santos Transport Updated introduces two new, high-quality busses to Los Santos' streets, including a new airport shuttle. It also updates the public transportation available on Los Santos' most popular routes.
At the same time, it changes the visual identity of the Metro service to celebrate the addition of a new, larger, and more comfortable passenger train.
Last but not least, you'll notice a new "black cab" premium taxi option prowling the streets.
9.

Fortnite's Battle Bus
Easily the single most famous bus among today's youths is the Battle Bus from Fortnite.
Shown in-game as an aerial vehicle kept afloat by a hot air balloon contraption, this blue bus transports the players to the Island at the beginning of each game, soaring above the map in a straight line while people jump off to their preferred starting location.
It's even featured at the start of YouTube Rewind 2018, where many YouTube celebrities are forced by famous Fortnite streamer Ninja to jump to their deaths with no parachutes.
Regrettably, this blue bus doesn't fly. In fact, it might be just a recolored school bus… but, hey, it has "Battle Bus" written on it, and it definitely looks the part.
8.

Util Constellation DD
The GTA 5 modding community has come up with many new busses and bus liveries based on real-life vehicles the authors have seen in their cities or TV.
One of my favorites in terms of aesthetics is the Util Constellation DD, introduced by the União Transporte Interestadual de Luxo for transportation in Rio de Janeiro.
I chose this from many options because of the gorgeous livery. I haven't seen many black and orange buses in my lifetime, and this piece of art makes me wish it was more common.
7.

GM TDH-5303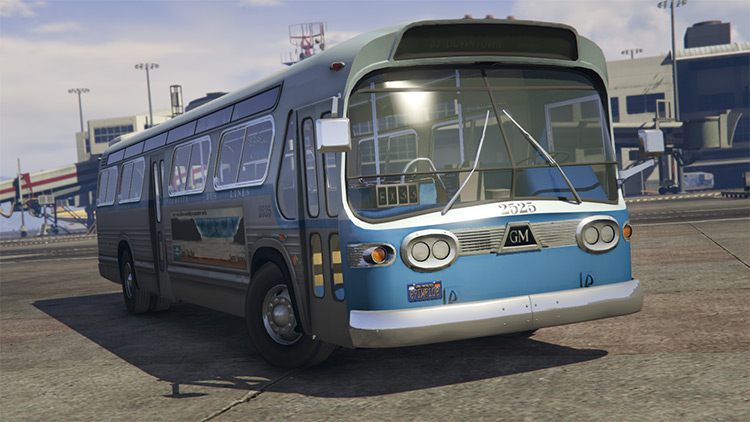 Also known as the "Fishbowl" or "GM New Look," the GM TDH-5303 is a piece of American and Canadian history manufactured by General Motors between 1959 and 1977 for use as passenger busses all around both countries.
Nowadays, one look at the TDH-5303 is all it takes for the word "classic" or "vintage" to pop into our heads, but back in the day, this was a flaming hot novelty that came to replace the "old look" TG-3201 everyone was used to.
More than 44.000 of these busses were built, and some have found their way to Los Santos. Adding these old-timey vehicles to your city will undoubtedly give public transportation in your game a distinct personality.
For another oldie but goodie, check out the Mercedes Benz O362.
6.

Buenos Aires Bus Liveries
I've lived in Buenos Aires for years, so when I saw these bus liveries representing lines 98 and 85 of local public transportation, I completely lost my mind.
Only someone on the ground here in Buenos Aires can tell you how absolutely perfect these are. I could literally leave my home, walk 50m and grab these exact buses. Seeing them in GTA 5 is simply surreal.
There are many more Argentinian busses in the author's profile, including one from Mar del Plata, another Argentinian city tourists love to visit.
In fact, the GTA 5 modding community has created countless international looks for Los Santos' busses, such as this one from Indonesia and these ones from Toronto.
Google "GTA 5 bus + [your city]" and you might hit the jackpot!
5.

Crazy Bus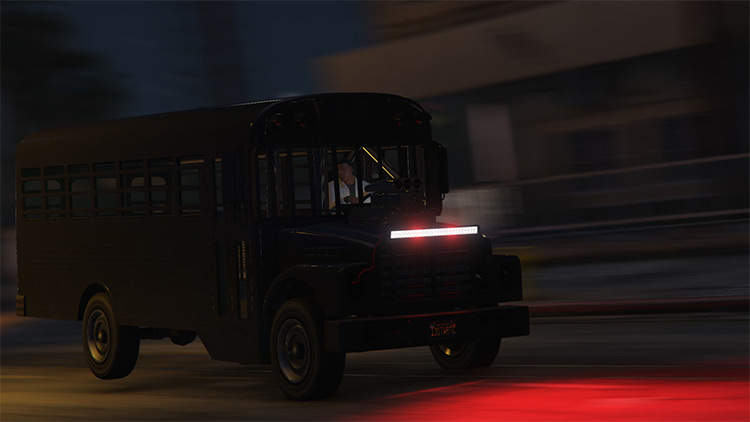 I've had a fair amount of nightmares where I'm driving a bus toward a cliff or a wall and have no way of making it stop.
If only I'd had the Crazy Bus, it might have been a different kind of dream.
This menacing, all-black bus has the performance of a supercar and the durability of an armored tank. It's a real unstoppable force, turning any car (or pedestrians) unlucky enough to obstruct its trajectory into confetti without losing speed.
According to the author, it was created as an April's Fool joke – but it can bring you a ton of fun every day of the year.
4.

Monster Bus
Another absolutely ridiculous public transportation vehicle I love to keep in my game is the Monster Bus.
This beast brings together the best parts of a bus and a monster truck, creating what's basically a bus on giant wheels.
You've never seen a bus with such an incredible off-road performance. You also haven't seen a bus that looks so absurd, though it's also a little bit cool if you squint.
It might not be the most detailed or realistic mod, but it's hard to compete with the Monster Bus regarding the pure fun factor.
3.

Mass Casualty Evacuation Ambulance Bus
After the complete humanitarian disaster you'll cause with the two bizarre buses covered above, you'll need an ambulance – a huge one.
The Mass Casualty Evacuation Ambulance Bus was designed for just such a situation.
This ambulance is loaded with all the equipment needed to provide emergency care to patients in critical condition being evacuated from a disaster scene – natural or otherwise.
Inside, you'll find several stretchers, IV poles, resuscitation devices, oxygen tanks, and many more life-sustaining tools.
This is a fantastic addition if you're playing something like Rescue Mod V.
2.

New Routemaster (Borismaster)
The classic AEC Routemaster was an international symbol of London, England, that all tourists wanted a picture of whenever they visited the British capital.
In 2008, then London mayor Boris Johnson ran an open design competition to create a replacement for the old Routemaster that retained some of the classic's visual identity while introducing significant technological enhancements and improving accessibility.
The result was this modern bright red double-decker known colloquially as the Borismaster after Mr. Johnson, now Prime Minister of the UK.
It's hard to think of a more iconic urban bus than the classic Routemaster, and this is definitely a worthy successor.
1.

Classic American School Bus
There's one type of bus anyone from Anchorage to Kyoto would easily recognize after decades of being featured in American films and TV series:
The iconic American school bus.
Bright yellow was adopted as the standard color for all USA school buses back in 1939, and it has remained a symbol of American childhoods ever since.
This mod isn't content with bringing a bright yellow bus to your GTA 5. Instead, it features every little detail you'd find on the real thing, including a functional crossing arm and a bright red STOP sign with flashing lights that guarantees the safety of any nearby children.
Of course, this bus will never be safe with Michael, Trevor, or Franklin behind the wheel – but there's no harm in looking the part!
Browse:
Grand Theft Auto
Grand Theft Auto 5
Lists
Video Games