20 Best Clothing Mods & Modpacks for GTA 5 (Guys + Girls)
This post may contain affiliate links. If you buy something we may get a small commission at no extra cost to you. (Learn more).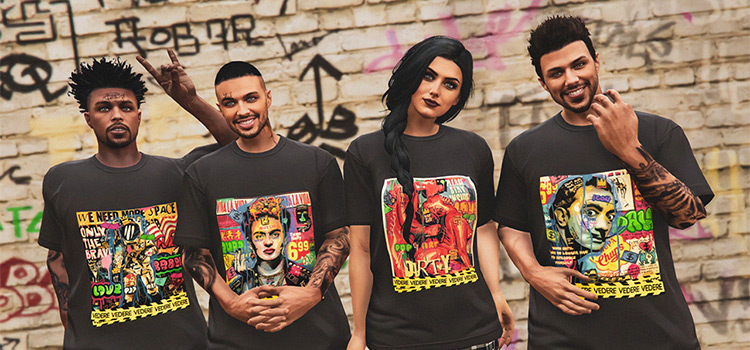 As famous fashion photographer Bill Cunningham once said: "Fashion is the armor to survive the reality of everyday life."
Packed full of thugs and trigger-happy cops, Los Santos is just the kind of place where it takes armor to survive everyday life.
Your best bet? Dress to impress.
Nobody can shoot you if they're too busy wondering whether you're some famous rapper with a mob of fans ready to pounce.
Check out these mods to get started on your GTA 5 fashion journey.
1.

Serenade Sagged Jeans
Everyone knows that you must sag your jeans if you want to get respect in the 'hoods of Los Santos.
I know nothing more impractical than running with your pants down in the middle of a shootout, but I don't make the rules. You either sag them, or you're out.
This mod introduces two beautiful, high-quality sagged jeans based on real-life designs by Serenade Denim so you can look stylish while exposing your underwear to the world.
They should give your GTA 5 character an award for keeping those pants mid-thigh with no belt.
2.

GUCCI Printed Hoodie
Wearing the biggest GUCCI logo you can get your hands on is considered fashionable by a fairly large percentage of the population.
I'm not a fan of paying a premium to become a walking billboard for a multi-million dollar company, but I can't deny the simple, prestigious appeal of a GUCCI-printed hoodie.
Something about this exact shade of white beautifully complements GUCCI's colors and logo. It's a gorgeous hoodie, brand-name or not.
It'll go well with your sagged jeans and, maybe, a pair of GUCCI Slides.
3.

Rolled-up Sleeves Flannel for MP Male
There's nothing quite as versatile and casual as a flannel shirt over a plain white t-shirt.
It shows you're putting in just the right amount of effort to not look like a slob but still projects a slight "I don't care one bit" vibe that some people can't get enough of.
This mod introduces five different colors for this plaid flannel shirt, so there's something for everybody.
In real life, you wouldn't want to wear something as toasty as flannel in a hot place like Los Angeles. Luckily, Grand Theft Auto 5 still doesn't feature fully-immersive VR yet.
4.

Fresh Clothes Pack for MP Female
If you care about your character dressing in a way that fits in with their surroundings and makes sense in Los Santos' hot and humid climate, check out this Fresh Clothes Pack for women.
It features 14 different pieces, including mini-skirts, shorts, tiny tops, and even beach pareos that will keep your female player character nice and comfortable.
5.

High-Waisted Jeans for MP Female
According to almost every woman I know, high-waisted jeans are a gift from the gods.
They're just flattering to the modern female figure in a way that low-waisted jeans can only offer to people who keep their BMI under what the medical community considers healthy.
There may come a time in the future when nobody cares what others think about their bodies, but until then, high-waisted jeans will sculpt your GTA character's figure and help them feel more confident as a crime lord.
Plus, they look amazing with high heels.
6.

Skirt + Tights/Socks for MP Female
Something else that'll make a killer combo with some high heels is this Skirt + Tights/Socks pack.
Mini skirts are essential in any modern woman's wardrobe, and combining them with knee socks or tights creates a sublime combo that'll never go out of style.
With this versatile mod, you can choose between tights or knee socks in different colors for different looks.
Something like a black skirt with white knee-socks can give you a youthful schoolgirl vibe, while colored tights can add a playful touch to any outfit.
7.

Biker Shorts for MP Female
Maybe you're not really the skirt type.
If you want your GTA 5 character to look like a sporty girl who spends more time exercising than watching make-up tutorials, these Biker Shorts are a no-brainer.
Wearing biker shorts as part of your casual 'fit just screams "tomboy." It also shows off the results of your daily squats and lunges at the gym.
Alternatively, full-length leggings are an excellent choice that might be easier to work into an outfit.
8.

Caution T-Shirt Pack for MP Female + Male
Maybe you're the type of urban, artsy person that posts lo-fi filtered pictures of themselves next to graffiti on social media and attends alternative music festivals.
In that case, you'll love this hand-picked t-shirt collection by Vedere – an Italian modder and fashion designer working primarily on GTA 5.
These black t-shirts feature bright and colorful modern designs with iconic faces from the surrealist movement like Salvador Dali or all-time pretentious hipster favorite Frida Kahlo.
They're easy to work into any 'fit and can bring much-needed color to an otherwise subdued urban look.
9.

GUCCI Bag & Black Shades
Accessorizing always looks better when it serves some purpose.
Based on Los Angeles, Los Santos is usually warm and very sunny, so these GUCCI sunshades could be a game-changer for your character.
After all, it's much easier to aim a handgun when the sun isn't making you squint.
You also need a bag to store any guns, explosives, and illegal substances you carry with you. Make it GUCCI, and maybe the police will think you look too wealthy to be a crook.
10.

Custom Hoodie & Sweatpants for MP Female
Some days, you can't be bothered to choose an outfit.
You're a busy gal hustling her way up in Los Santos, and that means being ready to jump into action at a moment's notice.
The classic hoodie & sweatpants combo is simply a godsend in this situation.
It's just as good for relaxing at home as to sneak into someone's garage to steal their car.
Besides, fashion icons like Rihanna and even Sophie Turner have already established this comfort staple as a trendy and stylish look.
Couple it with some sleek and exuberant sunglasses to complete the 'fit.
11.

Polo Bodycon Dress for MP Female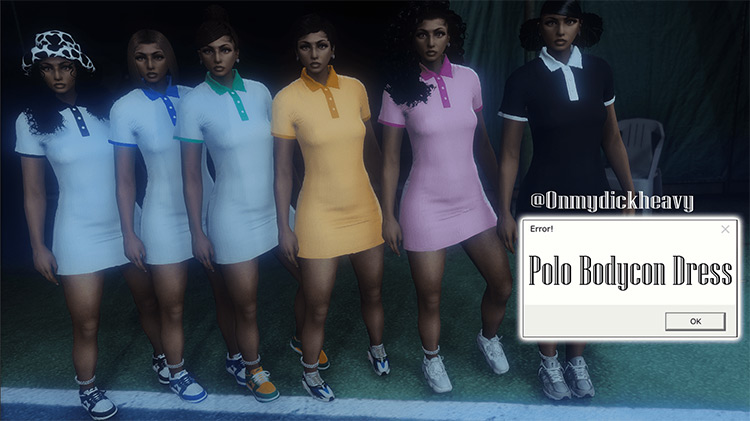 A Polo Bodycon dress is the perfect 'fit for a Vinewood Hills girl that enjoys race car driving and yachting whenever she's not committing fraud or swiping a sports car from the golf course's parking lot.
People will be blinded by your killer figure in this form-fitting dress, allowing you to conduct your "business" without incident. Nobody thinks the girl in the Polo dress is a criminal.
It's breathable and fits like a glove, so even if things get out of hand, you'll be able to make a quick getaway in style without extra fabric getting in the way.
12.

New Wedding Dress
The thug life is profitable and exciting, but it isn't convenient. Crime calls at the most inappropriate times – like in the middle of your wedding.
Maybe the FIB raided your wedding reception, or your underlings botched a bank robbery and need backup ASAP. Whatever the case, you can't back out just because you're wearing three kilograms of white silk and chiffon.
It's a rather bold choice to wear on your day-to-day gaming, but you can't deny how bad-ass a bride looks with an assault rifle. To marry and celebrate at the shooting range is my kind of American dream.
13.

Las Vegas Raiders Satin Black Jacket & 9FIFTY Snapback
I don't know a single man who'd look bad in this Las Vegas Raiders Satin Black Jacket.
Don't worry if you don't know the first thing about the Raiders – that's beside the point. You're not wearing this jacket to support anyone other than yourself. It's battle armor for the battle for dominance that's constantly taking place in the streets of Los Santos.
This mod combines the Raiders jacket with a sleek, jet-black 9FIFTY snapback with the Raiders logo on the front – golden sticker attached, of course.
We're criminals, not savages.
14.

"Chuck Taylor" Converse All-Stars
You can wear a pair of black Chuck Taylors with anything.
Introduced as basketball shoes back in the early 20th century, these sporty staples were massively influential in kick-starting the development of athletic training shoes.
It's thanks to them that the average shoe is so comfortable nowadays. Without them, you would be robbing banks in boat shoes.
They were also the first celebrity-endorsed shoes ever. Think of these as the Yeezys of the 1920s.
15.

Yeezy Foam Runners
I was as shocked as everyone else when the Yeezy Foam Rollers were first revealed – though I've come to expect that feeling whenever Kanye's name pops up in the footwear business.
At first, they were hard to swallow – but, after a while, I came to love them for what they are: a hammer breaking the status quo dominated by Crocs.
The Yeezy Foam Runners are a little like Antoni Gaudí's Sagrada Familia cathedral or the Casa Milà.
Like Kanye, Gaudí incorporated biological shapes and patterns found in nature into his work. Some thought they were hideous at the time, but a century later, they're still considered some of the most gorgeous buildings in Europe.
16.

Double Swoosh Nike Joggers + The North Face x Supreme Jacket
Suppose you want to look stylish and expensive without putting your feet in a sea cucumber.
In that case, you can't skip this Nike Joggers + TNF x Supreme jacket combo.
This outfit is all about brands, but it's not as obnoxious as some other Supreme products. The double swoosh looks pretty interesting, and the large off-center white Supreme "S" looks superb on the bright red that characterizes the marque.
The North Face jacket is also available in different colors, so you don't have to be a Supreme hypebeast forever.
17.

Ultimate Sneakers Pack
I'm the kind of guy that gets late to appointments because he spends too long choosing what shoes to wear.
What can I say? I'm not leaving the house until that drip is perfect.
If you're anything like me, you'll appreciate the wide variety of sporty shoes offered by the Ultimate Sneakers Pack.
You'll find a wealth of Nike, Adidas, and Reebok gems to keep things fresh – all in excellent quality. They feature wetness effects and wind-sensitive laces.
18.

Adidas Yeezy Boost 700 "Waverunner"
The Adidas Yeezy Boost 700 is one of my favorite shoes of all time. This is doubly true for the sporty and attention-grabbing Waverunner colorways.
The interplay between Kanye's irreverent creativity and the proud old-school appeal of the "dad shoe" makes these some of the most well-balanced Yeezys.
You can wear it every day to give yourself a stylish boost without them completely taking over your outfit.
Once you've gotten used to them, check out this pack of alternative colorways for these unique floors.
19.

Emergency Uniforms Pack
Not every clothing mod is focused on fashion and style.
The Emergency Uniforms Pack introduces several high-quality uniforms for diverse Los Santos law enforcement branches based on their real-life counterparts from Los Angeles, California.
By themselves, they're something fun to play around with, but coupled with mods like LSPD: First Response – which lets you play as an LSPD officer – it can really enhance your game experience.
Make sure to also check out the EUP: Save & Rescue Expansion and the Vests Pack for extra variety and immersion.
20.

Ultimate Outfit Pack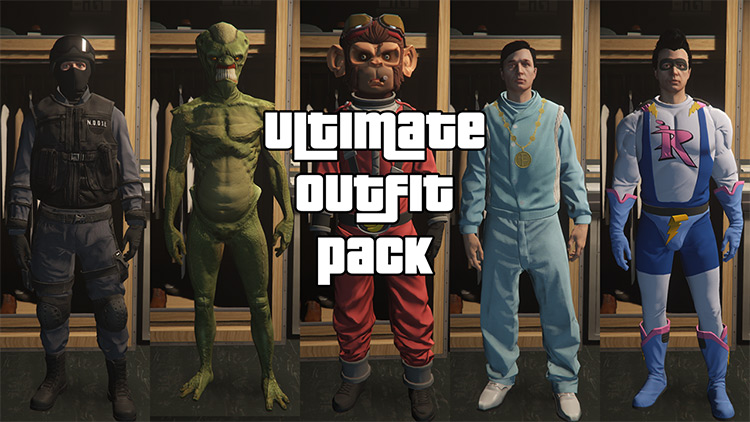 Over the years, Grant Theft Auto Online has accumulated an almost ridiculous variety of outfits.
These include SWAT agent equipment, racing suits, alien costumes, and just about anything you can think of.
You'll get access to over 2000 of them in single-player with this handy mod. With just a few clicks in the Menyoo trainer, you can become an ex-convict, a clown, Santa Claus… The sky is the limit!
Some of these outfits have stopped working over the years, but most of them are still online and ready to transform your single-player experience.
Browse:
Grand Theft Auto 5
Lists
Video Games