Top 20 Best Female Hairstyle Mods for GTA 5
This post may contain affiliate links. If you buy something we may get a small commission at no extra cost to you. (Learn more).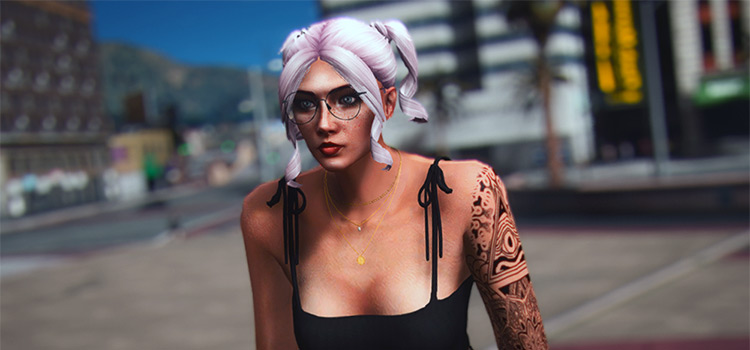 Getting a good haircut is the key to success in Grand Theft Auto 5's city of Los Santos.
Whether you focus on practicality or projecting an image of superiority, how you style your hair can change how you conduct your monkey business.
Fashion designer Coco Chanel once said, "a woman who cuts her hair is about to change her life."
We're about to find out precisely what that means with this list of hairstyle mods for your female GTA avatar.
1.

Pedestrian Hair for MP Female
If you've ever found yourself looking at an NPC and thinking, "damn, that's a sleek hairstyle," there's one mod you can't overlook.
Pedestrian Hair for MP Female by Modojo is a small collection of some of the best hairstyles on female NPCs. Most of these are from pedestrians in Vinewood and are fairly fashionable.
You'll even get actress Kerry McIntosh's hairdo! She may be washed up, but her hair is on fleek.
It's a total of seven hairstyles guaranteed to blend in perfectly with their surroundings.
Part 2 introduces over 20 new high-quality hairstyles in a similar style, so check it out!
2.

Bob Hairstyle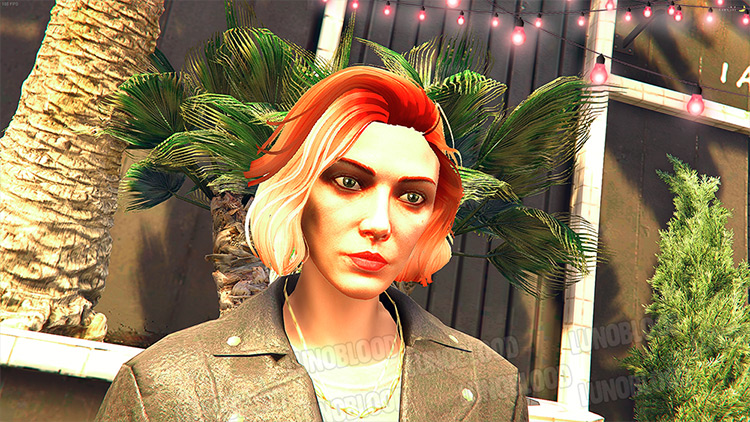 Part of being a criminal is being ready for action at a moment's notice.
This can be kind of hard when you've got a meter-long mane, so most female outlaws choose to cut their hair short and rock a natural-looking bob.
Creator LunoBlood brings us a sleek and dynamic take on the bob cut, with several layers that add much-needed volume.
An orange-blonde color combination on this layered bob evokes the sight of a Vespucci Beach sunset.
3.

Curly Pigtails
Nothing will make you look less like a criminal than a pair of curly pigtails.
This style is favored in equal measure by little girls and grown women who like to call their boyfriends "daddy" – two groups you wouldn't usually picture stealing your car.
That is, of course, if you're not some kind of sugar daddy. In that case, it's exactly what you expect.
Get this mod by Jazlyn13 for a youthful look your friends will call "a red flag" behind your back.
4.

Straight Hair with Bangs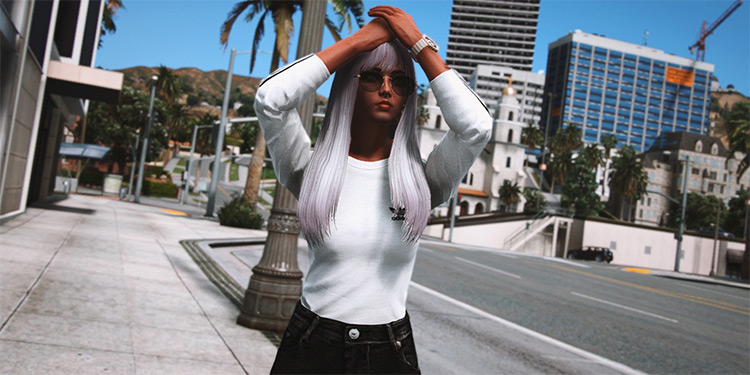 Also from Jazlyn13 comes a classic straight haircut with bangs that'll give your character an elegant but youthful look.
Bangs heighten your natural beauty by naturally framing your face. This style also keeps your hair out of your eyes.
They make a killer combo with some stylish shades, which protect you from the sun's glare and make you look bad-ass.
5.

Messy Bun
Straight hair with bangs might be stylish and elegant, but who really has that much time to brush their hair?
I like to keep it more practical: Short hair, wrapped up in a messy bun, and maybe in an unusual color just so everyone knows "I'm not like the other girls."
That's exactly what you'll get from this Messy Bun mod by WiktoriaBlanka.
It's the perfect hairstyle for an urban rebel walking a fine line between "unkempt" and "inner-city fashion icon".
6.

Short Ponytail with Bandanna
Bandannas have been associated with criminality since forever.
Whether you're an outlaw in the Wild West or a gangster in Los Angeles, these are a great way to hide your identity or show gang affiliation.
The other, less shady use of bandannas is as a chic accessory for a summer outfit that has the added benefit of keeping your hair out of your face when you're trying to aim a gun.
This hairstyle is a staple of stereotypical "chola" fashion, so this mod by Madds will help you fit right into Los Santos' vibrant Hispanic gang scene.
7.

Fluffy Ponytail
Most of us spend a lot of time riding bikes in Grand Theft Auto 5.
So much wind in your hair is bound to mess it up at least a little bit – especially in the heat and humidity of Los Santos.
This Fluffy Ponytail by Jazlyn13 accurately represents what you would realistically expect to look like living the kind of outdoorsy, high-adrenaline lifestyle of a GTA 5 character.
The hairband keeps everything in place, but that ponytail could use a brush. You'll look like you have better things to do than spend all day at the salon, and that's a vibe I can get behind.
8.

Short Fluffy Pontytail
Cutting your hair just a little bit shorter might make it easier to manage.
If you want to know what that would look like, check out the Short Fluffy Ponytail by Jazlyn13.
Unlike the previous mod, everything looks perfectly polished on this hairstyle. It's like you just came out of the hairdresser!
Get this for a rather adorable look that shows off any tattoos you might have on your back.
9.

Curly Hairstyle
Being the curly type is more than just how your hair looks: it's a whole attitude.
Years of prejudice and discrimination against curly hair have made curly-haired women into warriors. They don't care what you think and won't take any of your bullshit.
That's precisely the kind of person you need to be to get ahead in the dog-eat-dog world of Los Santos, so check out this Curly Hairstyle from creator BLU.
Get ready for curly girl summer!
10.

Clara Hair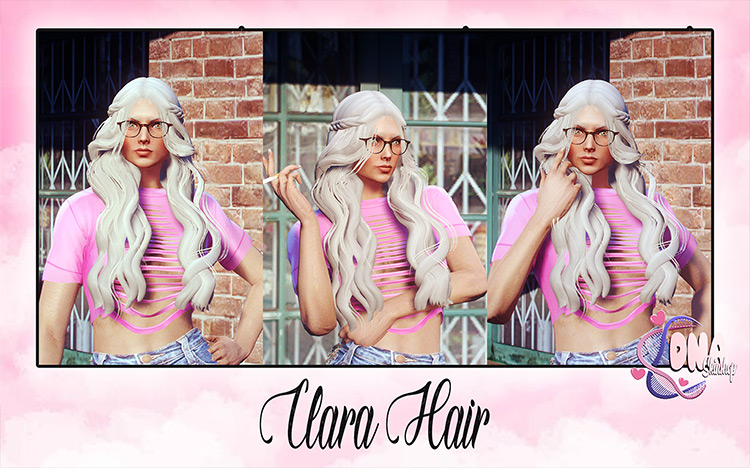 There are many middle points in the range from straight to curly hair.
A prime example is the delicate but firm waves featured in the Clara Hair mod by DNA Skinshop.
This voluminous hairstyle is everything but subtle. The thick, long strands of wavy hair come together with braids that form a crown around your head, giving your character the look of a princess, or a pagan priestess deep in a European forest.
It's a hairstyle for an energetic woman who can light up a room with a smile or invite a deafening silence with a scowl.
11.

Long Hair with Curls
A much more subdued version of the same vibe as the Clara Hair can be found in Jazlyn13's Long Hair with Curls.
This hairstyle is long and luscious, with a fair bit of volume, thanks to the wavy curls. It's something that can accentuate any woman's beauty by virtue of its universal appeal.
If you're unsure where to take your character's look, you can always default to this, and it'll look fantastic every time.
12.

Crybaby Hair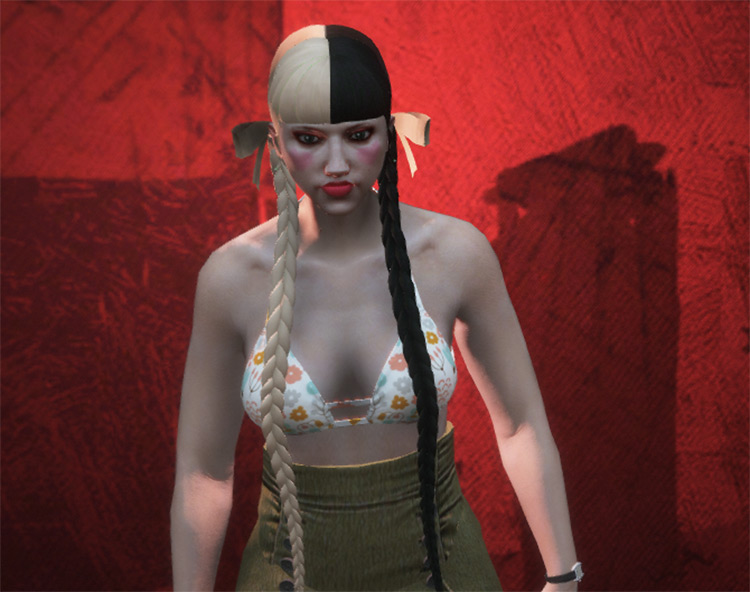 Do your friends call you a crybaby?
Are they always offering you pacifiers and giant lollipops?
Then maybe the Crybaby Hairstyle by Serskyamn is the right pick for you.
This attention-grabbing hairdo is inspired by indie pop artist Melanie Martinez's Cry Baby music video, where she's seen wearing her hair in the exact same way.
It's definitely a unique style that can only get more impressive the more color combinations you try.
13.

High Ponytail
Fans of pop artists like Melania Martinez might remember back when the high ponytail was Ariana Grande's signature hairstyle.
It's a charming and girly style that makes the most out of straight hair and helps you keep a very long mane out of the way while dancing on stage.
If it's convenient on stage, you bet it's convenient in the day-to-day life of a female "entrepreneur" in Los Santos.
You can use this mod by Grzybeek to project an innocent look that'll confuse police investigators – and if they zoom in on you, it won't get in the way of making a quick getaway.
14.

Simple Ponytail
Sometimes, simple is best.
This Simple Ponytail by Jametco brings you an all-time classic hairstyle that became popular back when humans first figured out how to tie a knot.
That said, this mod's specific model is much more stylized than what you'd expect from a Neanderthal. It's one of the cleanest, smoothest ponytails I've ever seen.
Just about any woman can rock this hairstyle with any outfit: it will always work.
15.

Long Braids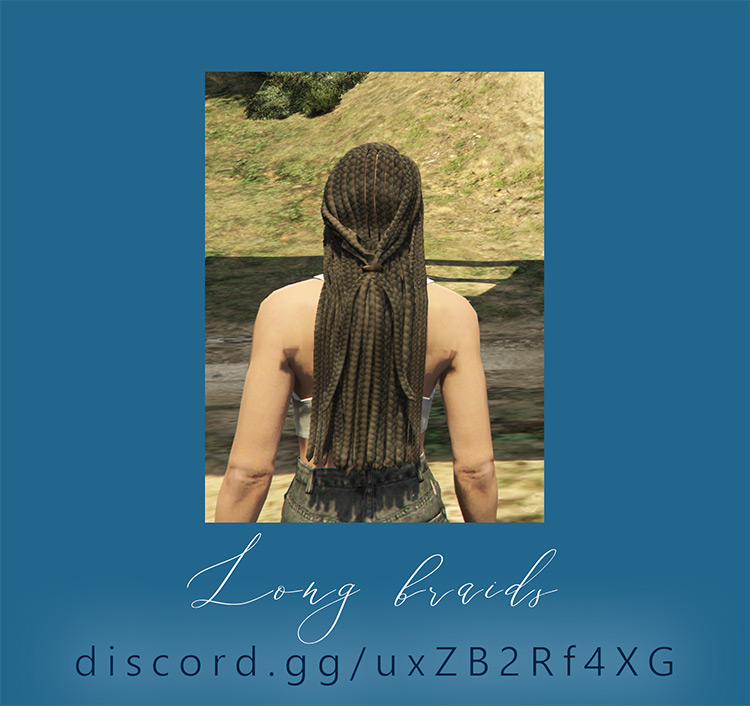 Every girl wants to rock a really long hairstyle from time to time.
Regrettably, long hair is highly inconvenient when jumping fences and blowing stuff up.
What if it gets tangled with something or catches on fire?
A fantastic alternative is to wear your super-long hair in tight braids. You'll look tough and stylish – and it's much more comfortable.
16.

Afro Braids
Even more tough-looking than tight braids are thick dreadlocks.
But what if you don't want to walk around looking like Wiz Khalifa on a bad hair day?
Then you grab those locks and roll them up tight into a bun, as seen in this fantastic Afro Braids custom hairstyle by Pawureliomods.
It's the hairstyle of hard-working women with stoic personalities who're ready to overcome any hardship on their way to achieving their goals.
17.

Long Braid
A much different style of braid that's also associated with strong women is the classic English braid.
This versatile hairstyle is achieved by weaving together three strands of hair and holding it all in place with a single knot at the end of your braid.
It couldn't be easier to pull off, and that's part of the appeal.
Jazlyn13's Long Braid offers you a tidy, functional hairstyle you could realistically put together in minutes. It looks equally stylish with the fanciest dress or the most casual fit.
18.

Kaisa Hair
Suppose your character is a young 2020s girl who pays for her music festival tickets with money from streaming on Twitch.
If so, you'll need a modern hairstyle fit for a Gen Z e-girl.
JuneBugs' Kaisa Hair is exactly what you're looking for. It's two-toned, so you can play around with sleek color combos, and the different length of each layer gives your hair a unique shape.
I hope you don't get banned from Twitch for streaming a high-speed police chase on a stolen Pegassi Osiris.
19.

Brittany Hairstyle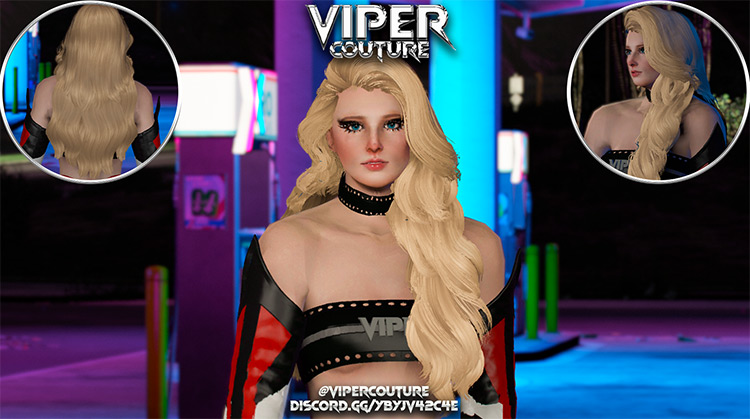 Once you've established yourself as a cornerstone of Los Santos' criminal underworld, you'll have plenty of time to take care of your hair – and money to invest in it.
Then you'll get hair as vibrant and luscious as the Brittany Hairstyle by Viper Couture.
Long and wavy, this hairstyle will bewitch anyone lucky enough to see it. It's a gorgeous feminine mane that'll turn your average Los Santos lass into a real-life Disney princess.
Watch out, the CEO of Dreamy Hair is coming through.
20.

Serskyamn's Hair Styles for MP Female
Nobody wears the same hairstyle every day, and there's no reason your GTA 5 character should, either.
We've covered several gorgeous hairstyle options, but I want you to leave with enough hairdos for the rest of the year.
You'll find a true treasure trove of varied top-quality hairstyles in Serskyamn's Hair Styles for MP Female series.
The first part – linked above – features five style-savvy options, but with parts two, three, four, and five, your hairstyle haul grows to 31.
There's something for everybody in this extensive catalog, so check it out.
Browse:
Grand Theft Auto 5
Lists
Video Games