The Best Ferrari Car Mods for GTA 5
This post may contain affiliate links. If you buy something we may get a small commission at no extra cost to you. (Learn more).
There's nothing GTA 5 players like more than vicariously living their best lives through Trevor, Michael, and Franklin by driving high-speed and stylish supercars in Los Santos.
When you say "supercar," the first thing that'll come to mind for most people is Ferrari. This legendary Italian manufacturer has become synonymous with speed, style, and fat pockets.
Acquiring a Ferrari in real life is a bit challenging for the average person – so while you work your way there, why not get a taste of the action in GTA 5 with some Ferrari mods?
15.

Ferrari Testarossa (1987)
We're kicking off our joyride through the 15 best Ferrari mods for GTA 5 with an 80s classic you'd sooner expect to see in Vice City rather than Los Santos: the 1987 Ferrari Testarossa.
This Pininfarina-designed car became a bit of a cultural phenomenon back in the 1980s. You'd see it in shows like NBC's Miami Vice and games like Sega's Out Run.
While the car is known for its looks, its performance doesn't stay behind. It can reach 100km/h in less than 6 seconds and has a max speed of 290km/h.
Whether you're a yuppie or just a very successful criminal, this car will give you the prestige and performance you need in Los Santos.
14.

Ferrari F12 Berlinetta (Modified)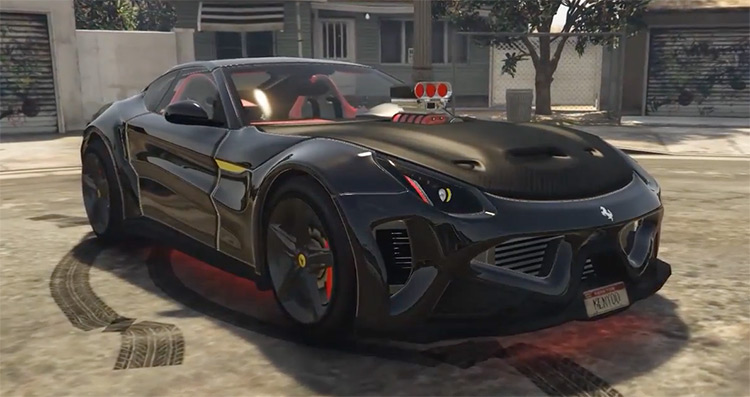 Fast forward around 25 years, and you'll find the Ferrari F12 Berlinetta.
This front mid-engine grand tourer is powered by a naturally aspirated 6.3L V12 engine capable of propelling it to a max speed of 340km/h in no time.
Something about it screams "power" – especially this modified version, with its visible supercharger.
This is one of the most potent Ferrari cars you can get your hands on.
13.

Ferrari SF90 Stradale (2020)
As society tries to move away from burning fossil fuels for energy, we need powerful and attractive electric cars to help us transform an industry so defined by the smell of gasoline and burnt rubber.
The Ferrari SF90 Stradale is the first vehicle from the Italian manufacturer to feature plug-in hybrid architecture. The internal combustion engine is supported seamlessly by three electric motors that substantially reduce the car's emissions.
This beauty integrates race track tech into its design to keep up the exceptional performance we expect from the brand.
This highly polished add-on lets you wonder at the car's attractive interior and high-detail engine. It also includes several different liveries for added customization.
12.

Ferrari California T (2015)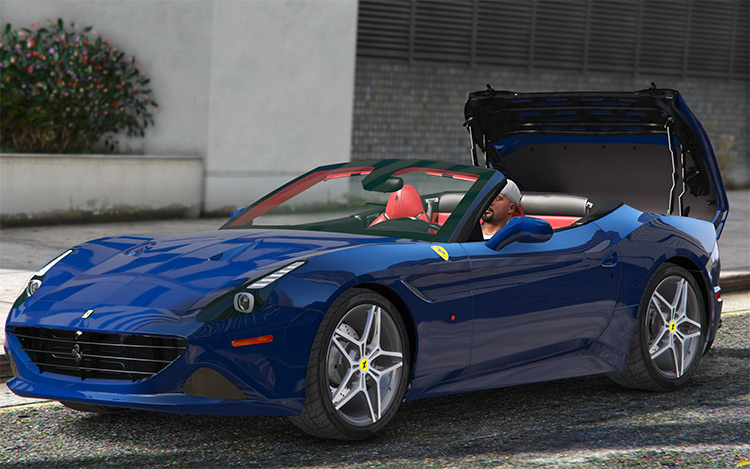 If you're looking for a high-performance sports car that'll make you look (and feel) like the sexiest individual in Los Santos, check out the Ferrari California T.
Powered by a twin-turbocharged 3.9L V8 engine, this breathtaking convertible projects youth and power in equal measure.
Its elegant design looks like it belongs in an urban environment rather than a race track – even though it can reach a max speed of 315km/h.
I was pleasantly surprised by the superb quality of the interiors – a must-have for any convertible. It'll make you feel like you're driving the real thing.
11.

Ferrari 812 Superfast (2018)
For a slightly more sporty but just as youthful look, consider the Ferrari 812 Superfast from 2018.
The 812 Superfast was released as the successor to the F12 Berlinetta we covered above.
It's a front mid-engine grand tourer with a 6.5L V12 engine that was the most potent naturally-aspirated car engine ever made when it entered the market.
Some of the visual updates received by the 812 Superfast include LED headlamps, air intakes on the bonnet, and four attractive circular tail lights.
Its two-box, high-tail design takes inspiration from the classic Ferrari Daytona, giving it a distinctive visual personality.
10.

Ferrari 375 F1 (1950)
There's plenty to get excited about in modern F1 cars. The aerodynamics, the insanely powerful engines, the state-of-the-art materials… it's a lot!
But when it comes to design, the classics did it better.
In the 1950s, F1 cars looked very different than they look today.
The Ferrari 375, for example, looks like a medicine capsule on wheels – but somehow, it looks cool as hell.
The absolutely gorgeous gloss is one of the best parts of this GTA 5 add-on. You'd have to keep the car in a glass box to preserve this sheen in real life, but in GTA 5, it's eternal.
9.

Ferrari F1 SF1000 2020
If you still prefer modern F1 vehicles over the relics of the past, take a look at the Ferrari F1 SF1000.
Driven by Sebastian Vettel and Charles Leclerc in the 2020 Austrian Grand Prix and the 2020 Abu Dhabi Grand Prix, this state-of-the-art racer couldn't bring Scuderia Ferrari the victory they wanted – but damn, did it look cool trying.
Luckily, GTA 5 isn't Forza Horizon or any of the officially licensed F1 games. It's more important for the car to look good than to win races – and this mod looks phenomenal.
8.

Formula Drift Ferrari 599 GTB Fiorano
It might outrage some of the Ferrari fans out there, but I've never found F1 races all that entertaining.
Now, Formula Drift? That's a different story.
This US-based motorsport isn't so much about speed but skill and style. That's probably why this Formula D-ready Ferrari 599 GTB Fiorano looks so damn sexy.
Ported from Forza Horizon 4, this beauty features extremely high-quality modeling, a gorgeous custom livery, and many lovely details like a fully animated engine.
7.

Mini Ferrari 599XX RC Car
Designed by Ferrari's Formula 1 engineers, the Ferrari 599XX is a powerful track-only version of the Ferrari 599 GTB covered above.
This, however, is not that car.
Instead of driving around the familiar roads of Los Santos and San Andreas on yet another supercar, this Mini-Ferrari 599XX allows you to zoom in and discover new routes not accessible to full-size cars.
You can actually ride this car "normally," but if you want the RC car experience, make sure you download this script by JulioNIB.
6.

Ferrari F430 Scuderia – Hot Pursuit Police
No matter how you feel about police officers in Los Santos and elsewhere, you can't deny that panda supercars are some of the sexiest rides you can get your hands on.
Need for Speed: Hot Pursuit gave us an all-you-can-eat of "cars in uniform," including this customized Ferrari F430 Scuderia driven by Seacrest County's Speed Enforcement force.
The marriage between the strength and authority of a police car with the style and incredible performance of a Ferrari is simply irresistible.
If I was being pursued by one of these, I'd accept my destiny behind bars just for a chance to ride one back to the police station.
5.

Ferrari 330 P4 (1967)
I've always been a big fan of cars pushing boundaries and challenging our minds with unique, experimental shapes.
The first thing that comes to mind when looking at the Ferrari 330 P4 is, "damn, that looks just like Speed Racer's Mach 5".
Indeed, this 1967 gem looks unique enough to be fictional, but its historic success in the 1000km Monza in 1966 and the 24 Hours of Daytona in 1967 is 100% real.
Only four units of this V12-powered mid-engine race car were ever produced, so try not to blow it up in-game.
4.

Ferrari F430 Liberty Walk
There's much to love about custom Liberty Walk versions of famous supercars.
This Japanese tuning group has become infamous for taking notorious supercars and riveting supersized body kits onto them.
The Ferrari F430 was already a beautiful car – but its design didn't exactly challenge expectations.
Liberty Walk's body kit for this attractive Ferrari features the trademark chin spoilers, fender extensions, aero rocker extensions, and colossal diffuser. The unique ducktail spoiler is the icing on the cake.
3.

Ferrari Monza SP2 (2020)
For something that'll definitely turn heads on the road without the need for any wacky body kit, check out the Ferrari Monza SP2.
This gorgeous two-seater is part of Ferrari's "Icona" series of concept cars, which explains its unusual windshield-less design.
The Monza taps into the company's long history of famed designs, taking some of the best and most iconic ideas and crafting something entirely new.
While its looks are delicate, with lines that seem to follow the wind, its uniqueness hits you like a truck.
2.

Ferrari 458 Italia Misha Design
The Ferrari 458 Italia combines aerodynamic efficiency with an easily digestible visual identity that anyone would find attractive.
That said, "easily digestible" is not exactly what we're looking for in our next GTA 5 vehicle. We want something so incredible and unusual that it'll make driving around Los Santos feel fresh despite the game being released over a decade ago.
Notorious tuner group Misha Designs offers just that with this carbon fiber body kit that takes cues from the Ferrari La Ferrari to give the 458 the appearance of a race car.
Putting it simply, it looks like a Hot Wheels collectible – and I'm living for it!
1.

Ferrari LaFerrari (2015)
I'm a sucker for cars with a "feminine" design – meaning lots of curves and delicate details that evoke a feeling of smooth flow.
The Ferrari LaFerrari adds to the idea of a smooth ride with its hybrid technology that allows the mid-mounted 6.3L V12 engine to work less for the same performance, thus reducing emissions and fuel consumption.
This incredibly high-quality mod was created by splicing together the best parts of the LaFerrari model in three games: Asetto Corsa, The Crew, and Forza Horizon 4.
The result is an exquisitely detailed LaFerrari whose looks are unmatched by anything I've been able to find online.
And if you liked this mod, check out the LaFerrari Aperta convertible version.
Browse:
Grand Theft Auto
Grand Theft Auto 5
Lists
Video Games