The Best Custom Fire Truck Mods for GTA 5
This post may contain affiliate links. If you buy something we may get a small commission at no extra cost to you. (Learn more).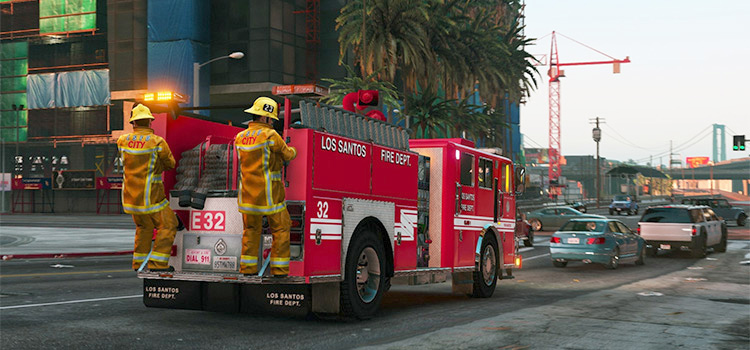 Little kids all over the world agree: fire trucks are awesome.
These flashy firefighting tanks are like the red Power Ranger of emergency vehicles. There's no public servant more visibly heroic than a firefighter, and kids project that onto their trucks.
Here at FandomSpot, we believe that child-like wonder never truly goes away.
You may be old enough to play GTA 5 instead of the latest PAW Patrol tie-in, but nothing should stop you from living out your heroic firefighting dreams.
Here are some of the most top-quality fire truck mods to help keep Los Santos from getting a nasty sunburn.
1.

Scania P360 Fire Truck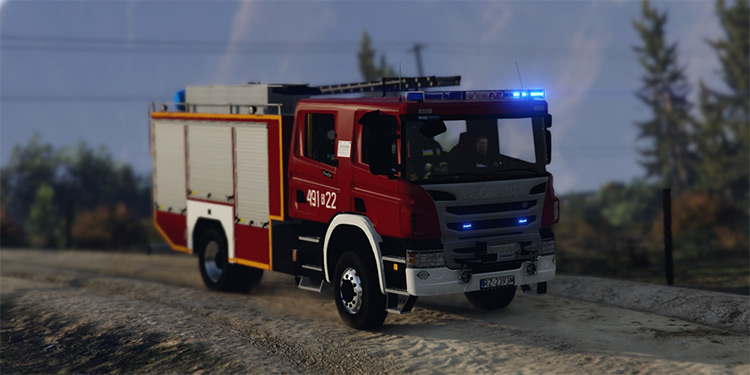 Scania is one of the most respected truck and bus providers worldwide.
They specialize in heavy-duty vehicles that haul massive cargo or serve in high-intensity situations like fighting a fire.
The Scania P360 is part of their urban operations-oriented P-series. It's a low-weight cab with excellent visibility that doesn't compromise strength.
It's the ideal vehicle to move around in the often crowded streets of Los Santos. It's big enough to carry the crew and equipment but sufficiently small to beat traffic.
2.

Scania Sapeurs-Pompiers France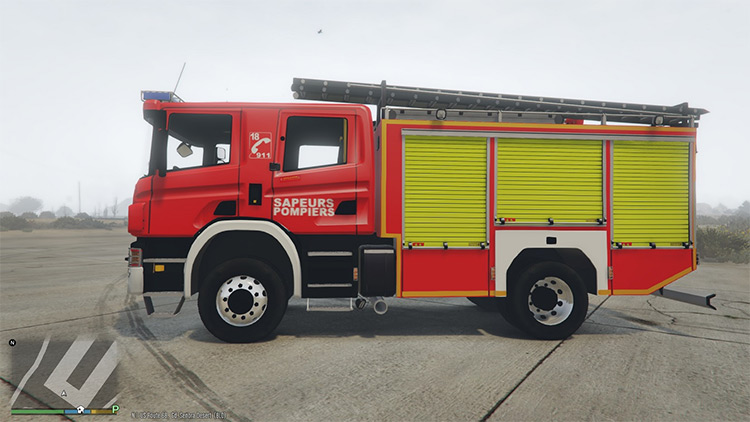 The French Fire Brigade – also known as the Sapeurs-Pompiers – is a French Army division dedicated to fighting fire rather than enemy forces.
They're the first line of defense standing between France's historic architecture and the threat of dangerous fire hazards. They were the first at the scene when Notre Dame was burning down.
If you admire these French heroes and like their red-and-yellow trucks and uniforms, you'll love this reskin for the Scania P360, which gives Los Santos' fire department some old-continent charm.
It even includes a realistic siren as you'd hear on a French autopompe.
3.

Swedish Scania Fire Truck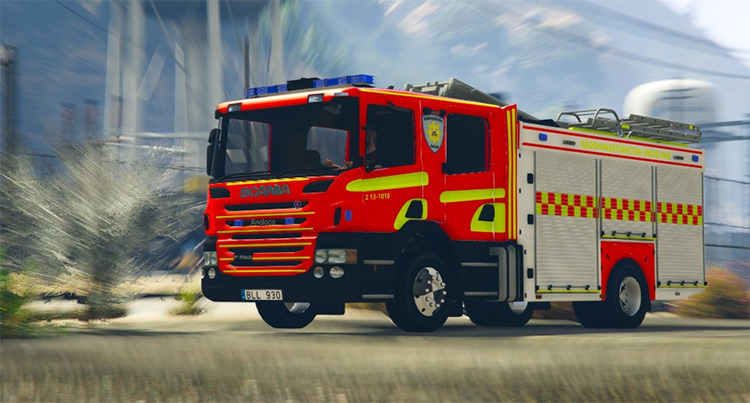 IKEA fire truck just dropped!
If French firefighters aren't your thing, consider the Swedish fire brigade.
This mod offers two alternate skins for the Scania P360 fire truck. Each skin is based on a different Swedish fire division.
Checkered red-and-yellow stripes take center stage to give this fire truck a unique look.
4.

Saudi Fire Truck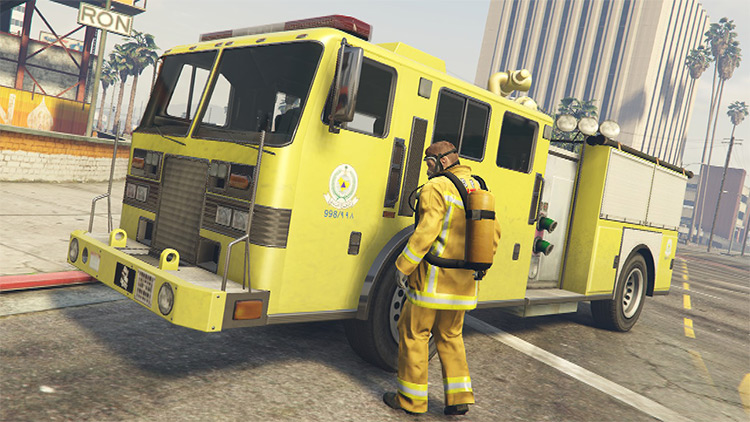 Despite belonging to different countries, the American, French and Swedish fire trucks look broadly the same:
Big, red box with yellow and white accents.
We'll have to catch a plane somewhere far away from the US or Europe to find something unique. Somewhere like Saudi Arabia.
This Saudi Fire Truck shows off a glorious highlighter marker yellow coat you could see coming from miles away. Maybe they're trying to outshine the fire?
5.

Belgian Airport Fire Truck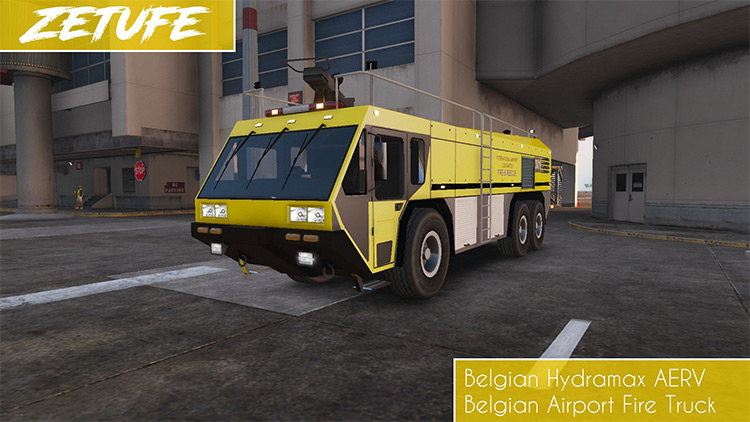 Airports are pretty much tiny, walled cities.
With good Wi-Fi, many fast food joints, and duty-free shops full of essentials like perfume, liquor, and chocolate, you could live a reasonably long time without leaving an airport.
These small cities have their own buses and sometimes even on-rails wagons to move people around. They also have custom fire trucks specialized in putting out flaming airplanes.
This mod brings one of those unique fire trucks to GTA 5.
You'll love this Hydramax AERV, imported straight from Belgium into Los Santos.
6.

Ladder Fire Truck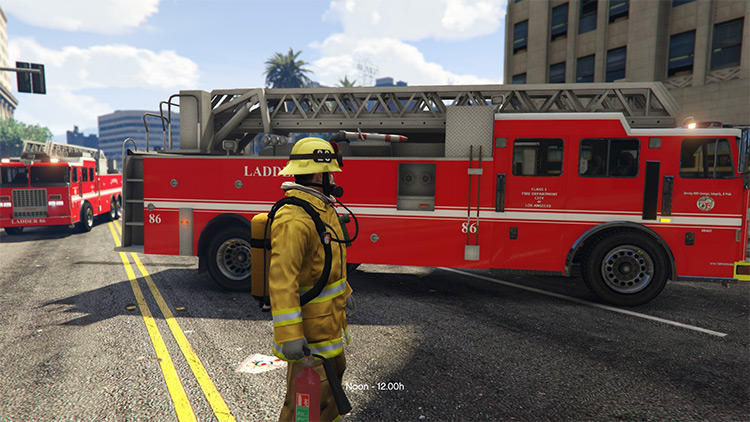 Hollywood and cable TV have sold us the image of firefighters running into raging fires to save old ladies, children, kittens, etc.
In reality, walking into a fire can kill them in seconds, even though they're wearing state-of-the-art fire-resistant gear.
This isn't the Fire Force anime, you know?
A fire truck with a ladder like the one featured in this mod can save the life of someone on a second floor, an attic, or the roof of a burning building. It also looks really cool driving around Los Santos.
7.

Brute Fire Rescue Truck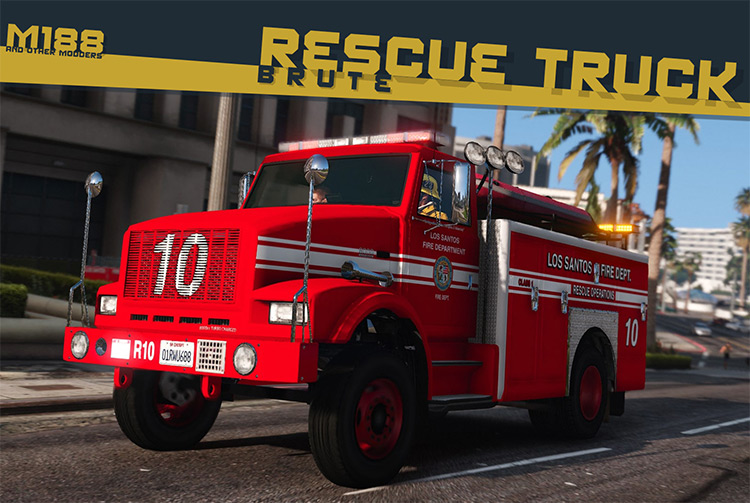 The Brute Stockade is one of my favorite vehicles in vanilla GTA 5.
Driving this heavy-duty armored truck around town makes me feel nice and safe. No matter who I crash into, they're getting the brunt of the damage.
This mod takes a regular Brute Stockade and prepares it for firefighting action with a new off-road chassis and a Los Santos Fire Department paint job.
Instead of "negotiating" traffic, you can just push it aside with this bright red beast.
8.

M1142 Tactical Fire Fighting Truck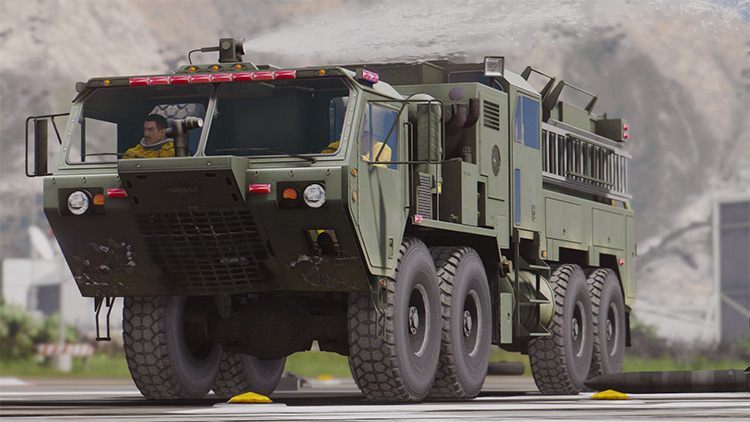 In war, anything has a high chance of bursting into flame at any moment.
Of course, armies also need a dedicated firefighting force – and equipment they can take to the battlefield.
The M1142 Tactical Fire Fighting Truck replaces the usual bright red color for a subdued olive drab that doesn't make it a giant target for enemy fire.
This is one of the coolest ways to drive into battle against the forces of nature.
9.

Improved MTL Fire Truck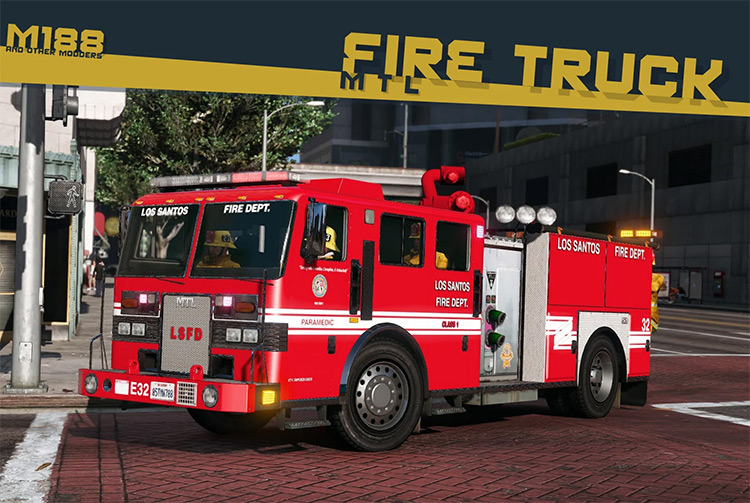 Not every fire truck mod adds all-new vehicles to the game.
Some just take what Rockstar gave us and polish it to perfection.
The MTL Fire Truck is the basic vanilla vehicle for firefighters in the Los Santos Fire Department.
It's dependable, but it was made over 10 years ago. In other words, it could use an update.
This mod elevates the MTL Fire Truck with a new set of wheels, a new lightbar, custom sirens, a new grille, and six lore-friendly liveries for further customization.
10.

Los Santos Fire Department Vehicle Pack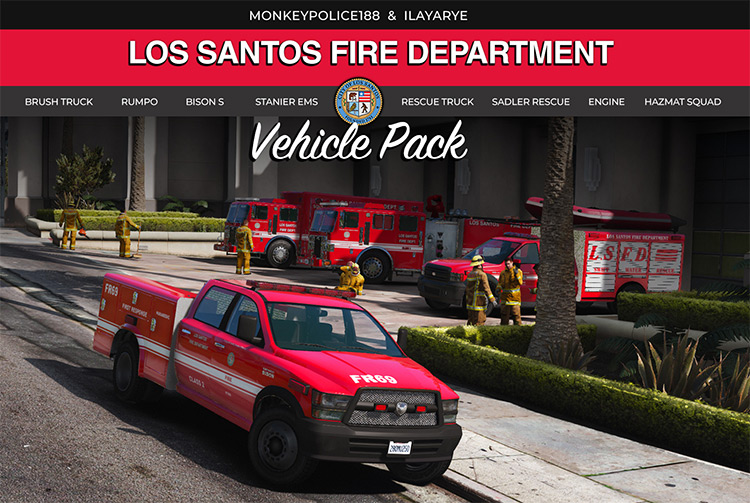 Different challenges require different vehicles.
Putting out a forest fire vs. an old theater in the middle of town is like night and day; so are the tools your firefighters will need.
The LSFD Vehicle Pack introduces eight custom firefighting vehicles matching Los Angeles Fire Department's own fleet.
Pickup trucks, rescue trucks, ambulances… You'll have everything you need to save the lives of the citizens of this beautiful city – or to impersonate firefighters as part of a heist.
Browse:
Grand Theft Auto 5
Lists
Video Games