GTA 5: Top 15 Custom Ford Mods for Cars, Trucks & SUVs
This post may contain affiliate links. If you buy something we may get a small commission at no extra cost to you. (Learn more).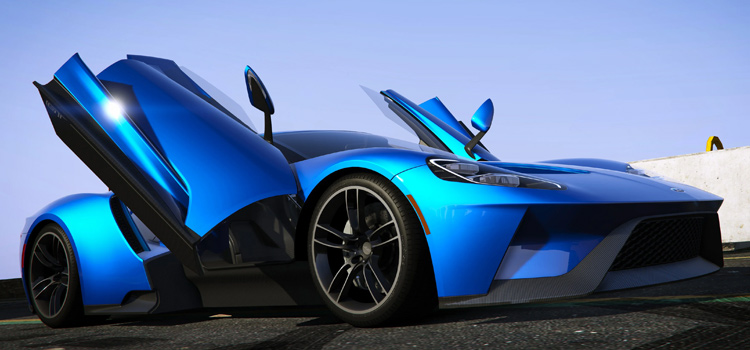 Grand Theft Auto 5 and the Ford Motor Company have one thing in common: they've both been around for a long time.
Just as Ford has had time to create countless unforgettable icons of the American automotive industry, modders for GTA 5 have had almost 10 years to bring these beautiful vehicles to Los Santos.
You'll find all your favorite Ford models online, but it'll be hard to find the real gems hiding among hundreds of mods.
To save you time and help you get back to terrorizing Los Santos, I've collected these custom Ford cars to easily add this iconic brand into your game.
1.

Ford Model T
It's safe to say that the automobile industry wouldn't be anywhere near where it is today if the Ford Motor Company hadn't launched the Model T in 1908.
It may not have been the first car – that would be Karl Benz's three-wheeled "Motorwagen" from 1886 – but it was the first mass-produced, affordable one.
The Model T looks like a motorized rickshaw, similar to a Thai tuk-tuk, but more elegant and old-timey.
While visually striking, the Model T wasn't particularly fast. The ride was also notoriously bumpy due to the primitive suspension and lack of asphalt roads.
Luckily, that's not an issue in GTA 5.
2.

Ford 18 V8 (1934) Hot Rod
Things had changed a lot by 1934, and cars looked much more like what we drive today.
It's from this time that many of the most famous vintage vehicles come from, including the Ford 18.
Powered by a beefy V8 engine, the Ford 18 was the Bugatti Chiron or Koenigsegg Jesko of its time. In other words, it was fast and irresistibly sexy.
The Ford 18 profoundly impacted the industry and contributed substantially to the birth of Hot Rod culture.
Stripped down of any unnecessary weight and finely tuned to go fast, this Ford V8 Hot Rod will be the most kick-ass vintage ride in Los Santos.
3.

Ford F-100 (1956)
Nowadays, we associate the Ford F-Series with colossal pickup trucks that project masculinity and power.
Back in the day, things might have been different.
The 1956 Ford F-100 is a beauty, but it looks more like the beloved truck you have just to wax every Sunday as a hobby than something you got to show off your masculinity.
Its shape is like nothing else you'll find driving around in Los Santos. This is the real head-turner in a city full of high-end supercars.
4.

Ford Thunderbird (1957)
Another iconic Ford from around the same time is the Thunderbird (or T-Bird), the luxury convertible everyone wanted to drive.
The Thunderbird's performance was satisfactory, but it shone for its stylish appearance, comfortable interior, and other convenient features.
It started the "luxury car" as a marketing segment.
Despite being launched at the peak of the "tailfin era" of car design, the Thunderbird features rather modest tailfins, which it shared with other Ford models of the time. It also shared distinctive circular headlamps with previous Ford releases.
Paint this the right color, and it'll be the single most gangsta ride you could ask for in Los Santos.
5.

Ford Crown Victoria (2006) LAPD
I can't think of anything less "gangsta" than a Ford Crown Victoria.
In fact, it might be the polar opposite of the concept.
After all, the Ford Crown Victoria was the staple police interceptor vehicle in most of the US between 1992 and 2011, and many police departments kept using them for much longer.
For decades, this car symbolized law and order in American TV shows, films, and real life.
This mod makes it easy to replace the LAPD's entire fleet with the trusty Crown Victoria.
6.

Ford Focus RS (2009)
Few things are more familiar to me than a Ford Focus.
It was the family car for most of my teens, and it remains a common sight worldwide.
What you don't see quite as often is a Ford Focus RS – the high-performance cousin of the garden variety Focus.
Its improved performance, small size, and "street racer" look make the Focus RS perfect to conquer the streets of Los Santos.
7.

Ford Expedition MAX (2020)
Suppose you need more space than a Ford Focus can offer.
Maybe you have a big family, lots of friends, or a large stash of illicit substances that need to get somewhere fast.
In that case, you'd be well-served by a Ford Expedition MAX – a full-size three-row SUV that has been a staple of North-American roads since 1997.
While the regular Ford Expedition is pretty big, the extended-length "MAX" variant is unbeatable in size and carrying capacity.
8.

Ford GT40 MKI (1964)
Ford cars and trucks are so ubiquitous in everyday life that it's hard to think of the All-American brand outside of this mundane context.
That said, Ford has a significant presence in the world of motorsport – and it all started with the Ford GT40.
This high-performance endurance race car was created to compete in classic grand touring competitions such as the well-known 24 Hours of Le Mans in 1964. Despite a rocky start, the GT40 would earn Ford a lot of prestige during the following years.
Its sexy and aerodynamic design has aged surprisingly well.
9.

Ford GT MKII (2019)
The spirit of the Ford GT40 is carried on in our times by the Ford GT – a mid-engine sports car with a thoroughly updated design.
It's bigger, faster, and features many aerodynamic design staples of our times. Still, the more you look at the Ford GT, the more you see the classic GT40 poking through.
The massive carbon fiber spoiler wing and other carbon fiber bodywork make this trailblazer look even more sporty than it otherwise would. That's saying a lot considering everything about it already screams "speed" and "performance."
10.

Ford Bronco (2021)
There are two kinds of motorheads in the world: the ones that lose their minds over sports cars and their top speed and the kind who prefer a beefy truck with superb off-road suspension.
If you belong to the off-road truck lovers, you have to check out the 2021 Ford Bronco.
Based on a classic SUV that dominated the market up to 1996, the sixth-generation Bronco is back from the dead to kick up some dust in your nearest ill-maintained dirt road.
11.

Ford F-150 Raptor (2018)
The Ford F-series began in 1948 with exuberant body shapes and bright colors that reflected the joy and jubilation of a people who had just won the biggest war in history.
Since then, it has evolved to cater to the sensibilities of the time and become increasingly more powerful with every model year.
The F-150 Raptor reflects our modern obsession with performance and robustness in pickups and off-road vehicles.
We want trucks that can go up hills with 45-degree inclines carrying nine people and enough equipment to set up an autonomous community deep in Mount Chiliad.
The F-150 Raptor looks like it could do that and more.
12.

Ford F-450 Platinum (2021)
If the F-150 is powerful, we'll have to find a new word for the F-450.
Looking at this Ford F-450 Platinum completely dominating the Blaine County off-road and making the road sunny at 11:00pm with its massive lightbar, words like "mighty" and "unstoppable come to mind.
It's a little less sporty than the F-150 Raptor, but I know many of you will love the chromed front grille with Ford's iconic blue logo front and center.
With a truck this potent, you might have better luck towing away armored money-transport vehicles instead of robbing banks.
13.

Ford Mustang Fastback (1967) Tokyo Drift
Is it getting hot in here, or is it just the steaming hot engine of this Ford Mustang Fastback?
This irresistible muscle car has risen to fame at least twice throughout its history.
It happened first just after it was launched in 1965. People were going wild about this beefy but relatively compact car.
The second time came when American ex-pat Sean Boswell drove a 1967 Ford Mustang Fastback to defeat the Drift King's Nissan Fairlady Z33 in The Fast and the Furious: Tokyo Drift (2003).
We're about to make it happen a third time, giving the LSPD the most epic high-speed chase in the city's history.
14.

Ford Mustang MACH 1 (2021)
Over 50 years after its original release, the Ford Mustang has never looked better.
The American company may have a long list of past glories few automobile companies can hope to compete with, but they keep bringing their A-game when developing each new model.
The 2021 Ford Mustang MACH 1 marks the return of the performance-oriented MACH badge after 17 years of complete radio silence. It incorporates Ford's 5.0L Coyote V8 engine to generate a solid 480hp for a max speed of almost 270km/h.
What I like the most about the MACH 1 isn't its performance features but its sublime visual design. Its racing-inspired appearance will turn any Los Santos road into a GT race track.
15.

Ford Mustang MACH-E 1400 (2021)
My absolute favorite recent release from Ford is the rather experimental Mustang MACH-E.
In a surprising twist of fate, Ford decided to create a crossover SUV based on the Mustang. Since that wasn't nearly weird enough, they made it an electric vehicle.
The result is a gorgeous, bulky beast that carries the Mustang legacy into the future under a somewhat new identity. It's like Peter Parker and Miles Morales as Spider-Man, but with cars.
While the regular Mustang MACH-E is beautiful, the top spot on our ranking goes to the sleek MACH-E 1400 – a race-oriented prototype that generates 1400hp with seven electric motors.
With numbers like these, the sky is the limit.
Browse:
Grand Theft Auto 5
Lists
Video Games