Top 25 Custom Hair Mods for GTA V (Guys + Girls)
This post may contain affiliate links. If you buy something we may get a small commission at no extra cost to you. (Learn more).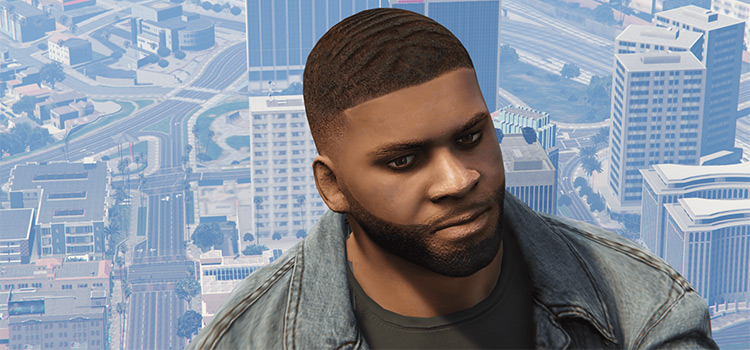 Who hasn't thought of sky diving over a major city?
Maybe robbing a bank with their friends?
GTA V gives you the freedom to live out your wildest, most dangerous, and illegal fantasies without anyone getting hurt.
Still, it's not the same if you don't feel connected to the character. Trevor, Michael, and Franklin are charming in their weird way – but most people wouldn't necessarily identify with them.
One way to increase your immersion is to customize your playable character to the extreme – and mods make it easier than ever.
Going from head to toes, the first thing you'll want to improve is your character's hairstyle. Let me show you some of my favorite picks after 10+ years of GTA V modding!
1.

New Hairstyles for MP Male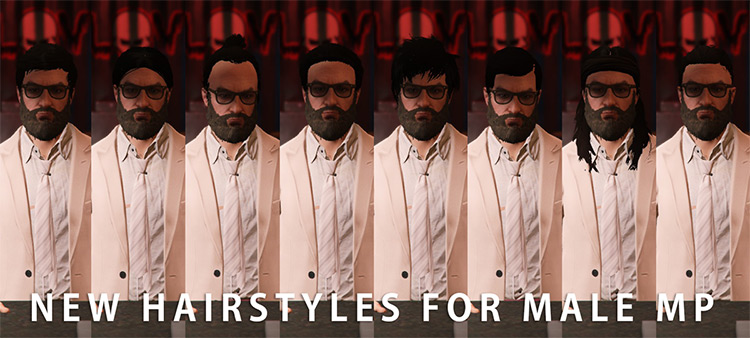 There's a fair variety of hairstyles available for your MP character right off the bat.
But if you're still not satisfied, these New Hairstyles for MP Male might help.
This pack makes 11 hairstyles from other GTA V characters and pedestrians available for your MP character model. You can use it in SP through Menyoo or in FiveM multiplayer.
Man-buns, ponytails, old-school hairstyles, and unkempt styles will take your character's looks to the next level.
2.

Man Bun Hair for Male MP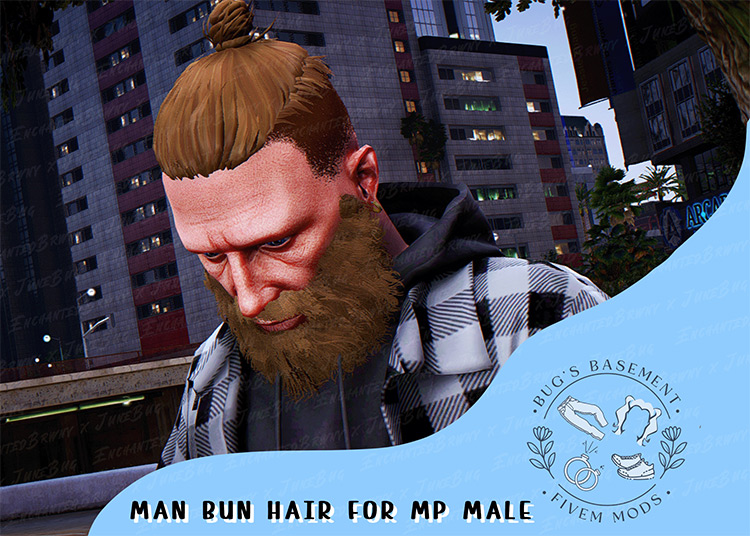 If the previous pack's man-bun style wasn't to your liking, consider this more modern Man Bun Hair for MP Male.
Besides increased detail on the bun, this hairstyle marries the top man-bun with a razor fade for a stylish hipster look.
It also looks quite convenient for committing crime. Less hair will get in your eyes during a chase, and the police won't hold on to it during a fistfight.
3.

K-Pop Hair for MP Male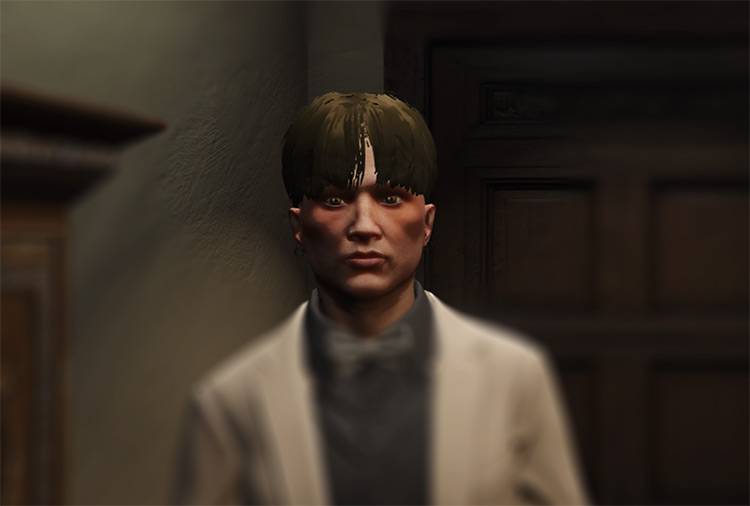 Most men let their style be driven by what women are into at the time – and right now, many women are crazy about K-Pop bands like BTS and BIGBANG.
The K-Pop Hair for MP Male will help your character follow this trend with a 100% Korean hairstyle.
This might look a little bit out of place on any Los Santos criminal, but with the right design choices, you'll look like you belong in the Triads or something of the sort.
Delicate, simple straight hairstyles like this can give your character a little bit of a stylish psychopath air or make you look like a soft cinnamon roll who'd never commit a crime. It depends on the face!
4.

MP Male Chicago Dreads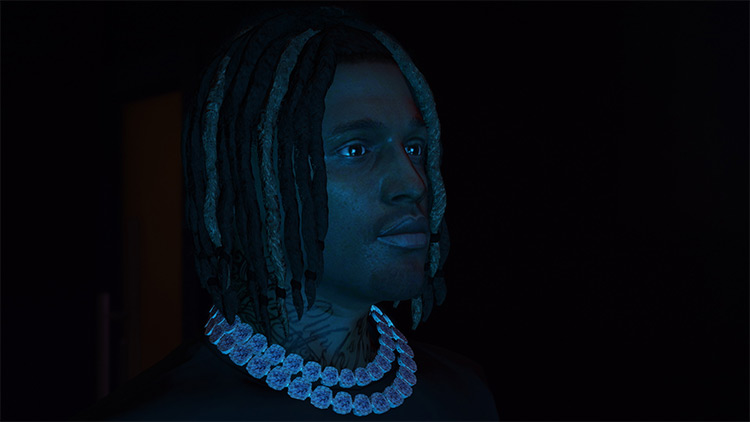 Dreadlocks are some of the most popular hairstyles available for GTA V.
There's something timeless about these locked or braided strands of hair. We have evidence of people wearing these as far back as 1600BC, and they keep popping up worldwide.
Whether it's on the ancient Greeks, the Aztecs, or modern mumble rappers, the 'locks are here to stay.
MP Male Chicago Dreads lets you add some great-looking Chicago-style 'locks to your MP Male hairstyle archive – the kind you'd see rappers like King Von or Lil' Durk rocking.
5.

Chief Keef Dreads for MP Male
My favorite dreadlocks for the MP Male model are the Chief Keef dreads – based on the eponymous rapper's iconic hairstyle.
Mr. Keef tends to favor numerous thin dreads rather than just a few thick ones. This allows him to have a full head of hair, so to speak, giving him the hip-hop version of a lion's mane.
Admittedly, I don't know how your MP character is supposed to aim any firearms through the strands running down his face – but, damn, will he look cool trying.
6.

Fade Styles Pack for MP Male & Female
"Fade" hairstyles have been trendy since the mid-20th century when US marines started showing off their slick and angular hairstyles worldwide.
It saw a revival in the early 21st century and has kept going strong ever since, with new varieties popping up every couple of years.
This Fade Styles Pack for MP Males & Females adds several fade styles, ranging from a classic shave fade to literal hair graffiti.
Remember that this pack only includes the fade (as part of beard selection), so you'll have to get the topside part somewhere else.
7.

Hairstyles for MP Female (From TS4)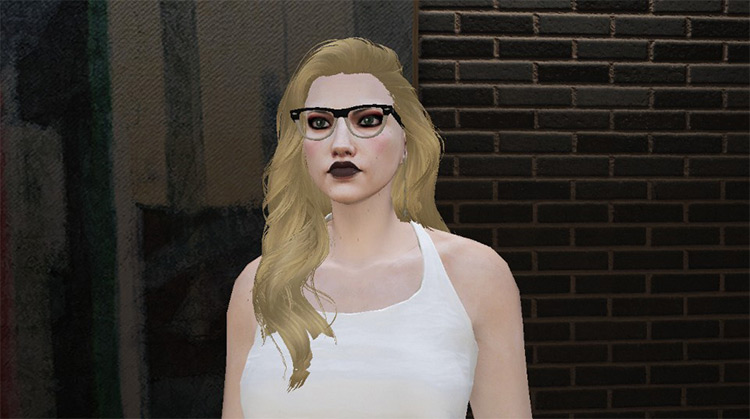 Moving on to more female-friendly styles, we find this port of several The Sims 4 hairstyles to GTA V.
The TS4 modding community has a long history of creating visually appealing hairstyles for their Sims.
And they translate pretty well to GTA V.
Whether you like straight hair, wavy hair, ponytails, or "au naturel," you'll find something to love in this pack.
If you're still not satisfied, make sure to check out the sequel.
8.

Kaisa Hair for MP Female
Suppose you're playing an alt/goth girl who spends her time washing down pills with Red Bull at raves when she's not busy robbing banks and shooting cops.
If that's the case, you'll find much to love in this Kaisa Hair for MP Female.
This short hairstyle features an aggressive gradient color palette that changes abruptly near the ends.
It's an attractive "gamine" style that'll showcase your character's youth and impulsiveness.
9.

Simple Ponytail for MP Female
For something much more traditional, check out this Simple Ponytail for MP Female.
The model comes from the famous Japanese game AI Shoujo, a sort of life simulator where you care for 3D girls surviving on a deserted island. The customization is incredibly deep, and the included hairstyles are pretty attractive.
What I like the most about this hairstyle is how perfectly straight the hair looks. It'll make your game into an ad for L'Oreal shampoo and conditioner – a very bloody ad.
Finally, you can become the Japanese Yakuza princess you always wanted to be.
10.

Super Long Hair for MP Female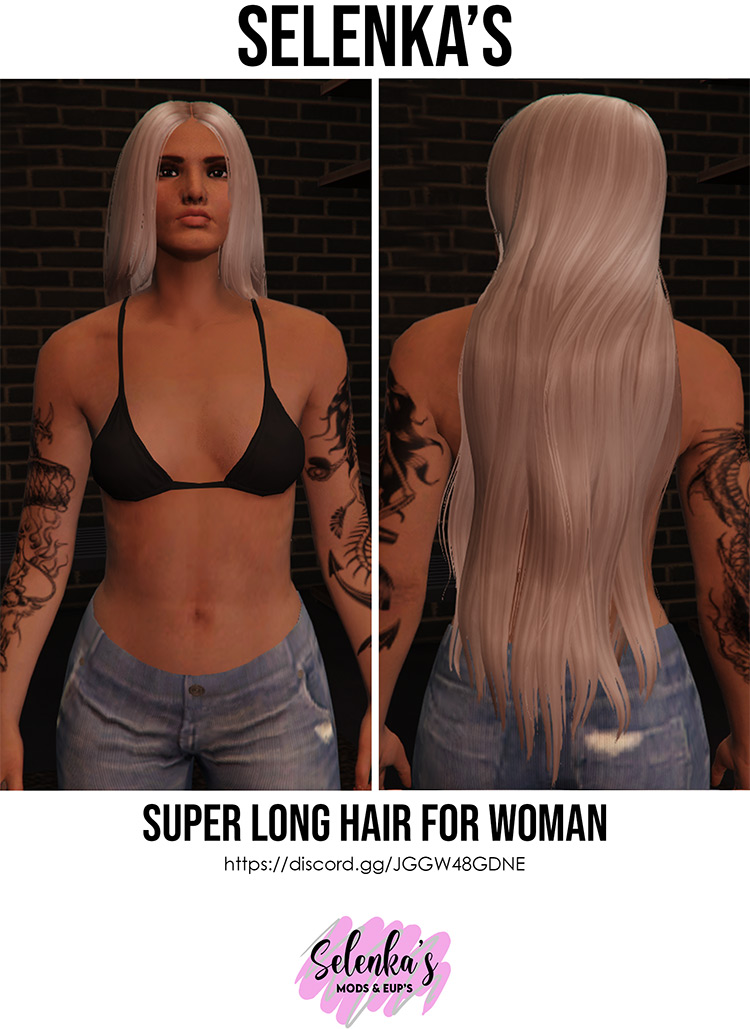 I love living life as a clean-shaven baldie – but when it comes to video games, I take every chance I can to rock a full head of hair.
The longer, the better!
Super long hair might not be ideal for the life of a criminal thug. But if you've already made your fortune and spend most of the time partying at your custom GTA V mansion, this Super Long Hair for MP Female is a great look.
This hairstyle flows freely down your back, far beyond your waist, until just past your hips. It would be hell to take care of it in real life, so get the most of it in the simulated world of GTA V.
11.

Long Dreads for MP Female
A somewhat more practical alternative to super long flowy hair is braids – very long braids.
Braids are a unique and attractive hairstyle in all of their presentations.
I can't get enough of this "long cornrow" style. The thickness of the strands gives hair a sort of healthy, strong look – and it lets everyone know you're a real baddie.
Most of the time, your character will be too busy liquidating cops, fellow criminals, and probably some innocent bystanders to worry about styling their hair.
These braids require little maintenance, so you can get up, grab your gun, and be out there slaying in no time.
12.

High Ponytail for MP Female
Some people can't live without being the center of attention.
If your character is high-maintenance and has high expectations of life, the High Ponytail for MP Female will help them express themselves through their hair.
This hairstyle has been around forever, but it picked up popularity around 2015 when it became the staple of hyper-famous pop singer and hair-fluencer Ariana Grande.
It's flashy, dramatic, and high-maintenance – just like your character.
13.

Alicia Hair for MP Female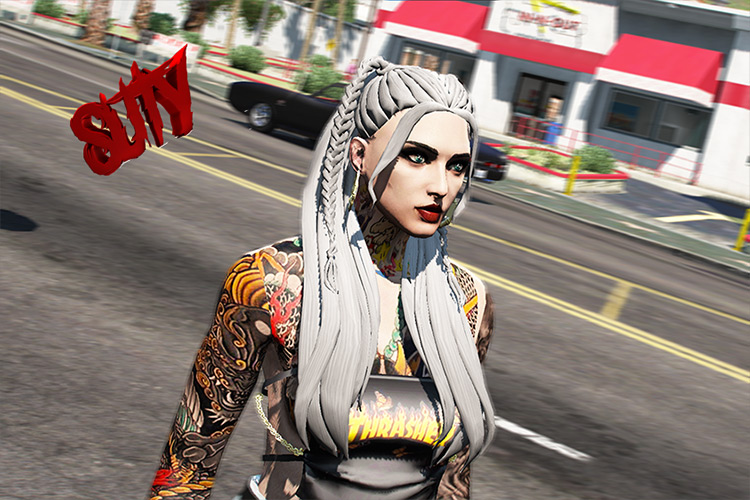 A big part of being a criminal mastermind is projecting an image others can respect.
This Alicia Hair for MP Female will make your character look like a fairytale bad-ass. Coupled with some bold make-up and some tattoos, it'll make people think twice about messing with you.
The braids are reminiscent of a Viking warrior, while the bangs and flowy strands add a bit of refinement and femininity to the ensemble.
14.

Short Ponytail with Bandanna for MP Female
Hard-working gals have been depicted as wearing bandannas for a long time.
The look was carved into American culture with the famous Rosie the Riveter character, created by the US government to promote factory work among women while the men were off fighting a war on another continent.
Since then, it's become a symbol of strong independent women – much like your female character in GTA V.
It's also a staple of the "chola" style popularized by Mexican American women in Los Angeles during the 60s and 70s, which has seen a resurgence in recent years.
15.

Curly MP Female Hairstyles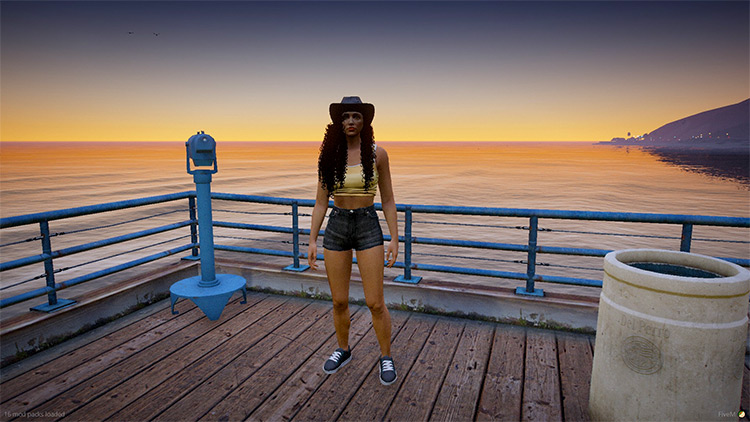 Nothing is quite as beautiful as a full head of gorgeous well-kept curly hair.
This is a style that projects youthfulness, strength, and vigor. It also makes you want to ruffle it like there's no tomorrow.
A curly hairstyle will look amazing with hot weather outfits and a tropical backdrop like Los Santos' coastline.
Such a style tells the world that your character has a fiery personality, a passionate heart, and the dynamism you need to make it in Los Santos' criminal underworld.
16.

Blond Hair for Trevor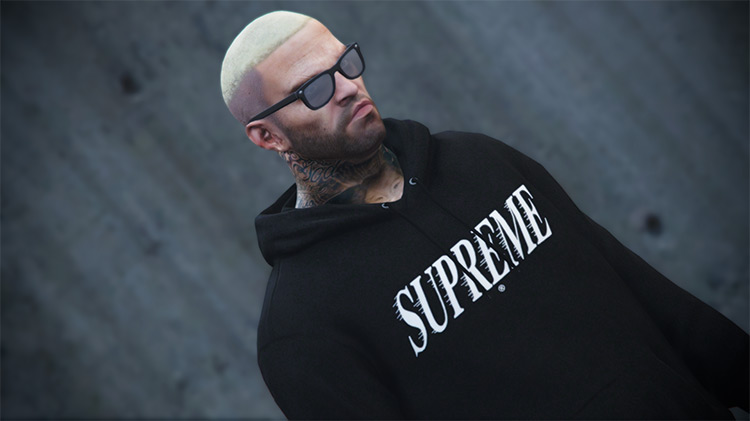 If you'd rather keep playing as the canon main characters of GTA V but still want to update their style, you'll love the following hairstyle mods.
One of my favorite looks for Trevor is this short, bleach blonde hairstyle reminiscent of Eminem in his early career. I doubt Trevor would like that comparison, but still.
Compared to how run-down his aggressively middle-aged hairstyle made him look, this is just miles better. You can pair it with the Better Trevor mod for even more pleasing results.
17.

GTA Online Hipster Youth for Trevor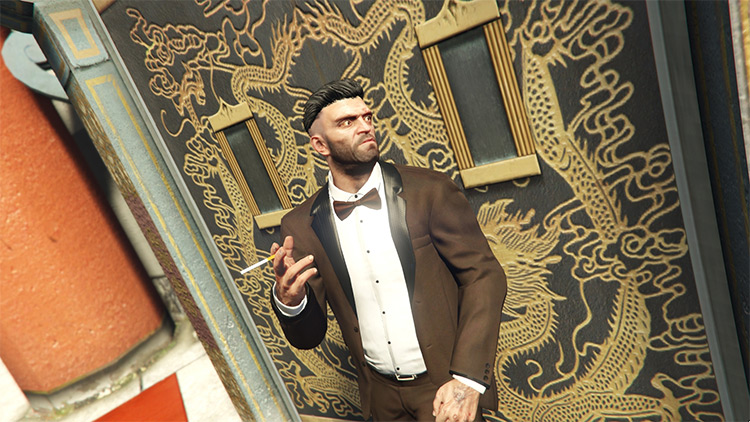 Continuing our attempt at turning Trevor into less of a stinky, unkempt hobo and more of a criminal entrepreneur, it's time to try out the Hipster Youth hairstyle from GTA Online.
At one point during the game, Michael refers to Trevor as a "proto-hipster" for his dirty and ill-fitting clothes.
Though it was meant as an insult, that might be a good look for this crazy criminal.
Goodbye mullet-sporting murdering psycho, hello fashion-savvy drug dealer psycho.
18.

"Da Curly Boi" Hairstyle for Trevor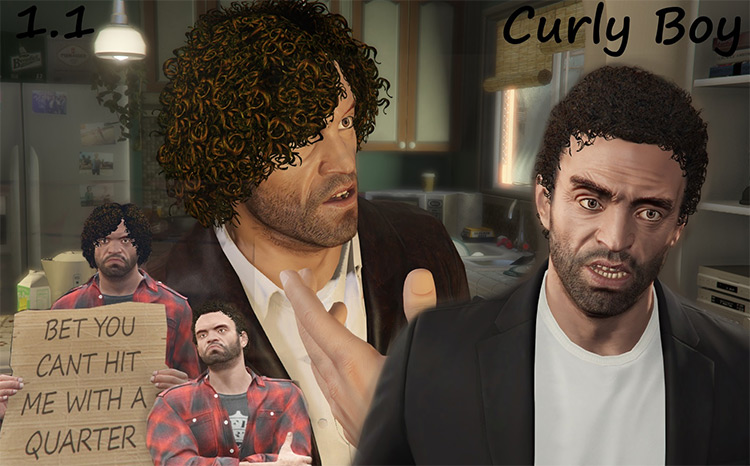 If you have no respect for Trevor's original style and want to see how much you can change his looks with just the hairstyle, Da Curly Boi is the mod for you.
The long hair version of this curly hair mod makes Trevor look like Argentinian football star Diego Maradona, with whom he shares a taste for the finer things in life.
By "the finer things in life" I mean hard drugs.
Short hairstyles are also included. They give Trevor a shaggy, unkempt appeal that's a lot more youthful than his original mullet.
I'm honestly surprised at how much the curls suit him.
19.

Michael Degrade Hairstyle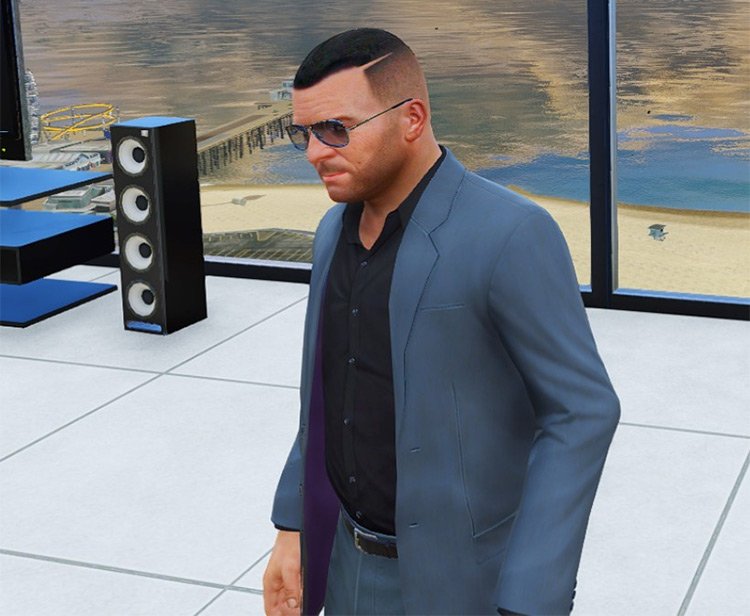 Contrary to Trevor, Michael De Santa has a much more well-groomed and good-looking style – it's just a bit old-fashioned.
To bring Michael to the 21st century, try this perfect fade hairstyle on the experienced bank robber.
This hairstyle on a man like Michael just screams "mid-life crisis," but that doesn't make it any less appealing. It makes him look more menacing and powerful. I wouldn't mess with this guy!
Check out this mod to get a similar look on Franklin.
20.

Michael Hardstyle Hair/Face/Shirts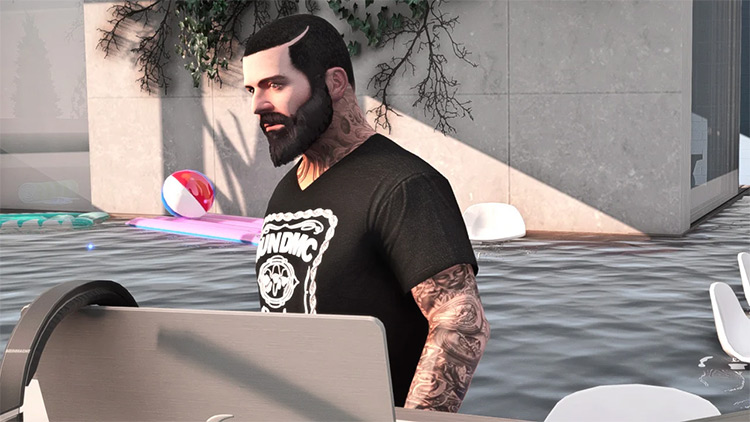 If you're looking for an even more urban and modern look for Michael, this Hardstyle hair, face, and clothing combo is the way to go.
The short black hair and the prominent beard make Michael look a bit like Dan Bilzerian. It's the irreverent style you'd expect to see on someone who successfully played the system.
Michael has a ton of cash, and you can be sure that someone going through a mid-life crisis would spend some of it getting rid of that receding hairline. This mod makes it go away completely.
21.

Better Michael De Santa
Another fantastic option to rejuvenate Michael and get him back to his golden age of crime is Better Michael De Santa.
This set of add-ons offers a wide variety of new face, beard, and hair options for Michael that'll give you the freedom you need to make him look like your favorite kind of criminal.
Clean-shaven psycho?
Full-bearded veteran trying to get what society owes him?
Dashing actor with a declining career looking to make some money on the side?
The choice is yours.
22.

SCARLXRD Dreadlocks for Franklin
Franklin tends to keep a low profile and a rather classic look in the vanilla game.
Mods throw the possibility of keeping a low profile out the window.
Fans of Marius Lucas Antonio Listhrop – also known as rapper SCARLXRD – will recognize his iconic dreadlocks, as seen in his music videos.
It's a unique, irreverent style – plus, SCARLXRD's music is perfect for someone who spends most of the time popping caps to make ends meet.
23.

New Dread Pack for Franklin
If you love dreads, but SCARLXRD's don't quite convince you, you'll find plenty to pick from in the New Dread Pack for Franklin.
This set features thin, thick, short, and long dreads – there are even dreadlock ponytails! And they all look fantastic.
Franklin has always been a short hair kind of guy. Since dreads are so easy to manage and tend to not get in the way, it's simply the ideal alternative hairstyle for this reticent criminal.
You'll find an even broader variety in part 2 of this mod.
24.

Rapper Hair Pack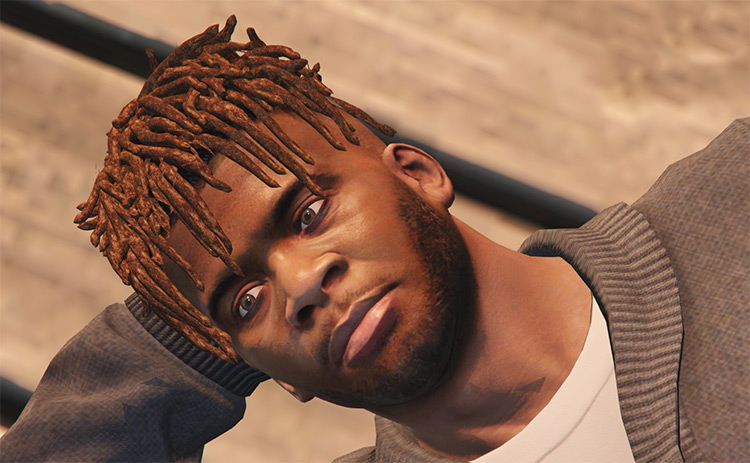 It's no secret that GTA V fans and mumble rap fans have considerable overlap – so this Rapper Hair Pack for franklin should prove very popular.
This pack includes several hairstyles based on some of the most famous artists in the genre, such as Playboi Carti, ASAP Rocky, Juice WRLD, and 21 Savage.
These dreads are simply a thing of beauty, and they fit Franklin like a ring.
Whether it's driving a heavily customized muscle car or heading out to work with an UZI and an AK-47, these dreads will make it look 100% cooler.
25.

HD Waves for Franklin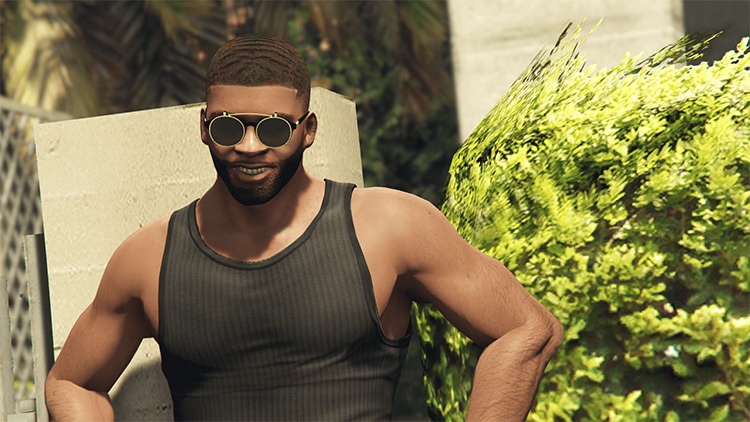 Wave check!
Nothing is more exciting than taking your du-rag to show off your perfect, freshly-minted waves – and Franklin should be no exception.
Franklin is a pragmatic, hard-working guy, so he's unlikely to "waste" his time taking care of his waves. Luckily for him, we've got the HD Waves for Franklin mod to take care of it.
This dude has never looked this fresh in his life.
Now all you need are the AirPods…
Browse:
Grand Theft Auto
Grand Theft Auto 5
Lists
Video Games