Top 10 Best Jet & Airplane Mods for GTA 5 (All Free)
This post may contain affiliate links. If you buy something we may get a small commission at no extra cost to you. (Learn more).
Supercars and racing bikes are a world of fun – you can go pedal to the metal dodging near-misses on your way to the most savage ramp so you can get some mad air time.
But you know what the best way to get air time is?
A plane.
I'm a simple guy. My first objective anytime I boot up a GTA game is to try and steal whatever aircraft I can get my hands on before being gunned down by airport security.
If you're anything like me, you'll have a ton of fun modding new airplanes into GTA 5, so you can fly over Mt. Chilliad in style.
10.

De Havilland Canada DHC-6 Twin Otter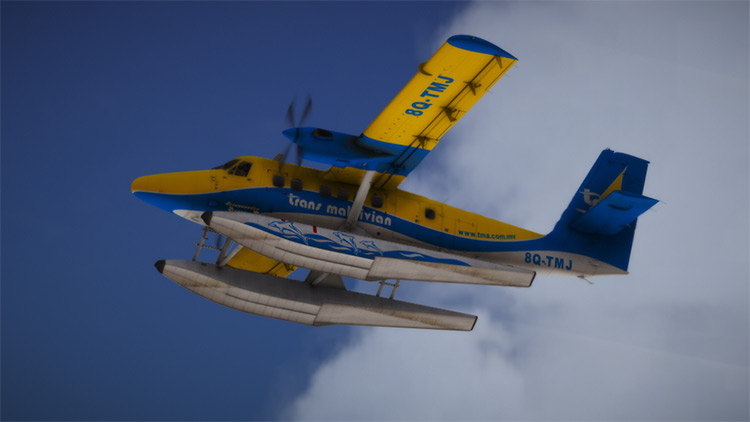 I've always seen planes that can land on and take off from water as some of the coolest inventions humankind has ever made.
The de Havilland Canada DHC-6 Twin Otter is a 19-passenger utility plane used primarily for commercial skydiving and for training parachuting soldiers in the American army.
This makes it ideal for the average GTA 5 player who'll most likely get bored of flying the plane and decide to jump off while still in the air.
The model features working doors, fully modeled interiors, and an animated control panel. It also includes three different liveries in blue, red, and white.
9.

Tupolev Tu-144D Charger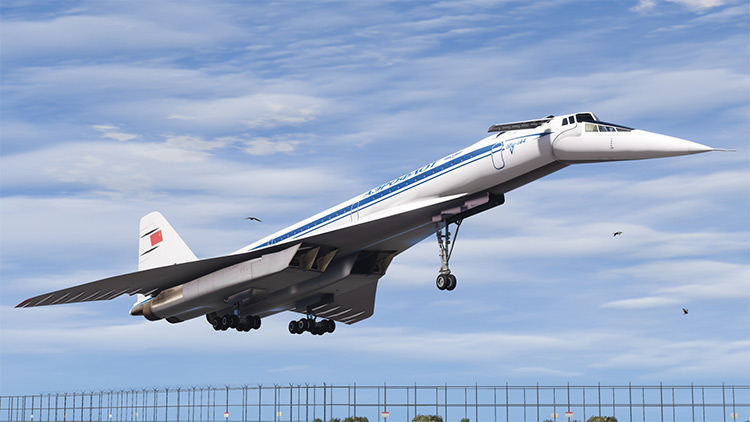 While searching around for the "best" jets and planes to add into this game, I try to focus on finding the most high-quality, unique aircraft.
That led me to the Tupolev Tu-144D – the world's first commercial supersonic aircraft brought to you by the Soviet Union in 1968.
Known by NATO countries as the "Charger," the Tupolev had its maiden flight at around 2,200km/h four months before the more well-known Franco-British Concorde.
As with most things from the Soviet Union, the Tupolev hid some severe reliability issues that eventually led to being retired from passenger service in 1978. Luckily, you won't have that problem in GTA 5.
8.

Bayraktar TB-2 UCAV
Another undeniably unique aircraft you might have heard about on the news is the Turkish Bayrakatar TB-2 UCAV drone.
Before 2021, the Bayrakatar had seen extensive use over battlefields in Libya, Syria, and Azerbaijan. It has recently received attention for its vital role in the 2022 Russo-Ukrainian conflict.
It doesn't get any better than this if you're looking for relevance and authenticity.
The Bayrakatar TB-2 mod comes with Ukrainian Air Force liveries and working homing missiles. The main difference is that this version is technically manned by your character.
7.

WW2 Airplanes Pack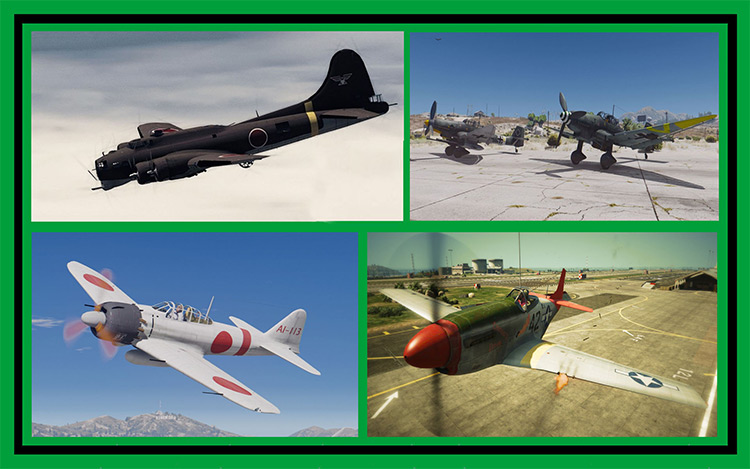 Aircraft has been a critical element of war since the latter days of WWI.
By the time WWII rolled around, the skies over battlefields were lit up in a constant fireworks show of death and destruction as top-of-the-line fighters and bombers blew each other up without mercy.
Many legendary airplanes were born during this time, including the P-51D Mustang, the F6F-5 Hellcat, and the A6M5 Zero.
You could argue the war was ended by one of these too: the B-29A Superfortress Nuke Bomber – specifically the Enola Gay.
This 14-piece pack includes high-quality recreations of all of these and many more.
6.

F-14A Tomcat (Top Gun)
A famous historical fighter jet you might have seen on the big screen recently is the F-14A Tomcat.
The painfully bad-ass F-14 was employed by the US Navy between 1974 and 2006. It saw extensive use during the Gulf War and several smaller conflicts across Eastern Europe.
Currently, the only F-14s still in use belong to the Islamic Republic of Iran – which might have been the basis for their use by the villainous "Rogue Nation" in the 2022 Top Gun: Maverick film.
This mod features seven unique liveries, including those seen in the original Top Gun. You can get the Rogue Nation livery from this link.
5.

Sukhoi Su-75 Checkmate
The F-14 was a symbol of American power for decades.
But it's time for us to turn our gaze Eastward toward Mother Russia with the Sukhoi Su-75 Checkmate.
Sukhoi has been competing with American aircraft manufacturers since the Soviet days. The Su-75 is the crystallization of so many years of research and development.
Set to start flying in 2023, the Checkmate is a light tactical stealth fighter designed for the Russian Aerospace Forces, and it's projected to compete with the American LM F-35 Lightning II and the Chinese Shenyang FC-31.
This custom aircraft has four weapons, including basic cannons, short and long-range missiles, and mounted bombs.
4.

F-117A Nighthawk
Coming back to the New World, we find the F-117A Nighthawk – the plane that brought stealth aircraft to the public's attention.
It was the first attack plane explicitly designed to avoid radar detection – which explains its unique shape and complete lack of round parts. But technology has advanced. And we no longer get these unusual badass shapes.
The F-117A was retired from service by the USAF in 2008, after 38 years of service.
It's now used exclusively as a training aircraft – and to wreak havoc by criminals in Los Santos.
This add-on features five different liveries based on real-life examples and comes equipped with a machine gun and fully-animated bomb bays.
3.

SF VTOL A50
Let's take our eyes off real-world conflict for a minute to check out the SF VTOL A50.
Unlike our previous entries, this incredibly cool-looking attack aircraft has never been manufactured in real life. The "SF" stands for Sketchfab, a 3D design artist who created this beautiful model.
It's the kind of thing armies worldwide use to drive up the numbers of youngsters signing up for the military. It's so cool that you'd risk your life to ride one.
It features a working machine gun, a fully modeled interior, and breakable glass.
2.

Boeing 737 Ultimate Package
To take our minds off of war and destruction and promote a more peaceful world, the two top spots will go to 100% civilian aircraft.
The Boeing 737 is one of the most well-known commercial passenger airplanes doing the rounds worldwide as we speak. If you've traveled a couple of times, you've likely ridden on one of these at least once!
This mod features a wealth of different Boeing 737 sub-models created over the years, with a ridiculously long list of liveries belonging to airlines from all over the world.
1.

Civil Aircraft Pack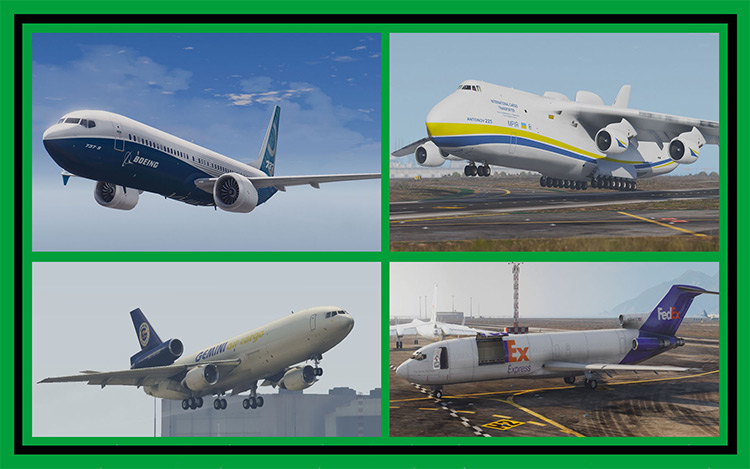 The amount of aircrafts available for GTA 5 is staggering, which is fantastic for players, but that can also make it hard to choose the best one of the bunch.
For that reason, I'm always thankful for mods like the Civil Aircraft Pack – which brings together over 60 different civilian plane models from some of the biggest names in the industry.
Boeing, Airbus, Embraer, Ilyushin, Honda, Lockheed – it's all here!
If you're looking for a single download that'll give you hours of fun as you try out all the features of these marvels of engineering, waste no time getting this installed.
Browse:
Grand Theft Auto
Grand Theft Auto 5
Lists
Video Games