The Best Custom Lexus Mods for GTA 5 (All Free)
This post may contain affiliate links. If you buy something we may get a small commission at no extra cost to you. (Learn more).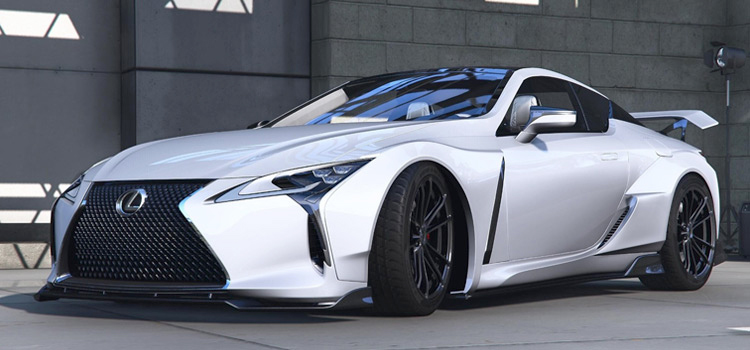 It's hard to find anything wrong with a Lexus.
From design to performance, this Japanese brand seems to dominate every aspect of car manufacturing – except, perhaps, pricing.
The truth is, most of us are broke – at least in Lexus' eyes.
The best alternative if you want to enjoy the thrill of riding a top-of-the-line Lexus is to do so in GTA 5 – and I'm here to help you find the right mod for your needs and preferences.
Brush up on your Japanese and driving skills, 'cause we're taking some amazing Lexus wheels out for a ride.
10.

Lexus RX 450h (2016)
First up, we're looking at a luxury crossover SUV for the money-making criminal with a family – perfect for Michael De Santa.
The RX series was introduced in 1998 as the first line of luxury crossover SUVs. The name "RX" reflects this, as it stands for "Radiant Crossover."
In 2015, Lexus released the fifth generation of the RX, featuring a "floating roof" design and a bolder grille than previous models. The 450h is the most powerful denomination, proving hybrid cars have nothing to envy your regular gas-guzzler.
I love the amount of chromed parts on this add-on, along with the operational dashboard, high-quality interior, and working lights.
9.

Lexus LFA (2010)
For something a little more exciting than a crossover SUV, consider the 2010 Lexus LFA.
This two-seater sports car had a short commercial run between 2010 and 2013, but it was a big success during its time. It's easy to see why, too – it's absolutely gorgeous, and it'll make you feel like a bad-ass racer with its top speed of around 325km/h.
The LFA was meant to become an icon for Lexus, and you can see echoes of its design in more recent creations by the Japanese brand.
This add-on features an automatic spoiler that adds a special, sporty touch.
8.

Lexus GS 350 Itasha Livery (2011)
As a Japanese brand, Lexus is a top pick for anime-loving artists looking to create custom liveries featuring their favorite characters.
This practice is known as "Itasha," and though it's an extreme niche in real life, it has found fertile ground in online modding communities thanks to how much cheaper it is to make digital liveries.
Fans of Touhou Project will love this Syameimaru Aya livery for the Lexus GS 350.
If you like the Itasha concept but don't necessarily love the GS 350, here's one for the LFA featuring Emilia-tan from Re:Zero.
7.

Lexus GS 350 Hot Pursuit Police (2011)
If you don't want anything to do with Japanese animation, check out this custom police version of the Lexus GS 350 – based on the awesome police cars from Need for Speed: Hot Pursuit.
I've been a big fan of police-tuned cars since I played this fantastic game in 2010.
This add-on supports many tuning options, including roof antennae, rear bumpers, four different skirts, six spoilers, eleven front bumpers, and even an extra spotlight for those tough night chases.
This is a must-have if you're playing a mod like LSPD: First Response or Dangerous Individuals.
6.

Lexus RCF GT3 Japanese Police (2016)
If you want to honor Lexus' Japanese heritage, consider this jaw-dropping police livery for the lighting-fast Lexus RCF GT3.
The model, taken from Assetto Corsa Competizione, is based on the GT3-class RCF developed for the IMSA WeatherTech SportsCar Championship in 2016.
Anyone should think twice before committing a crime in Los Santos with this bad-ass Japanese racing-police car patrolling the streets.
For a regular, non-police version, check out the original mod.
5.

Lexus RCF Track Edition (2020)
If the RCF is the high-performance version of the RC, then the RCF Track Edition is the ultra-high-performance upgrade of the RCF.
This track-focused variant really takes the "Radical Coupé" tag seriously. It features several performance upgrades and weighs 80kg less than the base car, allowing it to accelerate faster and reach a higher max speed.
What's impressive is that they integrated these weight reductions into an updated design that makes the RCF look even cooler than before.
The base add-on comes in a panda color scheme but supports paint jobs to fit your tastes.
4.

Lexus RCF Rocket Bunny (2015)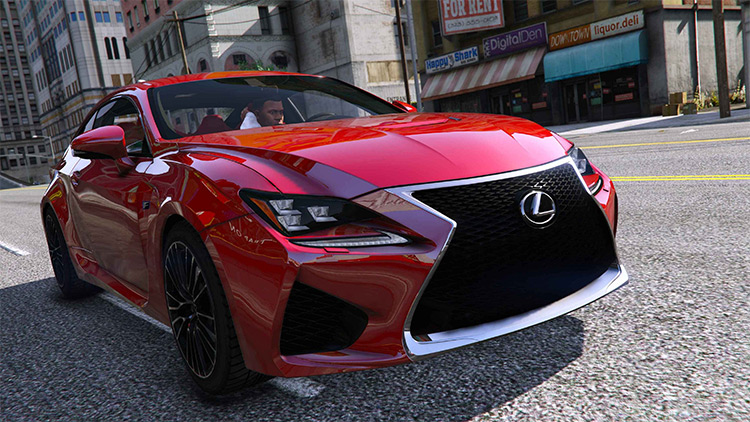 Body kits are some of the most exciting modifications you can give to a car – and Kei Miura's Rocket Bunny brand is among the most respected in the biz.
Miura's designs are all about accentuating the features of any given car. He carefully designs each piece at his home in Kyoto, Japan, and fabricates them there.
You can see the end result in this modified 2015 Lexus RCF.
This mod includes the base Lexus RCF and the Rocket Bunny body kit, so you can alternate between the two depending on how you feel on any given day.
3.

Lexus RC 350 Rocket Bunny (2014)
The Lexus RC 350 is an older version of the "Radical Coupé," much closer to the base variant than the RCF.
Still, for some reason, the Rocket Bunny body kit on this bad boy looks even more unique than on the RCF.
Something about the lowered suspension and extended skirt gives this car a lot of character. The wide fenders contribute a lot to the look as well.
You can get access to the regular Lexus RC 350 here.
2.

Lexus LX570 Stock & WALD (2018)
There's nothing a criminal likes more than feeling powerful.
And the LX570 will make you feel like you're the baddest, most brutal thug in all of Los Santos.
LX stands for "Luxury Crossover." It's Lexus' largest and most expensive SUV, which shouldn't surprise you after one look at the fantastic exterior design and exquisite interiors.
The absolutely massive, somewhat "x-shaped" grille makes the LX570 recognizable from miles away.
In addition to the base vehicle, this mod includes the WALD body kit so you can make the LX570 look even more grandiose and majestic.
1.

Lexus LC500 Artisan Spirits (2020)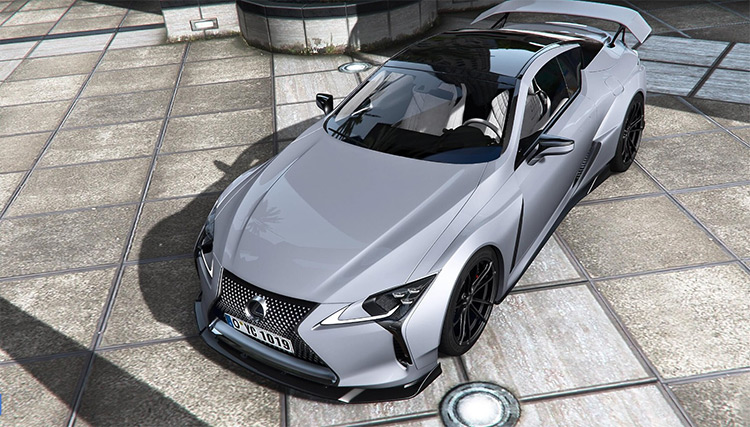 The Lexus LC500 is already one of the Japanese manufacturer's most attractive vehicles – but the Artisan Spirits body kit takes its appeal to a new level.
There's something undeniably Japanese about this Luxury Coupé. Looking at it makes me think of futuristic landscapes and giant robots. It's almost as if this belongs in an anime rather than real life – or GTA 5.
Anyone would love to try this elegant ride – from the car-loving Franklin to the luxury-chasing Michael. Even Trevor would like to get in on the action, if just for the thrill of going pedal to the metal.
If you prefer, you can check out the standard version of the Lexus LC500 – or try out a different body kit by Liberty Walk.
Make sure you get the custom handling too!
Browse:
Grand Theft Auto
Grand Theft Auto 5
Lists
Video Games