10 Best Mansions & Luxury House Mods for GTA V
This post may contain affiliate links. If you buy something we may get a small commission at no extra cost to you. (Learn more).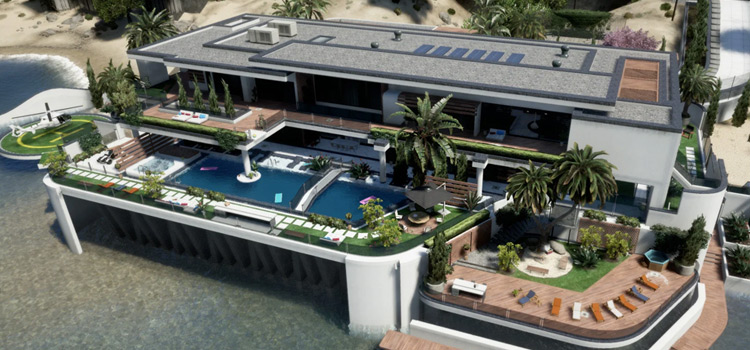 The whole point of everything the three main characters do in GTA V is for money and status.
As some of you may know, the best part about money is that you get to spend it – and what's a better investment than a giant mansion where you can party like it's 1999?
It's no fun sticking to what the base game gives you, so let's check out what the GTA V modding community has in store for us would-be wealthy homeowners.
10.

Music Producer Mansion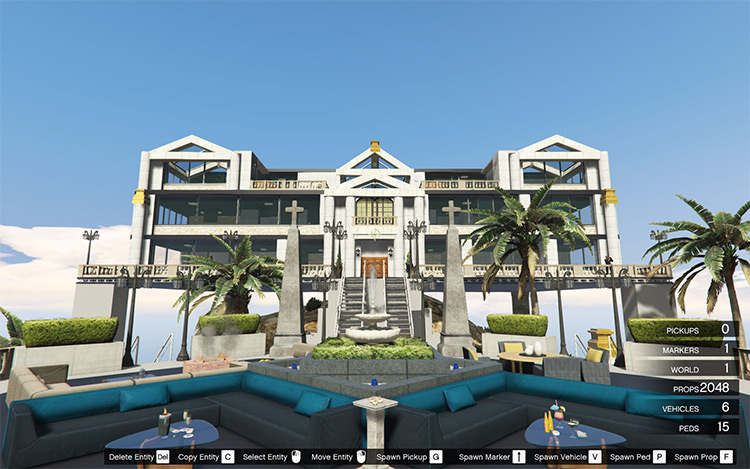 Suppose you want to leave behind the high-adrenaline life of a wanted criminal and dedicate yourself to the equally profitable business of milking other people's talent for personal gain.
In that case, you'll want to check out this luxurious Music Producer Mansion by Zoidberg.
This home has everything a wealthy music producer needs, from spacious garages to a fully-equipped recording studio. There are helipads, several lobby areas, and all sorts of highbrow decorations.
Of course, the entire compound is guarded 24/7 – so there's no need to worry about "friends" from your criminal past paying you a visit.
9.

Franklin Mega Garage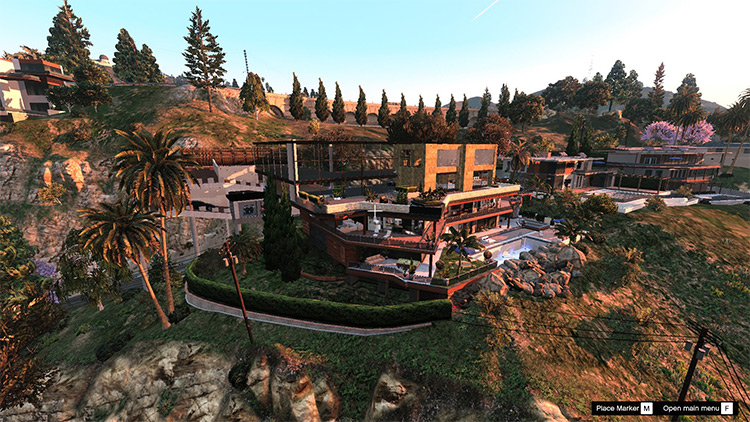 As anyone who's played GTA V knows, Franklin Clinton is very much into cars. Stealing them, driving them, tuning them… he just loves these mechanical wonders.
If someone like him were to design a mansion, you bet it would have a lot of space to store his favorite wheels.
The Franklin Mega Garage by Emme10 brings together a sizable car depot with space for up to 50 cars with a fully-equipped mansion featuring all sorts of entertainment.
Along with the home cinema, outdoor lounging areas, and gorgeous pool, my favorite part of this mansion is the gym, which offers a mind-blowing view of Los Santos.
It'll make you feel on top of the world for real!
8.

Villa Jay Jay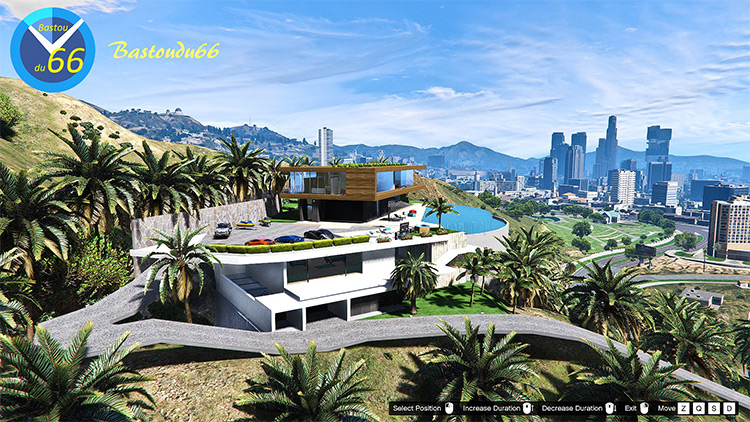 Concerning luxurious living arrangements, impressing your guests is always a top priority.
Bastoudu66's Villa Jay Jay achieves this in many ways – from the physically impossible road you must take to reach the compound to the aerial view of the villa as you land on the mandatory helipad.
Whether swimming in the infinity pool, walking around the exquisitely designed interiors, or looking out the massive glass panel walls at the city down below, you'll feel like you own the place.
The copious palm trees surrounding the compound give it a little extra tropical edge that'll help you feel like you're on vacation every day.
7.

Mafia Boss Mansion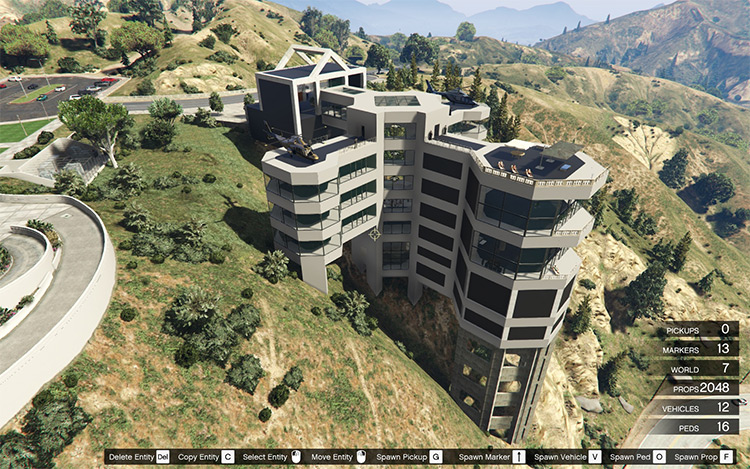 If you're running a large-scale criminal organization, you need a proper compound to hold important business meetings and store your "hard-earned" money.
Built in a similar shape to a cathedral, Zoidberg's Mafia Boss Mansion is a temple to La Cosa Nostra with a modern twist.
It's five floors of pure elegance, with excellent living and office spaces where you can plan the next big heist while overlooking the city.
Of course, there are plenty of amenities to reward yourself after a job well done – including a cinema, a jacuzzi room, and a well-equipped gym.
6.

Private Island Villa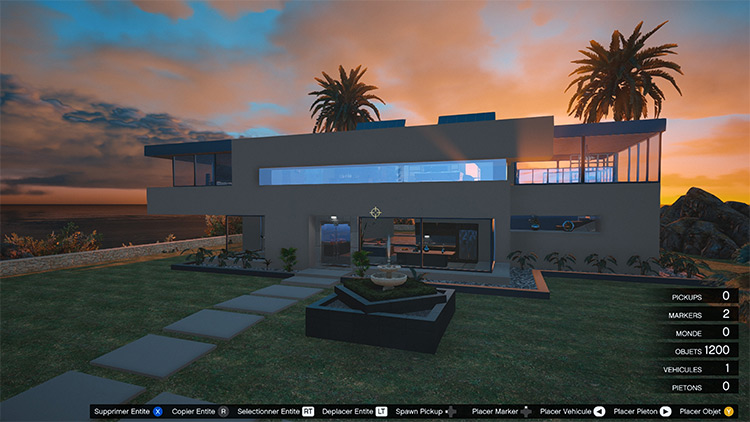 What makes a mansion?
Is it the size? The expensive décor?
Or is it just a feeling of absolute comfort, luxury, and control?
The Private Island Villa lags behind other entries in size – but it makes up for it in style and safety.
This home is built on a small pocket of paradise a long way off the coast of Los Santos, so you'll need a heli or a boat to get there.
Once on shore, you'll have access to everything you need for comfortable living, including a beautiful pool, a gorgeous garden, and an incredible modern-styled living room. You even have your own private beach!
This is a dream home if I've ever seen one.
5.

Stark Mansion

Along with a big brain and an eye for business, Tony Stark always had excellent taste in living accommodations – or an outstanding architect.
JdeezNutz's Stark Mansion is an excellent reproduction of Iron Man's own Fortress of Solitude.
It has everything from an indoor tennis court and a "secret cinema" to a working JARVIS, though its features are modest compared to the movie version.
4.

Galileo Michael Mansion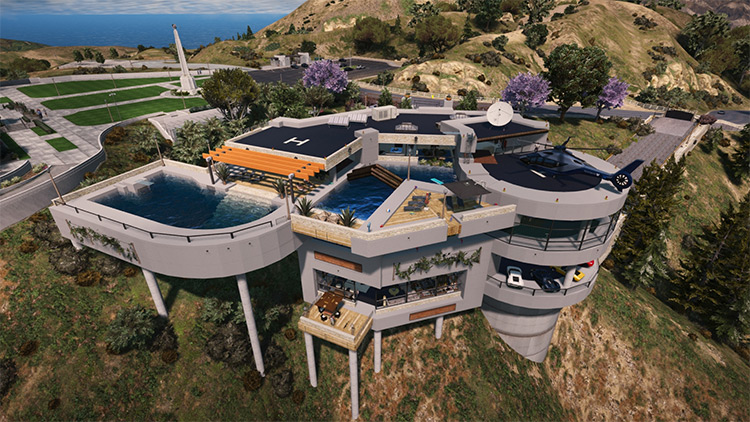 After so much struggle during the events of GTA V, Michael deserves a comfortable, peaceful life.
Well, maybe he doesn't "deserve it". But we definitely want him to have it!
Mixtro's Galileo Michael Mansion isn't the biggest compound on the market – but it's expertly designed for highbrow family life.
Most of the space is occupied by the luxury basics: An oversized garage, two helipads, two pools…
Did I mention the pools have glass bottoms that connect visually with the lounge? It's just decadent.
3.

Bel-Air Billionaire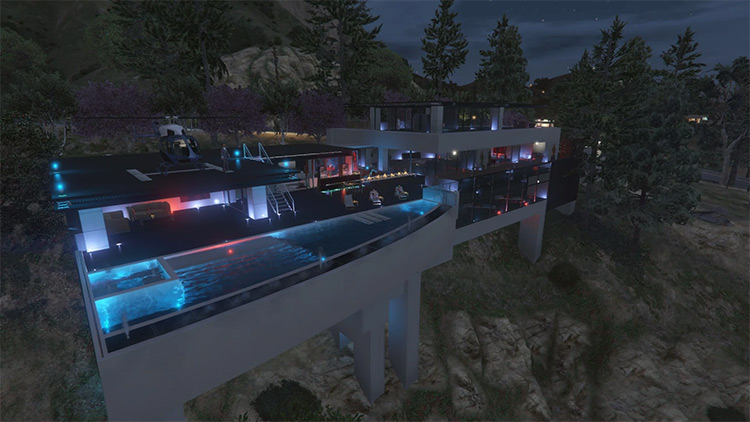 Before you ask: No, this isn't a reproduction of the mansion in The Fresh Prince of Bel-Air.
Instead, it's a modern cliff-side palace with all the markings of a celebrity party home.
An infinity pool, a poolside bar with an indoor lounging space right next to it, and very moody lighting are only some of the party life features you'll find in this big-budget abode.
It also has one of my favorite bedroom designs, including a beautiful balcony overlooking the city that connects right to the contiguous bathroom.
If you fancy yourself a musician, check out the Producer Edition.
2.

Highfield Mansion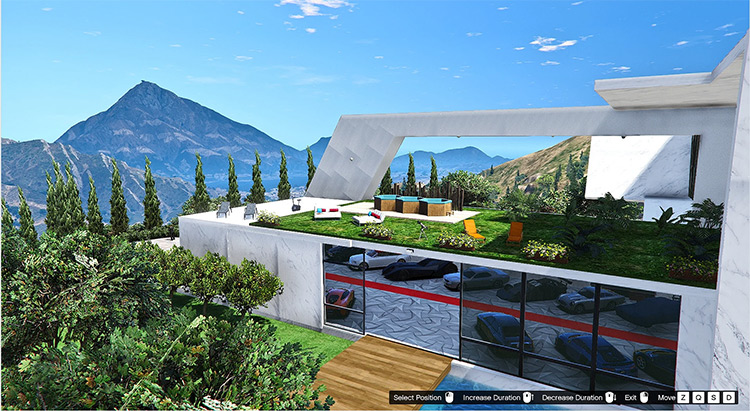 Nothing says "I have money" like a mansion with an airstrip and a helipad overlooking the city.
The Highfield Mansion by Bastoudo66 is one of the most appealing and believable hillside mansions available for GTA V.
Sitting in a hot Jacuzzi next to the lush roof garden, looking at Mt. Chilliad on the horizon, you'll know that you have made it as a Los Santos "businessman."
If that doesn't get you, watching your henchmen take your jet on an errand while you're fooling around with your partner in the pool should do the trick.
1.

Malibu Mansion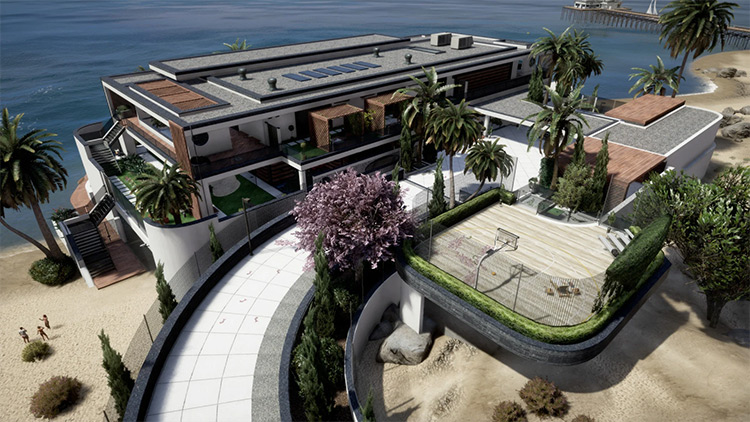 If your concept of a mansion has been shaped by years of watching hip-hop videos of young rappers burning money and partying like there's no tomorrow, this Malibu Mansion won't disappoint.
This type of mansion is at its best once you have 200+ people inside dancing and having fun.
The pool, the terrace, and the sea-side garden are all designed for extraversion.
Of course, the inside doesn't stay behind. With an elegant, modern design and every amenity you could think of – including a gym, a pool table, and a complete music recording studio – this home can keep you (and your guests) entertained for days before anyone even thinks of leaving the compound.
If a lockdown hits Los Santos, you know where to find me.
Browse:
Grand Theft Auto
Grand Theft Auto 5
Lists
Video Games