15 Best Map Mods For GTA V That Are Worth Trying
This post may contain affiliate links. If you buy something we may get a small commission at no extra cost to you. (Learn more).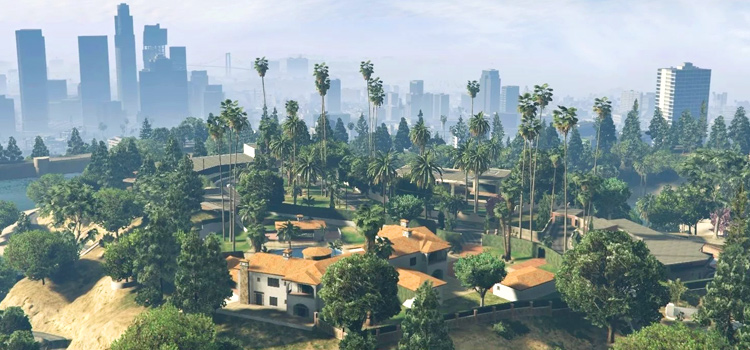 Grand Theft Auto V is a fantastic game. But let's face it: we already know the map upside down.
We've been playing this game for way too long. And with the next installment of GTA we can only wait anxiously by installing a metric ton of mods to our all so dear GTA V.
Now I have written about GTA V mods in the past and I've even done a compilation of the best GTA mods too. But I haven't discussed map mods, some of the coolest edits to the game.
Given how many of these bad boys you'll find out there, I figured I'd create a guide for you to use and spice your game up with new custom maps and changes to our beloved city of Los Santos.
Without any further ado, here are my thoughts on the best map mods that you can install on your game.
15.

Underwater Mafia Headquarters
Jesus F. Christ, this mod is massive.
I'm still flabbergasted after installing it. Beware though – you're going to need a POWERFUL computer to run it. I'm using my new laptop and the FPS dropped like flies.
This mod adds headquarters located underwater (so it basically creates a new underwater base for the mafia, yay) with a coverup yacht party on top of it.
The headquarters come equipped with as many things as any mobster would wish to have. Anything ranging from an underwater helipad to an underwater airport are there to be found.
The building itself is quite beautiful and I completely adore it. Kudos to the creator, this definitely took him a few sleepless nights to complete.
I'm truly amazed by this. Give it a try; you won't regret it.
14.

Road Work Mod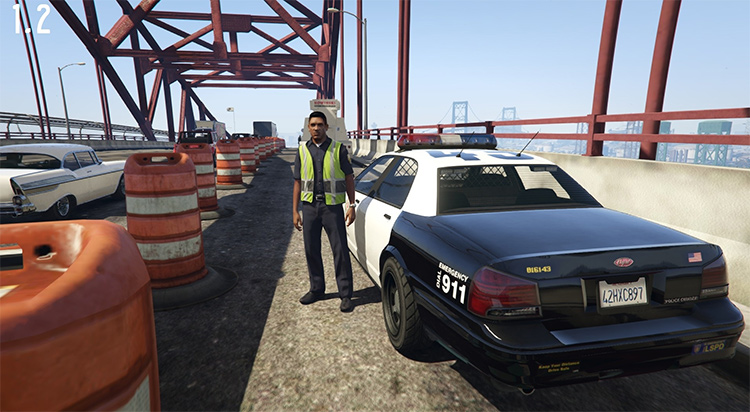 Oh sure, roads in Los Angeles are as faulty as they get. But there are but a few damaged roads in Los Santos.
That's not immersive at all.
The Road Work Mod does a fantastic job to combat this, though, as it adds a bunch of roads that need repairing and workers repairing them as well.
This is one of those mods that make the game much more immersive. And I have to say that trying it out with the graphical mods that I used to write my other article (check it out, your game will look really cool) was one of the best decisions that I've made.
A simple change, but a welcoming one that is sure to make your game feel as good as it gets.
13.

Huge Villa 2
This is the second part of the Huge Villa mod(made by the same creator) but using a different house model.
The free mod adds a massive house into the game with a helipad on an ocean island. So you can have your private house to yourself without having to expect any uninvited guests to visit you (unless you have annoying friends with helicopters).
The mod creator claims that it took him 8 days to create from scratch. But I have to say that if that's true, it seems like a good return for his time investment.
The house is massively detailed and fantastically well done.
12.

2 Many Years
Too many years have passed, and now Los Santos is overgrown with vegetation and in a state of decay like you've never seen it before.
This mod is better played without any pedestrians, civilians, missions, quests, or anything else.
Just explore the desolated land of Los Santos many years after a catastrophic event that made the city become unhabitable. Or whichever catastrophe you like to imagine that it happened here.
Actually this mod's creator recommends you to give it a try with the zombie mod.
I may or may not have done it. Spoilers – it's fantastic. It's like The Walking Dead on steroids and without two seasons of crap.
11.

GTA V: San Andreas
Now this mod changes the map of Los Santos into San Andreas, making you rejoice those fantastic days that you spend hunting those damn aliens on the lands of GTA SA.
Quite a cool mod, although not as well done as it could've been(in my opinion).
I'm adding it to the 11th spot and not further up because it does leave a lot to be desired. But you'll find yourself entertained for at least a couple of hours if you give it a try.
I recommend it for a laugh, but be sure to save your game before installing it to avoid any possible issues.
10.

Huge Villa
This mod was made by the same dude that created the last one, but this isn't on an island.
You'll find this villa by a lake. And you'll be able to access all of its features with any of the main characters of the game.
It's close to Trevor's trailer, though, so you can move the crazy old bastard out of his crappy house to this amazing villa.
Quite a jump in class, I must say.
In any case this mod is one of the best house mods that I've seen when it comes to map updates. And it makes the map look much cooler as well.
9.

Menyoo Map Pack
Beach apartments, boxing matches, alien abductions, and much more.
This modder lost his sanity creating plenty of mods on the Menyoo PC trainer, and this is the result of all of his hard work.
The man has provided us with plenty of fantastic maps that we can enjoy on GTA V and you can get them all with the click of a single button since this is a compilation of all of them!
Enjoy house parties, celebrity deathmatches, and much more thanks to this fantastic map-pack.
8.

Galileo Michael Mansion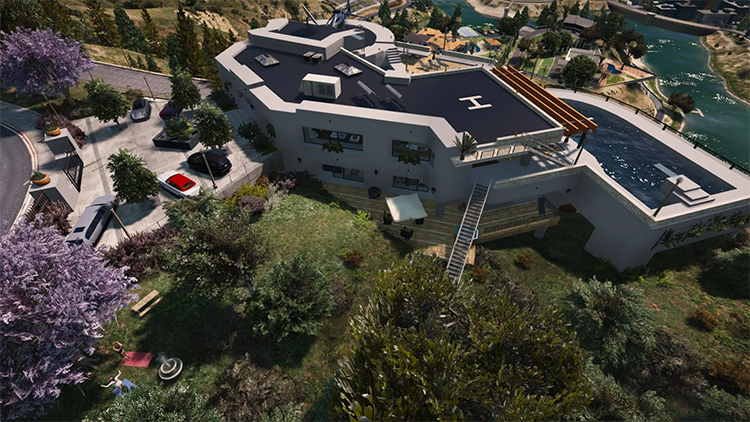 Michael should be living a much fancier life.
I suppose the creator of the mod feels exactly the same. That's why the Galileo Michael Mansion takes such a high spot on my list.
It completely overhauls the way Michael lives, as you'll find his family as well as Trevor and Franklin over there paying him a visit.
It's a very cool mod where Michael can go and chill on his days of peace, or after going on a killing spree of course.
7.

Forests of San Andreas
Do the forests feel a bit too dull for you?
Forests of San Andreas adds plenty of changes to the way forests work in the game, by creating new random scenarios that happen in the woods as well as adding countless new trees and assets to the open fields of the game.
Vegetation is going to be playing a much more crucial role in your graphical journey once you've installed this bad boy.
I encourage you to give it a shot if you're a nature lover as well as a cold-blooded killer. Yes, these hybrids exist!
6.

City Lights Addon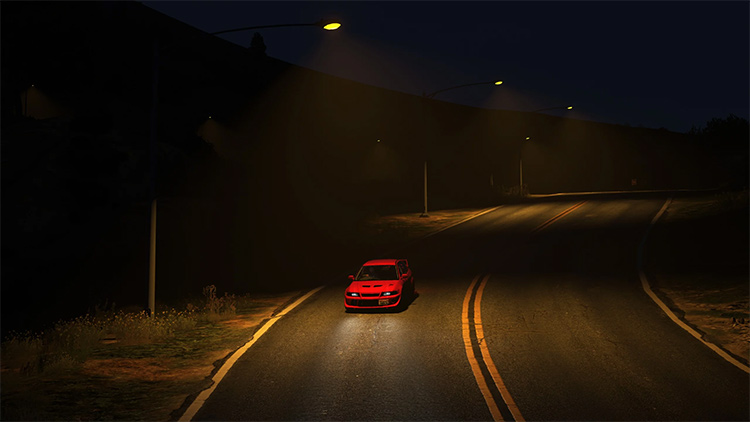 Oh man, this mod has to be installed alongside a graphical overhaul mod.
Please, just hear me out – the way city lights get placed strategically across highways and in locations that really needed them to make your time in Los Santos feel like you're truly in a real city.
The graphic mods make everything look much better in general, so you'll completely fall in love with the game when driving out at night. But it adds a whole lot into the map as well.
5.

Forests of Chiliad
So this map is included in Forests of San Andreas, but I'm rating it higher up because it was the first one I tried back in the day and I completely loved it.
This free add-on does the same as Forests of San Andreas. But it mainly focuses on covering the part of Mount Chiliad.
If you don't wish a complete overhaul of vegetation, maybe give this one a try.
4.

Franklin's Luxury House
Franklin should be living like a king after moving to the GTA Hollywood area.
And this mod does justice to how fantastic his new house should be.
It completely changes the way it looks and enhances many of its exteriors as well as its interior.
3.

Grand Theft Auto Remastered Addon
So this mod works around the original GTA V map and adds plenty of more vegetation and details to it.
It's a fantastic mod that you'll completely love if you want to give your game a new breath of life.
With over 15,000 new props added, this is a massive addon that will surely make your map look much better.
2.

Vice Cry Remastered
Visit Vice City in GTA V with this amazingly detailed mod.
It basically changes the map so you can explore the vastness of Vice City using the engine of GTA V. How neat!
Granted it's not a super detailed mod or anything, especially since it's digging into an existing GTA game.
But it does let you explore Vice City which is such an amazing title with some very cool places so I'm giving it the second spot on my list.
1.

World Improvement Map Editor
Last but not least we come to a real fun addition to the game.
This mod overhauls the basics of the Los Santos map, making everything look better and much more realistic.
The new map is super detailed and I'm sure you'll love it right from the beginning. So give it shot if you want to make the game feel more alive while radically improving the map we all know & love.
Browse:
Grand Theft Auto
Grand Theft Auto 5
Lists
Video Games