The Best Maserati Car Mods for GTA 5 (All Free)
This post may contain affiliate links. If you buy something we may get a small commission at no extra cost to you. (Learn more).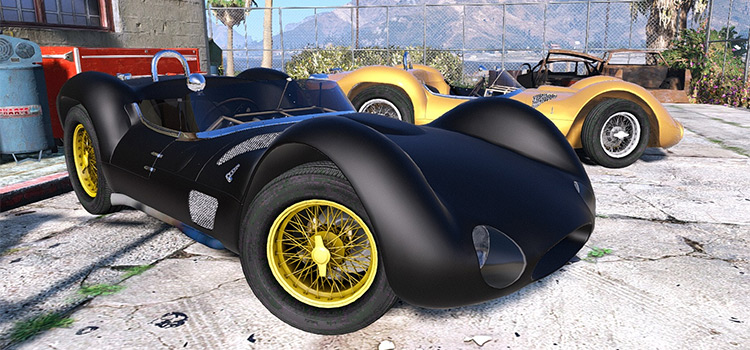 The wealthy elites and hustling entrepreneurs of GTA 5's Los Santos only respect two things: money and prestige.
Nothing projects these two things more eloquently than a Maserati.
You drive a Maserati because it looks good, drives smoothly, and – most importantly – it's exclusive.
Sure, it's possible to find beautiful and high-performing cars for much less cash than a Maserati, but why would you do that? All that dirty money isn't going to spend itself!
Give Michael, Franklin, and even Trevor something to be proud of with one of the following Maseratis.
1.

Maserati Quattroporte GTS (2015)
Maserati refers to the Quattroporte GTS as a "Race-Bred Luxury Sedan." The title references its prestige, the sublime quality of its components, and its beastly performance.
It owes its incredible speed and acceleration to a 3.8L twin-turbocharged V8 engine capable of outputting 523hp. That's enough to propel this rather large car to its max speed of 307km/h in no time.
The name is the only thing about the Quattroporte that's not all there. Who was the Italian who thought naming a car "four-door" was a good idea?
2.

Maserati Levante (2017) Novitec
Strength, space, and beauty come together in the Maserati Levante – a mid-size crossover SUV named after a warm wind blowing through southern France and the Mediterranean Sea.
Driving super luxurious two-seater sports cars to commit crimes always felt a bit unrealistic.
A Maserati crossover SUV might not be much more realistic in a literal sense, but it's more believable.
The car looks more "rough and tough" – like it can handle the police ramming it once or twice.
It's a solid addition to your GTA 5 garage.
3.

Maserati Levante (2016) Mansory
The luxury car modification firm Mansory is well-known in the realm of expensive cars and cool-looking mods.
They're famous for breaking away from any subtlety and completely overhauling any car they get their hands on.
In the case of the Levante, that means a newly-designed wide body, appealing front splitters, mirror housing, and a novel grille mask.
Rolling up in this beauty will get you identified as a street racer in no time – a very wealthy street racer. Not just anybody puts a Mansory-tuned Maserati in harm's way for the thrill of it.
4.

Maserati GranTurismo S (2012)
There's nothing sexier than a two-door supercar.
I immediately go for something like that when playing Need for Speed or Forza, and it never disappoints.
The Maserati GranTurismo S won't disappoint either if you're looking for performance, style, and prestige.
What drives me wild about the GranTurismo S is how similar its front grille is to mid-century Formula 1 cars. It just makes you think of speed at first glance.
For the most realistic, immersive experience, try out the custom handling mod for the GranTurismo S.
5.

Maserati MC12 (2004)
The GranTurismo S definitely looks the part of a racer – but if you're looking for something that screams "motorsport," check out the Maserati MC12.
The MC12 was only released to the public for homologation purposes. At first, only 25 street-safe MC12s were supposed to be sold to customers, but after a slight change in FIA GT Championship rules, an extra 25 with minor length differences had to be produced.
That means the MC12 isn't the rarest car from Maserati – but it's rare enough for most of us to never even see one if it wasn't for the magic of modding.
This mod includes attractive tuning options from the Maserati MC12 Versione Corse for extra customization.
6.

Maserati 300S (1957)
Maserati's history of competing in FIA championships goes way back to post-war Europe.
Their attempts at securing a place among the greats in the World Sports Car Championship began in 1954 with the Maserati A6GCS. In 1956, they introduced the Maserati 300S, which quickly scored them a win at the 1000km Buenos Aires and Nürburing events.
Only 26 Maserati 300S were fabricated, and god knows where most of those are after more than 50 years.
Still, thanks to the modding revolution, the charm of the Maserati 300S won't be lost to the masses. Driving this car around Los Santos will give you a newfound appreciation for this piece of racing history.
7.

Maserati Type 60 "Birdcage" (1960)
Speaking of pieces of racing history…
The Maserati Type 60 – popularly known as the Maserati Birdcage – is a gorgeous classic sports racing car manufactured by the Italian company for private parties to race in events like the 24 Hours of Le Mans.
This stylish racer set itself apart two ways: it made the windshield's base recede into the car's bodywork, which improved aerodynamics without breaking Le Mans rules, and used a unique space frame chassis.
You won't notice these things while driving this smooth and compact machine on the lonely open roads of Blaine Country, but knowing the history can make almost anything more enjoyable – including GTA 5 mods.
8.

Maserati GT MC GT4 (2016)
We've seen Maserati racers from 20 and 60 years ago – but what does a modern-day Maserati racer look like?
The Maserati GT MC GT4 was made for privateers to race in international events like the Pirelli World Challenge or the European GT4 series. If you don't win on a Maserati, you only have yourself to blame.
It doesn't look much different from the average GT, but the extra air intakes and other aerodynamic adjustments – along with the racing liveries – will make you feel like a real race driver.
9.

Maserati Ghibli (2014)
A true Maserati connoisseur will hear three different things when I say "Maserati Ghibli."
There's the 1967 V8 grand tourer, the 1992 V6 coupé, and the executive saloon car that has been in production from 2013 to the present year. Since we've already covered enough history, we're featuring the last one.
It might not be the most powerful or prestigious Maserati, but this car is an absolute beauty – especially with the custom tuning parts in this mod.
Check out the Police version to give the Los Santos Police Department a classy Italian makeover.
10.

Maserati GranTurismo MC Stradale (2018)
We've taken a look at some amazing machines from Maserati.
Still, the coolest Maserati to download for Grand Theft Auto 5 has to be the GranTurismo MC Stradale.
This V8 beast can reach a max speed of 301km/h, and its incredible styling is a prime example of why Italians are so respected in the world of auto design.
If you're still not impressed, you can make the GranTurismo even more visually striking with a Liberty Walk body kit – so give it a shot!
Browse:
Grand Theft Auto 5
Lists
Video Games