Best GTA5 Motorcycle & Bike Mods To Download
This post may contain affiliate links. If you buy something we may get a small commission at no extra cost to you. (Learn more).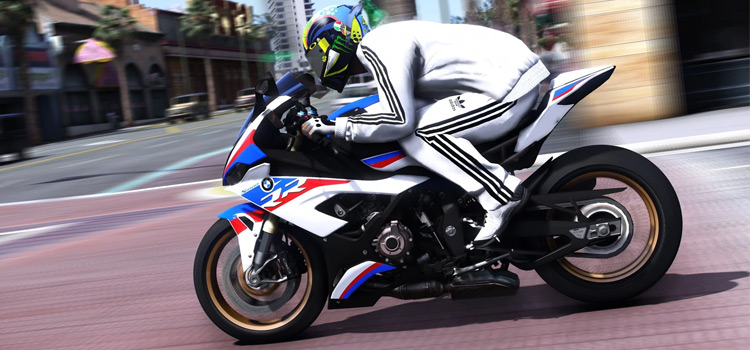 One of the reasons people love playing GTA V is the variety of vehicles. And the freedom to drive wherever you want.
That includes going on off-road adventures, or just trying to pull off dangerous stunts.
I love getting on a bike and burning rubber all around Los Santos.
There's something about the rush of being constantly at risk of flying off your bike that makes speeding through traffic exhilarating.
Now the base game provides enough bikes to keep you entertained during an average campaign, but once you start approaching 200+ hours of playtime, you know them all like the back of your hand.
That's where mods come in.
Just as there are cars and trucks, there's a wealth of custom bikes available for GTA V. To save you some time and many clicks searching the web, I've put together this list of the very best. Enjoy!
15.

Unicycle
Let's kick things off with a bit of humor and review 14KTRED's Unicycle, the most bad-ass way to get around in GTA V.
Some may think it's too silly for a rough and tough place like Los Santos. But they're not seeing the big picture.
Do you know the core strength you need to ride these things successfully?
Anyone with those skills is threatening – enough to survive in GTA V!
Keep in mind that the Unicycle isn't an add-on, but a replacement of the default BMX.
Don't be too surprised if you see some NPCs using this around town too.
14.

Tron Bike
Wherever there's a motorcycle in a video game, someone has turned it into a TRON bike.
Seeing this jet-black bullet leaving a bright neon trail never seems to get old!
Creator TestedModz made sure to include several different bright neon colors to customize your techno-bike. While it doesn't have the highest polygon count ever, its jet-black exterior prevents edges from being visible.
What keeps me from putting this one higher is that you actually need to make your character invisible for it to look like it's supposed to… which is a bit too impractical for comfort.
13.

2021 Honda CRF450RW
One of the beautiful things about GTA5 is how it morphs into different games depending on what you introduce.
In this case, you'll be playing an off-road motocross racer.
Based on one of their most recent motocross bike designs, this 2021 Honda comes to GTA V to help you land some crazy stunts, and most likely get wasted in the process.
It was ported from the famous motocross-focused MX Simulator by modder RkrdM, keeping the same hi-poly model and excellent HD textures.
12.

Nagasaki Pigeon Patrol
I like vehicle mods that aren't afraid to push the envelope.
And this Nagasaki Pigeon Patrol by Monkeypolice188 certainly fits the bill.
Not all crime in Los Santos requires a squadron of heavily-armed Harley Davidson-riding police officers.
Sometimes, a single Parking Enforcement agent is all you need to punish wrongdoers who've disrespected local parking law.
This humorous yet strangely magnetic vehicle was initially taken from Marvel's Spider-Man. But its model was enhanced for implementation in GTA V.
The dirt-mapping is also 100% new.
11.

Hakucho Police Bike + BF400 Dirtbike
If you weren't convinced by our previous entry, but still want to give Los Santos Police Department more options, consider the Hakucho Police Bike and the BF4 Dirtbike by Reyser.
These new chariots of law and order are a modern and environmentally-friendlier alternative to the vanilla motorcycles.
They're also much more impressive at night, as they have a surprising amount of police lights.
Get it for a Los Santos Police Department with a renewed look that better reflects their role as public servants.
10.

Biker Melee SP
There are still plenty of new motorcycles to go through, so let's switch things up and take a look at a mod that enhances your bike-riding gameplay: Biker Melee SP.
What this simple mod does is bring the biker melee attacks seen on GTA Online, over to single-player GTA V.
Whether you want to chop legs off with a machete, or engage in drive-by decapitations with a Japanese katana, it's all up to you.
Even if you're not currently carrying a weapon, you can still kick on either side of your bike to keep pursuers at bay while you get to your nearest weapon stash.
9.

Raji Tunak
Named after the sound of their running engine, Tuk Tuks are one of the most common transportation methods in Southeast Asia.
And they're known worldwide as a meme-mobile.
This unique three-wheeled vehicle comes to Los Santos in the form of the Raji Tunak, the latest craze in affordable transportation.
The Tunak comes in several different colors, from Westernized versions that look just like a traditional black and yellow taxi cab, to more grassroots designs with Che Guevara decals.
8.

Honda PCX-2018
Who says thugs can't ride scooters?
If you're a modern gangster with a taste for dressing well no matter the occasion, you need a reliable, steady bike.
Like this Honda PCX-2018 by modder Twatchai.
This beautiful scooter is just what you need as a busy criminal who's got places to be.
You'll blaze through the streets while sitting comfortably and, most importantly, without getting a single unnecessary wrinkle on your outfit.
Plus, those tires look incredible.
7.

Batpod
Those of you with a taste for the dramatic and a love for comics will love the Batpod, brought to GTA V by modder Esrohraw.
This motorbike is based on the one from the Dark Knight saga of Batman movies.
Like the one seen in the films, it'll let you aim and shoot comfortably while traveling at breakneck speeds, all while looking absolutely badass.
A nice detail I noticed while trying this out is that the engine dies down as the bike gains speed, like a hybrid car would when it switches to electric power.
6.

2020 BMW S1000RR
If you'd rather ride something a little more realistic and in-line with the vanilla game's aesthetic, you can't go wrong with the 2020 BMW S1000RRR, brought to us by modder Zenimo.
This racing bike features a sleek design with astonishing attention to detail.
Which is unsurprising, considering the model is taken straight from Need For Speed Heat.
It's just the thing you'd want to ride for the Los Santos Tourist Trophy, if there was one.
Can we get a modder in on this?
5.

Weight Reduction Drag Bike
The world of drag races – the motorcycle kind – is full of experimental bikes and techniques that can offer racers a boost when facing a fierce competitor.
That's where the inspiration for this Thai-style weight-reduced drag bike comes from, and the reason for its unique look.
The exposed engine and extra-thin tires make it stand out among so many excellent custom motorcycles, and the shiny chromed parts of the bike are just gorgeous.
4.

Kaneda Powerbike
An exceptional custom bike mod that appeals heavily to my personal sensibilities: Kaneda's Powerbike, from the quintessential cyberpunk anime film Akira.
It features a retro-futuristic design that looks sleek-enough to fit in with Los Santos' super-car scene.
Series creator Katsuhiro Otomo originally designed this bike in his Akira manga in the early 80s.
Thanks to the animated movie's success, the bike became widely recognizable by those in touch with Japanese culture worldwide.
3.

Ducati 900 MHR
But rather than looking at fiction for inspiration, we may as well pay homage to a historic motorcycle.
The Ducati 900 MHR flies beautiful red and green colors that show its Italian heritage.
It was designed to honor legendary pilot Mike Hailwood for his incredible performance at the Tourist Trophy Isle of Man competition.
This was only in production from 1979 to 1986, so a surviving example would cost a pretty penny.
Still, you can enjoy it digitally in all its GTA5 glory thanks to this hi-poly model and high-quality textures.
2.

Sci-Fi HoverBike
If you thought the Akira motorcycle was cool, you'll go crazy with this custom fully-functional Sci-Fi HoverBike by Dsawdsaw.
Initially designed by Sergei Chabrov, this HoverBike has an attractive cyberpunk style with interesting angles and appealing exhausts.
These exhausts are fully animated in the GTA V version, which helps bring the vehicle to life.
1.

100 Bikes Add-on Compilation Pack
We've covered plenty of custom bikes so far.
But even if you installed them all, you'd eventually grow to know each of them.
In other words, they'd get old.
What you really need to overhaul the biker experience is this Add-on Compilation Pack by user Kizacudo, which brings together 100 of the best lore-friendly bike mods for GTA V.
This many bikes, all in one place. Good times ahead!
The mod pack includes scooters, racing motorcycles, motocross bikes, and more.
Whether you want a Kawasaki, a Suzuki, a Harley Davidson, or even a Ducati – there are plenty of options from all price ranges, curated to provide a coherent bike overhaul that targets every GTA player's desires.
Browse:
Grand Theft Auto
Grand Theft Auto 5
Lists
Video Games