The Best Porsche GTA 5 Mods To Try (All Free)
This post may contain affiliate links. If you buy something we may get a small commission at no extra cost to you. (Learn more).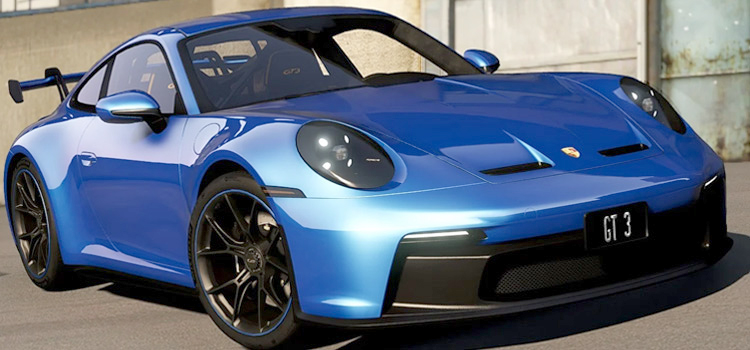 There's nothing I can say about Porsche that you won't get just for looking at one of their gorgeous cars.
This German manufacturer has been a leader in the world of stylish, high-performance cars for almost 100 years, and in that time, they've created some of the most iconic vehicles ever.
From the 356 to the 911, Porsche has elevated the automobile from a bunch of steel, glass, and rubber to a true work of art.
Riding one of these modded Porsches will elevate your soul no matter how cruel a criminal you've become.
10.

Porsche 911 Turbo (1982)
The classic Porsche 911 is one of the most beautiful cars ever produced. It has become a symbol for the Porsche brand, serving as inspiration for many new designs.
One of its notable features is the rear-mounted engine, which contributes to its characteristic shape.
The Porsche 911 Turbo – also known as the Type 930 – features a turbocharged engine and a slightly updated, wider body shape.
One of the most significant additions was the iconic "whale tail" spoiler, included in this mod with several optional body mods.
9.

Porsche Cayenne Turbo (2022)
Porsche is best known for its sexy and sporty two-seaters, but its SUVs are also top-of-the-line.
The Porsche Cayenne was introduced in 2002 as the first V8-engined Porsche since 1995 and the first off-road variant vehicle since the 1950s.
It's the perfect vehicle for someone with an eye for elegance and style who also needs to take the kids to school – or move an entire team of gunmen to rob a FLEECA bank.
The 2022 Porsche Cayenne Turbo is the latest entry in the Cayenne's third generation. Its design bears a striking resemblance to the 911 – making it irresistible.
8.

Porsche GT1 Straßenversion (1998)
Turning back the clock again we find the Porsche GT1 Straßenversion, one of the most unique vehicles ever assembled by the German company.
Usually, manufacturers would modify one of their street-legal vehicles to participate in the GT1 category of top-level sportscar racing – but not Porsche.
Instead, they designed the 911 GT1 race car, then produced a slightly downgraded "street version" to comply with the category's rules.
The result is this unusually-shaped but nonetheless attractive beast – brought to you in exquisite detail by this GTA 5 mod.
7.

Porsche 935 Moby Dick (1978)
Porsche has a long history of designing exquisitely beautiful and mighty race cars – and "Moby Dick" is one of the most notorious.
First introduced as a racing version of the 911 Turbo, the Porsche 935 dominated race tracks in the FIA-Group 5 category from 1974 to 1981 thanks to its 3.3L twin-turbocharged flat-six engine.
In 1978, a special version was developed for the 24 Hours of Le Mans – the water-cooled 935/78, which came to be lovingly known as the "Moby Dick" due to its white color and oddly-shaped tail.
The car introduced by this mod looks even more like the legendary white whale due to its lack of racing liveries – leaving only the white color and some flashy red rims.
6.

Porsche 718 Cayman S Hot Pursuit Police
The Porsche Cayman is a spunky mid-engined two-seater fastback coupé, marketed as the Porsche 718 since 2016.
This change in designation was made after replacing the naturally-aspirated flat-six engine with a turbocharged flat-four engine, less powerful but much lighter than the previous one.
It references the 1959 and 1960 Targa Florio races, won by a light car's superior maneuverability in the face of the more potent engines of heavier competitors.
This custom police version takes inspiration from Need for Speed: Hot Pursuit to blend the Cayman's sleek body shape with the authority and impact of a police "panda" paint job.
5.

Porsche 911 Type 901 Japanese Police (1964)
The Type 901 was the first Porsche to carry the 911 designation.
The reason? Peugeot had patented three-number designations with a zero in the middle.
Patents, man.
This first 911 in history was popular worldwide due to its beautiful design and reliable performance.
The Japanese have always been able to appreciate these qualities, so in 1969, they imported around 100 of them. One of these was used as a patrol car by Aichi Prefectural Police.
As a major Japanophile and 911 lover, I couldn't skip out on featuring this piece of history.
4.

Porsche 918 Spyder + Weissach Kit (2015)
I've always liked Porsche sports cars' classic, not-so-flashy appeal – but not all Porsches are made equal.
The Porsche 918 Spyder just screams "hypercar."
I don't know if it's the air intakes, the dazzling design, or the fact that it has top-mounted rear exhausts, but when you see the 918 Spyder approaching, you know it's a high-tech piece of machinery meant to go fast as hell.
In addition to the regular car, this mod features the Weissach package – an aerodynamics package that reduces the vehicle's weight with several carbon fiber pieces – and several liveries.
3.

Porsche 904 Carrera GTS (1964)
I have a special spot in my heart for classic Porsche race cars.
One of my favorites is the Porsche Carrera GTS – probably because it reminds me of Speed Racer's Mach 5.
Originally named Porsche 904, this rear mid-engine beast had its name changed to Carrera GTS due to the same patent problem as the 911. Carrera means "race" in Spanish, which fits the 904 like a ring.
This mod includes a wealth of flashy liveries in every color of the rainbow – with and without the iconic Le Mans stripes on top.
2.

Porsche 356 Speedster (1956)
Performance is important, but what I'm really looking for in a GTA 5 car is style – and, oh, does the Porsche 356 Speedster have style.
This classic sports car was Porsche's first production automobile.
The concept around this car – and most Porsche vehicles after it – is that it's more fun to drive an agile, smaller car than a larger one, even if the latter had more raw power.
Over 65 years later, this is still one of the most stylish cars ever.
1.

Porsche 911 GT3 (2022)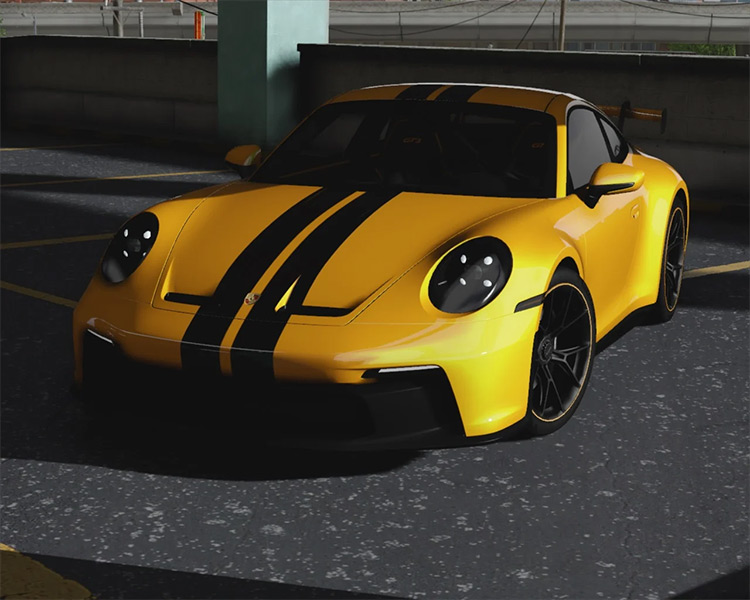 Since we started the list with an old-school 911, it's only fitting to top it with the dynasty's latest scion.
The Porsche 911 GT3 has been around since 1999, and the German manufacturer finds a way to polish this high-performance sports car a little more every year.
The latest addition was a swan-neck rear wing that increases downforce, and more importantly gives this beauty a unique edge not present in its predecessors.
With a top speed of 318km/h and a 3.4s 0-100km/h acceleration time, the 2022 GT3 will let you get the most excitement out of every second you spend behind the wheel.
Browse:
Grand Theft Auto
Grand Theft Auto 5
Lists
Video Games