GTA 5 Mods To Add Real Restaurants Into The Game
This post may contain affiliate links. If you buy something we may get a small commission at no extra cost to you. (Learn more).
Grand Theft Auto 5 offers a remarkably realistic open world to live out your criminal fantasies – and mods can make it even more lifelike.
One of my favorite ways to make GTA 5 more immersive and realistic is to bring real-world brands and establishments into the game.
You might not know the first thing about what clothes or electronics shops are popular where you live, but you know where to get grub – so if you want to make Los Santos a bit more like your city, some real-life restaurants are a must.
I hope you're hungry, because we're going on tour through some fantastic real-life restaurant mods for GTA 5.
10.

Fast Food Taxi Advertisements
Before you go to any restaurant, you must first become aware that such a restaurant exists.
After all, human beings love familiarity – and nobody wants to be the one to find out that the new burger joint down the street is so bad that you'd rather move to a food desert than eat there again.
Restaurants have been promoting their brand on moving vehicles for decades, including putting their logo on top of entire taxi fleets.
This mod will do just that for KFC, Domino's Pizza, SUBWAY, and Dunkin' Donuts. Once installed, you'll be reminded of your basic instincts to ingest unhealthy fast food whenever you see a taxi.
9.

Popeye's
Will Los Santos "love that chicken from Popeye's?"
Fried chicken and biscuits are one of America's biggest contributions to the world's culinary tapestry – and Popeye's built its entire fame around these two southern staples.
This mod introduces the authentic Louisiana taste of Popeye's to the world of GTA 5 by re-texturing Lucky Plucker into the iconic American brand.
Everything, from the front desk to the drive-thru menu, is 100% faithful to Popeye's Louisiana Kitchen. It's perfect for grabbing some grub on the go – Louisiana Fast.
8.

McDonald's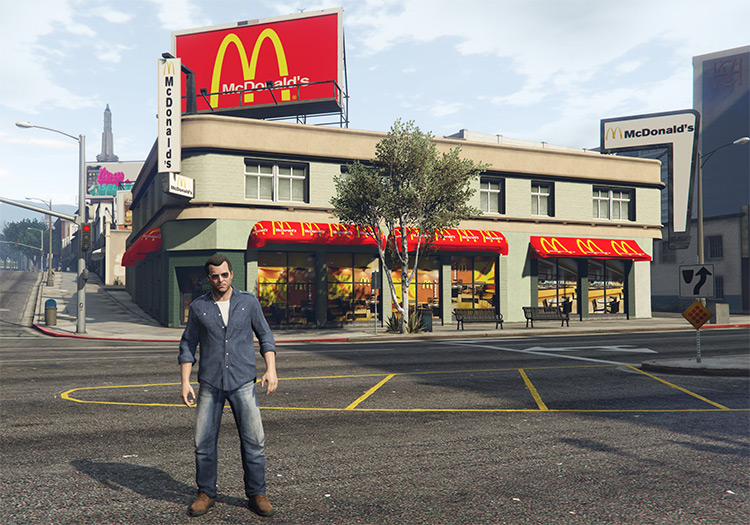 Another prominent American brand that can't be missing from any realistic GTA 5 mod collection is McDonald's.
The Golden Arches symbolize fast, comforting food for people worldwide.
No matter where you are, you can count on McDonald's for that familiar taste we all grew to love, thanks to smart marketing that targeted us as children.
McDo is the world's largest fast-food chain, so it's only fair that they'd also be present in Los Santos.
7.

McDonald's Stand
Fast food joints are in-and-out venues where you can spend only the bare minimum time while picking up your take-out.
But what are you supposed to do if the nearest McDonald's is more than a couple blocks ahead? Starve?
The McDonald's Stand offers you an alternative.
This mod replaces classic hot dog stands for a McDonald's-branded mobile food vendor. They have Big Macs, Biscuits, McMuffins, and more!
Alternatively, check out the McDonald's Food Truck.
6.

Subway
The point of modding GTA 5 is to "make it what you want."
That's also Subway's motto.
Nothing is more tasty and convenient on the go than a fresh submarine sandwich, a wrap, or a salad from Subway. You can eat it with one hand while shooting cops with the other.
With this mod, the old and run-down Lucky Plucker chicken place becomes a brand-new Subway.
Tip: For more Subway goodness, check out the SUBWAY Uniform Pack and their old-school red outfits.
5.

Taco Bell Van
The point of fast food is getting convenient and reliable bites that you'll love to eat every time without lifting a finger.
That said, driving to the local Taco Bell is sometimes more work than making your own dinner.
If you can't (or don't want to) get in your car and drive to the nearest fast food joint, then have them come to you with this Taco Bell Van.
Alternatively, you can get a regular Taco Bell or an old-school 1960s Taco Bell.
4.

KFC
Is there anyone who doesn't like KFC?
Plenty of people claim it's too greasy, but I think that's just coping because you can't eat KFC for breakfast, lunch, and dinner without your arteries getting clogged.
Luckily, our GTA 5 character doesn't have to worry about this. I mean, they get into shootouts every five minutes. If that doesn't kill them, the KFC should be OK.
Kentucky Fried Chicken and their eleven herbs and spices come to Los Santos in this top-quality mod, featuring pristine exterior and interior textures for the most authentic experience.
3.

KFC Van
The only thing better than KFC is KFC that you don't have to move a finger to get.
The bright red KFC Van will bring the irresistible smell of fried chicken and biscuits to your doorstep.
I'm sorry, health freaks, but resistance is futile.
It's finger-lickin' good!
2.

Burger King
Some people like McDonald's, others like Wendy's – but there's only one king of fast food, and it's Burger King.
This mod helps you open the "Home of the Whopper" in Los Santos by replacing the old and run-down Burgershot establishments with a restaurant where "Taste is King."
Burger King makes it to the #2 spot in the ranking thanks to this mod's attention to detail. The employees smile at you at the counter, the bathroom is open to customers, and the restaurant's exterior and interior are remarkably realistic.
Have it your way!
1.

Starbucks Coffee Shops
Coffee has been humanity's best friend ever since a crazy goat herder in Ethiopia discovered the stimulant properties of the glorious coffee bean.
It helped the philosophers of the Enlightenment revolutionize philosophy and science, and thanks to this Starbucks Coffee Shop mod, it'll help your character plan the perfect heist.
Although there are one or two great alternatives, this specific mod gets the #1 spot because it puts Starbucks Coffee everywhere in Los Santos – much like any major city in the US.
You can also populate the streets of Los Santos with Starbucks delivery vehicles for extra realism.
Browse:
Grand Theft Auto 5
Lists
Video Games