GTA 5: The Best Custom Shoes & Sneaker Mods (Guys + Girls)
This post may contain affiliate links. If you buy something we may get a small commission at no extra cost to you. (Learn more).
Award-winning singer, comedian, and author Bette Midler once said, "with the right footwear, one can rule the world."
You'll need any help you can get surviving the streets of Los Santos and hustling your way to the top – so finding some stylish floors should be a top priority.
There are some cool shoe options in vanilla Grand Theft Auto 5, but you only scratch the surface if you stick to what Rockstar gave you.
Mods hold the key to real footwear variety.
Let's look at some top-quality pieces to get you started.
1.

High-Heel Sneakers Re-texture for MP Female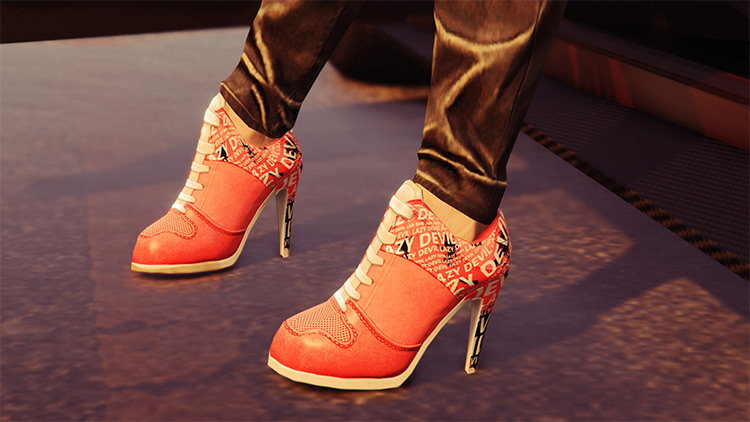 Old-school criminals would tell you that high heels aren't the best footwear for a hoodlum. After all, you might have to run from the police or a rival gang attack at any time.
The more open-minded folk that rule Los Santos's criminal underbelly in the 2020s recognize the value of projecting a strong image.
Wearing high heels tells your enemies you won't try to run from them. Get close, and you might get a stiletto to the throat.
This mod grabs the High Heel Sneakers already available for your female MP avatar in GTA 5 and applies seven all-new textures to create new trendy pieces for all tastes.
2.

Gucci Slides
Fashion is often more about who can wear something than the item's appearance.
A prime example are the now-iconic Gucci rubber slide sandals.
Rubber sandals are a staple for almost anyone at the beach or lounging at home, but they're seen more as a necessary evil than a stylish accessory.
Now, slap some Gucci colors and a $400 price tag on them, and famous people will trip over themselves to wear them with socks and call it a statement.
This mod will let you do just that in GTA 5.
3.

Brown Military Boots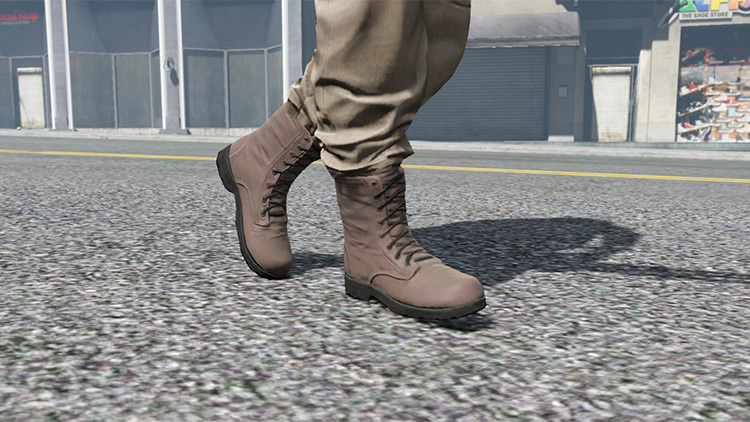 Military Boots are designed to take a beating.
Whether it's the warm sand of an Afghan village or the sole-melting Los Santos asphalt at 2:00pm on a Summer day, it's all the same to these boots.
The light brown color makes it easy to work them into almost any outfit, and it's going to take a while before they start looking dirty… unless they get sprayed with blood.
Occupational hazards.
4.

Balenciaga Speed Trainers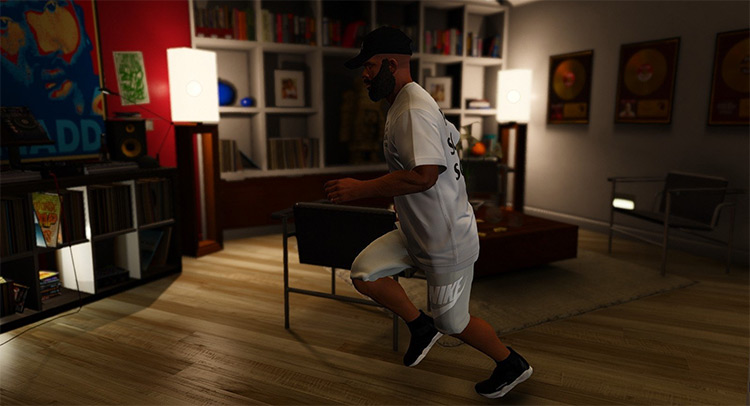 Sock-runners have been one of my favorite fashion trends of the last decade.
Sneakers and running shoes are supposed to be comfortable and convenient. What's easier to wear than a sock?
Nothing, that's what.
One of the most notorious examples is the Balenciaga Speed Trainer – an iconic, instantly-recognizable shoe that's still one of the brand's best-selling product lines years after it blew up in 2016.
This mod was made in 2017 during the height of the Speed Trainer's popularity, and it'll still look incredible on your GTA 5 avatar today.
5.

Adidas NMD Tokyo Colorway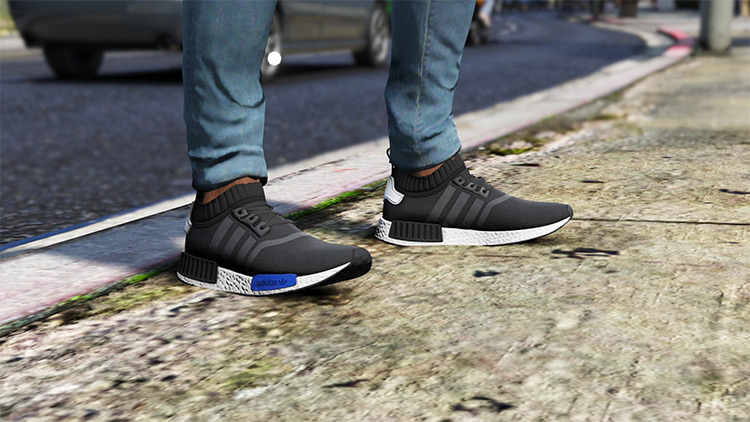 The Adidas NMD "Tokyo" was released around 2017, so it shares some "sock-like" characteristics with the Balenciaga Speed Runner.
This includes the snug heel collar that firmly wraps around the wearer's ankle, like a sock.
Still, they have Adidas' characteristic sharp and sporty look and a tiny bit more color than the Speed Runners.
Wear this if you think you might have to chase a fool on foot.
6.

Adidas "Shell Toe" Superstar Sneakers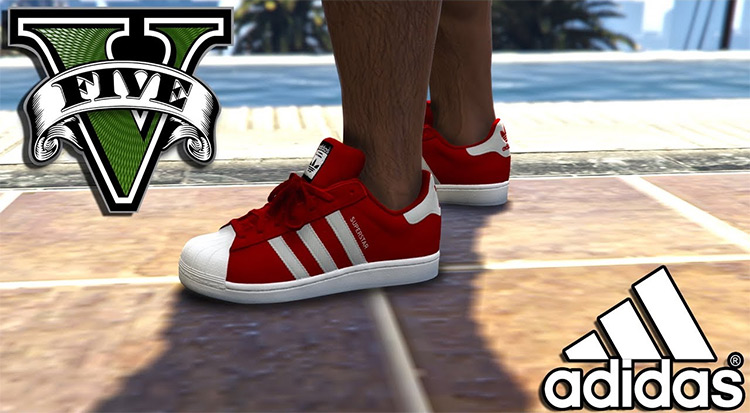 Adidas Superstar sneakers have become a staple of many people's wardrobes over the years.
They're stylish, comfortable, and can easily be dressed up or down.
This mod includes classic color schemes like all-white, all-black, and black-and-white, along with flashier ones like bright red-and-white or a contrasting blue-and-yellow combo.
It's the quintessential jack-of-all-trades you'll want to wear on the basketball court, the music festival, and just about anywhere else.
7.

Vans Slip-Ons
The iconic Vans slip-on shoes have enjoyed widespread popularity for over 40 years and don't seem to be going anywhere.
Enthusiasm around these comfortable and attention-grabbing shoes remains high among skaters, rock musicians, and Gen Z kids trying to bring Emo back (because God knows we haven't had enough).
This mod includes several color schemes, including solid colors and the classic checkered pattern we all know and love.
8.

"Chuck Taylor" Converse All-Stars
Originally introduced as basketball shoes in the 1920s, the "Chuck Taylor" was the first celebrity-endorsed shoe ever created.
It was also at the forefront of sports shoe technology at the time.
Since then, the classic Converse All-Stars have remained massively popular, although they've been repurposed as casual urban wear rather than basketball shoes.
If you have no love for good manners and common decency, make sure to check out the abomination that is the high-heeled Chuck Taylor.
9.

1985 Jordan 1s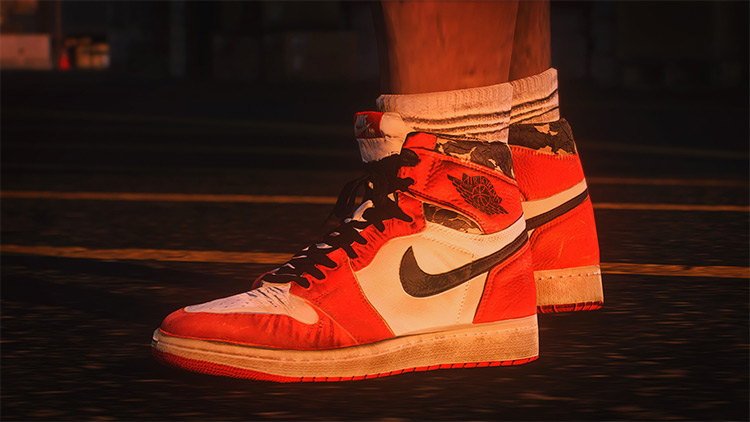 Another blast from the past whose legacy lives on in the 2020s is the classic Jordan 1.
The first Air Jordan was produced in 1985 in honor of world-renowned basketball player Michael Jordan.
It happened early in his career before he became a worldwide phenomenon, and both the basketball player and the shoe had bright futures ahead.
MJ became the best basketball player of all time, and the Air Jordan brand continues to make it rain in the 2020s.
This mod introduces the classic 1985 Jordans with historically-correct materials and even some wear and tear, so they don't look unnaturally bright like you just took them out of the box.
10.

Air Jordan 1 Lows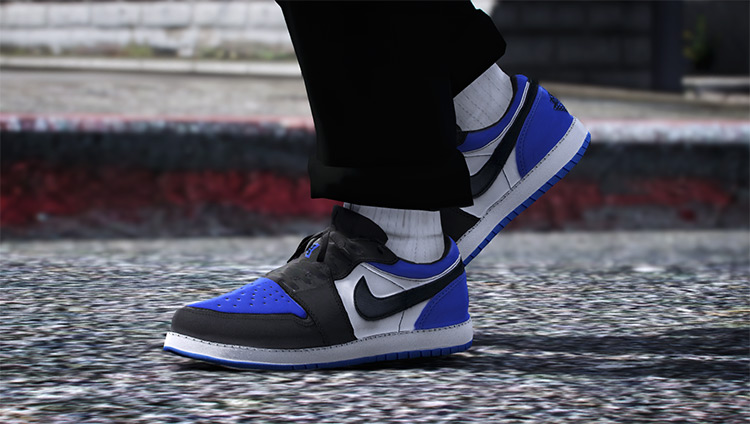 It's hard not to appreciate the timeless style of the Air Jordans, but not everybody cares for the high-heel collar.
The solution? Air Jordan Lows.
This modified version of the classic 1985 Air Jordan design does away with a lot of material around the heel to provide increased comfort and make the sneakers breathable.
They also let you show off your socks if you're so inclined.
11.

Travis Scott x Nike Air Jordan 6
The original Air Jordan 1 isn't the only member of the Air Jordan family worth a second look.
In 1991, Nike gave us Michael Jordan's sixth signature shoe. The basketball star wore these en route to his first NBA championship, and they quickly became a classic.
Despite being a "retro" shoe, the Air Jordan 6 won't take over your outfit. Its design looks surprisingly modern – especially this Travis Scott x NIKE special edition.
The colors on this shoe are fantastic, and they'll elevate your outfit without making it any less comfortable.
12.

Nike Air Force 1 LV 8 Utility
Suppose you like more beefy shoes like the Air Jordan 1s but don't like your floors drawing attention to yourself.
In that case, you should try out the Nike Air Force 1 LV8 Utility.
With their thick sole and classic sporty design, these shoes will give you the heavy footsteps you need to feel strong in the streets of Los Santos without sacrificing comfort or style.
It's also the perfect shoe for real Nike hypebeasts. After all, it features Nike's swoosh logo not once but twice on the same side! That's what I call brand loyalty.
13.

Nike Air Force 1 x Travis Scott Sail
A slightly more adventurous but no less stylish version of the Air Force 1 comes from the Swoosh's collaboration with Fortnite-famous American rapper Travis Scott.
The Nike Air Force 1 x Travis Scott Sail features a sail canvas with sturdy reinforced stitching that serves as the background for a flashy chrome swoosh logo.
This striking composition is wrapped up with a beautiful gum bottom that brings in some color without taking the spotlight from Nike's shiny logo.
You'll also find some alternative but just-as-flashy materials for the swoosh in this varied GTA 5 mod.
14.

Yeezy 350 Boost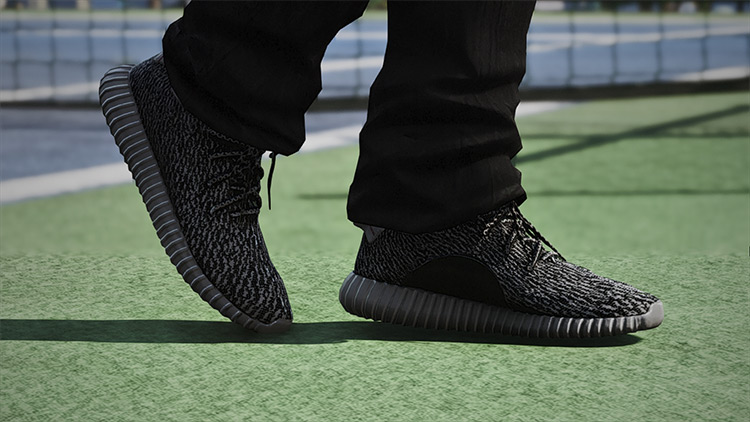 Kanye West has been the biggest thing to happen to sneakers since the original Air Jordans were first released.
His Yeezys have revolutionized the way we look at shoe design, throwing widely accepted "rules" out the window to experiment with unorthodox shapes, textures, and colors.
The most entry-level Yeezy sneakers you can get your hands on are the Adidas Yeezy 350 Boost, which perfect the concept of the "sock sneaker" and make it painfully fashionable.
While definitely unique, just about anyone can make the Yeezy 350 Boosts work – especially the Turtle Dove and White colors included in this mod.
Make sure to get the Yeezy 350 model from here first before installing this retexture.
15.

Yeezy 450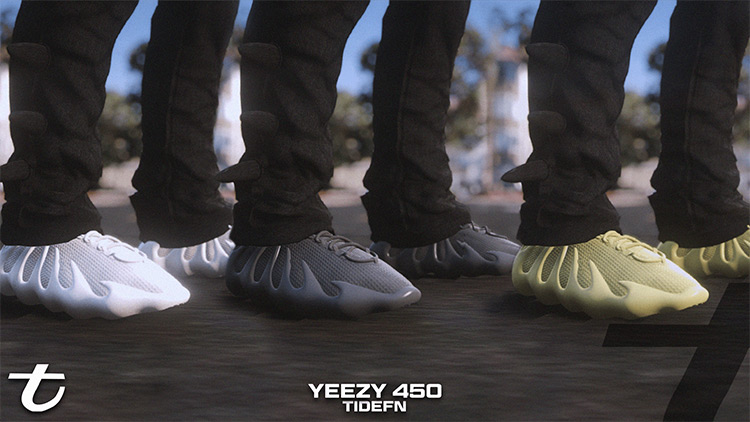 Moving up in the scale of Kanye West-branded weirdness, we find the Adidas Yeezy 450s, a shoe that will make you the center of attention anywhere you go.
This shoe's unique structure and bizarre sole make it look like an alien spaceship rather than a shoe.
Even in the white, black, and "sulfur" colors included in this mod, the Yeezy 450 are undeniably crazy – and I'm here for it.
These shoes reminded everyone yet again that the only thing between us and the future is a little bit of courage and a complete disregard for established norms.
16.

Air Jordan 11s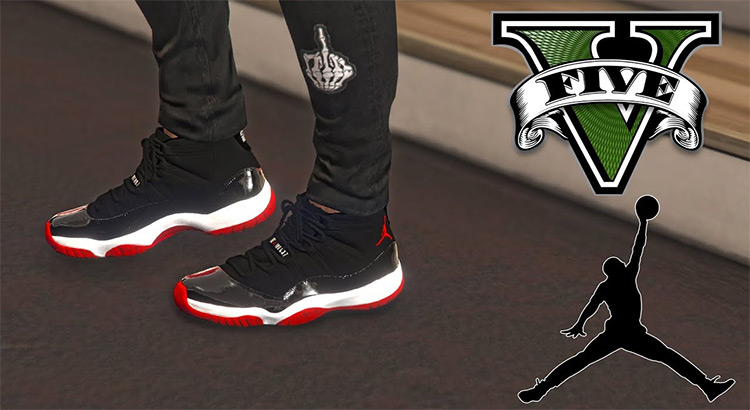 We'll re-enter the Earth's atmosphere wearing Nike's modern and stylish Air Jordan 11s.
This all-time American favorite was launched 10 years after the start of Michael Jordan and Nike's highly successful joint venture and can be quickly identified by its translucent outsole.
Michael Jordan wore these for the most epic basketball team-up of history: the 1996 film Space Jam, starring MJ and the Looney Tunes.
The Space Jam colorway is only one of the four color palettes included in this mod.
17.

Air Jordan 11 Lows w/ Socks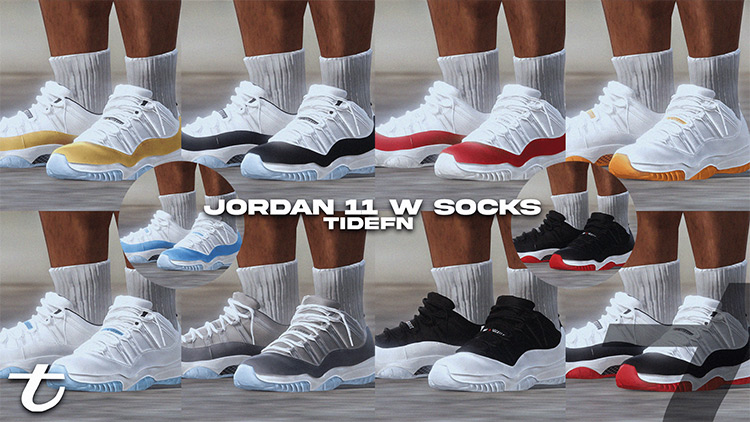 I know some people who wouldn't be caught dead wearing shoes with as high a top as the regular Air Jordan 11s. For these people, low sneakers is where it's at.
This mod opens your footwear possibilities with 10 different color palettes for the low-top version of the Air Jordan 11s. Most of them are white with colored outsoles, but there are some unique combinations too.
Of course, the socks are also included. You wouldn't want those sneakers catching a nasty smell!
18.

Yeezy Foam Runners
Do you ever look at your trusty old Crocs and think, "damn, those need a lot more sci-fi"?
Kanye West definitely did, so he created the Yeezy Foam Runners.
These absolutely mental slip-ons shine for their organic shape and alienesque construction, full of craters and curves nobody had ever seen on a sneaker.
Finally, there's a fashionable alternative to the Crocs, and it looks like an alien life form ate your foot.
19.

Ultimate Shoes Pack (for Franklin)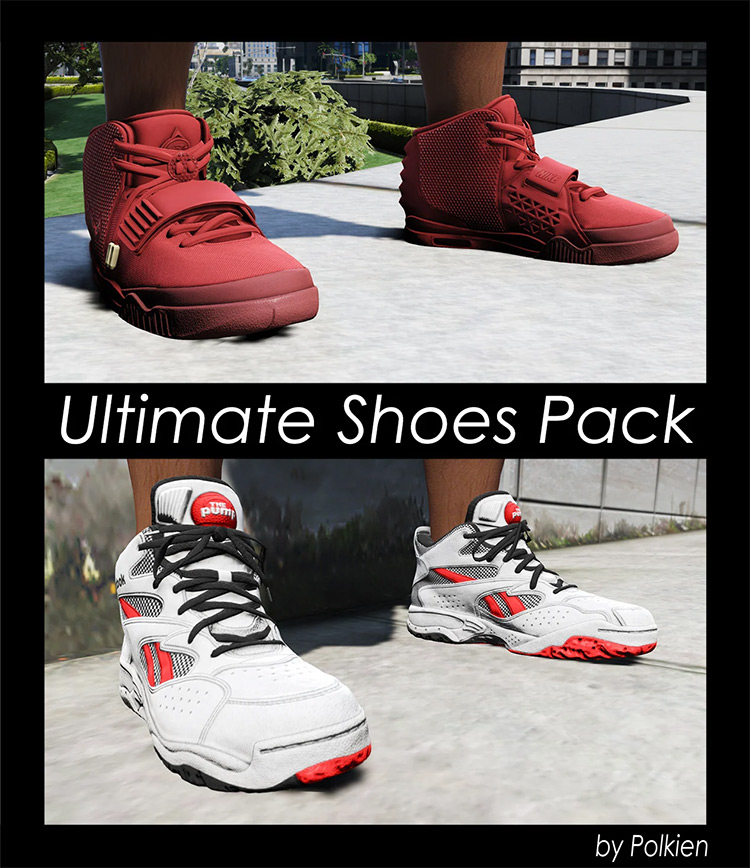 If you're the kind of person who needs a different shoe for every day of the week, the Ultimate Shoes Pack is a no-brainer.
This extensive pack of fashionable sneakers features over 20 high-quality footwear. Highlights include:
Nike Air Force 1
Nike Yeezy 2
Adidas NMD R1
Nike LeBron XI
Several generations of Air Jordans.
They're all stylish and sporty: perfect for a busy Los Santos "entrepreneur" who needs to be quick on their feet as they carry out their "business" around the city.
20.

Adidas Yeezy Boost 700 "Waverunner"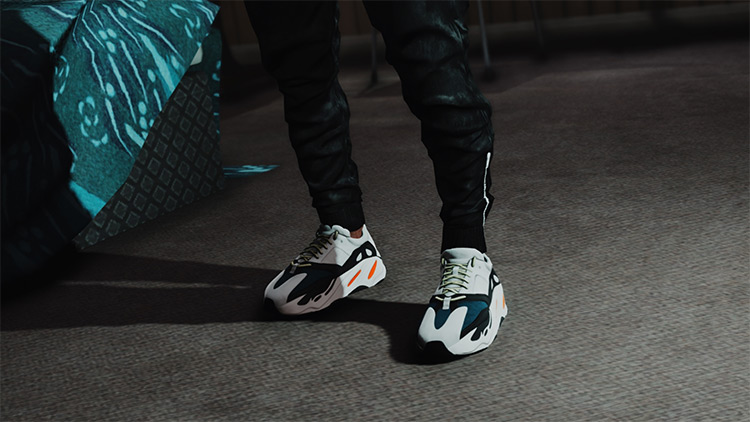 In case you haven't noticed by now, I like Yeezys.
Something about overcoming the limits of traditional fashion and grasping for the stars is inspiring. Plus, they look fantastic – even if not everybody can appreciate them.
One of my favorite members of Kanye's footwear family is the Yeezy Boost 700 – especially the Waverunner colorways.
The Yeezy Boost 700 feels like the ultimate fashionable dad shoe, and the Waverunner colorways adds a youthful spark of color that'll brighten up any outfit.
Browse:
Grand Theft Auto 5
Lists
Video Games