The Best GTA5 Truck Mods (All Free)
This post may contain affiliate links. If you buy something we may get a small commission at no extra cost to you. (Learn more).
What really keeps GTA5 going is the endless hours of fun to be had, and the hard work of thousands of modders pumping out new content for the game.
One of the most popular modding categories is vehicles, as it has been ever since the days of GTA3.
For those of you interested in widening your roster of trucks to ride around Los Santos, I've put together a ranking of my favorite additions to GTA V's truck collection.
10.

IV Pack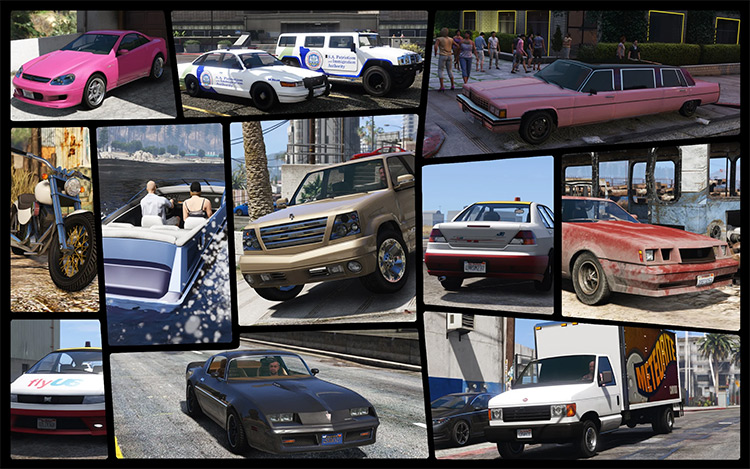 The first thing most people want to do when they get into modding is beefing up their total amount of cars. And compilations like the IV Pack are the best way to do it fast.
The IV Pack by Vanillaworks brings hundreds of vehicles from the previous Grand Theft Auto installment, into Los Santos.
This includes several iconic trucks, like the Rancher 4×4 off-road pick-up truck, and the classic Speedo delivery van.
Of course, it also includes all vehicles from other categories, like bikes and sedans.
It's time to bring your old rides on your new adventure.
9.

Vanillaworks Extended Pack
But if you really want to take your vehicle variety to the next level in a jiffy, you can't skip over Vanillawork's self-titled Extended Pack.
This pack comprises a staggering 326 custom cars, trucks, and bikes from all over the modding scene.
These were hand-picked by Vanillaworks to look right at home in Los Santos. And the new trucks will look great in one of the local mountain roads.
A lot of these are new versions of vehicles already in the game, helping them blend in and create a harmonic, varied traffic simulation.
8.

SAHP SWAT Insurgent
If you still want to beef up your game even further, then we need to start looking at specific vehicles with a cool factor so high, they're enough to keep you truckin' in GTA5.
One of them is the SAHP SWAT Insurgent armored truck, a beautifully-designed military vehicle with a gorgeous dark matte finish, among other possible paint-jobs.
While the police lights on top of the vehicle look great, it's the 4K textures and the custom sound set that elevates AG_MODS' Insurgent truck to the next level.
It's ideal for the bank heist team who wants to look good while committing a federal offense.
7.

M1142 Tactical Fire Fighting Truck
If you liked that armored truck, then another military-looking truck by SkylineGTRFreak is probably right up your alley.
The M1142 Tactical Fire Fighting Truck is simply the military-grade version of a regular fire-fighting truck.
It's ideal for providing any driver with the protection needed to put out fires in the war-zone that is Los Santos during a 5-star pursuit.
The floodlights on top of the vehicle are fully functional, as is the truck's water cannon.
If you're particular about the details, you'll be glad to know both the steering wheel and the dials are also fully animated.
6.

1956 Ford F100
Now if you can't get enough of hot rods or straight-up classic cars, the 1956 Ford F100 pick-up truck is the perfect addition to your GTA5 garage.
With glossy red paint and bold design, this iconic truck will turn more heads than you can count in Los Santos' streets.
The Ford F100 has been in so many movies and video games, it's practically a celebrity itself.
This specific model is actually from Forza Horizon 3, which explains the extraordinary level of detail.
5.

Ford Raptor 2017
For something from Ford that's much more in-line with the times, consider this 2017 Ford Raptor by modder Vans123.
It's easy to describe this as one of the single coolest trucks in the entire modding community.
It has beautiful lines, great textures, and all the little details we love to see, including breakable crystals and a fully-sculpted engine.
What I love most about this is the incredible level of detail on the dirt mapping.
After all, I'm sure you're taking this baby off-road the moment you boot up the game.
4.

Nissan Titan Warrior 2017
Many of you will probably scream at the idea of putting Nissan over Ford in the off-road department.
But I can't say no to those detailed headlights.
Other than the amazing-looking lights, the front of this car is just incredibly imposing. It makes you feel like you rule over any obstacles in front of you, which the suspension usually takes just fine.
Few truck mods can balance stylish and sturdy so well.
3.

Trucking Missions
What use is installing so many custom trucks if you're not going to use them, right?
The Trucking Missions mod by Guadmaz will let you take on contracts from different in-game characters, including other criminals and even the US Government.
This gives an excuse for you to parade your truck around Los Santos, and earn some extra cash too.
Just don't damage the cargo or go over the time limit!
To start, simply head to your new office west of Sandy Shores. Upon entering, a menu will pop up listing every contract available.
2.

Cerberus "Hound" MT & Classic Tanker Trailer
Whenever I use the word "truck", I don't think of a pick-up truck or a mini-van… I think of a massive cargo truck hauling some valuable materials on an interstate highway.
The Cerberus "Hound" MT is a fierce-looking and reliable vehicle designed to haul massive tankers, like the gigantic, rusty 40s style-one included in the mod.
Even if you're not much about the trucker lifestyle, you'll appreciate the colossal destruction you can cause by ramming this into oncoming traffic. Or a police blockade.
1.

Mercedes Mansory Gronos 6×6 Xtreme
You never know what'll happen next in GTA5.
You have to be prepared for everything, and no vehicle provides better all-around functionality than the Mercedes Mansory Gronos 6×6 truck.
The three sets of wheels on this thing are enough to overcome any rocks or pits you find during an off-road chase.
But they'll also provide the grip you need for those tight turns in the middle of the city.
Even when the Feds aren't chasing you, these high-quality textures and incredible colors will make this beautiful truck stand out in Los Santos traffic.
Browse:
Grand Theft Auto
Grand Theft Auto 5
Lists
Video Games