Top 20 Best Weapons Mods For GTA 5 (All Free)
This post may contain affiliate links. If you buy something we may get a small commission at no extra cost to you. (Learn more).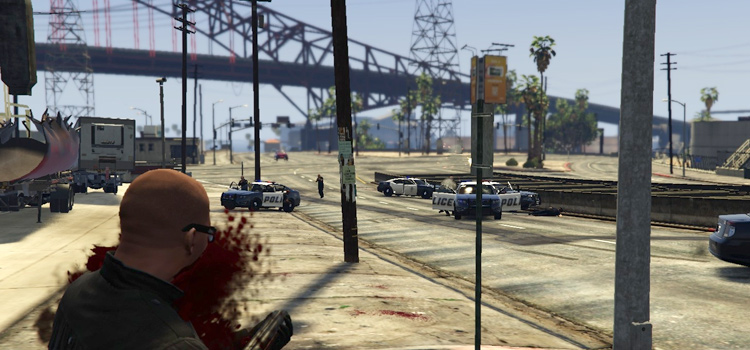 I'd be lying if I told you that guns in GTA weren't good enough, because really that's one of the best aspects of the game.
However there's still a lot of room for improvement. And the modding community knows this. If you look around it's easy to see that the best modders have come together to create some fantastic additions to the game by improving guns sounds, adding new weapons, and helping you feel out a much more realistic kick-ass vibe playing Grand Theft Auto V.
There are actually hundreds of mods out there, but some gun mods leave a lot to be desired.
I know you don't want to go around wasting your time looking and testing random mods, so I've compiled this list featuring my picks for the best 20 modded weapon add-ons for GTA V.
Take a peek, see what you like, download a copy and go to town. And no need to thank me, just enjoy using these mods as much as I do – that's all I'm looking for!
20.

Custom Projectiles Mod
One of the most anticlimactic things that I've ever experienced in a game is piloting a kickass Hydra plane in GTA V.
And just when I press the button to shoot those rockets out, an RPG round comes out flying out of the plane instead of a proper plane missile.
Seriously Rockstar, you already had the models made for the plane itself. Why not simply add a new type of rocket to the game?
Well thankfully someone else got as triggered as I did with this issue and decided to make a fix for it. The Custom Projectiles Mod makes each rocket in the game accurate to the weapon or vehicle that fires it. Certainly a subtle change but also a welcome one in my book.
19.

Dubstep Gun from Saints Row
Look, GTA shouldn't be as colorful and exaggerated as the worlds or weapons in Saints Row.
But the urge of using the Dubstep Gun was too great for me to overcome. I really enjoyed it in this game as well, so I have to admit my personal bias compels me to toss this one into the list too.
It could be a few spots higher up the list, but I know that some of you would rather keep things as lore-friendly as possible. Nothing wrong with that!
But this mod is quite fun since allows you to shoot cars with musical rounds and make them dance. Yes, it sounds ridiculous. Yes, it's also really fun to watch.
18.

Buy More Weapons GTA5
This mod unlocks the ability to buy guns and weapons that weren't available to purchase in Ammu-Nation, but were still in the game files for some reason.
The coolest part? This mod also includes some mission-specific guns that weren't meant to be used in the day-to-day life of Franklin, Trevor, or Michael.
Rules are made to be broken, though, and this easy-to-install mod allows you to purchase 5 new weapons from any store you like.
17.

Drive-By Mod
Look, I know Rockstar didn't think it was realistic for one of the GTA characters to use assault rifles and RPGs when shooting from a car. But that's not fun.
The Drive-By Mod allows you to choose any weapon in the game and shoot it. Even when your hands are on the wheel.
You might experience some issues with clipping, but other than that I'd say the mod seems to work pretty flawlessly.
Just note it's meant to be used in third-person so keep that in mind before installing.
16.

Realistic Rocket Pod
This simple mod makes the shooting effects of planes and helicopters feel more realistic.
Ultimately it changes the intervals and shooting velocity of missiles to better mimic the real-life counterparts of each vehicle. And it gives the game a much more realistic feel as a whole.
I think it's a great mod if you're looking for an enhancement in GTA V realism, at least in the weapons department.
15.

Better Stun Gun
It's cool to use the stun gun in GTA, but the overall effectiveness of the gun is as poor as it gets.
This mod makes the stun gun a much more reliable companion in battle. Not to mention a valid substitute for some of the game's strongest guns.
On an unrelated note, this is a fantastic mod if you enjoy the irony of chasing cops with a stun gun and electrocuting them to the ground. Just saying.
14.

Weapon Attachments Pack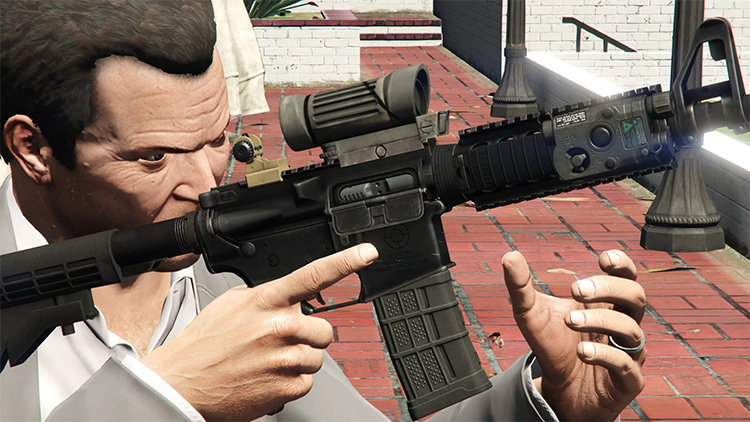 This is the one mod that you'll want to download if you plan to fill your game with custom weaponry.
It allows the custom attachments made by other modders to work with every vanilla weapon in the game, as long as the weapon has an attachment slot available.
For example, let's say that you go ahead and download the Colt M4A1 mod with attachments that I've included on this list.
All of the M4A1 attachments will be able to be used with any other gun in the game, like the AK47 as one example. This gives you many more options to choose from to customize your arsenal quickly.
13.

Gangsta Style Franklin
Gangsta Style Franklin changes the way Franklin shoots his guns, giving him the ghetto feel that he was missing in the original version of the game.
All of the one-handed weapons used by Franklin will be held sideways, much like other characters in the game seem to do (and even some of his close friends).
It's a cool-little detail and while it is minute, it adds depth to the gameplay!
I have to admit that I enjoyed this mod much more than I should've. I don't know, it just seems to add that little bit of essence that I think is missing from Franklin in the game. It just feels right, you know?
12.

Real Rage V – Weapons and Damage Enhanced
This is a fantastic weapon mod, and it's one of the mods on this list that adds the most to the game(in the context of custom weapons).
Real Rage V doesn't just add a unique feel to every weapon by customizing muzzle flash, sounds, and recoil. But it also balances the health of NPC characters as well as improving the surfaces that you can shoot through with most weapons in the game.
I really liked that the creators gave so much attention to detail in creating this one.
It makes base game GTA5 feel like it was missing something that you didn't even know it needed.
11.

Real Weapon Names
This simple change has earned a good spot on my list because this is one of those little things that I've always wanted in GTA.
Especially after spending so many years as a kid playing Counter-Strike. Sometimes we just want some real weapon names!
Gone are the days of the AK-47 having a generic rifle name. It's time for you to put your big boy pants on and take out civilians like a real city boy would do – as wrong as that sentence sounds I'm sticking with it.
10.

Colt M4A1 with Attachments
The supposed M4A1 that we have in GTA V looks a bit off. So this mod is a recreation of the actual M4A1 produced by Colt.
Not only that, but it also comes with realistic attachments that look fantastic on the gun.
Quite a simple mod, you might think at first glance.
But let's face it – we've always wanted to shoot a proper M4A1 in GTA, and now we can!
9.

Real Weapons(Animated)
This mod changes the models of many weapons in the game to make them look more like their real-life counterparts. Sounds basic but it's actually a lot of work to create something like this.
And not only that, but it also adds models that are fully animated.
That means you'll be able to see the weapons moving as you shoot them and be able to change cartridges as you reload them.
I like to commend modders that put effort into their creations. Incorporating this guns into the game after taking them from Infinity Ward's games is something that we can all appreciate.
8.

F0rest's Mega Weapon Pack
This is truly what a mega pack is all about.
F0rest has brought us one of the community's largest compilations of high-quality weapons that you can find on the Internet.
With over 20 new guns being added with this pack, the weapon mega pack made by this fan has been downloaded by thousands of users from all over the world – and deservedly so. You'll be proud to count yourself among the many other hardcore GTA fans loving this massive weapons bundle.
7.

Real Flamethrower
Hey, how come we haven't been able to use a flamethrower since the days of San Andreas?
I don't know about you, but in my book it's quite fascinating to just incinerate pedestrians as they walk around minding their own business.
I'm not sure if that makes me a bit of a sociopath… but hey, let's just call it "playing like Trevor would act".
This mod is very well made and gives us something that has been missing in GTA for many years – I can't help but give it a shout out on this list!
6.

Colored Weapon Wheel
This might not be as much of a desired addition as changing the weapon names to their real-life counterparts. But it's one of those things that you don't know you want them until you get this bad boy installed.
This mod does exactly what its name suggests: it changes the gray coloring of all weapons in the UI wheel and turns them into colored versions of each drawing. Simple, yet executed beautifully.
But be forewarned! New weapons that you download into the game will, naturally, not be colored. Gotta take the good with the bad here.
5.

Ultimate Battlefield Weapons Pack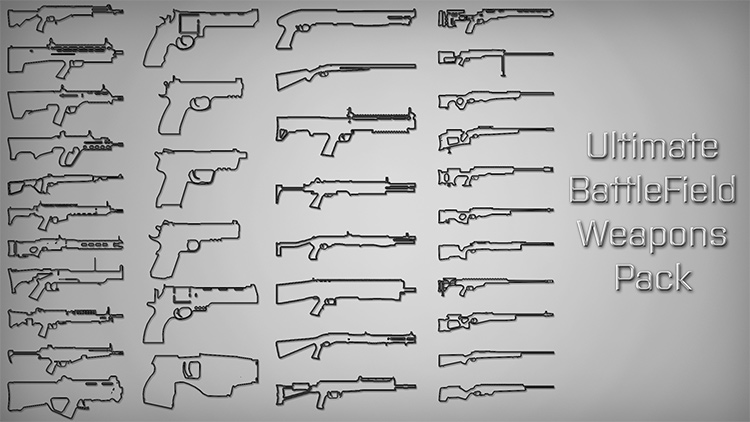 So this mod would be perfect and would probably have taken the first spot on my list if the weapons were animated. And even though it's missing this one feature I still cannot complain much.
The fact that it adds a staggering 124 new weapons to GTA is enough to get it up to the 5th spot.
That's right – you'll be able to shoot over one hundred new weapons if you install this mod, and all of them come with customized everything except animations.
TropiHunter, if you're reading this, please go ahead and try animating this mod. You're a step away from becoming a GTA legend.
4.

Sledgehammer with Realistic Damage
Yes, this is exactly what it sounds like – a massive sledgehammer.
Travel the streets with this gigantic thing and destroy cars with a realistic hitbox that not many mods can boast of having.
Getting a weapon that isn't a firearm into my list is definitely no easy feat. As you can probably tell by now, I blatantly prefer to shoot weapons over anything else in the game. But this mod deserves a good spot for its detail and uniqueness.
3.

Redefined Weapons and Gameplay
Are you looking for a realistic weapon mod that updates the detail tremendously?
Then this is the one you want.
It makes so many changes to the game that I can't even write them all here without taking up quite a few paragraphs, so I'm just going to point out a few: it adds travel time to every bullet in the game, changes magazine sizes to the equivalents of all real weapons, and even changes the way your character reloads.
Plus a heck of a lot more.
It makes the game feel completely different. And the one thing that I still need to try out with this mod is playing the story mode again after downloading it. I'm certain it will make the gameplay much more interesting.
2.

Gun Sounds Overhaul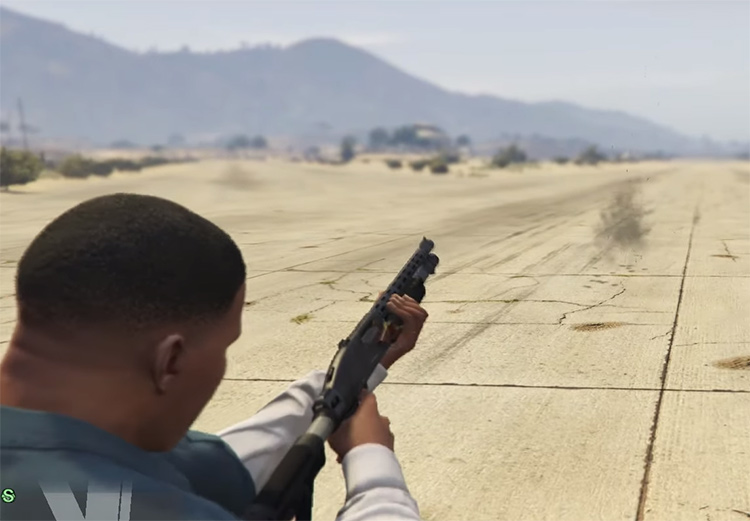 We're getting up there on the list and this mod really deserves some praise. It changes the basic firing sounds for every gun in the game.
It literally makes the guns sound exactly like their real-life counterparts. And not only that, but the mod also makes every sound as loud as it should be.
It was released over four years ago and it's still being downloaded many times per day, so that says a lot about what you can expect here.
1.

Rippler's Realism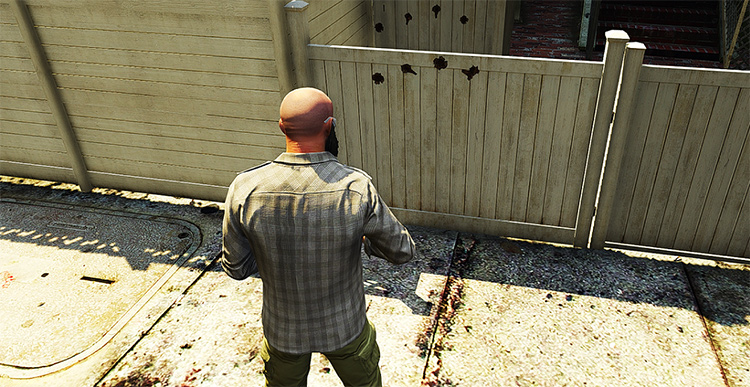 Rippler's Realism is like the #3 mod on this list, but redefined and on steroids.
It makes everything feel vanilla as well, which is why I've given it the first spot above Redefined Weapons and Gameplay.
It's truly a fantastic mod which probably took a lot of effort to make. And it does make every weapon in the game feel better than it ever has.
Give it a go – you won't regret it.
Browse:
Grand Theft Auto
Grand Theft Auto 5
Lists
Video Games